As soon as the chillier air moves in, the Petoskey Area in northern Michigan turns from a summer playground with Petoskey stones and beaches to a winter paradise. When the snow starts to fall, this area "Up North" welcomes a season of skiing, snowmobiling, snowshoeing, ice skating, and just about every other winter activity you can think of. So put on your coat, hat, and gloves, and lace-up some stout boots. In Michigan, it's time to go outdoors for the winter. In this article, we are going to share a list of the best fun things to do in Petoskey in winter. You may refer to this article as a guide and plan how to get the maximum out of your stay in Petoskey.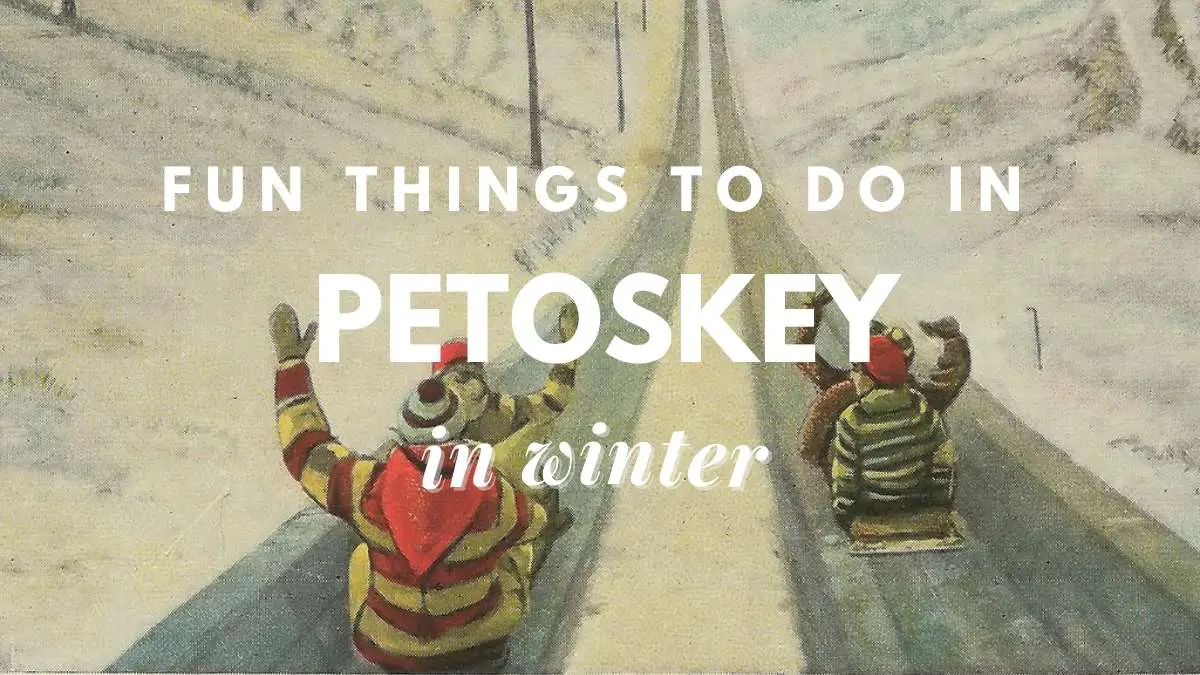 What is it like to visit Petoskey?
Petoskey and its Gaslight District are located along the Great Lakes and the Lake Michigan coast at Little Traverse Bay. It follows a 30-mile route starting at Boyne Falls and Boyne City and continuing north via Charlevoix, Petoskey, and Harbor Springs. Because of its form, this area is known as the "mitten" of Michigan.
Summer activities in Petoskey, Michigan may be found here. This section of the nation is a vacationer's dream in the summer, with lakeside water activities, superb golf, and outdoor parks and trails. The winter in the Petoskey/Bay Harbor area is just as gorgeous as the summer.
Crisp air and dazzling blue sky greeted us in the late autumn and early winter. With an average snowfall of 111 inches and homegrown maple syrup, the Gas Light District has had a severe winter. When the snow starts to fall, it blankets the landscape in the stuff that winter dreams are made of. Freshly groomed snow provides crisp runs. Furthermore, the speed with which a snowmobile glides down a powdery path.
The peace and seclusion of putting on a pair of snowshoes and negotiating the terrain as our forefathers did. Furthermore, there is nothing quite like riding a horse along a calm, snow-covered route. On an iced rink, the mark is left by ice skates. Petoskey and its lovely bayfront park are maybe the epitome of winter sports.
Read: Is Traveling A Hobby? The Ultimate Guide To An Exciting Way Of Life Learn about the Downsides Of Traveling As A Hobby

Best things to do in Petoskey during winter
1. Boyne Highlands
Boyne Highlands Maniacal is one of three major resorts that provide a wide range of winter sports activities. Boyne Highlands has 55 downhill courses, including the longest in Michigan. The elevator system makes it simple to get to the activity. Cross-country skiers may enjoy 35 kilometers of paths through the snow-covered woodland in the Highlands. There are also bicycle choices, such as fat-tire bikes that grip the snow and Sno-Go cycles, which combine bicycling and skiing. Rentals of sno-go include free instruction.
There are winter horseback riding courses as well as snowshoeing trails on site. There's also tubing down below and ziplining up above. The Boyne Highlands zipline climbs 1325 feet and transports riders at speeds of 20 to 25 miles per hour through the beautiful countryside. Boyne Highlands also organizes unique night experiences, with the resort's SnowCat personnel providing ride-along as the snow is groomed in preparation for the next day. If all of that action leaves you fatigued, you may unwind with a campfire and s'mores at night.
Boyne Highlands also has a SnowSports Academy for all levels of skiers and riders. Terrain Based Instruction is taught at the Academy in both individual and group settings.
Vacation Rentals in the Boyne Highlands.
In the middle of all the winter sports activities, you can stay on the site at Boyne Highlands. The main lodge is styled like a magnificent English country manor. Cottages, townhouses, rental residences, and a separate Inn are scattered around the grounds. The Spa at Boyne Highlands is open all year and provides massages, facials, manicures, and pedicures, among other treatments.
2. Mountain Boyne
Boyne Mountain Resort in Boyne Falls is a one-stop-shop for winter adventurers. It has 35 kilometers of groomed cross-country ski routes for skiers of all levels, from beginners on bunny slopes to advanced technical skiers. Skiing is also available on 60 routes and seven terrain bikes. Additionally, tubing down the slopes is a lot of fun for the whole family. Riders and tubes take a lift to the top of the run before descending on the four-lane route. In addition to the Sno-Go part-ski, and part-bicycle excursions, Boyne Mountain provides fat tire and electric fat-tire bikes for traction in snowy conditions.
Horseback riding and snowshoeing routes are available. Nine separate zip lines take you up to fifty feet in the air, zipping through the Boyne Mountain slopes. On weekends, you may take a SnowCat ride and see the snow being groomed to perfection for the following day. If you like ice skating, Boyne Mountain has an outdoor rink with a breathtaking background for those who don their skates.
3. Winter Recreation
The SnowSports Academy at Boyne Mountain Resort also provides winter sports instruction. In the heart of Boyne Mountain Resort's undulating landscape, accommodation is accessible. There is also a main lodge, as well as several lodges, villas, and mountain huts. On-site dining options include anything from an apres-ski bar to a coffee shop to a pizza. However, please use this link to see all of our Boyne Mountain Vacation rentals.
4. Indoor Waterpark Avalanche Bay
The Avalanche Bay Indoor Waterpark is accessible year-round and has 88,000 square feet of thrills and slides. Inside, the temperature is constantly kept between 84 and 87 degrees. The Big Couloir, a thrill slide that shoots you from a trap door down a steep descent and spins you around before dumping you in the water, is the waterpark's newest feature. A Rip Zone Simulator, the Splasherhorn Waterfall, a relaxing Lazy River, a Super-G slide, a Downhill Mat Racer, and the Vertigo Cannonbowl that spins you around within a water slide tube are all available. Avalanche Bay Indoor Waterpark is part of Boyne Mountain Resort, however admission is not required if you are not staying there. Passes vary in length from a year to a single day.
5. Nub's Nob
Nubbie Sarns is honored at Harbor Springs' Nub's Nob Ski Resort. In the 1950s, he and his wife Dorie purchased the land to create a little mountain getaway for friends and family to ski on. It started with three routes and a double chairlift, and over time, it expanded to include more slopes and chairlifts. The resort was purchased by the Fisher family in the 1970s, and they still own it. They are devoted to ongoing development, including developing some of the greatest snow-making processes available. The resort now covers 246 acres and has 43 ski slopes. The majority of the routes are for intermediate skiers, although there are also beginner and advanced slopes.
6. Vacation Rentals at Nubs Nob
On the Nub's Nob site, there are no overnight rooms, but there is a warm lodge with a comfortable fireplace, a café that offers breakfast and lunch, and a brown bag dining area for skiers who bring their own food. The Pintail Peak Warming Hunt includes facilities and weekend meal service, as well as great views of Little Traverse Bay. A technology center is available on-site to maintain your winter gear in good condition. Family members who are too little to ski may spend time at Nub's Cubs Day Care, participating in indoor activities and even sharing lunch. Nub's Nob is a skier and snowboarder's haven on the slopes, with a ski school that has introduced many people to the joys of skiing. Try night skiing at Nub's Nob, which is a pro recommendation.
On a magical winter day, a lady in a fur coat and gloves with red hearts closes her eyes over the white snow. The Petoskey region offers more than just resorts to enjoy the bright blue sky and magnificent snowfalls throughout the winter.
7. Preserve of Avalanche Mountain
The Avalanche Mountain Preserve in Boyne City has more than 300 acres of trails. The sledding hill, the ice rink, and the warming house are among the wintertime highlights. Cross-country skiers flock here, and Michigan Blue magazine ranked this hill the greatest sledding hill in the state. The paths also allow for snowmobile and fat-tire riding. Boyne City operates the Avalanche Mountain Preserve, which provides free sleds and ice skates as well as a complimentary cup of hot chocolate.
8. Recreation Area Bear River Valley
Consider a trip through the Bear River Valley Recreation Area for a pleasant winter walk only steps from downtown Petoskey. This natural area was recently improved with $2.4 million from the city. In the winter, there is a 1.5-mile track that is typically quiet but requires snowshoes to navigate.
9. Winter Sports Park in Petoskey
The Petoskey Winter Sports Park has to be one of the region's highlights. A large sledding hill, as well as an outdoor ice skating and hockey rink, are available in Petoskey State Park. A limited number of ice scooters are available for hire to assist in teaching beginner ice skating. In addition, there are slopes for skiing and snowboarding and a specific curling area. The greatest thing is that this park is completely free to enter. After a long day outside, warm up inside the warming hut, which has a fireplace, toilets, snacks, an HDTV, and wireless Internet. Starting your youngest sledders halfway down the slope is a good idea.
10. Kiwanis Park in Harbor Springs
Kiwanis Park in Harbor Springs has a lovely sledding hill as well as mild slopes for new skiers and snowboarders. Parents and grandparents love this location because they can remain in the warming hut and yet see their children playing in the snow.
11. McSauba Mountain
Since the 1950s, Mount McSauba in Charlevoix has been a popular family winter sports destination. Six slopes, four rope tows, and a fantastic winger sports night scene with lit skiing and a free-lighted sledding hill are all available. Downhill skiers, cross-country skiers, sledders, ice skaters, snowboarders, and snowshoe users all have a place here.
12. Golf & Country Club of Birchwood Farms
Summer is for golfing in the Petoskey region, while winter at Birchwood Farms Golf and Country Club in Harbor Springs is for exploring the trails. 8.5 kilometers of cross-country ski tracks are groomed by Birchwood Farms. There is a path for everyone, from the beginning skier to those seeking a leisurely adventure or those wanting a hard exercise, thanks to the routes and terrain. The nicest thing is that winter sports are open to everyone, not just members. Birchwood Farms is available to the public during the winter months.
Final words
Now you know 12 fun things to do in Petoskey during winter. Make sure that you keep all these activities in mind and plan your visit to Petoskey. It will help you with getting the best possible experience out of your stay.