Alaska is a spectacular portion of the planet; the climate is harsh, which may lead to some wonderful adventures. Timing is crucial when it comes to making the most of your time in Alaska. The ideal time to visit Alaska varies a lot on what you want to do, so we've put together this handy little guide with some essential facts. This is for you if you're considering a one-of-a-kind and memorable Alaskan adventure. If you are interested in going ahead with Sitka Alaska fishing, continue to read. We will share a comprehensive guide on how to go there and when you should visit. Based on the information we share on this article; you can plan your tour to get an unforgettable experience.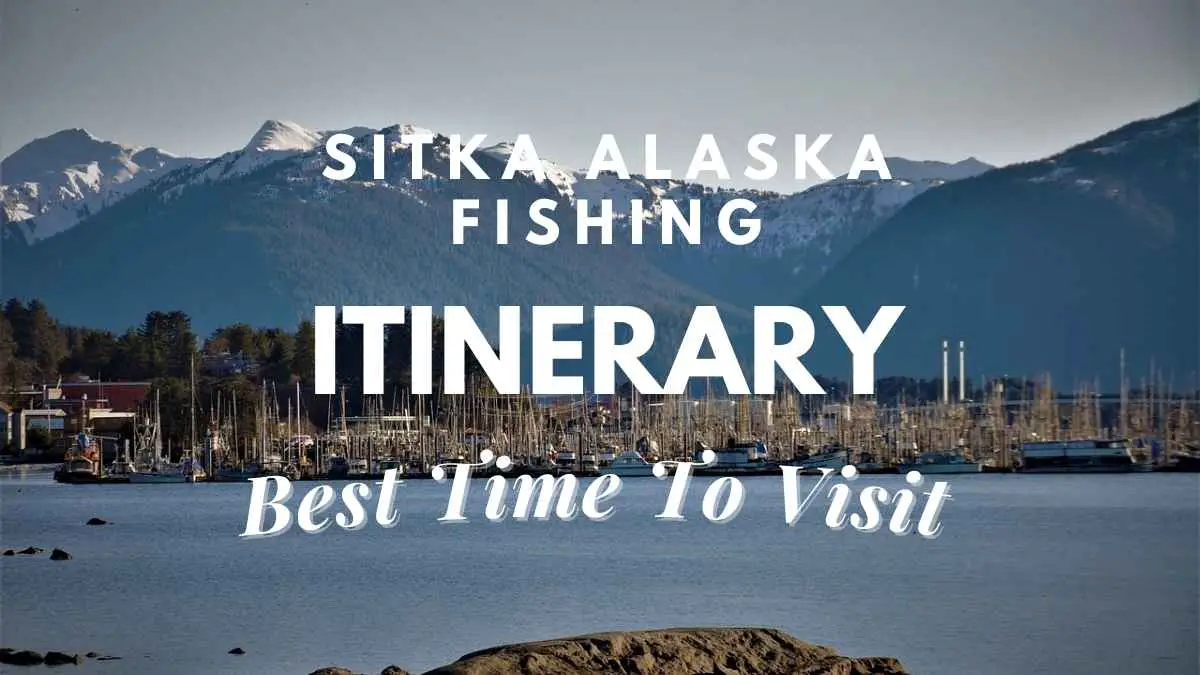 Sitka Alaska fishing guide
The city of Sitka, Alaska, is second to none when it comes to fishing, thanks to its unique position along Alaska's Inside Passage and fronting the Pacific Ocean.
Sitka covers roughly 4,700 square miles and includes Baranof Island, Yakobi Island, and the western section of Chicago Island.
Sporting enthusiasts may try their hand at freshwater and saltwater fishing, as well as fly fishing and spin casting, in Sitka.
Salmon, steelhead, rock fish, and halibut are just a few of the species that may be found in Sitka's seas.
Organizing a fishing trip in Sitka differs from preparation a trip on the mainland in that it requires some particular considerations and planning.
Read: Is Traveling A Hobby? The Ultimate Guide To An Exciting Way Of Life Learn about the Downsides Of Traveling As A Hobby

Packages that include everything
Many charter fishing businesses in Sitka provide all-inclusive packages, which differ from what is available on the mainland.
Transportation from the airport to your fishing boat, hotel, food on fishing days, fishing equipment, and rain gear are usually included in the fee.
The cost of your flight to Alaska, nightly meals, fishing permits, and fish processing are not included in the package price.
Check out organizations like Denny's Guide Service at sitkafishcharters.com, which offers four-day trips for $2,250, and Big Blue Charters at bigbluecharters.com, which offers a similar package for $1595.
Read: Alaska Winter Itinerary (7-Day Plan)
When is the best time to fish?
While fresh seafood from Sitka is available all year, the ideal months to fish are May through September.
Certain months are better than others depending on the kind of catch you're looking for.
For example, king salmon are more numerous from May through July, whereas June, July, and August are the ideal months to visit Sitka for halibut.
Rockfish are abundant in Sitka's waters throughout the fishing season, so if you enjoy them, you're in luck.
Read: How To Get To Haines, Alaska ( Maps And Travel Information)
Weather in Sitka for Fishing
The weather in Sitka throughout the summer months, from May to September, varies from the middle 50s to the high 60s.
Rain is probable in Sitka since it is situated in the Tongass National Forest, a temperate rain forest.
If your tour operator does not supply rain gear, such as a hat, jacket, and boots, bring them with you.
When is the ideal time to visit Alaska if you want to go fishing?
Year-round, Alaska offers world-class fishing! Whether you're looking for the salmon run or want to try ice fishing, there's something for everyone here.
There are plenty of opportunities to reel in a price haul in the spring.
King Salmon and Halibut have their peak seasons in May and June, respectively.
The sun doesn't set until almost 11 p.m. at this time of year, so there's plenty of time to fish!
The greatest time to visit Alaska for fishing is during the summer months of June, July, and August, when the fishing season is at its optimum.
You may catch the conclusion of the King Salmon season as well as peak periods for Silver, Red, Pink, and Chum Salmon during these months.
The great salmon run begins in early June, when Pacific and Atlantic salmon migrate return to their breeding sites in rivers where they were born.
It's a fascinating sight and one of the world's most magnificent natural sights.
Heli-fishing is a terrific choice in August due to the high weather; check out our Tordrillo Lodge Itinerary for more information.
Autumn fishermen may look forwards to Halibut and Silver Salmon, as well as the beautiful hazel colors of the season.
Despite the lack of weather stability, this season makes up for it by offering some of the most beautiful fall landscapes on the planet!
An ice-fishing excursion during the winter months may be for you if you want to make the most of the frozen waterways.
Ice fishing is a great way to get people out in nature, and it has a short learning curve, so it's suitable for both experienced and beginner anglers.
Best time to go fishing and spending time in National Parks
If you want to go fishing in Alaska, check out our Complete Fishing Collection for a complete list of incredible fishing trips.
If you want to visit Alaska's national parks, the ideal time to go is during the summer.
Alaska's enormous national parks have acquired the label 'The Last Frontier' due to its rough scenery and pristine wildlife.
The scenery in this region are breathtaking, from the magnificence of Exploring Denali to the stunning glaciers and temperate rainforest of Glacier Bay National Park.
The majority of National Park Journeys take place between June and early September, when the weather is at its hottest.
You'll have plenty of time to sightsee in June, with up to 22 hours of daylight on the longest days!
Early-August is the greatest time to visit the northern parks after the permafrost has thawed for those wishing to walk.
A picturesque bus route is the most common way to go to Denali.
The airborne views provide a viewpoint that enables you to properly appreciate the magnificence of North America's biggest peak.
We suggest taking the bus in and a flight-seeing way out.
Sheldon Chalet, a luxury lodge perched above a glacier at an elevation of 6000 feet, is the only place to stay on Mount Denali.
Only a helicopter can get you to this breathtakingly inaccessible site, and it's the only way to see Denali.
To learn more, have a look at our itinerary.
When to visit Sitka when you look for wildlife?
Brown or Grizzly Bears, Black Bears, Kodiak Bears, and even Polar Bears may all be found in Alaska.
Brown and Black Bear populations are strong because to Alaska's unspool scenery, and you have a decent chance of sighting one in the wild.
Summer is the greatest season to visit Alaska to view bears, and lodges like Winterlake Lodge and Redoubt Bay Lodge provide unique chances to customize your trip, with popular add-ons like helicopter trips and watersport activities.
The finest time to visit Alaska is around sunset, when a bear stands on its hind legs.
Some Grizzly Bears may reach up to 3 meters tall while standing on their hind legs!
Chris McLennan is the photographer.
Alaska is home to a plethora of marine life that will steal your breath away.
The summer migration of a variety of whales and dolphins takes place at Kenai Fjords National Park, south of Anchorage.
You could view Gray, Humpback, Minke, and Blue whales if you're fortunate.
Orcas eat in this area as well.
A whale watching excursion is the best way to observe some of the ocean's most amazing species; check out our Inside Passage Retreat itinerary for more information.
When to visit Sitka when you look for snow?
When the weather gets chilly, Alaska becomes a winter wonderland.
The activities available are fantastic for all types of travelers, and there are some excellent lodging options along the route.
Dogsledding is a beautiful way to see Alaska and is available from January to March.
During the summer, you may even fly to a neighboring glacier for a really memorable sledding adventure.
We strongly encourage you to attend the Iditarod Trail Sled Dog Race.
This renowned 1000-mile dog-mushing competition has been held annually on the first Saturday in March for over a century.
If you're interested in learning more about this iconic event, see our blog on the Historic Alaskan Dog Sledding Experience.
From January through April, skiers of all levels will have the chance to explore Alaska's iconic ski resorts.
The Resort Heli-Skiing season runs from the beginning of February to the end of April for intermediate to advanced skiers.
The snow quality is greater in February, although later in the season, you may enjoy longer hours and milder temperatures.
Winter sports are exhilarating in this part of the globe.
When is the ideal time to visit Alaska to view the Northern Lights?
Although the Northern Lights may be seen as early as September, the ideal time to visit Alaska to view them is in the middle of winter, when the sky is at its darkest.
Because of its location underneath the Auroral Oval, the Lodge at Black Rapids has a good possibility of witnessing the aurora in the Fairbanks region, which may be paired with a visit to the Lodge.
Along with Sitka Alaska fishing, this is a great experience that you should try to secure without missing out.
A visit to Mother Nature's largest light display is a breathtaking sight, and a trip to Alaska may be supplemented with a variety of awe-inspiring winter activities to make it a once-in-a-lifetime adventure.
Skiing, dog sledding, snowshoeing, snow riding, spa days, and more are all available! Take a look at our Aurora at Black Rapids itinerary to get a better idea of what this trip can include.
The finest time to visit Alaska is when people gather around a fire to watch the Northern Lights dance across the sky.
When is the best time to visit Alaska if you are sailing?
Cruises are an excellent opportunity to experience some of Alaska's most spectacular landscapes.
Traveling by water may be a thrilling alternative to traditional holidays, providing unrivalled access to beautiful glaciers and marine life.
Summer is considered the greatest season to visit Alaska, with June having the longest daylight and July and August having the finest mild weather.
In addition, September is a fantastic time to avoid the crowds while still seeing a diverse range of species.
We advocate experiencing actual Alaska as authentically as possible on your onshore days to make the most of it.
There are so many fantastic things to do in this area that you'll be spoiled for choice, whether it's a private bear tour in Ketchikan or a private dogsled trip in Juneau.
You may check our whole selection of Alaskan Shore Excursions if you want to see more real tours of the state.
Is it worth visiting Sitka Alaska for fishing?
Sitka is located on the outer banks of Baranof Island, on the waterways of the Inside Passage, and is often regarded as Alaska's most attractive beach town.
Tongass National Forest, with its vast stands of western hemlock and Sitka spruce, provides breathtaking vistas of the Alaskan wilderness, while Mt. Edgecumbe, an extinct, snowcapped volcano that has a remarkable resemblance to Japan's Mt. Fuji, presides over the terrain.
Sitka, Alaska's lone settlement on the Pacific Ocean's edge, overlooks a waterscape filled with thickly forested islands, one of which, Apple Island, is the private home of Talon Lodge.
Sitka's position on the Pacific Ocean, although sheltered by inlets and bays, is perfect for sport fishing in Alaska.
Sitka has the greatest King Salmon capture rate in the state for saltwater sport fishing.
Sitka is also close to some of the best freshwater and fly-fishing spots in the state.
Sitka Alaska's history extends back over 5,000 years, when the Tlingit (KLING-IT) Indians first colonized the area.
Native ancestry may still be found in at least a fifth of the town's inhabitants, and their influence can be seen in local woodwork, silver carvings, basketry, weaving, and totem sculptures.
Sitka is now a veritable paradise for outdoor aficionados, with saltwater, stream, and lake fishing, black-tailed deer hunting, hiking, seaplane excursions, and sea kayaking among its many attractions.
While keeping all these facts in mind, you may think about visiting Sitka Alaska for the best fishing adventures in your life.