Even though Napa Valley has become more associated with elevated (and sometimes expensive) experiences, there are still plenty of ways to enjoy the region without breaking the bank. If you're coming up from San Francisco for the day or flying in for a week, our guide to experiencing Napa Valley on a budget includes some of the most charming destinations and activities for the budget-conscious traveler, so whether you're coming up for the day or flying in for a week, you can save money without sacrificing fun.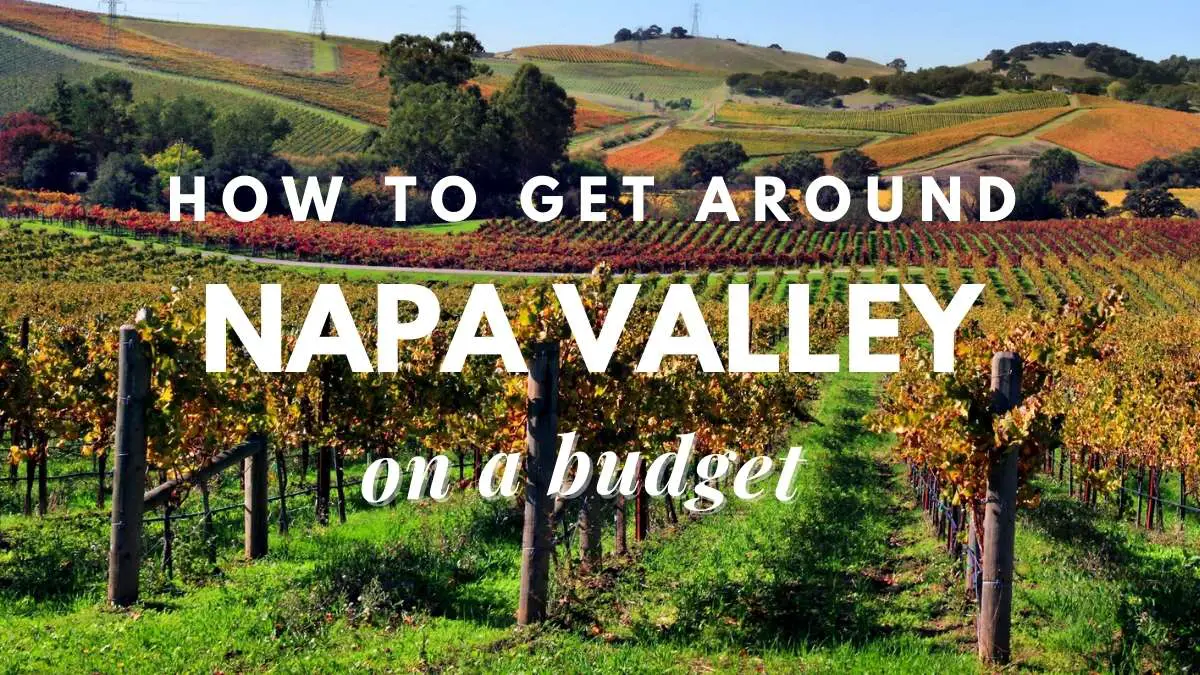 What to Do, Eat, and See in Napa's Downtown
Downtown Napa, located along the Napa River, is a very walkable area with lots of inexpensive things to do.
We recommend taking a leisurely walk about town after perusing the various businesses on First Street Napa (yes, window shopping is OK).
While strolling around the streets of Napa, be sure to look at the sculptures along the Art Walk.
This (free) public art display in the city showcases the work of a variety of artists from all around the West Coast.
Pick up a map at the Napa Valley Welcome Center, where you can also learn about local specials like two-for-one tastings.
The Napa Scavenger Hunt Walking Tour is a must-do for adventurers at heart.
It's a self-guided walking tour and game in which you use your smartphone to follow clues.
Along the way, look for clues, see amazing sites, and complete entertaining puzzles and challenges.
Use the promo code NAPA10 to get a 10% discount!
When hunger hits, Napa offers a variety of dining alternatives that are both delicious and cost-effective.
The Oxbow Public Market in Napa is a mix of artisan restaurants and stores that cater to a wide range of tastes.
We appreciate Model Bakery's breakfast offerings, which are mostly around $10, and a $12 lunch of a cheeseburger and fries from Gott's is hard to match.
C Casa also has a range of excellent tacos around $10, and the Oxbow Cheese and Wine Merchant have a selection of cheeses to bring for an afternoon picnic in the vineyards.
Read: Is Traveling A Hobby? The Ultimate Guide To An Exciting Way Of Life Learn about the Downsides Of Traveling As A Hobby

Courtesy of Oxbow Public Market, Oxbow Cheese and Wine Merchant
We wouldn't blame you if a slice of grilled cheese is screaming your name after a day of wine tasting at one of Napa's urban tasting rooms (like JaM Cellars or Mayacamas).
If that's the case, head to Melted, a downtown sandwich business that specializes in ooey-gooey grilled cheese sandwiches, the majority of which are under $12.
Bounty Hunter, a nearby restaurant, provides happy hour discounts Monday through Friday, including a $14 BBQ sampler plate and $7 wines by the glass.
Check out one of Napa's food trucks if you're looking for additional budget-friendly options.
If you see one while driving around town, your taste buds (and pocketbook) will be grateful.
Attend a Wine Tasting
Locals in the Bay Area and visitors to Napa Valley who come often may want to consider getting a Covet Pass wine tasting pass, which may cost you a little more upfront.
You'll receive free samples at a few Napa wineries (plus tastings in Sonoma County and Lake County!), which is a wonderful value at $150 per pass when you consider that standard wine tasting costs at these wineries range from $30 to $50 per person.
It's a great method to save money as you drink.
Free wine tastings aren't really a thing in Napa Valley, which isn't unexpected (without some sort of wine pass, that is).
If you know where to search, you might find some reasonably priced wine sampling bargains in Wine Country.
Bennett Lane, a Calistoga vineyard noted for its courteous service and well-rated blends, and Dutch Henry, a family-owned winery nestled along the gorgeous Silverado Trail, both offer samples of premium wine for $25 or less per person.
Head to Jessup Cellars, a quaint tasting room and art gallery in downtown Yountville, for a taste of three wines for just $20.
Trefethen, which is run by a family, is also worth a try.
Even though a tasting costs $30 per person, the quality of the event and the estate-grown wines make it seem like you're getting a lot of bang for your money.
Wine tastings start at $35 per person at the famous Beringer Vineyards in St. Helena, but those just searching for a glass of wine may take advantage of the weekend-only "stroll and sip" experience.
This $15 deal enables you to roam about the lovely grounds of this historic 144-year-old estate with a glass of wine in hand, even if you are not seated.
Glasses of wine start at $10 and maybe savored al fresco with views of the huge estate and vineyards at Clos Pegase winery in Calistoga.
Get Outside
Napa Valley is a terrific spot to spend some time outdoors, with breathtaking panoramas, lush woods, and rolling hills of vineyards, not to mention pleasant weather all year.
Many outdoor activities may be done for little or no cost, which is great news for people on a budget.
Visit Calistoga provided this image of Bothe-Napa Valley State Park.
The Napa Valley has many parks with picnic areas and hiking paths, most of which are free to use.
Bothe-Napa Valley State Park, located outside of St. Helena, has hiking routes that snake through coastal redwoods and madrones, as well as picnic areas beneath towering Douglas Firs.
Moore Creek Park, on the opposite side of the valley near Rutherford, has multi-use trails that are suitable for hiking, mountain biking, and equestrian usage.
It's also a fantastic site to see some wildlife since the park has a lot of huge creatures.
Alston Park, located near downtown Napa, is a favorite park for dog owners to wander, owing to an off-leash dog section, but there's also an easy 2.7-mile trail loop that leads through lovely wildflowers.
Calistoga's Petrified Grove, a preserved ancient forest of petrified redwood trees, is well worth seeing.
Learn more about the excavation of the trees and the petrification process as you walk around the pathways of this unique outdoor museum.
The cost of admission is $12 for adults and $6 for children (though kids under 6 are free).
Take advantage of hourly hybrid bike rentals (about $15 per hour or $40–$45 per day) from companies like St. Helena Cyclery or Enjoy Napa Valley for a relaxing outdoor experience on two wheels.
Spend the day riding along the Vine Trail, a 12.5-mile car-free bike route that passes through many of Napa's most renowned wineries, or arrange a trip along the gorgeous Silverado Trail, which passes through many of Napa's most famous wineries.
Off-Season is a great time to visit.
What's the greatest way to save money on a vacation to Napa? Save money on flights and hotels by visiting during the off-season.
To escape the crowds and save money, avoid going during the peak summer months of June through August.
The harvest season, which runs from August to October, is also a costly time to visit.
Visit Napa from November to May to receive the greatest rates (and more personalized service at wineries!).
You'll save a little sum even if it's not the "ideal" time to visit Napa.
And for many tourists, it's well worth the effort.
Consider Your Transportation Options
While private drivers or buses are luxurious, and bike tours or the train are enjoyable, the best cost-effective way to visit Napa Valley is by renting a vehicle.
Rent a vehicle to get to and from the airport in an hour and make the most of your rental by driving around the valley.
Designate a driver for each day in your party, and you'll be able to visit the vineyards at the top of your choice.
Are you looking to hire a car? Check out our suggestions for getting the best deal on a rental vehicle.
Also, if you haven't already, have a look at Turo! It's like Airbnb for automobiles, and it's a quick and easy method to hire the car you want.
Reduce dining expenses
Napa Valley dining might be pricy, but it doesn't have to be.
If you're staying at a hotel, take advantage of the complimentary breakfasts to get a head start on the day.
If not, stop by a grocery shop and stock up on simple breakfast and snack meals for your stay.
Make your own charcuterie board to go with your new favorite bottle of wine.
While the eateries around the vineyards might be rather pricey, downtown Napa has several more reasonable alternatives.
If you're looking for a cheap lunch option, I definitely suggest Oxbow Public Market.
This open-air market has a wide variety of eateries and stores, so everyone at your party may find something they like.
Where Should You Stay?
In Napa Valley, luxury resorts and well-appointed boutique hotels abound, but they come at a premium.
Fortunately, whether you're traveling in the summer or the off-season, there are a few decent alternatives to consider when you need a pleasant place to stay that won't take up the majority of your vacation money.
The second-floor rooms of the historic Calistoga Inn, Restaurant, and Brewery in Calistoga are clean and pleasant, with a queen bed and private sink.
The Inn's affordability is aided by the fact that guest rooms share communal toilets and shower facilities across the hall, but the handy location in the center of town more than compensates.
You'll also be only steps away from the Inn's own restaurant and brewery, which has an enormous terrace and live music regularly.
The Calistoga Inn, Restaurant, and Brewery is located in Calistoga, California.
Calistoga Inn Nearby in Calistoga, UpValley Inn & Hot Springs is a great spot to relax and unwind without breaking the bank.
You'll be experiencing the R&R vibes for a lot less than other Calistoga hot springs resorts, with rustic but contemporary design, a sauna, and steam room, as well as its own natural mineral hot springs pool and hot tub.
The Best Western PLUS Inn at the Vines in Napa provides excellent value in a convenient location only five minutes south of downtown.
The decor is traditional and inviting, and the hotel offers facilities including an outdoor pool, on-site restaurant, and gym.
Check out the Silverado Resort and Spa in Napa for something a little more opulent.
Despite not being a "cheap" hotel, the resort's extensive facilities, such as golf, tennis, a spa, and on-site restaurants, make a visit seem like a full vacation, and the resort's moderately priced rooms make it a more accessible destination than other Wine Country properties.
Other Budget-Friendly Suggestions
It may seem apparent but visiting Napa during the off-season or even mid-week during the peak season may generally save you money.
Not only do hotels usually have lower prices, but restaurants are usually less busy, so you'll have a greater chance of getting a table during happy hour.
It would be a pity to visit Napa Valley and not partake in a superb bottle of wine paired with a delicious lunch.
While many restaurants are proud of their excellent wine lists (and rightfully so), we understand that not everyone can afford to spend on wine and meals all at once.
Many Napa restaurants will allow you to bring your bottle and pay a corkage charge, which is good news for people on a budget.
Corkage costs and rules differ for every restaurant, so be sure to double-check with each one ahead of time.
Finally, many Napa Valley vineyards include picnic areas on-site that may be used during sampling or while purchasing a bottle of wine.
While some vineyards provide picnic supplies, others may allow you to bring your own food.
Bringing your own lunch may be prohibited due to COVID-19, but it's absolutely worth investigating since a picnic amid the vines is a fantastic way to see Wine Country.
Final words
While Napa entices with opulent accommodations and high-end activities, you don't have to spend a lot to enjoy a fantastic time. In Wine Country, there are lots of genuine and budget-friendly activities to be enjoyed, and with a little forethought and ingenuity, a trip to Napa Valley on a budget might be the most memorable vacation ever.