For many years, nature enthusiasts, vacationing families, peace seekers, and pretty much everyone else have been drawn to the stunning Poconos' wooded mountain sides, pristine lakes, and flower-covered valleys. The Wyoming Valley and Lake Wallenpaupack surround this magnificent Pennsylvania peak, which views out over the Delaware River and Delaware Water Gap in northeastern Pennsylvania. Here are the top activities in the Poconos, Pennsylvania. Prior to your visit and focus on these things to do in the Poconos in the summer, make sure to phone the restaurants and attractions to check the most recent operating hours.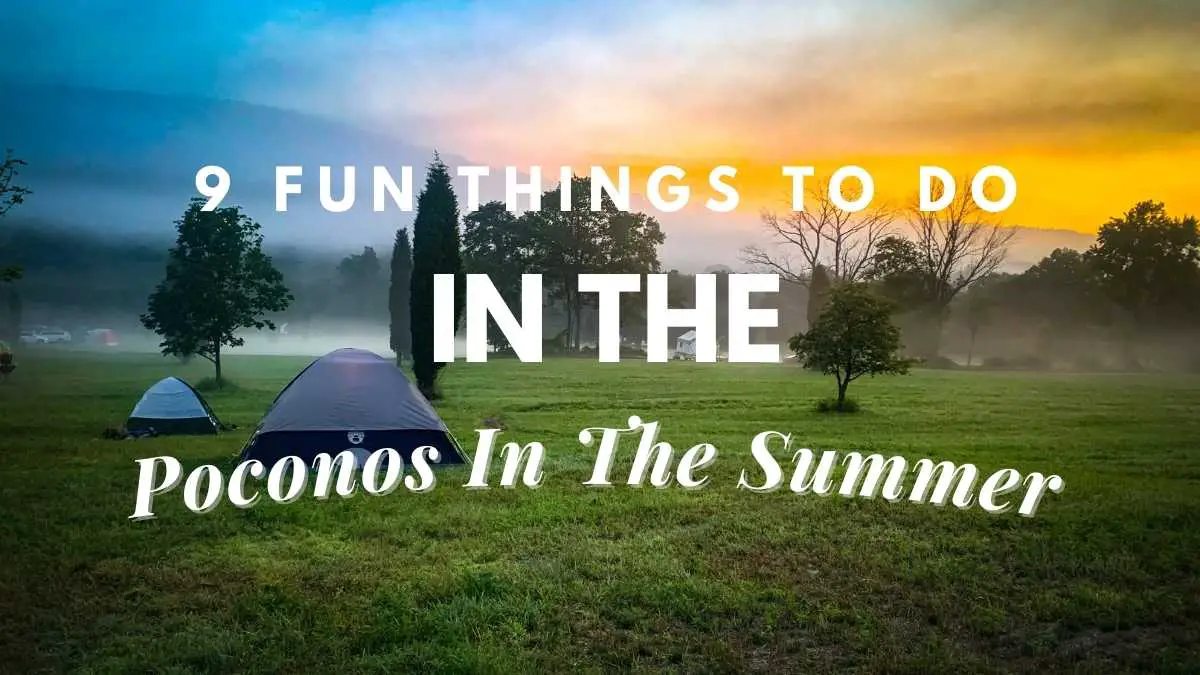 1. Visit Delaware Water Gap National Recreation Area
The Delaware Water Gap region's breathtaking natural beauty has drawn travelers for more than a century and is regarded as one of the seven natural wonders of the world. The region was designated a National Recreational Area in 1978 in order to conserve it, administer it, and spread awareness of it.
It is a sizable park with 40 miles of the Delaware River, 67,000 acres of mountains covered in dense primary forests, valleys, floodplains, ravines bursting with blooming rhododendrons in the early spring, vast forests of native hemlocks, and a variety of wildlife that calls it home, including bears, foxes, lynxes, chipmunks, deer, and many more. Over 100 miles of paths lead to some of the most stunning waterfalls, gorges, and ravines, which visitors may enjoy. More than 100 miles of gorgeous, picturesque roads are available for those who want to drive. T
he Appalachian Trail travels through the region for around 27 miles. The Poconos is a breathtakingly gorgeous area that is great for whitewater rafting, zip line, hiking, fishing, canoeing, golfing, skiing, and bird watching. A trip to the Poconos is quite delightful due to the quaint little villages that dot the area. For more information on what to do and where to stay in the Poconos, keep reading.
Read: Is Traveling A Hobby? The Ultimate Guide To An Exciting Way Of Life Learn about the Downsides Of Traveling As A Hobby

2. Bushkill Falls
A small stream that flows crystal-clear water plunges over cliffs in the Pocono Mountains before emptying into the Delaware River, which is located a great distance below. The stream picks up pace as it approaches Pennell Falls, the first of the eight falls, and continues through the little Laurel Glen and Upper Canyon before plunging suddenly over a 100-foot cliff to form the stunning Main Falls. Before plunging another 70 feet, it creates a stunning, deep, chilly pool surrounded by ferns and flowers.
A memorable day of exploration and breathtaking views are provided by the area's network of short trails and observation points. Find the path that most appeals to you on a map of the available hikes. If you're fortunate, you could see a lot of the birds that inhabit this rich environment. Although more elusive, wild species like black bears, foxes, and bobcats may still be found there. You may want to take a paddleboat ride, play a round of mini golf, or sit on a bench and feed the ducks after your trek to unwind. Learn more.
3. Hickory Run State Park in the Poconos
The less wooded western slopes of the Pocono Mountains are home to the 15,990-acre Hickory Run State Park in Carbon County. The park is well-known for Boulder Field, a level region filled with large, spherical stones that resemble the moon's surface. One of three permanent locations for orienteering courses, Sand Spring Lake has a wonderful swimming beach, a disc golf course, and a disc golf course. There are several picnic tables, play structures, and bathrooms in the neighborhood.
There are more than 44 miles of hiking paths throughout the park, and many of the streams and lakes are excellent for brook and brown trout fishing. In the winter, snowmobiling is allowed on some of the paths, but cross-country skiing is not. In June, when the rhododendrons are in full flower, is the ideal month for hiking. Another popular activity in the park is geocaching, a kind of GPS-based high tech treasure seeking.
4. No. 9 Coal Mine & Museum in Poconos
Visit No. 9 Coal Mine, the oldest continuously operating anthracite coal mine in Lansford, Pennsylvania, 1600 feet below the hillside, to see firsthand the gloomy coal mining industry. The mine was open from 1855 to 2002, when it was shut down and turned into a museum and tourist destination. On a walking trip deep below the mountain, knowledgeable guides will lead you while sharing horrific tales about the life that our forefathers who worked as miners had to face.
You may see a miner's hospital, an underground mule-way, and the original 900-foot-deep elevator shaft that was once used to lift coal wagons to the surface. The museum is housed in the old shanty where miners lived, and it has authentic tools including picks, drills, shovels, saws, axes, and blasting equipment, as well as miners' hats, lights, and lunch cans.
5. The Poconos' Great Wolf Lodge Waterpark
It would be an understatement to say that Great Wolf Lodge is child and family-friendly. This resort is all about having a good time with the family and is situated in Scotrun, a little village between Tannersville and Mount Pocono. The first examples are the kid-friendly camps with kid-sized bunk beds and hotel rooms with "wolf dens." Then there is the big waterpark, which operates all year to provide fun for the whole family with attractions, slides, pools, and more.
Dare to ride the water-filled roller coaster Hydro Plunge. Children are not permitted in the North Hot Spring soothing, mild pool, so let the youngsters run wild there instead. Even if it is snowing outside, wherever you walk, the temperature is a lovely 84 degrees.
6. Promised Land State Park
Promised Land State Park is a 3,000-acre natural paradise located high on the Pocono Plateau, more than 1,800 feet above sea level. More than 12,464 acres of the Delaware State Forest, which is heavily forested with oak, beech, hemlock, and maple, surround it. There are two magnificent lakes, one of which has a picnic spot with all the necessary amenities, making it a well-liked place to start exploring.
The area contains a playground, water, a sand volleyball court, a basketball hoop, and two sandy beaches and is situated in a lovely, wooded environment near to Promised Land Lake. Boats may be rented nearby at concession stands.
Take a leisurely canoe excursion on Promised Land Lake or Lower Lake, and if you're a fisherman, try your luck at landing some bass, pickerel, yellow perch, or catfish. The Promised Land State Park and the Delaware State Forest are connected by 50 miles of hiking trails that provide opportunities for exploration, bird watching, learning about wildlife, and just taking in the beauty of the natural world. The Masker Museum has fascinating natural history exhibits, including mounted animals, so don't miss to visit. Reading: Pennsylvania water parks
7. Quiet Valley Living Historical Farm
The Quiet Valley Living Historical Farm works to preserve the distinctive German history of Pennsylvania. Visitors may see guides costumed in period garb reenact events from everyday farm life while learning about the farm's founder, Johann Depper.
The 114-acre farm's 114 acres are home to grasslands, streams, wooded areas, sheep, goats, cows, horses, chickens, pigs, and other animals. A antique farmhouse, a cottage, a smokehouse, and a few small barns are all accessible to guests. The farm may be booked for events like weddings, birthday celebrations, and other special occasions, and Quiet Valley is available for both individual and group excursions.
8. Weekend vacation in the Poconos: Kalahari Waterpark
The 10,000 square foot Kalahari Waterpark, which has an African theme, is located in Pocono Manor. Indoor surfing, body boarding, and waterslides are just a few of the entertaining and difficult activities available at this indoor waterpark for the whole family. By floating down the lazy river or relaxing in the hot tub, visitors may unwind. The water park's roof may be retracted on hot days to allow more sunlight in.
Almost 460 opulent rooms make up the resort where the Kalahari Waterpark is located. The Kalahari Waterpark is a unique location for business meetings, parties, retreats, and other special occasions thanks to its sizable conference center, spa, restaurants, and family entertainment center.
9. Claws 'N Paws in the Poconos
Throughout the summer and autumn, the petting zoo and animal park Claws 'N Paws presents a number of thrilling performances. More than 120 animal species, including parrots, reptiles, alligators, and pythons, may be seen up close by visitors. The facility of Claws 'N Paws also houses a variety of infant animals.
Visitors may pet deer, lambs, and goats at the petting zoo. An interactive area where adults and kids may go fossil-hunting is called The Dinosaur Outpost. Lastly, Claws 'N Paws lets guests feed parrots while receiving assistance from the personnel at the animal park.
Final words
After reading this article, you know about 9 fun things to do in Poconos in the summer. Plan your journey based on these activities and you will have a lovely time in Poconos.