Luray is a tiny town in Page County, Virginia, in western Virginia. It's just outside Shenandoah National Park, and Skyline Drive is close by. Experiencing Skyline Drive in Shenandoah National Park is a must-do in the United States! If you want to get that experience, and many more, you should go through this article on the best fun things to do near Luray Caverns.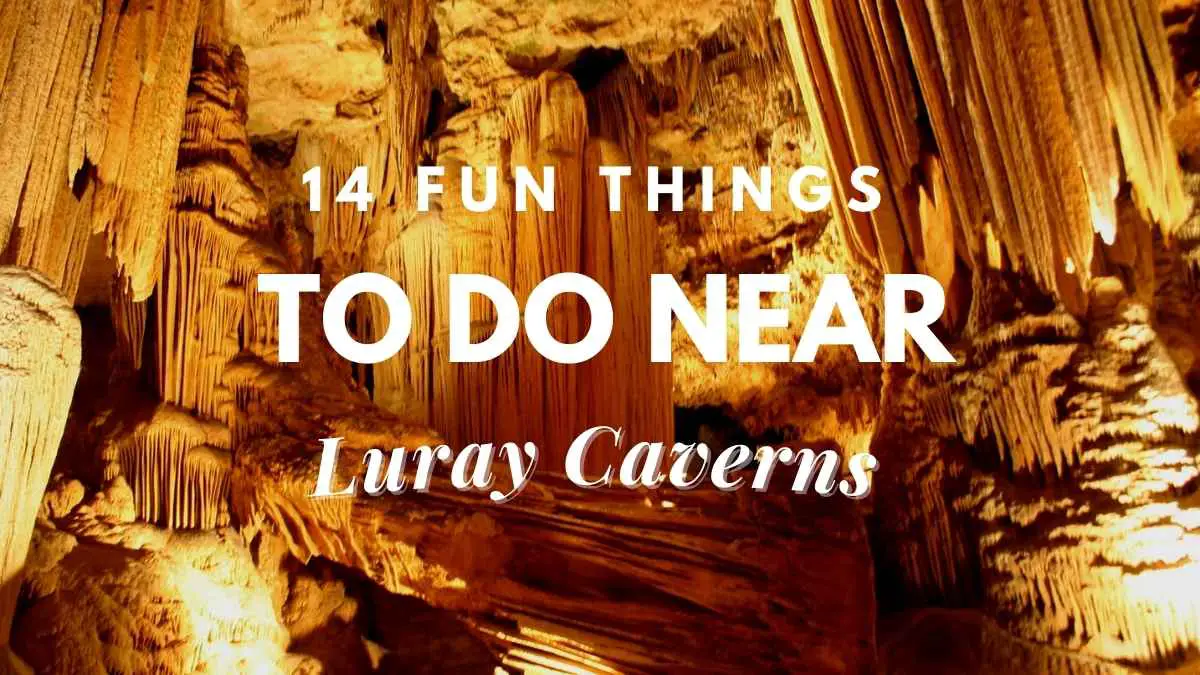 Where is Luray Caverns?
Luray is a charming village of little businesses and friendly people who still say hi to one other as you pass them in the shops or on the street. When we were out walking one morning, we noticed that we were often passing folks who said hello to neighbors and inquired about their lives. That's one of the advantages of a tiny town like Luray, which has a population of about 5,000 people.
Things to Do in Luray, Virginia
Read: Is Traveling A Hobby? The Ultimate Guide To An Exciting Way Of Life Learn about the Downsides Of Traveling As A Hobby

1. Visit Luray Caverns
Discover the world-famous Luray Caves, which have been in the making for millions of years and are one of the most famous caverns in the United States (and the most famous caverns in Virginia)! The Luray Caves are the biggest caverns on the East Coast of the United States, with tours that take you through tunnels with ten-story high ceilings, huge stone formations, and natural marvels at every turn.
Explore the huge halls that serve as a showcase for towering stone columns, gleaming drapery, and crystal-clear waters. When you visit Luray Caverns, you'll see the biggest amount of water ever discovered in a cavern as well as several crystalline kinds of limestone called calcite. In addition, Giant's Hall is home to the Luray Caverns' tallest column, which stands at an astonishing height of 47 feet and is one of the most spectacular structures in the Luray Caverns.
You may also see a 'magical concert' performed by the Great Stalactite Organ, which is one of the Luray Caverns' attractions. It breathes new life into the whole complex! The Luray Caverns are, without a doubt, one of the top sites to explore in Luray while visiting the Virginia town!
2. The Luray Caverns Garden Maze
Luray Caverns' Garden Labyrinth is the biggest and most popular hedge maze in the Mid-Atlantic region. Prepare to be challenged and lost among the 1,500 evergreen hedges that make up the walkways. The Garden Maze is wheelchair accessible and also appropriate for baby strollers.
3. The Garden Labyrinth
You'll have to make your way through many twists and turns in order to discover the maze's secret. To solve the maze's greatest enigma, try seeking for hidden targets along the route. As you make your way through the labyrinth, you'll pass across fountains, hidden passages, and an observation tower.
You'll also discover a gift store nearby with maze-related items to put your puzzle-solving talents to the test.
Read: Dog-Friendly Trails In Shenandoah National Park ( Maps and Guides )
4. Valley Cork
This wine bar, bottle store, and restaurant is a must-see in Luray, and you must stop in for supper and a drink of great local wine! The menu varies often, but there is always something local as well as some foreign favorites to choose from. On the menu, you'll also discover several craft beers and ciders.
You'll find anything from their California Chicken flatbread to Charcuterie Boards and more when it comes to cuisine!
5. Car and Carriage Caravan Museum
If you like cars, this fascinating museum is a terrific way to spend your time while visiting the Luray Caverns! You'll discover a unique collection of vehicles, motors, and carriages going back to the early 1700s at the Car and Carriage Caravan Museum at Luray Caverns.
Admire the cars' elegance and aesthetics while learning about their history. Observe some unusual autos from across the world up close and see how modes of transportation have evolved through time! When you come, you'll be impressed by the Stanley Steamer, Baker Electric, Rudolph Valentino's 1925 Rolls Royce, the US's oldest automobile, an 1897 Mercedes-Benz (still in working order), and so much more!
You may also visit the Car and Carriage Caravan, Shenandoah Heritage Village, and Toy Town Junction after exploring the cavern. All of these things are included in the cavern ticket. You will be taken back in time as you visit this museum, which has an 1897 Mercedes-Benz, a 1908 Baker Electric, a 1925 Rolls-Royce, and over 70 more classic automobiles. The museum is self-guided, so automotive enthusiasts can spend as much time as they like exploring and drooling.
6. Shenandoah Heritage Village
You may journey back in time and learn about the Shenandoah Valley's rich history at the Shenandoah Heritage Village. Begin your exciting journey at the Luray Valley Museum, where you'll find fascinating Native American artifacts going back to the 1920s.
Then continue on your tour to see the valley's historical structures. The Elk Run Dunkard Meeting House, the Bell House, and other buildings from the early 1800s are among the most well-known.
7. The Bell House
The Shenandoah Heritage Village, which spans over 7 acres of land, will transport you back in time to 19th-century rural life. Visit the residence of the area's first Delegate to the Virginia General Assembly, which goes back to 1835, or the Hamburg Regular School, which was the area's first school for African American students.
On the wall of the Elk Run Dunkard Church, you can see the real autographs of Union and Confederate troops. If you're interested in the history of the region, this museum is a must-see in Luray.
8. Hawksbill Brewing Company
If you're looking for craft beer in Luray, Virginia, you've come to the right place. Hawksbill Brewing Co., on the other hand, has you covered! This Luray artisan brewery has been a local favorite since 2015, when it was founded in collaboration with local farmers in Page County. Their goal is to employ as many local ingredients as possible, and they even cultivate their own hops in Luray!
They first opened their doors in 2017 and offer a fantastic selection of beers for consumers to pick from. Local honey and blackberries are included in several of the brews, and customers keep coming back for more!
9. Darkwood Manor
Darkwood Manor, located in downtown Luray, Virginia, is a haunted mansion where everything is based on true legends. It was erected by Mr. and Mrs. Darkwood, a well-known couple, and is notorious for ghost sightings, murders, and other strange events.
It's an exciting (and terrifying!) Halloween-season attraction that's been running for over 18 years and is a must-see for everyone visiting Luray. The home prepares visitors for a spooky environment that will leave them afraid yet with an unforgettable experience! The personalities and scenery are altered every year to keep people coming back year after year! When October is over, the staff gets to work on creating costumes for other area sites with a haunting theme.
10. Art Gallery in a Warehouse
Artist Jim Mayes founded Warehouse Art Gallery in 2002 as a "Center for the Arts" in the center of downtown Luray, Virginia. Over 1,000 masterpieces made by 90 regional and local artists are on show in the 10,000 sq ft space. Gather in its inviting environment to explore the surrounding treasures and share your artistic ideas!
The Warehouse is a great location to recharge your creative batteries or get a unique or handcrafted present for a loved one. Paintings, sculptures, ceramics, jewelry, photos, and a variety of other creative objects are available for all tastes and budgets at the gallery. The costs vary from ten dollars to ten thousand dollars.
11. Patisserie & Cafe Gathering Grounds
Gathering Grounds Patisserie & Cafe is a terrific option of locations to visit if you're searching for a lovely and pleasant spot to have lunch while visiting Luray! They offer a complete espresso bar where they serve espresso, Frappuccino's, and other beverages with zeal! Their espresso is made with locally roasted Red Rooster Coffee. They feature a variety of quiches and sandwiches, as well as a wonderful beer and wine selection. This is a fantastic restaurant in Luray!
12. Hawksbill Greenway Foundation
Hawksbill Greenway Foundation is a non-profit organization dedicated to preserving the Hawks. In the heart of Luray, Virginia's Shenandoah Valley, the Hawksbill Greenway Foundation is the ideal site to appreciate the variety of the plentiful animals and interact with nature.
Get near to nature while yet enjoying contemporary conveniences such as 6 parking spaces, two modern bathrooms, four drinking fountains, eight picnic tables, a 2-mile walking and bicycling track, and more. This is a great place to get up with friends and enjoy all of the Greenway's activities, which include birding, picnicking, fishing, frisbee, biking, rollerblading, pet exercise, silent meditation, and more.
Birds, insects, and several types of fish are common sights along the Greenway (bring bug spray!) You may also attend one of the various festivals and events conducted on the Greenway's Ruffner Plaza.
13. Carillon Park
The Luray Singing Tower, formally known as the Belle Brown Northcott Memorial, is situated in a park in front of Luray Caverns and is one of the country's most recognized carillons. It was constructed in 1937 to honor Colonel T.C. Northcott's wife. It stands 117 feet tall in a magnificent historic section of the Shenandoah Valley and attracts attention with its simple design.
Stroll around the park while listening to the park's captivating tunes, which are made by 47 bells weighing between 12.5 and 7.64 pounds. After enjoying free performances presented throughout the spring, summer, and autumn, take a tour of the tower. Patriotic, Folk, Classical, and Original Compositions for the Carillon are included in these performances. Separate excursions are offered, with prices ranging from $5 to $10.
14. Toy Town Junction
Toy Town Junction, as the name implies, is a vast collection of Dr. Richard Worden's old toys and trains. Worden, a retired Methodist preacher, recalls receiving a toy train as a child just as the nation was emerging from the Great Depression.
It was a major thing for his parents to get him this toy, which would ignite a lifetime fascination with the joy that can be had when you offer a youngster (or an adult) the opportunity to fantasize. A stroll through these toys will undoubtedly bring back memories from your own youth, as well as the opportunity to create some new ones with your own children.
Final words
Now you are aware about the best fun things to do near Luray Caverns. Adhere to these things, and you will end up with getting the best possible experience that you possibly could. There is no reason to worry about or regret about anything because this small town will never make you feel disappointed about the experiences that you are getting.