For a real luxury traveler, a luxury hotel is a better option than Airbnb or any of the other apartment rental services. While rentals, which are generally less expensive than mid-range hotels, are often a good choice for budget visitors, luxury hotels have a number of advantages over rentals.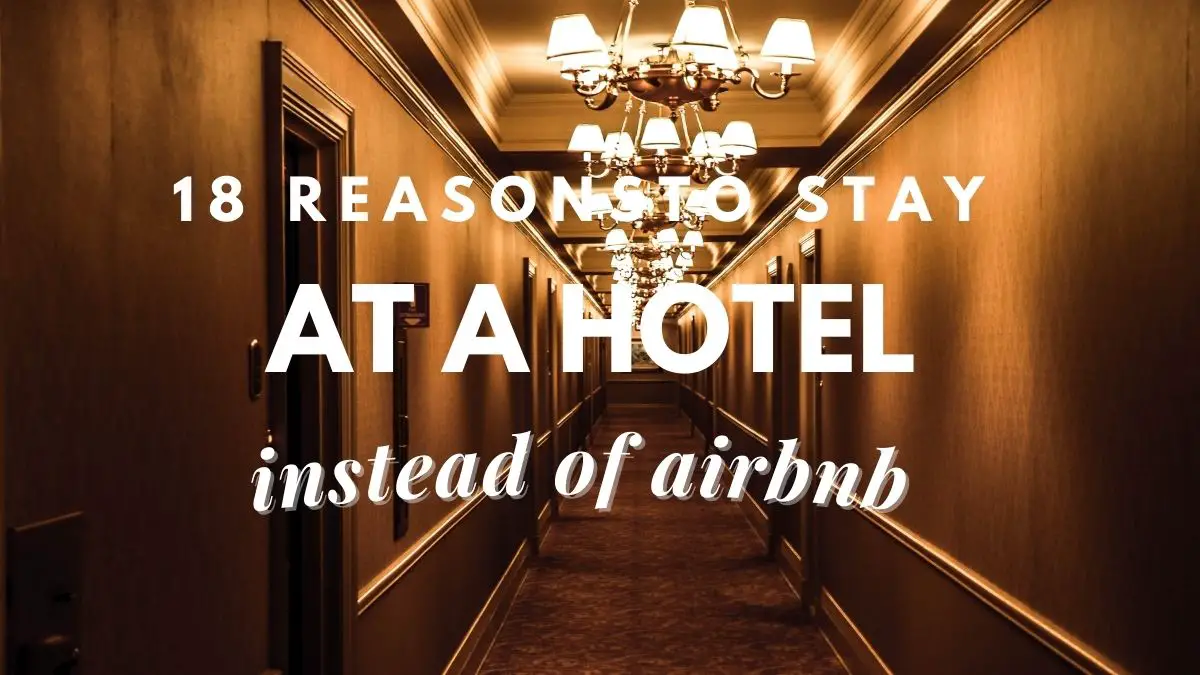 You can get a better deal
If you're a luxury traveler, you'll appreciate the attention to detail, which is sometimes lacking in even higher-end Airbnb and apartment rentals. For instance, a personalized welcome amenity for you, as well as a cute plush animal or special pastry treat for your child; Champagne if you're celebrating a honeymoon or anniversary, or a cake for your birthday; plush bathrobes and slippers; reservations at hard-to-get restaurants via the Concierge; twice daily housekeeping; an in-room Nespresso machine for your first coffee of the day; the list goes on and on.
While Airbnb and apartment rentals are more comparable to a change of scenery, a top luxury hotel is a genuine escape from the ordinary, with meticulous planning and hotel employees sweating the minutiae so you don't have to. A luxury tourist who values the whole experience will discover that a top luxury hotel offers greater value for money and less chance of unpleasant shocks than Airbnb.
Finally, for readers in the United States, there are certain premium hotels where you may stay for free for a night or two merely by applying for a credit card. For example, my husband and I were both approved for the Hyatt Visa, which comes with a signup incentive of two free nights at any Hyatt worldwide. We spent our four complimentary nights at the Park Hyatt Maldives, where villas may cost up to $1000 per night.
Read: [20 tips] Staying With Friends And Family On VacationLearn about involve everyone in the planning
You can get a better customer experience
There's a reason why the best luxury resorts and hotels are so picky about who they choose and train, especially when it comes to employees who deal with guests: Aman Resorts, The Peninsula, Four Seasons, and Mandarin Oriental, for example, use service to set themselves apart from other hotel companies.
The finest employees anticipate rather than react to customer demands. This is something that you can experience while you are spending your time at a hotel.
You can get a restful sleep at night
A good night's sleep is a basic requirement that all hotels and places to stay must meet, but you'd be surprised how many rental apartments and budget hotels fail to meet this requirement, whether due to a rock hard mattress, an old saggy mattress, a lack of adequate air conditioning in hot climates, or light streaming in too early in the morning when you want to sleep in. A luxury hotel, on the other hand, typically provides a wonderful comfortable bed that is supportive yet plush (or can be made plush by calling housekeeping for a mattress topper), reliable temperature control, and—most importantly—blackout shades that keep the room nice and dark, even for midday naps.
Read: Paddleboards VS Kayaks – What Is The Best Choice For Your Next Vacation? Learn about the level of control
You can experience loyalty benefits
The best luxury hotels either have a preferred partner program or are members of a luxury consortium, which means that depending on how you book, you can get special perks like an upgrade on arrival, complimentary breakfast, a hotel credit, and other perks (insider tip: don't book through Expedia or Orbitz if you want to be treated well). Certain brands, such as Park Hyatt, Ritz-Carlton, St. Regis, and others, provide loyalty points through Hyatt, Marriott, and SPG, which you may use to book future stays or upgrades, or transfer to other airline frequent flyer programs in the case of SPG. Of course, Airbnb and apartment rentals do not provide these sorts of VIP benefits or loyalty points.
You can switch suites or rooms as needed
Sometimes there are errors or issues with your hotel, suite, or rental. If you're staying in a rental, you're out of luck, which might completely destroy your trip. If you're staying in a luxury hotel and have a problem, the hotel will strive to locate you another room or suite (and occasionally even upgrade you): problem solved.
You can often go for refundable cancellations
If your plans change, you may cancel a refundable reservation at a luxury hotel without penalty, usually up to the day before (see the property's cancellation policy). Not so with Airbnb, where many hosts have severe cancellation rules that mean you'll be charged the full cost if you cancel after making a reservation. Even if you book with a host that has a more liberal cancellation policy, you won't get your Airbnb money back – it's non-refundable no matter how much your plans change.
Read: Plane VS Cruise Ship On Vacation – What Is The Best Option?Learn about which one is better?
You don't have to place a security deposit
Many apartment leases require a security deposit, which you might lose even if the wear and tear is modest. While you should treat any place you stay as if it were your home, you're less likely to be held responsible for regular wear and tear if you stay in a hotel. If you're a regular hotel visitor who isn't partying in your room, you'll usually never pay more than the room charge.
Consistent check-in experience
Someone is constantly at the front desk of a luxury hotel (or even a normal hotel) or can be quickly summoned with a bell. If you rent via Airbnb or another apartment rental service, on the other hand, you run the danger of not being able to meet the host and access your accommodation when you arrive. Still don't trust me. I leased from one of Airbnb's co-founders a few years ago, and he not only didn't show up on time, but he also didn't answer his phone for almost ten minutes. While he apologized, it caused me to be late for a meeting in San Francisco. This would never happen at a five-star hotel. I've learnt my lesson.
Read: Is Traveling A Hobby? The Ultimate Guide To An Exciting Way Of Life Learn about the Downsides Of Traveling As A Hobby

You can get yourself exposed to numerous activities
While some high-end rentals feature gorgeous pools and landscaping, which are comparable to those found at top luxury hotels and resorts, what sets many top luxury resorts apart is their distinctive cultural events and performances. For example, in the Four Seasons Maui at Wailea and Four Seasons Hualalai, native slack key guitar music, frequently accompanied by hula, or gamelan music and Javanese dancing at Amanjiwo, near Borobudur. One of my son's favorite activities at Four Seasons Hualalai was feeding a spotted eagle ray with the aid of the local marine biologist.
 Free access to children's club
The opportunity for children to make new friends at the complimentary kids' club is one of the many advantages of staying at a luxury resort rather than a vacation rental for families. While we do a lot of things with our son, he also likes to play with other kids, so the thought of going to a kids' club where he can build forts with other kids, play sports, do local arts and crafts, and go on scavenger hunts always makes him happy. He generally refuses to go, and in the meantime, we enjoy some quality time as a pair. Everyone is able to have a genuine vacation.
Read: Plane vs rental car on vacation – (pro's and cons)Learn about the what experiences matter the most?
Airbnb doesn't always display property location
Airbnb does not display the location of a property until you reserve it. Airbnb merely provides an estimate of your rental's location. As a result, you're never sure where your Airbnb is. In larger cities, a single block may make all the difference between a good and a bad neighborhood. If your Airbnb apartment is 500 meters off, this may be a major issue if you don't have access to a car. A hotel, on the other hand, constantly displays and advertises its address. As a result, you get a precise location for your hotel.
You don't have to pay a service fee
When you book a hotel via Booking.com or Hotels.com, you will not be charged a service fee. Even if they do, the percentage is usually less than 3%. Airbnb, on the other hand, charges a hefty 14 percent service fee. Furthermore, if you cancel your Airbnb reservation and the host agrees to reimburse you, Airbnb will not refund the 14% service charge. It's no longer there.
There are some unscrupulous Airbnb hosts that will charge you additional cleaning costs after your leave through the Airbnb resolution center. They may say that you left the room or apartment too unclean, and that the host need additional funds to clean the rooms. This, in my opinion, is ridiculous and a ruse. Airbnb is an odd service. While the Airbnb host charges a cleaning fee, your room or apartment is never cleaned during your visit. A hotel never charges a cleaning fee and cleans your room every day.
Read: Why Are Vacations Important?Learn about vacations that can help you with stress management
 Hotel Is Safer Than Airbnb
There are never any negative feedback on Airbnb listings. Because Airbnb deletes all negative ratings from its platform, this is the case. It's a concern since other guests have no way of knowing whether a visitor has left a bad review about an Airbnb home or its owner. For example, if a host is creepy or has hidden cameras placed, other guests will never know since Airbnb will delete any feedback that harm Airbnb's reputation.
You can experience a hassle-free check-in
A hotel or motel's personnel is available to help you during check-in 24 hours a day, 7 days a week. Even if you arrive late at a hotel, there will be somebody around to help you check in. However, you may occasionally have difficulty checking into your Airbnb accommodation. I had a lot of problems.
The host of an Airbnb, for example, ceased responding to my inquiries multiple times after the booking was completed. I was waiting in front of the rentals one day, and the host never came to give me the home key, nor did he reply any of my texts or phone calls. If you wish to stay at an Airbnb, you'll have to get used to the "Host not replying" issue.
Last minute cancellations by the host
If you reserve a hotel, your reservation will never be canceled by the hotel. You may rest assured that you will have a place to stay. However, Airbnb is known for last-minute cancellations. For a variety of reasons, the host cancels the reservation. When a host cancels, the visitor is the one who suffers the most. A family plans a multi-month vacation. Reserves a room in advance to lock in low Airbnb rates. However, the guest is in serious danger due to the last-minute cancellation.
There aren't any scams in hotels
There have been several instances of dishonest persons creating a false listing on Airbnb in order to defraud potential visitors. If you arrive to your apartment and discover that the listing is false, Airbnb will refund your money. However, the inconvenience will be significant, particularly in a foreign place where you are unfamiliar with the locals.
Read: Why are vacations so stressful?Learn about assuming that travel will help you solve all your problems
A hotel will never kick you out
A hotel will never kick you out of your room after you check in. However, there is a chance on Airbnb. I've witnessed hosts eject visitors for breaking home regulations like bringing an additional guest or smoking in a non-smoking Airbnb.
Airbnb can ban you
There have been several instances when Airbnb has refused to allow clients to use their site without reason. It's possible that a host posted a falsely bad review. Someone may have attempted to hijack your account. However, Airbnb has permanently locked your account rather than attempting to stop the hackers. The point is that Airbnb bans users on a regular basis and without warning. A hotel booking site, on the other hand, will never prohibit you.
Read: How To Eat Healthy On Vacation [Answered]Learn about the healthy meal plan even before you leave
Final words
If you are convinced, you can think about reserving a hotel for your next vacation than an Airbnb rental. Then you can continue to enjoy all these benefits.