Dogs are not allowed to go to the beach in Massachusetts during the summer, and even during the off-season, they must be on a leash. Many beaches, particularly the more remote beaches where there are few people, loosen this regulation in the winter after the lifeguards are no longer on duty. Even on a leash, dogs should avoid areas with lifeguards where most people congregate with children in the summer, but since Massachusetts beaches are frequently extremely long, there is enough of room for dogs to stretch their legs as long as they are under their owners' supervision and properly behaved.

Before bringing your dog to any beach, check the municipal restrictions, since they are subject to change and might be perplexing even to locals. Certain attractions may be closed temporarily or require reservations in advance. Currently, some eateries only provide pickup. It's possible that the hours and availability have changed.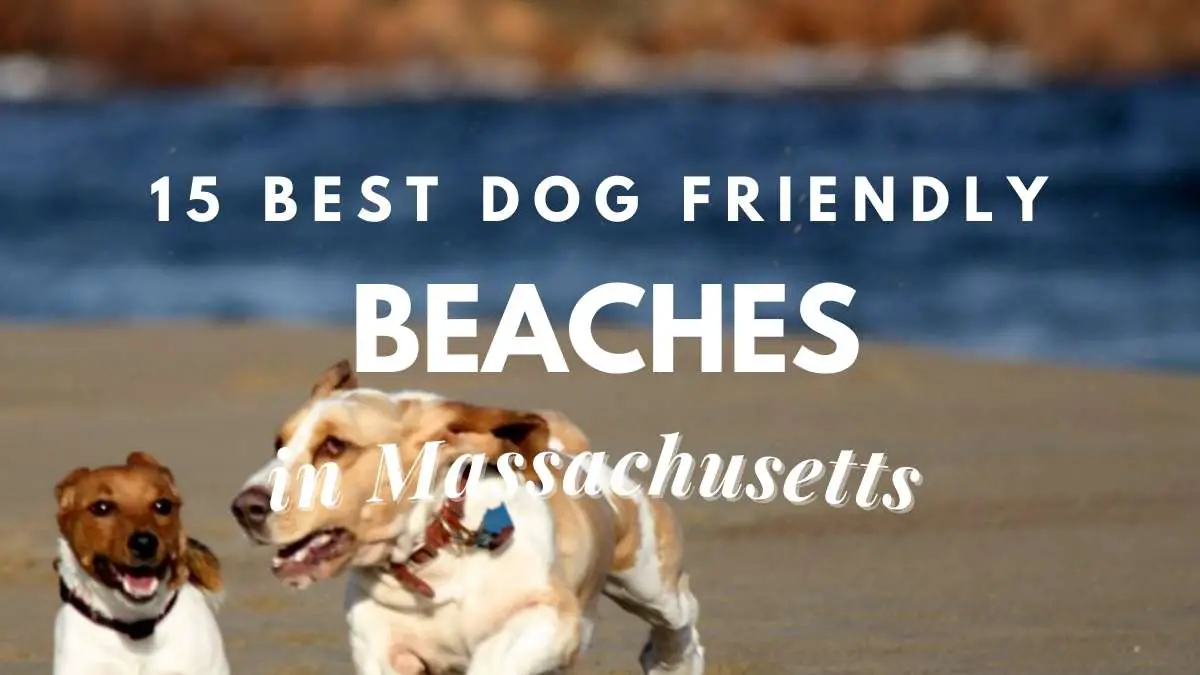 1. Brant Rock
Brant Rock is a tiny coastal town near Marshfield, Massachusetts, known for its many sandy seaside beaches.
Along Ocean Street, there is an esplanade and a stone jetty where visitors may stroll out over the ocean.
Even in the summer, the water is chilly, but the sand is fine and perfect for sunbathing.
Unfortunately, the beach is somewhat narrow, and the residences are located extremely near to it.
It is, however, highly popular, and boisterous, so it is not a good option if you are searching for peace and quiet.
Dog owners adore it because they can walk their pets on a leash all year.
Poop bags are even available at the beach's entrance.
Owners should clean up after their dogs as soon as possible.
Read: Is Traveling A Hobby? The Ultimate Guide To An Exciting Way Of Life Learn about the Downsides Of Traveling As A Hobby

2. Carson Beach
Carson Beach is a South Boston public beach.
The beach is part of a three-mile-long park stretch in South Boston that runs west from Castle Island and the beaches on L and M Streets.
The beach is particularly popular since it is conveniently accessible from the city and provides lovely smooth sand as well as spectacular views of Boston Harbor.
The beach amenities are adequate, but the water is quite cold all year.
Dogs are permitted outside of the season, from Labor Day to Memorial Day, as long as they are restrained.
The beach is huge and broad, and dogs and their owners love running and splashing in the sea on the firm compacted sand.
3. Beach on Castle Island
Castle Island, a famous 22-acre leisure place for Boston ians and the site of 1634m Fort Independence, is located in South Boston on the picturesque shores of Boston Harbor.
The most popular activities, apart from visiting the fort, are walking along the beach, swimming, and sunbathing.
There are a limited number of beaches to select from.
Pleasure Bay Beach, on the island's south and west coasts, features great sheltered swimming places on the lagoon's edge.
Day Boulevard beaches offer beautiful white sand and lifeguards.
Dogs are permitted if they are kept on a leash and their owners clean up after them.
4. Coast Guard Beach
Coast Guard Beach, which is part of the Cape Cod National Seashore and is located near Eastham, is a great beach for hiking, resting, and swimming in the summer.
The beach is not suitable for tiny children due to the roughness of the waves.
During the summer, there is a lifeguard on duty and bathrooms are available on-site.
Dogs are permitted on the beach as long as they are on a six-foot leash and keep off the lifeguarded area throughout the summer.
Owners must clean up after their pets since they share the beach with other people and children.
5. Corn Hill Beach
Corn Hill Beach is a long and narrow sandy beach bordered by low sand dunes covered with crabgrass on Cape Cod Bay, approximately north of Pamet Harbor.
Because the bay bottom is shallow and sloping, and the water is quiet and pleasant, this beach is ideal for families with little children.
Behind the beach, there is a calm and lonely tiny inlet.
The beach is a great place to observe vessels enter and exit the port, and dogs like watching them from the large stretch of packed sand.
Dogs are allowed on the beach before 9 a.m. and after 6 p.m. during the summer, and all day during the off-season, but they must be on a leash.
6. Craigville Beach
Craigville Beach is a popular beach on Nantucket Sound near Craigvile (part of Centerville).
This large public beach is free to the public and is particularly popular with teenagers and students, although its great stretch of fine sand appeals to everybody.
Kite surfing, swimming, and sunbathing are all popular activities on the beach.
During the summer, there is a lifeguard on duty, and there are a few concessions offering rental chairs and umbrellas.
Showers and facilities are available on the beach.
Only during the off-season, from September 15 to May 15, are dogs permitted.
7. Crowe's Pasture Beach
Crowes Pasture is a quiet beach accessible by a rugged mile-long dirt road that runs along the edge of Cape Cod Bay and Quivett Creek through scrub oak forests.
In the summer and autumn, the walk is bordered by a salt marsh and restored meadows rich with wildflowers.
While the route to the beach is available to automobiles, it is much more enjoyable to park your car near the cemetery and walk to the beach.
There's a possibility you'll see some animals.
To have more room on the beach, plan your visit for a few hours after high tide.
The beach is wild and undeveloped, with no facilities, and dogs are welcome but must be kept on a leash.
It doesn't matter since the trek to the beach will exhaust them enough that they'll be content to just sit on the sand once they get.
8. The Fort Phoenix State Reservation
The Fort Phoenix State Reservation near Fairhaven, on the outskirts of New Bedford Harbor, is a popular park.
The park has a beautiful half-mile beach, breathtaking vistas of Buzzards Bay, and the well-preserved Revolutionary War Fort Phoenix.
Swimming, picnicking, playing tennis or basketball, or wandering down the beach collecting shells from oysters, scallops, clams, and sea snails are all popular summer activities for families.
There includes a children's playground as well as outdoor showers.
Dogs are only permitted during the off-season, from September to April, and must be kept on a leash.
9. Francis Street Beach
Francis Street Beach is a little harbor beach within a few minutes' walk from Main Street in downtown Nantucket.
The waters of this beach, like those of other beaches on the island's north side, are tranquil and the surf is mild.
Even tiny children will enjoy swimming there, but bear in mind that there is no lifeguard on duty.
Jungle Jim is available for the kids, as well as kayak rentals and facilities.
The waterfront and Nantucket Sound views are breathtaking.
You are welcome to bring your dog, but he or she must be kept on a leash.
Brant Point should be avoided since the current is really strong.
10. Hatches Harbor Trails
The Cape Cod National Seashore includes the Hatches Harbor salt marsh in Provincetown.
Between Hatches Harbor and Provincetown Airport, this vast marsh offers miles of hiking and bike routes.
The route begins with the Province Lands Road parking lot.
Before reaching the beach, follow the dike route to the dunes.
You may continue down the coast and cross a little creek to reach the lighthouse if the tide is low.
You will have to trek across the dunes if the tide is high.
Because of the firm packed sand and magnificent views of the Race Point Lighthouse and the port, the pathways are highly popular with dog owners.
Right whales may be seen if you visit between March and May.
There is a lot of animals all year.
Please remember that dogs must be leashed at all times when visiting the Cape Cod National Seashore.
11. Head of the Meadows
Head of the Meadows is a popular North Truro beach with a huge stretch of fine sand that is constantly full of people enjoying watersports, swimming, or lounging in the sand.
It is part of the National Seashore.
The beach is particularly attractive, with big dunes towering over the coast and lengthy sandbars in the ocean that make the water shallow and ideal for children.
Whether it's a volleyball game or surfers soaring over the waves, there's always something going on.
It's ideal for family picnics or exploring for shipwrecks at low tide (there are over 1,000 along this length of shore).
You may also bring your bike and ride past the Salt Meadow marshes on the two-mile Head of the Meadow Trail.
Pets are allowed before 9 a.m. and after 6 p.m. in the summer and all day in the off-season, but they must be on a leash.
12. Herring Cove Herring Cove
Herring Cove, Provincetown's most popular beach, is situated near the point of the Cape, only a few miles from town.
This vast, broad beach is part of the National Seashore and is divided into several sections, one of which is only guarded by lifeguards during the season.
A hot dog vendor, two parking lots, bathrooms, and showers are also available.
The beach is ideal for a variety of outdoor activities, including swimming and enjoying beautiful sunsets, as well as hiking and bicycling on the neighboring path.
Dogs are permitted on the portions of the beach that are not patrolled by lifeguards, but they must be kept on a leash.
It is the responsibility of the owners to clean up after their dogs.
13. Horseneck Beach
Horseneck Beach is part of the Horseneck State Reservation, an 800-acre public recreation area on the Atlantic Ocean in southern Westport, Massachusetts, on Buzzard's Bay's western shore.
This peninsula is home to a two-mile-long barrier beach, marshlands, and a complex estuary ecology.
Fishing, windsurfing, boating, swimming, hiking, and biking are all popular activities on the reserve.
There is a boat ramp as well as various walking and bird-watching routes.
During the summer, there is a lifeguard on duty, and paved pathways run the length of the beach.
During the off-season, between October and March, dog owners may bring their pets to the beach, but they must keep them on a leash.
14. Jetties Beach
Jetties Beach is a popular Nantucket beach that is within a short bike ride from town.
The water is warm, tranquil, and ideal for swimming, making it highly popular with families with children.
A plastic mat runs across the beach's broad length of packed sand to make walking across the sand easier.
Restrooms, showers, lifeguards, and a restaurant are all available at the beach.
Lessons in sailing, windsurfing, and kayaking are provided.
The shuttle bus that operates throughout the season makes getting to the beach from town a breeze.
Dogs are allowed on the beach where there are no lifeguards, but they must be on a leash.
15. Kalmus Beach
Kalmus Beach, which is located at the end of Ocean Street in Hyannis, is a long, broad length of white sand with two separate areas: one that is windy with constant waves off Nantucket Sound and is famous for windsurfing, and the other that is more sheltered and perfect for swimming.
The beach features a lifeguard and a variety of amenities such as showers, bathrooms, and a snack bar during the summer season.
Although there is a shaded picnic spot, you should bring your own food.
The beach is also an excellent place to observe the harbor's magnificent sailboats glide by.
Take a walk around the shore and search for brightly colored shells; there are many.
From September 15 to May 15, dogs are permitted to go about on or off leash.
Final words
These are the best beaches that we can recommend you take your dog with you. Make sure that you adhere to proper etiquette while you are spending your time at the beach along with your dog.