What should you bring to Universal Studios or to Universal Resort Orlando? If you're visiting a theme park in California or Florida, I've compiled a list of 20 items to bring to Universal Studios or the Orlando Resort to make your vacation more enjoyable. When visiting a theme park, the last thing you want to do is feel uneasy. You'll already be waiting in the blazing heat all day with very large lineups. From this article, we are going to review what to bring to Universal Studios Orlando in detail. All you have to do is to go through the checklist we share and pack items accordingly to get the best possible experience at the theme park.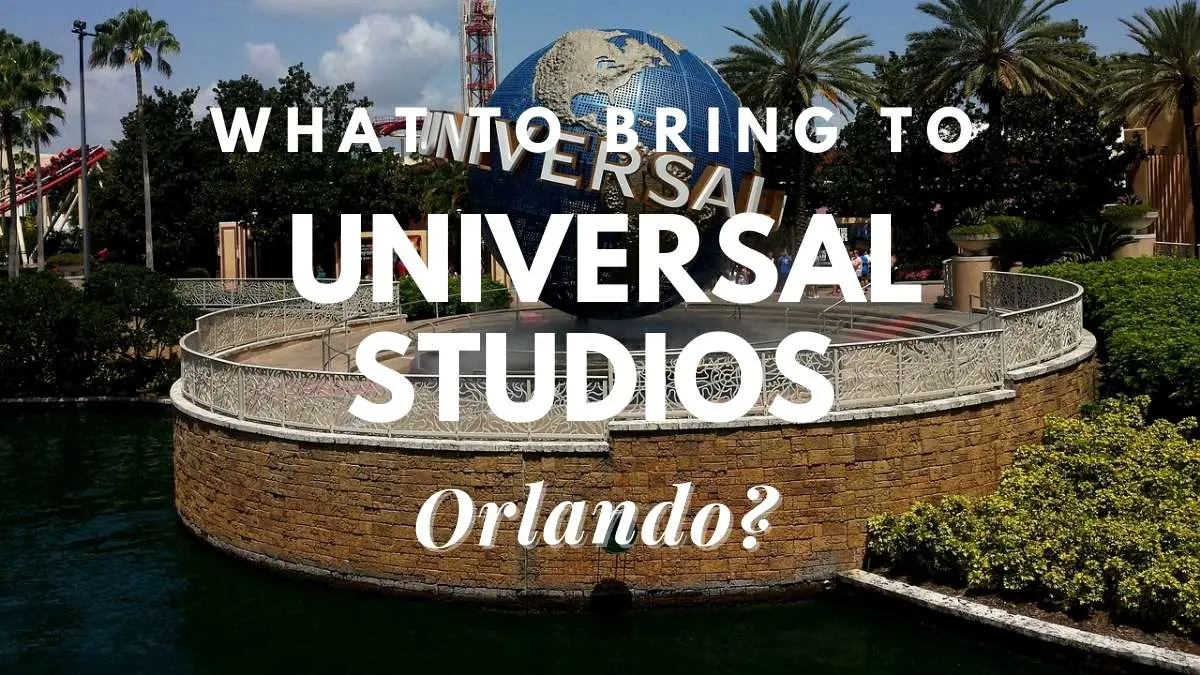 1. A baby stroller
Do you have any younger kids? I would strongly suggest you bring a stroller, even if they haven't used one in a while. You'll be walking a lot around Universal Studios, and your tiny children won't be able to keep up. They'll be complaining that their feet ache by the end of the day, forcing dad to carry them the remainder of the park. You can trust me on this.
Bringing a stroller is also advantageous since it can hold the majority of your items as you walk. If you have the correct kind of stroller, there is generally a compartment beneath that may hold a lot of necessities.
Read: Is Traveling A Hobby? The Ultimate Guide To An Exciting Way Of Life Learn about the Downsides Of Traveling As A Hobby

2. A backpack
A backpack is another fantastic method to keep all of your possessions together. Universal will let you bring one, but keep in mind that it will be checked at the security checkpoint, so don't attempt to conceal anything banned in it. You may also keep it in a locker provided by Universal Studios. This tiny backpack is ideal for visiting amusement parks.
3. Some water bottles
Bottled water at Universal Studios costs $3.29, which is a little pricey. Fortunately, you may carry up to 2 liters of bottled water into Universal Studios. Make sure to take advantage of this to keep your family hydrated while avoiding the high water rates.
4. A ball cap
In the summer, the temperature in both California and Florida is scorching. Wear ball caps to protect your family's heads from sunburn and to keep the sun out of their eyes.
5. Sunscreen
You'll be exposed to direct sunlight for the whole day. This is the final thing on your list that you don't want to forget. You don't want to spend the rest of your family vacation administering aloe vera to screaming kids.
6. A pair of comfortable shoes
Are you prepared to walk a lot? You will have to do it when you are exploring the Universal Studios. Sandals and flip flops are more appropriate for a day at the beach than a theme park. Make sure you bring along some comfortable walking shoes for the many miles you'll be covering in the park.
Nikes are my go-tos, although many others like Keens, New Balance, and Converse. Because everyone's feet are different, do what feels right to you.
7. Sunglasses
With an inexpensive pair of sunglasses, we can keep the sun out of our eyes. Remember to remove them before riding a roller coaster. You wouldn't believe how many cracked sunglasses and phones may be found on the ground underneath.
8. Asprin or a painkiller
Always have pain relievers on hand. It's easy to get a headache during the day due to the heat, loudness, and fast-moving rides.
9. Allergy medicine
On the most gorgeous days, does anybody in your family experience the sniffles or sneezing attacks? Every household has at least one. Bring allergy medication so they won't be unhappy, and you won't have to listen to them scratch their nose all day.
10. Rain protection
Personally, I don't carry this since I don't mind getting a bit wet. The weather in Florida is fickle. It's bright one minute and then a rainstorm appears out of nowhere the next. Even if the forecast predicts a bright day, bring them along just in case. You can acquire several for a fraction of the price on Amazon, so you won't have to spend $10 each at the park.
11. A map of the park
Make sure you have a park map downloaded to your Universal Studios Hollywood Mobile App, so you know where to go next. It will also tell you how long each line will take to complete.
12. Hand sanitizer
Don't forget to use hand sanitizer since there are millions of bacteria on everything your children touch. I keep a bottle of Purell with a pump in the cup holder of my stroller since I'm a bit OCD like that. You may laugh all you want, but the last thing I want to do on vacation is become ill! It's also useful after handling anything sticky…
13. A sweatshirt or a hoodie
While the temperature in Florida is scorching during the day, the evenings may swiftly chill down, leaving you freezing. Just in case, bring a light sweater or hoodie.
14. Band-Aids
Someone in your family will undoubtedly scratch their knee while jogging. Have you ever been in a situation when you didn't have any band aids on hand? If you don't have any band aids, your kids will fall apart; don't you know that they relieve the agony of most boo boos?
15. A power bank
You'll be standing in queues and gazing at your phone for a long time. A portable power bank can preserve your phone battery from depleting and will keep your kids occupied while you wait.
16. Chapstick
Chapped lips are painful, and you have to lick them to smooth them out. Use chapstick to keep them moist. Make sure it has SPF!
17. Tissues
This has previously been addressed. Bring a travel-size tissue pack with you so little Johnny's nose doesn't run all day. Wipes also work!
18. Female hygiene products
You don't want to be caught without them in public. That time of the month may sometimes appear out of nowhere and say "surprise." Make sure you have additional tampons/pads on hand in case anything goes wrong.
19. Clothes to change
Depending on your park plans, this one is hit or miss (and mostly apply to Florida). You and your family will get drenched on many water rides and attractions. Bringing light clothing to change into is a good idea, or you could spend the $5 on a dryer.
20. A small cooler
I definitely recommend getting a small cooler that will fit below your stroller. This manner, instead of heating your meals and beverages in your rucksack, you can keep them chilled. Snacks for the kids (and you) will help you save money as well.
Final words
Phew, there are a lot of things to remember while packing for a trip to Universal Studios or Universal Orlando Resort. What additional essentials do you carry to theme parks that could have been missed off this list, for all you theme park gurus out there?