For good reason, Baxter State Park is one of Maine's most popular outdoor destinations. The park spans 209,644 acres and has over 40 mountain peaks and ridges, more than 220 miles of hiking trails, eight roadside campsites, and two backcountry campgrounds, as well as many options for fishing, hiking, paddling, animal observation, and nature exploration. On this Baxter State Park camping guide, we will share more details with you on what to expect out of your camping adventures.

But how can you book a camping spot that would give you the ideal outdoors experience? During the summer, around 60,000 people visit Baxter State Park, and all camping is confined to a small number of sites. There is a lot of competition! I've identified nine measures you may do to significantly boost your chances of getting the reservation you desire.

How to plan your trip to Baster State Park?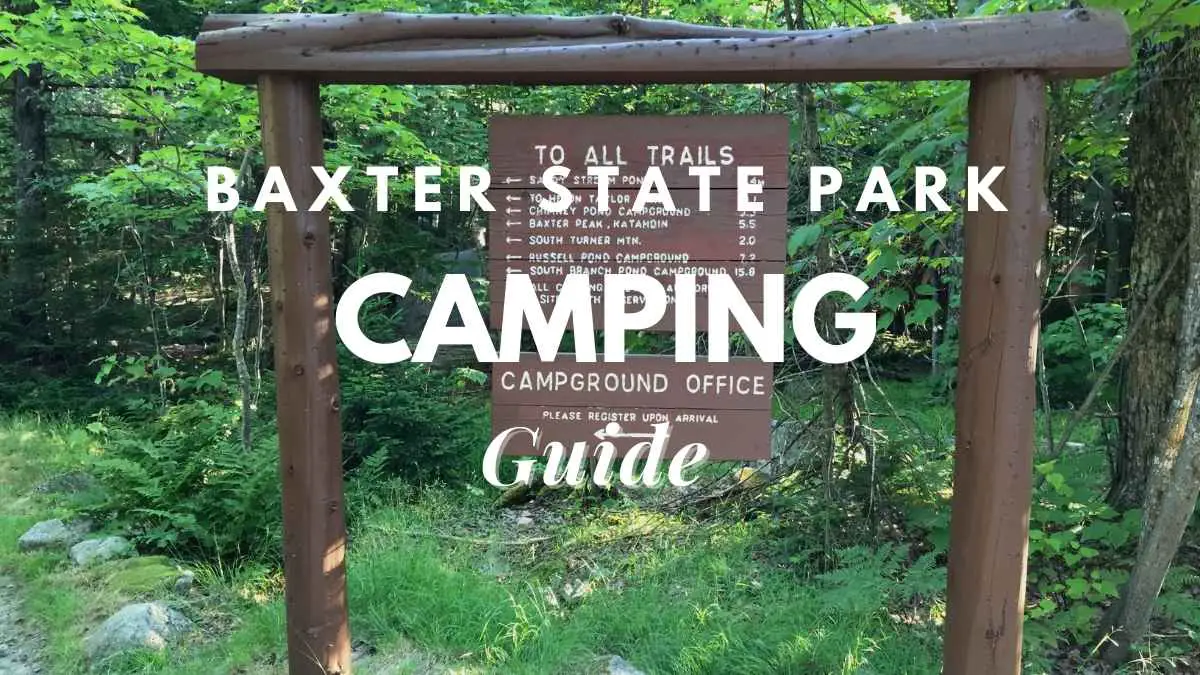 1. Understand what you're getting yourself into.
People who are acquainted with Baxter State Park may skip this stage, but if you are unfamiliar with Baxter, be prepared. Camping in Baxter is not the same as pulling an RV into a neighboring KOA. There are no dog parks (dogs aren't even allowed), restaurants, or baths, and mobile coverage is only available above tree line! Camping in Baxter is a genuine wilderness experience, so make sure you're aware with the restrictions before you go. Consider the following scenario:
Camping is only allowed with a reservation. You will not be admitted if you are not at the gatehouse by 8:30 p.m., regardless of whether you have a reservation. Outside of lean-tos and lean-to sites, tents are not authorized. You are not permitted to transport firewood into the Park. You must dispose of all of your rubbish. These are just a few of the guidelines. To find out what to anticipate, go to the Baxter State Park guidelines page.
Read: Is Traveling A Hobby? The Ultimate Guide To An Exciting Way Of Life Learn about the Downsides Of Traveling As A Hobby

2. Decide on the best time of year to visit.
The "best" season is subjective. For some, the finest time to go trout fishing is in the spring. For others, it's the beginning of summer vacation. September and October are the "ideal" months for me, when the crowds have thinned, and the black flies have vanished. Regardless, figure out when your ideal moment is and prepare four months ahead of time (more on that in a minute).
3. Choose the Best Location
This is similar to the "greatest" time of year in that it is subjective. Chimney Pond, the optimum launch point for Katahdin's top, is the finest site for many. Some folks appreciate the peaceful surroundings of Upper Branch Pond. Wassataquoik Lake in Baxter Park was voted one of the top 20 backcountry lakes by Backpacker Magazine. There are several options! A list of campsites and maps may be found here.
Note that your finest site can have its own set of restrictions. Reservations at Davis Pond, for example, are restricted to one night and need a reservation at Russell Pond or Chimney Pond the night before. Wassataquoik Lake Island reservations are restricted to two consecutive nights and need the same Russell or Chimney Pond reservation.
4. Be adaptable
Prior to publishing this essay, I phoned Park Headquarters and inquired about the recommendations they would provide to individuals making reservations. The instant answer was, "Be flexible." "Give us a variety of choices." Have a backup plan or a third choice."
Even if you arrive early, there's no assurance that you'll receive the place you want, so prepare a backup plan. If you're sending your reservation, think about other options in case the one you want isn't available. If you're phoning the Park, make a note of your second and third options. You may reserve a single spot for up to seven days and up to 14 days in total during a single visit. The number of bookings per person per day is restricted to two.
5. Consider options other than Mount Katahdin.
I understand that Mount Katahdin is the most popular destination. It is Maine's tallest summit. The Appalachian Trail comes to an end here. It's stunning. It is, nevertheless, a favorite of many, as seen by the crowds who gather at the height of each warm day. Chimney Pond is the most popular camping location in the park. I've phoned the park many times on the day they open, four months before my planned date (more on that later), expecting to obtain a site, only to receive busy signal after busy signal. The webpages are gone by the time I get through. Campgrounds near Mount Katahdin's base are also popular.
Access to Katahdin is restricted, further complicating Katahdin-based planning. The Park's Trustees are in charge of conserving the Park and its environment. This implies that trails have limitations. Access is restricted when the parking areas at the base of Mount Katahdin are full.
Hiking Katahdin is also a challenging experience! A round trip trek might take anywhere from eight to twelve hours, depending on the path and your physical level. By the end of the day, most visitors are exhausted, so if you're looking for a more leisurely getaway, Baxter's many other camping sites are wonderful options. As previously stated, Baxter State Park has a total area of 209,644 acres that may be explored. There are over 40 additional mountain summits in the Park, and you'll encounter significantly less people on those excursions!
6. Make reservations as soon as possible, but not too soon.
Making reservations in advance may seem self-evident, but you cannot make them too early. Baxter State Park operates on a four-month rolling reservation system, which means you can't book a site until four months before the desired date(s). For instance, if you wish to make a reservation for July 20th, the earliest you may do so is March 20th.
Winter bookings (December 1–March 31) are an exception. Reservations for winter camping may be made at any time after November 1st. These bookings must be made at least seven working days before your travel.
7. Send Your Reservations via Mail
You may make reservations at Baxter State Park in four different methods. You may create them at Park Headquarters in Millinocket, which is situated at 64 Balsam Drive. They are open from 8 a.m. to 4 p.m. Monday through Friday and are closed on weekends and holidays. Reservations sent by mail are handled first. So, if you phone early in the morning four months before you plan to visit to make a reservation for the final week in August, you will be placed behind the bookings that were sent in and processed first.
However, there is one exception! If you're just planning on camping for one night (some areas have minimum nights), you may book that night online up to four months in advance. That's how you defeat everyone. The caveat is that you can only book the room for one night. To put it another way, if you want a reservation between July 1st and July 5th, you can only reserve July 1st online at midnight.
8. Become a Mainer
Many people are unaware that Park Headquarters prefers to open mail for Maine residents. Maine residents' mailed bookings are handled first. So, if you're from Maine, you've got a leg up. If you're not from Maine but will be traveling with someone who is, have them send the reservation to you.
In addition, out-of-state cars must pay a $15 charge to access the Park. Vehicles from Maine aren't. On that topic, if you wish to climb Mount Katahdin but aren't planning on staying in the park, you may book a parking place at the Katahdin trailheads. You'll have a parking place till 7:00 a.m. if you do this. If you haven't arrived by that time, your parking place will be given away on a first-come, first-served basis. Your Day Use Parking Reservation (DUPR) may be made online. May does not need DUPRs, which cost $5 apiece.
Maine citizens have an edge once again. Starting April 1st, Mainers may book a day use parking place at any time throughout the summer season. Non-residents have just two weeks to make them before their travel.
9. Make Outside-the-Park Reservations
Consider remaining outside the park and using it during the day if you don't obtain the site you want within the park, or if you prefer having outside facilities. The Katahdin Adventure Basecamp, nestled on Ambajejus and Millinocket Lakes, by Northern Outdoors, is an excellent option. Outdoor experiences abound across the Katahdin area. Without ever entering the Park, you may go whitewater rafting on the Penobscot, paddle Millinocket Lake, enjoy a picturesque train trip, or go fishing. You may pitch a tent in the woodland campsite, obtain a lean-to or RV site, or stay in a cottage on Millinocket Lake at the Katahdin Adventure Basecamp, which is situated at Big Moose Inn.
Amenities at Wilderness Edge Campground: Wilderness Edge is roughly 15 minutes from Millinocket's Baxter State Park. The campsite is actually on the same road as the park's south entrance, making it one of the most convenient RV camping options near Baxter State Park!
There are water and power connections at all of the park's RV sites, as well as a dump station. There's a pool, a playground, horseshoe pits, a camp shop, free Wi-Fi, and hot showers to enjoy. The park is pet- and ATV-friendly, and canoe and kayak rentals are available.
What is the best time to go with Baxter State Park Camping?
With so much to see and do in such a lovely state as Maine, it's difficult to imagine a terrible time to come. The optimum time to visit and stay at Baxter State Park RV campsites, on the other hand, is subjective and is primarily decided by the activities you choose to partake in.
Winter
"Baxter Park in the winter is a genuinely wild, gorgeous, demanding, and at times, harsh terrain," park rangers say. Expect highs in the teens during the day, lows in the single digits or perhaps negative digits at night, and plenty of snow. The park draws few winter tourists due to the harsh weather.
Baxter State Park, on the other hand, is the perfect winter playground for anyone prepared to battle the conditions and plan ahead. Because park roads aren't plowed in the winter, they're mostly closed to vehicular traffic. Visitors may park at the plowed lot near Abol Bridge, ride snowmobiles, snowshoe, or ski into the park.
Spring
Baxter State Park comes alive with wildflower blossoms in the spring. As the rivers, lakes, and ponds thaw, it's also a great time for trout fishing.
While the weather is milder in the spring than in the winter, it is still unpredictable. Between March and May, high temperatures may range from 20 to 60 degrees, with nightly lows often below freezing. Rain and snow are not unusual far into May, so tourists are advised to bring lots of clothing.
Summer
Summer is without a doubt the most popular time to visit Baxter State Park. Paddling, bicycling, fishing, rock climbing, and animal watching are just a few of the outdoor activities that are accessible and at their finest throughout the summer. This is also the finest time of year to go hiking in the area, particularly if summiting Mount Katahdin is on your list of things to do.
Summer temperatures in this location are pleasant, with highs in the 60s and lows in the 70s and lows in the 40s. Summer, on the other hand, delivers a lot of rain, along with thunder and lightning. Mosquitoes, black flies, and other biting insects make their yearly visit, making it humid and "buggy." Keep in mind that there are no shops inside the park, so bring plenty of bug repellant.
Fall
After Labor Day, the crowds drop down somewhat, and the weather is near-perfect, so many people consider October to be the greatest season to visit Baxter State Park. Daytime temperatures in November are often in the mid-30s, although days in September and October are in the upper 40s and 50s. Snow may fall as early as October, although it isn't frequent until mid-November.
Northern Maine is perhaps one of the greatest spots to observe autumn foliage in the nation. Hiking everywhere in the park provides stunning vistas and going out into any body of water gives a unique viewpoint. Hunting is authorized in roughly a quarter of the park during the fall season.
Final words
This guide helped you to get a better understanding of Baxter State Park Camping. Keep these in mind and go ahead with your camping adventures. You will fall in love with what comes on your way with them.