Despite sharing a sweet stretch of coastline on The Emerald Coast, Destin and Fort Walton Beach have quite different histories, populations, and atmospheres. On a portion of Okaloosa Island that has not been developed and is a part of the National Seashore, they are separated by around five miles of immaculate white sand beach. On this Okaloosa Island vs Destin comparison, we will help you to locate the best destination to visit out of these two.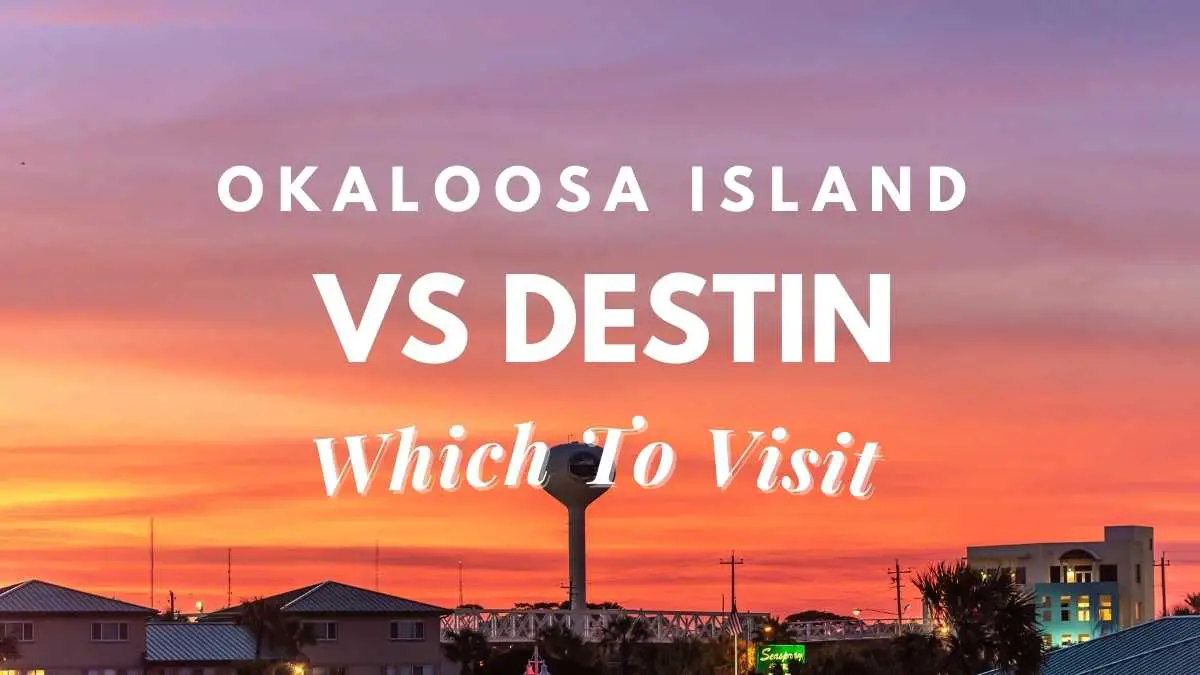 Visiting Destin
While the Brooks Bridge links Fort Walton Beach to Okaloosa Island from the west, the Destin Bridge connects the island's eastern end. The "beach" for Fort Walton Beach, which is located on the opposite side of the intercoastal waterway, is really Okaloosa Island. When the island was developed to attract tourists in the early 1950s, Fort Walton, which had been incorporated in 1941, became Fort Walton Beach. Due to its proximity to Hurlburt Field and the enormous Eglin Air Force Base, it is by definition a military community. Today, condos on the dazzling gulf line the unorganized island section that makes up the beach.
Captain Leonard Destin founded Destin in the 1840s after learning about the area's expanding fishery. Destin, often known as "The World's Luckiest Fishing Village," was founded as a result of a successful fishing industry. On its breathtaking sugary coastlines, high-rise apartments and holiday homes began to be built in the 1970s. It has been around for a while and has a diverse collection of single-family houses, gated resort complexes, and opulent seaside condos. Destin has a variety of fantastic restaurants, vibrant bars, specialized stores, championship golf, snorkeling, scuba diving, dolphin cruises, sunset tours, and pirate boat rides in addition to housing the biggest private fishing charter fleet in the country.
Harborwalk Village, which provides breathtaking views of the marina, bay, and magnificent gulf, is home to a variety of activities and is close to the Destin Bridge. Excursions to adjacent Crab Island, where sexy boat parties are held practically every day in warm weather on a submerged sandbar, are popular with water sports. Ocean Reef Resorts customers enjoy discounted pricing at La Dolce Vita, where they may hire pontoon boats, jet skis, paddle boards, and other watercraft. The quaint hamlet is home to a variety of eateries, specialized shops, and lively taverns around the waterfront. Here, major yearly festivities are observed with magnificent firework displays and free live music performances. Mardi Gras, Easter, Memorial Day, Independence Day, Labor Day, the Destin Fishing Rodeo, the Destin Seafood Festival, Christmas, and New Year's Eve are among the greatest of these occasions.
Popular family amusement parks in Destin include Big Kahuna's, where guests of Ocean Reef Resorts enjoy exclusive pricing. Another well-liked location is the enormous shopping center at the Disney-like Destin Commons, which resembles a European-style village with flag-topped towers, fountains, and palm trees while also housing a variety of upscale clothing stores, specialty shops, eateries, bars, and a sizable multi-Plex movie theater.
Read: Is Traveling A Hobby? The Ultimate Guide To An Exciting Way Of Life Learn about the Downsides Of Traveling As A Hobby

Visiting Okaloosa Island
West of Destin, Florida, is where Okaloosa Island is situated. Although legally a part of Fort Walton Beach, Florida, "the island" has a unique charm all its own. Okaloosa Island, which was once completely controlled by the U.S. Government, today provides coastal hotels, public beaches, family-friendly entertainment, and a vibrant nightlife. Learn What You're Missing on Okaloosa Island before making travel plans for your next Florida beach trip!
On Okaloosa Island, you can find food, entertainment, and a top-notch public beach at the Boardwalk! Visit one of the many stores selling clothing, jewelry, and beach supplies. Not a huge shopper? The restaurants on the Boardwalk will fill you up with delectable Gulf Coast fare. The newest eatery on the beachfront, Rockin Tacos, serves mouthwatering handmade tacos and an impressive tequila flight. The best fried shrimp on the coast may be found at Floyd's Shrimp House, which is located beachside.
On Okaloosa Island, are you looking for amusement and nightlife? You're at the correct spot, then! The area's hottest nightclub, Al's Beach Club & Burger Bar at the Boardwalk, has nightly entertainment, drink promotions, and exclusive performances by both local and international performers! Looking for a more tranquil setting? Downtown Fort Walton Beach is a short distance away and is accessible on foot from several hotels and residences on Okaloosa Island. After a strenuous day at the beach, restaurants, taverns, live music venues, and hundreds of stores make for the ideal hangout spot.
Okaloosa Island is a great site for kids and families, as well as offering a lot of opportunities for adult recreation. While Wild Willy's Adventure Zone allows youngsters to bungee jump, zip line, and putt their way to a memorable holiday, the exhilarating Gulfarium Marine Adventure Park offers dolphin performances and animal displays at a reasonable price.
Fort Walton Beach has fewer and more limited amenities, yet it still has some entertaining activities. The Air Force Armaments Museum, the only institution of its type in the country, is a highly regarded attraction with free entrance. From the first days of World War I, one hundred years ago, to the present, they feature exhibits of antique aircraft, weapons, and cockpit simulators. A SR-71 Blackbird, the fastest aircraft ever constructed, is one of the highlights, flanked by aircraft from World War II, Korea, Vietnam, and the Gulf Wars. This is situated on Highway 85, close to Eglin Air Force Base, seven miles north of Fort Walton Beach. It is open from 9:30 am to 4:30 pm, Monday through Saturday. You may get more details at afarmamentmuseum.com.
The Okaloosa Island Fishing Pier runs 1,262 linear feet out into the ocean from the coast. It is now one of the longest wharfs in the whole Gulf of Mexico thanks to its approximately quarter-mile addition. Pompano, Spanish Mackerel, Whiting, Bluefish, and Redfish are also often caught there. King Mackerel, tuna, cobia, and mahi mahi are examples of large fish. A King Mackerel that was taken here weighed more than 42 pounds, while Tarpon measuring more than 100 pounds have also been hooked. A fishing license is not necessary. Rod rentals, manufactured lures, and tried-and-true natural bait may all be obtained at a bait store. Ice cream, sandwiches, cold beer, drinks, and munchies are available.
Final words
As you can see in this Okaloosa Island vs Destin comparison, both destinations are quite outstanding. There is something for everyone in both. If possible, we encourage you to think about visiting both these destinations. Then you can end up with securing the best possible experience out of it at the end of the day. On top of that, you can make sure that you are getting a great time outdoors.
Make sure that you plan your adventures accordingly. If you are an adventure seeker, Okaloosa Island would offer some better opportunities for you. Along with that, you can make sure that you are getting a perfect overall experience during your stay as well. On the other hand, people who are looking for a more laid back travel experience can think about visiting Destin. Carefully pick the attractions and plan your vacation, so that you will enjoy how to get the most out of the stay.