There's so much to do in Burnsville, with two breweries, several parks, plenty of restaurants, a gorgeous lake, a performance center, coffee shops, and a place to go skiing and snow tubing! Burnsville, which is roughly 20 miles from both Minneapolis and St. Paul, is often neglected, yet it has much more to offer than meets the eye. Continue to read and you will get to know about the best things to do in Burnsville MN as of now.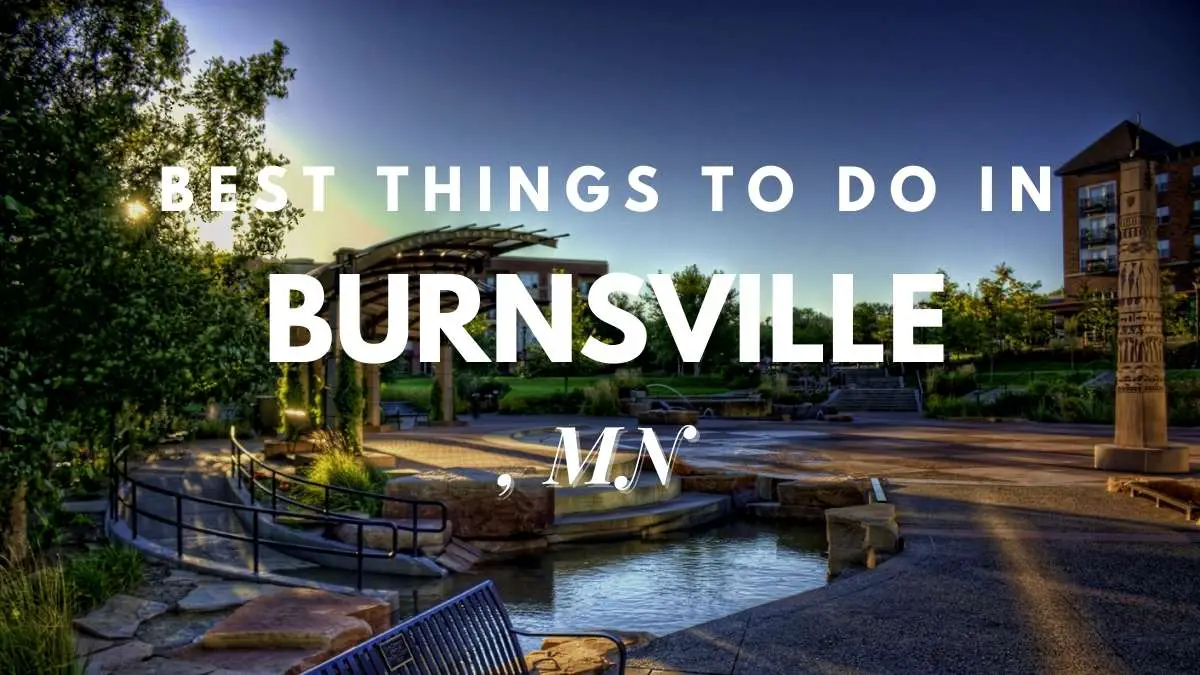 1. There are two breweries in Burnsville.
Burnsville boasts two excellent breweries, each of which provides a distinct experience. The beer variety at Ineffable Brewery is extensive. They also provide a culinary selection, as well as an on-site smoker and a huge inside room with an even larger outside terrace. For something different, try the Hefeweizen, Norwegian Farmhouse Ale, or the Coffee Blonde Ale at Ineffable.
Bricksworth Beer Co. is located on the outskirts of Burnsville and has a modest patio as well as a big warehouse-style interior. They're well-known for their pizza! The pizzas are made with a thick and hearty Detroit-style dough, so sharing one is a good idea. Kind of Clever, a Belgian-style wheat beer, and Playboy Mansion, a Hefeweizen, are my favorites at Bricksworth.
Read: Is Traveling A Hobby? The Ultimate Guide To An Exciting Way Of Life Learn about the Downsides Of Traveling As A Hobby

2. Visit the Coffee Shops in Burnsville
There are two famous coffee shops in Burnsville. The Buzz Coffee is a terrific option for high-quality coffee, and refills are free if you purchase a cup of coffee and remain at The Buzz to work or read. They also provide delicious meals such as waffles and sandwiches. Arise Coffee is a new coffee shop around the block. They provide scones, smoothies, ice cream, and root beer floats in addition to excellent coffee and lattes.
3. Take Advantage of Crystal Lake in Any Season
Crystal Lake is one of my favorite spots in Burnsville. It's a popular fishing and swimming place in the summer. A spacious playground for youngsters and a roped-off swimming area are available. There is also a large grassy area where people often barbeque or play frisbee. I also like kayaking on this lake and watching the sunset. In the winter, I adore jogging around with my dog on the frozen lake. In January and February, you'll find a lot of people ice fishing and cross-country skiing on the lake.
4. Attend a Show at the Ames Center in Burnsville
The Ames Center, originally known as the Burnsville Performing Arts Center, initially opened its doors in 2009. Nicollet Commons Park, a vast grassy area next to the structure, is situated in the centre of town. There's also an outdoor amphitheater that can accommodate 250 people, making it a fantastic area for a picnic or strolling around with kids and dogs. Check out their calendar for upcoming concerts and activities!
5. Buck Hill offers skiing and tubing.
Buck Hill is a fantastic location for winter sports. Because it is a hill rather than a mountain, it is ideal for beginners and those who wish to practice jumps and turns. In the winter, it's a terrific place for kids and adults to go snow tubing, and in the summer, it's a great place to go mountain biking. Throughout the year, they hold concerts and other events.
6. Eat at a Variety of Restaurants in Burnsville
Burnsville offers a diverse range of cuisine alternatives, and we've had the good fortune to sample several of them over the years. Among our favorites are:
For healthful selections, go to Olivia's Organic Cafe.
Jensen's is a popular brunch location but expect a lengthy wait on weekends.
JL Beers, for affordable and delectable burgers
For award-winning Mediterranean cuisine and beverages, take a Mediterranean cruise.
Saigon Palace, for superb Vietnamese cuisine, particularly the Pho Burnsville 7. Shogun, for delicious made-to-order sushi. Donut Star is a sweet treat stop.
This donut shop prepares everything fresh on the day of, and they shut as soon as they run out of doughnuts, as I discovered when I arrived at 9 a.m. on a Wednesday to find just a dozen donuts remaining! I strongly advise you to either make an order in advance or arrive extremely early in the morning.
7. Visit Rudy Kraemer Nature Preserve in Burnsville
This wildlife park offers a peaceful respite from the hustle and bustle of Burnsville. Walk through wildflowers and bumblebees on the paved walk or the meandering dirt path. The prairie is 75 acres in size, and the route is just half a mile long. You'll come across eight information stops along the way. A paper trail guide should be provided at the trailhead, or a digital one may be obtained by scanning the QR code.
8. Work on your golf swing in Burnsville
Looking for a fun spot to hit the links? The City of Burnsville owns and operates Birnamwood Golf Course, a nine-hole, par 27 public golf course. Alternatively, you may practice your swing at Chalet, a driving range on Highway 35. I've gone to the driving range many times, and it's seldom busy, and a bucket of balls is rather inexpensive.
9. Take a stroll around Alimagnet Park in Burnsville
There are calm forest walking routes that go past a lake, access to a canoe launch, a disc golf course, and a dog park here. I have brought my dog there many times, and there's a fenced-in area for little dogs, as well as the main park for dogs of all sorts. A pond in the dog park's centre collects a lot of algae in the summer, but it is walled off from the rest of the park to keep canines safe.
10. Visit Bicentennial Park in Burnsville
This little park has a lovely fountain where I have witnessed weddings many times! The gardens are very gorgeous, and one of the park chairs is a wonderful place to sit and relax or catch up with a friend.
11. Go shopping in Burnsville
Burnsville features a large retail complex to meet your requirements. Ficus & Fig, a lovely gift store with unusual items and home décor, or Maleny Gifts, for jewelry, shoes, and handbags, are two adorable boutiques with amazing gifts. The Minnesota Antiques shop, which has been open since 1979, is another interesting place to visit. This is one of the largest antique shops I have ever seen, with hundreds of high-quality things such as furniture, serving dishes, toy cars, and home furnishings.
12. Visiting the zoo of Minnesota
Minnesota Zoo, located just east of Burnsville in Apple Valley, is about 500 acres in size and home to over 2,300 animals representing almost 500 species. The Zoo provides something for everyone, with six exhibit environments ranging from local flora and fauna in The Medtronic Minnesota Trail and Wells Fargo Family Farm, which has pigs, cows, horses, and poultry, to exotic species in the Tropics Trail indoor rainforest and Discovery Bay aquarium.
The Zoo also has an outdoor amphitheater where animal exhibitions are held, as well as the famous Music in the Zoo music series. The Zoo provides a variety of educational conservation programs and exciting community activities throughout the year, and it is also home to the prestigious School of Environmental Studies high school. There are several concession choices around the grounds, and do not forget to stop by the Zoo Store for a unique souvenir to remember your visit!
13. Shop at the America's Mall
Since its completion in 1992, the Mall of America in Bloomington, just north of Burnsville, has been one of the world's biggest, standing four floors tall and offering well over five million square feet of restaurants, shopping, and activities. The MOA cannot be completely understood in a one visit, with over 500 shops ranging from large department stores to unique boutiques, a vast food court serving delicacies from across the world, and various amusement parks and other activities.
The Nickelodeon Universe indoor theme park, located in the heart of the mall, offers a variety of roller coasters, rides, and other attractions such as the Moose Mountain miniature golf course, the Lego Imagination Village, and a vintage carousel. The Aquatic Life Minnesota Aquarium takes visitors on a 100-meter voyage into the habitat of approximately 5,000 sea species, including sharks, rays, turtles, fish, and more, through an underwater tunnel.
14. Visit Minnehaha Park
Minnehaha Park, a beautiful 170-acre sanctuary on the western banks of the Mighty Mississippi River in southern Minneapolis, has been enchanting the Twin Cities since 1883. The park also includes Minnehaha Garden, Minnehaha Pavilion, Ford Parkway Disc Golf Course, and a variety of protected historical monuments, including the circa-1870s Minnehaha Princess Station railway terminal, as well as the John H. Stevens and Longfellow Houses.
The Twin Cities area is known for its park system, which includes the 11-acre Minneapolis Sculpture Garden, which features dozens of outdoor sculptures nestled among opulent manicured gardens and greenspace, and the Chain of Lakes, which offers miles of jogging trails surrounding Lake of the Isles, Lake Harriet, Bde Maka Ska, and Cedar Lake, as well as kayaking, fishing, picnicking, lawn games, and much more!
Final words
Burnsville is a fantastic place to spend a day with a buddy or the whole family. There's so much to explore with so many locally owned restaurants, two fantastic breweries, wonderful shopping and shops, and a lovely lake!