Many people believe Newfound Lake to be the most beautiful lake in New Hampshire. Newfound Lake, which is located in the stunning White Mountains, is smaller than Lake Winnipesaukee and Squam Lake and often quieter than Lake Sunapee without sacrificing any of the natural splendor. The dimensions of Newfound Lake are seven miles long by 2.5 miles broad. One of the purest lakes in the nation, this glacial lake is one of the deepest in the nation at 183 feet, and it receives its water from eight springs. Anyone seeking access to one of the world's most pristine lakes or lakefront real estate in New England might think about Newfound Lake in New Hampshire. Continue to read and you will learn more about Newfound Lake NH.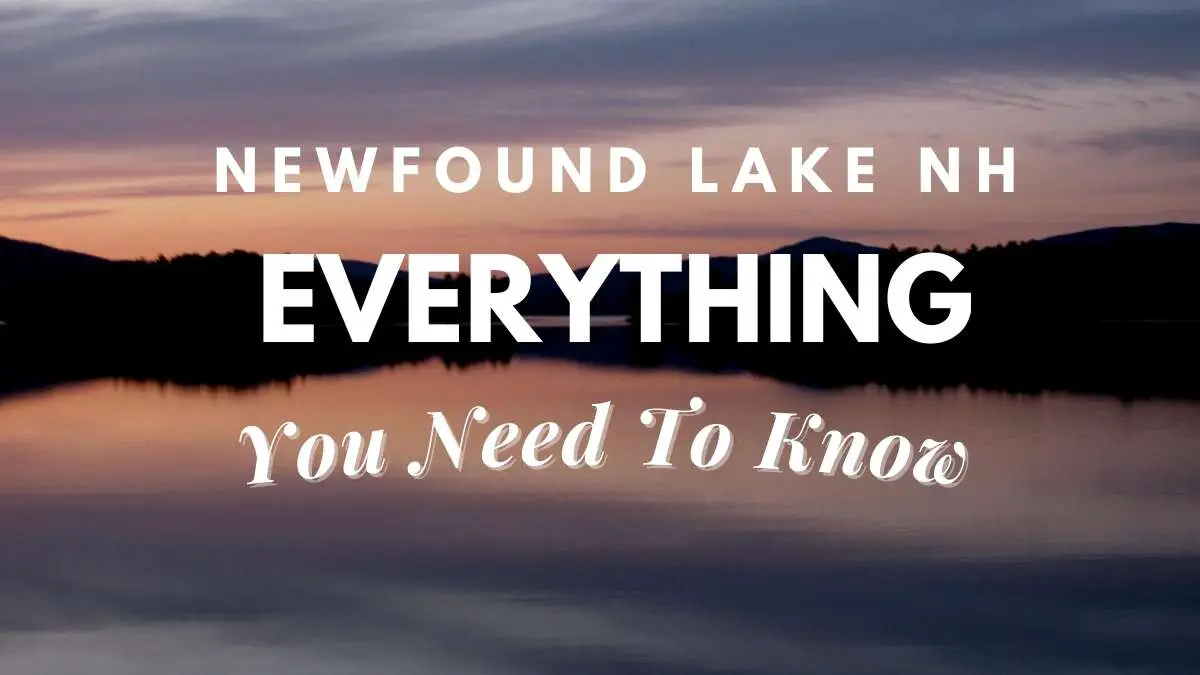 What is the Newfound Lake NH?
The New Hampshire municipalities of Alexandria, Bridgewater, Bristol, and Hebron surround Newfound Lake. The constant management of the Newfound Lake Region Association is in part responsible for Newfound Lake's beauty. The many cottages on Newfound Lake's shoreline are beloved by both locals and tourists, and the villages that surround the lake are perfect for individuals who want to get away from it all while yet having quick access to restaurants, shops, events, and larger cities.
The Bridgewater Inn Steakhouse is a wonderful place to eat. The Hebron Fair and Around the Lake Sailing Race are two summertime celebrations of the close-knit towns that surround Newfound Lake that draw both residents and tourists. The Inn on Newfound Lake, a place of lodging, is located on the eastern side of Newfound Lake and has been taking in travelers since 1840.
On Newfound Lake, particularly Paradise Point at the lake's head, nature enthusiasts will find enough to do and see. This New Hampshire Audubon preserve offers 43 acres to explore on foot or by boat along with 3,500 feet of undeveloped beach. The nature center offers kayak and canoe rentals. A lovely park with picnic spaces, a great beach, and a boat launch is Wellington State Park. Though officially a portion of the Cockermouth River and not Newfound Lake, Sculptured Rocks Natural Area is nonetheless a favorite swimming spot and a classic example of New England since it is so close by.
All of the communities around Newfound Lake are great locations to live, raise a family, and spend your golden years. With its charming country shop and green plaza (which isn't actually a "square"), the town of Hebron is not to be missed. Bristol, a little hamlet outside of the lake, has great restaurants and antique shops in addition to being a pleasant area to wander around. When you're taking a break from the water or need to refuel before your next activity, it's worthwhile to explore the brick-lined downtown area.
Read: Is Traveling A Hobby? The Ultimate Guide To An Exciting Way Of Life Learn about the Downsides Of Traveling As A Hobby

Fun Activities at Newfound Lake
A day, a week, or a lifetime may be spent enjoying Newfound Lake. Summer visitors have been drawn to the area by the clean seas, regional restaurants, and plenty of outdoor activities for years. Here are some alternatives for eating when you return from your adventure and several ways to go out on the lake if you decide to come for a visit. Learn why Bristol is a fantastic location to base all of your Newfound Lake activities.
1. Park Wellington State
Wellington State Park includes activities for everyone who wants to swim, walk, or go boating. The state's longest freshwater beach is located here, offering stunning views of the lake and surrounding mountains. Along the park's hiking routes, you may enter the woods, or you can launch your boat there any time of the year. One of the few locations where the general public may launch a motor boat into Newfound Lake is Wellington Boat Ramp. Boaters will find it to be a fantastic option due to its convenient access and adequate parking.
2. Shackett's offers ice cream.
In New England, summer doesn't exist without ice cream. Nearly all lakeside towns have roadside ice cream vendors, but few provide the variety and quality of Shackett's. Along with savory summertime classics like fried seafood, burgers, and salads, this location offers a large selection of ice cream varieties. The Shackett's Supermarket, a family-run business since 1945, is just across the street from the "Shack." It provides all the necessities for your stay at a lake camp, including the Shacketts' renowned doughnuts.
3. The Big Grab
Take a journey over to the Big Catch on Shore Drive on the days you are too exhausted to prepare supper. This seasonal restaurant with excellent reviews offers delectable seafood, icy chilled beverages, and a chill environment. Either dine inside where it's cooler or on the terrace where you can see Newfound Lake. The summertime must-have is one of their fried clams or scallops! seeking a lighter meal? The menu also offers a good selection of salads and sandwiches.
4. Center for Newfound Audubon
You may take in New Hampshire's natural splendor at The Newfound Center in Hebron, which is just across Newfound Lake from Bristol. The facility is really three wildlife sanctuaries with paths accessible from dawn till dusk: Paradise Point Nature Center, Ash Cottage at Hebron Marsh Sanctuary, and Bear Mountain Sanctuary. It is situated on North Shore Road.
Even though there is a lot to see and do on land, any kayak enthusiast must check out the Newfound Lake Water Trail. As you paddle over the lake's shoreline, rivers, and marshes, this unusual paddling route emphasizes Newfound Lake's rich biodiversity. You may either bring your own kayak or hire one.
5. Sugarloaf, Little
The nicest day on the lake may not always be spent on the beach but rather up in the air. Little Sugarloaf is a quick trek with a great view of Newfound Lake. The 1.4 mile, 370 foot elevation rise circle path is somewhat challenging. With opportunities to view some animals and wildflowers along the route, it's ideal for a family trek.
The route is popular with both winter hikers and those looking for autumn foliage since it is accessible all year. You may stop at Woodman's or Shacketts for some cool local beers after a strenuous climb. Read more here about the breweries in our area.
6. Cardigan Lodge at Mount Cardigan and AMC
All skill levels of hikers may enjoy a wonderful day in the wilderness on Mount Cardigan, one of the most well-liked climbs in New England, and the 5,000-acre Mount Cardigan State Forest. The White Mountains, as well as summits in Vermont and Maine, are stunningly visible from the 3,121-foot granite summit's absence of trees.
The Lodge, which is maintained by the Appalachian Mountain Club, provides campers with supplies like bedding, soap, and towels in addition to a family-style supper, breakfast, and trail lunch. Take a plunge in their pond or unwind on the lodge's terrace to cap off your day.
7. Dark Rocks
Gray Rocks, a conservation area on Newfound Lake near Hebron, features hiking trails, water access for kayaking, picnic spots, and a ton of family-friendly programming for small nature enthusiasts. If you're searching for family-friendly activities, go there. Try the Eco Tours about the history and ecology of the region for a fun and instructive journey on the water.
8. Area for Outdoor Living in Slim Baker
Dedicated and well-liked local conservation officer of the New Hampshire Fish and Game Department Everett "Slim" Baker is honored by the naming of this 135-acre conservation area on Little Roundtop Mountain. The Slim Baker Foundation offers initiatives aimed at realizing his objective of establishing a school for outdoor living. Another fantastic location for families, particularly those taking little children into the woods. To keep youngsters interested, the Story Walk has pages from children's books positioned throughout the routes.
How to plan a weekend in Newfound Lake NH?
We weren't expecting to walk into a céilidh when we stopped for supper at Kathleen's Cottage near the southern tip of Newfound Lake. This Irish bar presents traditional Irish music every Friday night, which might include any combination of guitar, banjo, bodhrán, penny whistle, and singing. We selected a shepherd's pie made with rosemary-infused lamb, chopped carrots, and creamy mashed potatoes as well as Guinness beef stew, which is made with lean beef pieces cooked in Guinness Stout with herbs and vegetables. They boast the state's biggest variety of Irish whiskeys and more than a dozen beers on tap.
The tempting aroma of something baking in the kitchen downstairs would have woken us from the modern sleigh bed in the Blue Room at Six Chimneys & A Dream if the sunshine hadn't. Our B&B at the northern end of Newfound Lake in Hebron has welcomed tourists for many years; it first opened as a stagecoach inn in 1799. Present owner Juli Pruden greets her visitors with a sumptuous breakfast. She served warm muffins and platters of fruit before serving fluffy French toast topped with cinnamon and pecans and raisins. It tasted even better than it looked like a dessert.
We arrived at Grey Rocks Conservation Area in Hebron, where we had made reservations for a Newfound Eco-Tour and got aboard the pontoon boat. Our tour guide educated us on the ecology and history of Newfoundland as we sailed, telling us that it is one of the state's deepest and purest waters. We took turns using the equipment to record its temperature and clarity as evidence. The latter was ideal for a brief swim at the beach at Wellington State Park. We enjoyed the scenery and ice cream from The Mill Fudge Factory on the way back, and we immediately decided where we would have lunch.
The Mill Fudge Factory was located in Bristol, among a collection of former commercial buildings, after we had driven along the western coast. We chose a chicken salad sandwich (large delicious pieces with almonds and grapes) and a Chicken Bella Tuscana with smoked mozzarella and basil pesto for lunch after turning away from the blackboard's array of ice cream flavors. We had them while sitting at a café table on the porch with a view of the millpond and falls, and we both felt that the establishment deserved to win the 2014 "Best of NH" title.
We went back via Hebron, a picture-perfect neighborhood around a green, to Groton and the Sculptured Rocks Geologic Site after perusing the antique store across the street. This is undoubtedly New Hampshire's hidden natural marvel if Newfound is its secret lake. Maybe it was the double-fudge chocolate cone I ate after lunch that was still fresh in my thoughts, but the granite walls of the canyon appear to me like if a huge ice cream scoop had been used to chisel them. The dashing small Cockermouth River continues to cut bending channels and chutes as it tumbles through and swirls in its whirlpools beside these enormous pits created by old glacier waterfalls.
We were reminded by all the water and beauty that we still hadn't wet our kayaks, but the north coast looked like the ideal location for a sunset paddle. Further downstream near Hebron, where the 9.5-mile Cockermouth creates a delta before it joins the lake, is where we launched our boats. This is Bean Nature Conservation Area. We investigated a few of the shallow canals while taking in the late-afternoon light on the grasses and listening to the bobolinks, and then we followed the forested shoreline east to see the sun set behind Bear Mountain.
Because of how lovely the morning was, we followed Juli's advice and ate breakfast outdoors while gazing out at her perennial garden. After eating the ham and cheddar frittata, we looked about her store, where she features the creations of a number of regional quilters and painters. We hadn't yet made a visit at the Newfound Audubon Center, although having seen it from the lake and the road. We looked around the interactive displays at the Nature Center before taking walks down the coast and along the wooded lakeside trails where you can hire kayaks and canoes.
On our way to Wellington State Park, where we went up the Elwell Trail just across from the park entrance, we stopped at the Hebron Village Store to pick some supplies for a picnic. We had lunch on ledges overlooking the lake after ascending Little Sugarloaf and Sugarloaf Mountains, which provide practically instant benefits. We stopped short of Bear Mountain proper and returned to the park for a swim before returning home. The route remains quite level as it traverses a lengthy ridge. Since we had to pass through Bristol, we went at The Mill Fudge Factory once again to pick up some take-home fudge to make sure they really deserved to win Best of NH.
Final words
Keep this as a guide and plan your visit to Newfound Lake NH. Then you will be able to get the most out of your experience. This is a great place to visit along with your loved family members.