Do you wish to go away from crowded cities, skyscrapers, and concrete structures? Do you want to spend some quality time with your friends, family, or a particular someone? Then pack your belongings and get ready for a terrific holiday in Corolla, a beachfront community. Relax and relax while lying on a beach, shopping at local shops, or watching horses graze along the coastline. Visit ancient lighthouses, beautiful boardwalks, seaside eateries, and a variety of other fantastic things. Here's a complete list of fun things to do in Corolla NC at night.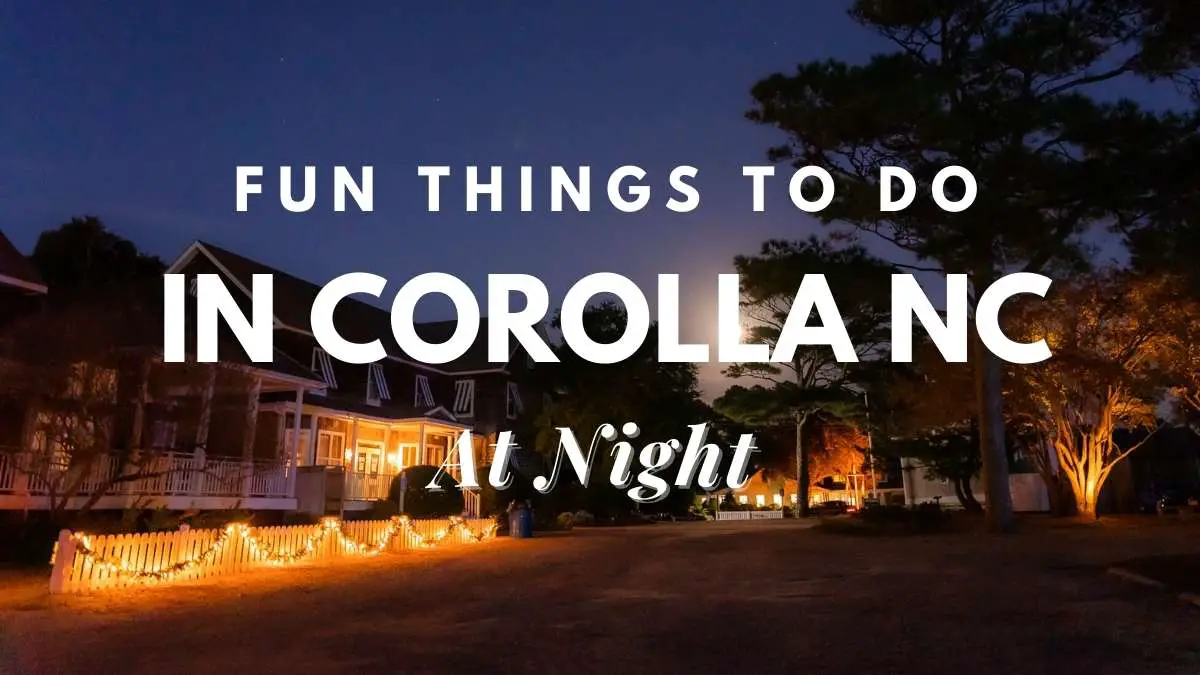 1. Currituck Beach Lighthouse
The Currituck Beach Lighthouse is a historic brick lighthouse that is 162 feet tall and was built in 1875. This renowned lighthouse is one of many intriguing and gorgeous places to visit this weekend as you explore Corolla. It has a crimson appearance, which is one of its most distinguishing features, and acts as a vital navigational aid for passing ships. It has at least 220 stairs to climb and rewards you with breathtaking views of the surrounding area.
Climb the 220 steps of the Currituck Beach Lighthouse for a sightseeing excursion. Feel free to take as many shots as you like of the breathtaking vista once you reach the summit. It also features museum-quality exhibits to learn about the history of the lighthouse and the prior keepers that served here.
Read: Is Traveling A Hobby? The Ultimate Guide To An Exciting Way Of Life Learn about the Downsides Of Traveling As A Hobby

2. Wild Horse Tours in Corolla
Corolla Wild Horse Trips is a local company that provides top-rated horse watching tours in modern Hummer H1 cars. Are you planning a family trip to Corolla and looking for the best activities to do with kids? If you are, I highly advise you to arrange a breathtaking tour with Corolla Wild Horse Tours.
It's one of the greatest places to see wild Spanish Mustang horses while admiring the beautiful beachside scenery. Observe herds of wild horses grazing along the sandy beach by booking a trip with your children with this local operator now. Along with a pleasant and kind guide, ride open-air 4×4 vehicles while admiring the horses. Your guides will also tell you about the horses' history as well as local mythology and myths.
3. Whalehead Club
The Whalehead Club, which first opened its doors in 2002, is around 21,000 square feet in size. It was originally owned by Edward Collings Knight Jr and his wife and features an Art Nouveau-inspired construction.
Are you seeking for fun activities to do with your pals in Corolla at night? Then book a tour of the Whalehead Club after hours. Going on ghost hunts and engaging in eerie events are part of this one-of-a-kind tour experience. It is home to a beautiful mansion that was built in the early 1900s and is a popular tourist and local attraction. Sign up for a guided tour of this well-known site tonight and prepare for an adrenaline rush with your friends. Explore the estate while listening to ghost tales and learning about the area's spooky history.
If you come during the summer, there are lots of additional nighttime things to enjoy, such as live music performances by local artists and beer and wine tastings.
4. Shopping Village Timbuck II
Timbuck II Shopping Village is a prominent shopping mall with over 60 retailers as well as entertainment and food options. Are you seeking for something to do inside while it's raining or freezing outside? While on an amazing shopping binge at the well-known Timbuck II Shopping Village, keep oneself engaged.
There are also hundreds of restaurants selling delectable cuisine, as well as other amenities providing amusement and relaxation. Spend the day inside exploring the various local stores at this shopping complex and browsing for one-of-a-kind items. Souvenirs, jewelry, glassware, clothes, excellent wine, and much more may be found here. Treat yourself to a peaceful massage or join a meditation session with your friends for a more relaxing experience.
5. Duck Town Park and Boardwalk
Duck Town Park and Boardwalk, which spans 11 acres, is a popular destination with countless entertainment options. A one-mile wooden boardwalk goes through the park. Couples may enjoy various romantic activities in Corolla, such as going on a date to this stunningly lovely waterfront park. It has an amphitheater that hosts live music on occasion, a deck where you can launch your kayaks, and covered picnic spaces where you can enjoy your meals away from the sun. During the summer, this park holds a number of fascinating festivals and fun-filled activities that you may attend.
Go on a romantic date at Duck Town Park and Boardwalk with your significant other and spend quality time together. You may go on a romantic stroll along the boardwalk, enjoy a live music performance, or have a wonderful picnic. Enjoy a memorable moment while kayaking or canoeing on the sparkling lake, or while watching the sunset from a gazebo.
6. Carova
Carova, often known as Carova Beach, is a popular seaside 4WD driving location. It's an unincorporated village with a 12-mile stretch of unspoiled shoreline. In Corolla, North Carolina, there are many enjoyable things to do, such as spending the day at Carova with your friends or family. It has beaches with compacted sand, which provide for some of the greatest 4×4 driving in the state. It also provides a wide range of recreational options on land and in the sea for an enjoyable time with your friends.
Have a ball driving your 4×4 vehicles directly down the beach while taking in the breathtaking sights of the North Atlantic Ocean. You may also watch wild horses graze along the beach, look for seashells on the white sand, or play catch with a ball or frisbee. Take your kids on a water excursion and teach them how to fish, bodyboard, or surf.
7. AQUA Restaurant
The AQUA Restaurant takes pride in being the area's most stunning waterfront restaurant. It offers a bar with a large selection of alcoholic drinks, as well as delicious chocolates and live music. This world-class restaurant offers a fantastic dining experience for you and your loved ones, friends, or significant other. It has a lot to offer, including lunch and supper dishes made with locally sourced food, handcrafted cocktails, cutting-edge wine, and live music at sunset.
It also has an onsite, well-known spa with a variety of treatments and special deals, such as prenatal care and mommy packages. Take a break from exploring the neighborhood by sitting down with your travel companions at the AQUA Restaurant and sharing a delicious dinner. Fresh seafood dishes, salads, sandwiches, steaks, gourmet sorbets, and desserts are just a few of the delectable items available.
After sunset, you may enjoy your cuisine and a bottle of the best tasting wine or beverage while watching live music performances.
8. Currituck Sound
The Currituck Sound is a sheltered entrance with shallow water and quiet conditions. It is a popular site for water sports and outdoor pleasure. This inlet is separated from the North Atlantic Ocean by the Currituck Banks Peninsula, originally known as Bodie Island.
I definitely suggest a vacation to Currituck Sound if you're looking to stretch your budget by doing inexpensive things around you. It's the perfect spot to spend a fun-filled day with your travel companions while participating in a variety of exhilarating activities on the sparkling water. Backdrops of lush marshes, marine woods, and tiny islands add to the natural splendor. Create lifelong memories with your family or friends at this nature-themed playground. Kayaking, canoeing, parasailing, jet skiing, boating, and playing in the cool sea are all fun activities.
It's also a great place to practice your nature photography abilities while snapping photos of the breathtakingly beautiful natural terrain, hundreds of birds, and other wildlife.
9. Mustang Music Festival
The Mustang Music Festival is a twice-yearly event that takes place in May and October. The event is family-friendly and features community concerts. If you visit during the annual Mustang Music Festival, you'll have an unforgettable experience with your traveling companions. This amazing event features entertaining children's programming, thrilling live performances, and delectable cuisine.
Dance and sing along to extremely gifted performers' beautiful songs as they play live with high-tech sound and lighting equipment. You may have a mouthwatering barbecue and a couple of refreshing alcoholic cocktails while listening to the spectacular live entertainment.
10. Currituck Beach
Currituck Beach is breathtakingly gorgeous, with its pristine white sand, breathtaking vistas of the North Atlantic Ocean, and unequaled scenery. Currituck Beach is a great place to go for free things to do in Corolla so you can save money while still having a great time.
Seasonal lifeguards, close parking spots, clean bathrooms, well-maintained showers, and other amenities are available along this beautiful beach. Make new memories with your clan, spouse, or friends by connecting while participating in numerous activities along this beautiful coastline. For a price, you may participate in activities such as sea kayaking, surfing, bodyboarding, stand-up paddle boarding, surf fishing, and much more. Relax while working on your tan on the beach, build towering sandcastles with your kids, or have a nice beachside lunch.
Final words
You can engage with these fun things to do in Corolla NC at night and get some amazing experiences. We encourage you to try the activities and you will never end up with anything to worry about.