A simple excursion to Horseshoe Bend in Page, Arizona, is definitely worth the detour if you find yourself in Northern Arizona or Southern Utah. We drove through Page on our route from Southern Utah to Zion National Park, and it wasn't much of a detour. You will just need a couple hours if you are merely stopping at Horseshoe Bend in Page.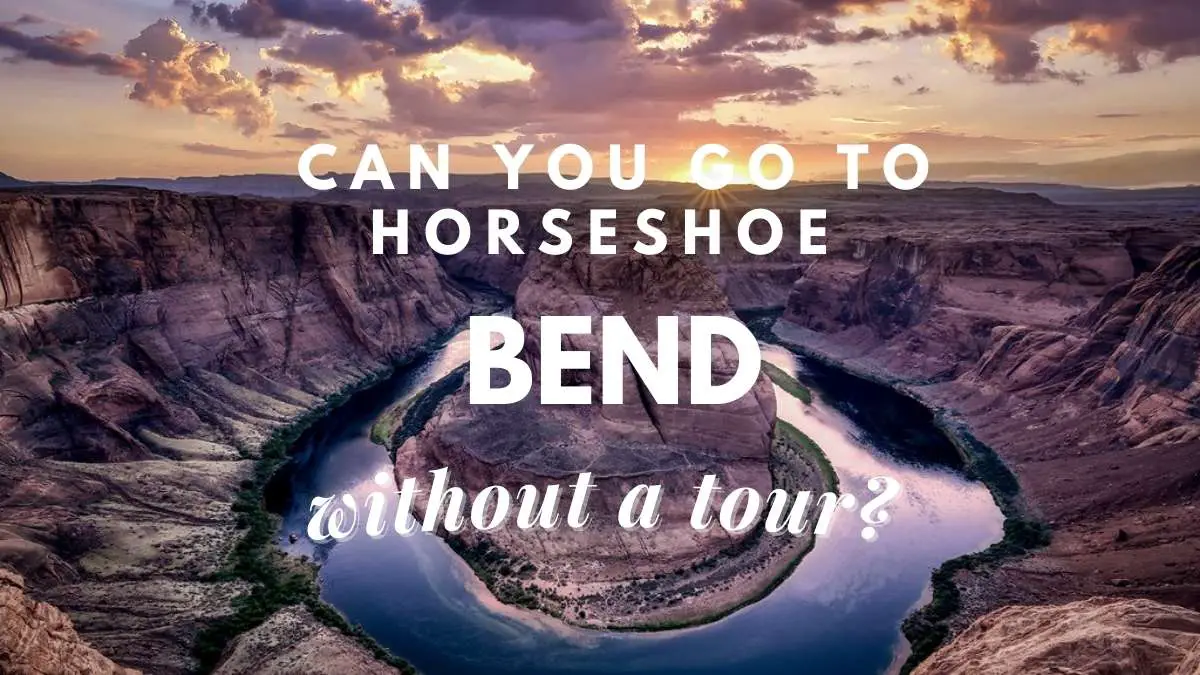 What is horseshoe bend?
Because of social media, Horseshoe Bend near Page, Arizona, has suddenly become one of the most popular tourist locations in the western United States. The Colorado River sculpted the Horseshoe Bend into a geologic beauty. As it makes its way towards the Grand Canyon, the river has produced a 270-degree curve that gleams with a blue-green hue. It's very lovely. The greatest time to photograph Horseshoe Bend is in the morning.
Read: Is Traveling A Hobby? The Ultimate Guide To An Exciting Way Of Life Learn about the Downsides Of Traveling As A Hobby

Is the Grand Canyon included in horseshoe bend?
The Grand Canyon does not include Horseshoe Bend. The distance between the South and North Rims is about 140 miles. However, the Grand Canyon National Park border is just around 5 miles away.
Read: Can You Kayak In Horseshoe Bend? Learn about Tips for kayaking at the Horseshoe Bend
What is the location of horseshoe bend?
Horseshoe Bend is located in the northern Arizona town of Page. Page is located near Lake Powell on the Arizona-Utah border. Horseshoe Bend is located in Page, Arizona, and its GPS coordinates are W 36-52-34.1 N 111-30-38.25. However, you shouldn't have to utilize them. We quickly plugged Horseshoe Bend into our GPS and were on our way in no time. If you're coming from Page, there's a plainly placed entry sign on US89 just south of Page between mile markers 544 and 545. Horseshoe Bend has a huge parking area with road markers. Horseshoe Bend is a short drive from Page, Arizona. It's around a 9-minute trip and 4.6 miles long.
The Horseshoe Bend Overlook in Arizona is stunning.
Here are several popular starting points for visitors to Horseshoe Bend in Page, Arizona, as well as miles and travel time:
9 minutes from Horseshoe Bend to Antelope Canyon (5 miles)
4 hours 21 minutes from Horseshoe Bend to Las Vegas (275 miles)
2 hours 8 minutes from Horseshoe Bend to Flagstaff (130 miles)
The Grand Canyon to Horseshoe Bend 2 hours 19 minutes – South Rim (132 miles)
4 hours 15 minutes from Horseshoe Bend to Phoenix (274 miles)
2 hours 49 minutes from Horseshoe Bend to Sedona (159 miles)
As you can see, a day trip to Horseshoe Bend and neighboring Antelope Canyon from places like Las Vegas, the Grand Canyon, and Sedona is a terrific idea.
Entrance fees for horseshoe bend
There is a parking fee of $10 per car. Motorcycles are subject to a $5 fee. Aside from parking, there are no further fees.
Hours of operation for the horseshoe bend
Horseshoe Bend is accessible from dawn to sunset in Page, Arizona. Due to day-trippers from Las Vegas, Phoenix, and Flagstaff, it is busiest from 9:00 a.m. to 6:00 p.m.
In Arizona, there is a parking lot at the Horseshoe Bend Overlook. Horseshoe Bend has a wide parking space where you may park to observe it. There is a parking fee, as previously indicated. There is parking for big cars at the Horseshoe Bend parking lot. Our Class A RV had no trouble locating a parking spot.
It is not permitted to park on the side of US89. If the parking lot are full when you get to Horseshoe Bend, you will have to return at a later date. To ensure that you can get a parking place at the overlook, avoid visiting during peak hours.
When is the best time to visit horseshoe bend in page, Arizona?
Visiting Horseshoe Bend in Page, Arizona, is amazing at any time of year, but preparing ahead can help you capture better images and prevent fatigue from the heat. The best time to visit horseshoe bend in page, Arizona is in the month of May.
We went to Horseshoe Bend in Page, Arizona, in mid-October, when it was still hot but not too busy. The off-season, which runs from October through February, is significantly less active. These are the ideal months to visit if you want to escape the crowds.
If you happen to be in the neighborhood during the summer, though, a visit is still worthwhile. It will be hot throughout the summer months, so bring a hat, sunscreen, and plenty of water! It's also a busy time of year to visit, so arrive early to avoid parking hassles.
When is the best time to visit?
Horseshoe Bend is best visited early in the morning or late in the afternoon. The bend and river are in the shadows later in the day. You'll be facing straight into the sun at sunset, and the curve will be under shade. It is, nevertheless, wonderful if you can wait until the sun sinks beyond the horizon line.
Horseshoe Bend at Page, Arizona, puts on a spectacle as the sun sets below the horizon. Sunset is a fantastic time for taking photographs and taking in the scenery. As the sun sets, the crowds tend to depart as well.
There is no shade on this path, and temperatures may reach 95 to 100 degrees Fahrenheit in the summer. Please be cautious of your physical capabilities in the heat and bring plenty of drink and sun protection with you.
Are you able to drive to horseshoe bend?
The Horseshoe Bend Overlook is not accessible by car. Parking is available around 0.7 miles away in a parking lot. The route is sandy and has a little incline.
The horseshoe bend trail
The trek to the Horseshoe Bend viewpoint is roughly a 34-mile journey from the parking lot. The initial section of the path is the most difficult. The route is constructed of soft, deep sand and has a somewhat high incline.
It is the most demanding section of the trek, although it is not very tough. It's just a brief climb up the hill, and the remainder of the trek is rather simple. If you need to take a rest, there is a covered pavilion at the top of the hill. The overlook is a short stroll down a slope from the pavilion.
Despite the moderate difficulty of the climb, nine out of ten persons in reasonable health will make it to the viewpoint. Our two four-year-old girls were able to walk the whole climb without difficulty. You may hike as slowly as you desire, so take it time and soak in the scenery.
Arizona's Horseshoe Bend
After enjoying the overlook, it took us around 20 minutes to get there and another 20 minutes to go back to our RV. Every several hundred yards, there are concrete seats. The initial portion of the return climb might be difficult, so take it slowly and don't be afraid to take a rest in the covered pavilion at the summit. Once you've arrived at the overlook, be cautious near the edge, particularly if you're bringing youngsters. Only one little area is protected by a barrier.
Be mindful about sun exposure
Except for the pavilion at the top of the hill, there is no shade on this walk. Bring UV protection, such as a hat and sunscreen, as well as plenty of water. Even though it is not a very lengthy trek, you should dress appropriately for the heat.
Horseshoe Bend is a gorgeous and popular photography location for both professionals and amateurs. Here are some ideas to help you photograph Horseshoe Bend in Page, Arizona, whether you're carrying a backpack full of camera gear or simply using your phone.
Bring a Wide-Angle Lens: Wide-angle lenses for mobile phones are available, allowing you to photograph the whole horseshoe and surrounding canyon. You may also use a GoPro, which has a wider angle by default.
After arriving to the overlook, turn left or right for stunning views of Horseshoe Bend that are free of other people. However, there is a significant drop-off. Hiking around the curve will provide you with a number of various vistas and angles.
Clean Your Lenses: The route and surrounding area near Horseshoe Bend are quite dusty. Bring a cleaning cloth with you to prevent dirty spots in your photos.
Bring a Sturdy Tripod: Horseshoe Bend may be windy, and the terrain is uneven, so bring a sturdy tripod. This tripod appeals to us since it may be used with both cameras and mobile phones.
Best time to take photos at the Horseshoe bend
At Horseshoe Bend in Arizona, sunset is a great moment for photos. There are several viewpoints on when the finest time is to shoot this natural beauty. There will be shadows in your photograph at sunset that aren't inherently awful, just different.
I favor the pre-dawn, mid-afternoon, and evening glow photos after comparing several shots taken at different times of day. I like the shadows and brightness made at sunrise and soon after sunset at this time.
What should you bring to the Horseshoe bend?
While the trip to Horseshoe Bend, Arizona is not very lengthy, it can get rather hot there, and the terrain is somewhat sandy. Make sure you're wearing appropriate hiking footwear. Hiking sandals are good if the weather is colder. However, since the sand may become quite hot in the summer, you should wear closed-toe hiking shoes. Flip-flops, strappy sandals, and leather boots were all seen on the street.
The second step is to ensure that you are well protected from the sun. There is no shade, and the sun is hot even in the winter. Don't forget to wear sunscreen and a hat. Last but not least, you'll need a nice water bottle and a small hiking bag to carry your food, sunscreen, and camera. We prefer the backpack with hydration pack since it has both water and a pack.
Camping near the horseshoe bend
Near Page, Arizona, there are a number of RV parks and rustic campsites. Here are some alternatives if you're seeking for a site with hookups and other amenities:
Page Lake Powell Campsite
This campground offers contemporary facilities and is less than 10 minutes from Horseshoe Bend. There are 112 dry campsites and 90 hookup campsites at Lake Powell Waheap Campground. Reservations are welcome, and the drive from Horseshoe Bend is around 20 minutes.
Lee's Ferry Campground: This first-come, first-served campground is approximately 45 minutes from Horseshoe Bend. The cost each night is $20. There are no electrical outlets or RV connections. The National Park Service maintains a number of basic campsites in the region if you want to camp for less money. The cost of a campsite is $12 per night. There is no running water or electrical connections. There is also no garbage collection. Stanton Creek, Hite, Farley, and Dirty Devil are some of the Glen Canyon National Recreation Area's sites to investigate. Lone Rock Beach is a good option if you require a campsite with seasonal water.
Boondocking near Lake Powell is the last option. Along the Lake Powell coastline, you may camp for free. There are no restrooms or garbage cans, and you must have a self-contained vehicle. A four-wheel-drive vehicle is suggested in this area.
Local attractions in the neighborhood
In the city of Page, you may go on a variety of exciting excursions. You may also visit Antelope Canyon, a stunning slot canyon, in addition to Horseshoe Bend. Because the canyon is on private land, you must take a tour, but the excursion is well worth the money. Bring your mobile phone with you on the trip since you will be taking a lot of photographs.
The Glen Canyon Dam is also a fantastic spot to photograph. In the Navajo Desert, the Rainbow Bridge National Monument is a massive red sandstone arch. The best way to see the monument is to take a boat excursion. Reach get to the base of the bridge; you'll have to go around 50 miles on the water.
Last but not least, make time to see Lake Powell. It's a lovely spot for kayaking, paddle boarding, and boating.