Traveling the world with your family is one of the finest ways to spend quality time together, but traveling is difficult enough without having to deal with the desires, needs, and whims of many generations. A family vacation, on the other hand, may be a great bonding experience rather than a miserable trip that you can't wait to come home from if you prepare well enough.

It may seem impossible but putting together a successful trip where everyone has a great time is more than feasible. You'll be able to enjoy discovering global wonders and life-changing events with your family, resulting in memories that will last a lifetime, as long as you keep everyone's interests and limitations in mind. If you follow these 20 suggestions, you'll not only be able to survive a family trip, but you'll also enjoy it.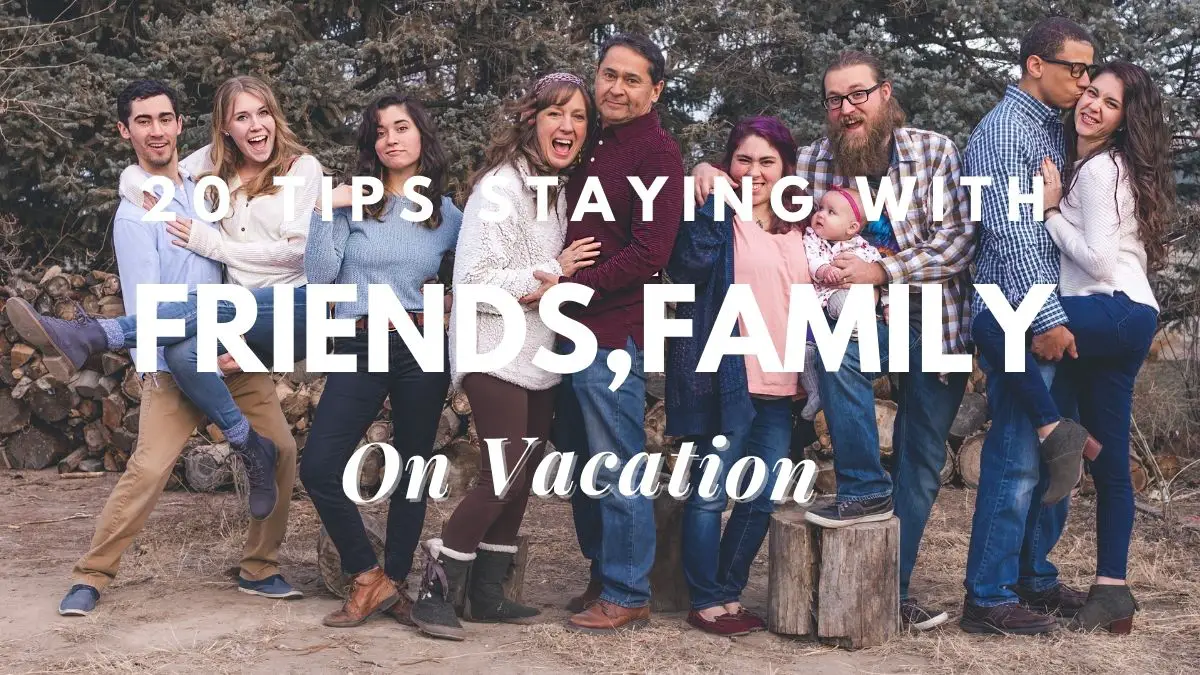 1. Involve everyone in the planning 
The greatest approach to ensure that everyone is happy is to make sure that everyone feels like they have a voice in their personal trip. Have a discussion with everyone who is going on the trip about their thoughts and interests so that no one is bored or uninterested throughout the trip. Younger children should be given extra consideration; if they're not having fun, neither will you. Discussing where you'll be going and what they might want to do can not only make them excited, but it will also help them prepare for a new experience in a strange area.
Read: Is Traveling A Hobby? The Ultimate Guide To An Exciting Way Of Life Learn about the Downsides Of Traveling As A Hobby

2. Create a budget and stick to it
The first step in preparing your dream trip should be to create a budget that allows for things like dining out, souvenirs, and entertainment, as well as any unexpected excursions or costs that may arise. Allow everyone to know the budget, or at the very least give them an idea that they can understand to the best of their abilities. For example, tell younger children that each of them is only permitted one memento. Allow yourself some wiggle room so you may blow through your daily travel budget once or twice for a once-in-a-lifetime activity like zip lining or attending a large local festival.
Read: Plane VS Cruise Ship On Vacation – What Is The Best Option?Learn about which one is better?
3. Pick an appropriate destination
Not every place is perfect for every personality or age group. Consider going somewhere where everyone's interests and needs are met. Destinations with family-friendly activities, such as iconic landmarks or amusement parks, are always a smart choice, and you may further limit down your options by looking for areas that also include some adult entertainment. Logistics have a significant role as well. If you're traveling with a stroller, make sure your location has adequate streets and sidewalks, and if you have people in your group who get weary easily, areas where you have to walk everywhere might not be the best choice.
4. Do some research with the preferences of your family and friends
Next, conduct some research as a group to plan for your vacation and get everyone enthusiastic.  So that you're more comfortable with your surroundings once you arrive, read books, watch documentaries, or watch YouTube videos on the history of the place you're traveling and its main sites. If you're traveling to a place where you don't speak the native language, start studying some common phrases together to use on your trip.
Read: Plane vs rental car on vacation – (pro's and cons)Learn about the what experiences matter the most?
5. Pack intelligently
Not only do you want to make sure you have all of the basics, but you also want to travel light. Certain needs, like as additional diapers or food, may always be purchased at your destination. Invest in packing cubes for greater organization and space efficiency and wrap up your items to save space. Pack fewer clothes and make sure they're flexible so you can mix and match to switch things up or if anything becomes soiled. If you're traveling with little children, include them in the packing process so that they not only acquire some travel skills but also feel more involved and less prone to complain.
6. Take bright clothes with you
If you're in a large group, having everyone wear bright clothes will make it easier to spot each other if someone becomes separated from the group. This is especially important if you have little children with you, and you might try attaching a card to their clothing or wearing a bracelet with your phone number and local location on it.
Read: [18 Reasons] to stay at a hotel instead of airbnbLearn about that you can switch suites or rooms as needed
7. Schedule an appointment with your doctor ahead of time 
If you want to prevent becoming ill while on vacation, make an appointment with your doctor at least two months ahead of time. Inform your doctor of your trip plans and make sure everyone is up to date on any vaccinations they may require, especially if you're going to a region with illness unique to that area. If anybody in your family has a pre-existing medical condition that may necessitate medical attention, contact your doctor for assistance in locating a specialist who specializes in that condition at your destination.
8. Plan to do something when traveling
If you're bored, a long flight or a car trip might be unpleasant. Children are not only unhappy when bored, but they can also make you unhappy, so keeping them occupied with activity books, card games, or a tablet loaded with movies, programs, or games is a smart suggestion. Adults will find a travel more bearable if they have something to do, such as read a book, watch a movie, or participate in a game.
Read: [16 Reasons] To Stay At An Airbnb Instead Of A HotelLearn about the exclusive Airbnb discounts
9. Try to travel during the off peak season
There are many reasons to travel during the off-season, and if feasible, a family vacation should be planned at that time. Traveling on off-peak days (Tuesdays seem to be ideal) or during off-peak hours (very early morning, mid-morning, or late night) is a smart choice when you have children in school. When you go off-peak, you will not only save money on flights and lodgings, but you will also find that navigating airports and roads is much simpler due to reduced traffic and delays.
10. Travel overnight
If at all possible, schedule your flight, train, or bus for the following day. It'll be one night of free lodging — two if you do it both ways — and everyone will be refreshed, allowing you to hit the ground running once you get at your destination.
Read: [Top 10 ] Best Low-cost Airlines In The USALearn about Southwest Airlines
11. Take regular breaks when traveling long distances
If you're going on a road trip with small children, make sure to stop every two hours or so. You may organize your journey such that you can stop at historic sites or monuments, parks, or lovely picnic locations so that everyone can stretch their legs and enjoy some fresh air in addition to rest stops.
12. Take delays into consideration as you plan
Delays happen all the time, so it's better to be prepared. You should pack extra food for a 48-hour delay whether you're on a flight that may be delayed or traveling on a road journey where traffic or weather may cause your trip to take longer than planned. Check to see whether your phone is charged and if you have any extra chargers. Extra food, clothing, medicines, and diapers, as well as a first-aid kit and adequate water if feasible, should all be kept on hand. A flashlight may also be useful if you're driving.
Read: Why Are Airports So Cold [Answered]Learn about the Regulations implemented at the airport
13. Find the most appropriate hotels for staying
Always double-check that your accommodations can accommodate your complete group. Check to see whether your hotel provides amenities like pools, kids' spaces, or family pricing, all of which indicate that families are welcome and encouraged to stay. The ideal hotel will be close to the sights you want to see, as well as restaurants and shops. Hotels are preferred to Airbnbs or vacation rentals since they have a complete staff to assist you, but resorts and kid-friendly cruises are other excellent choices that relieve the burden of everyday decision-making while simultaneously providing entertainment for the entire family.
14. Slow down as you explore
When traveling as a group, it's a good idea to keep everyone's boundaries in mind and slow down so that everyone can manage the pace. This is not only the right thing to do, but it's also sensible. Take your time and appreciate your surroundings rather than rushing to see as many things as possible. Overburdening your day might cause you to get exhausted and frustrated.
Read: Why Are Airports So Confusing [Answered]Learn about how bad is airport terminal confusion is
15. Prepare your own food
Restaurants may be a headache, especially when dealing with a large party that includes children or teens. Next Eat in when you can Eat in when you can Making a decision on where to go, as well as making reservations or waiting for a table, is a hassle in and of itself. Order room service or takeout if you can or arrange a hotel or rental with a kitchenette if you can. Not only will buying your own groceries save you money, but it will also make dealing with finicky eaters and restaurant tantrums much easier. If you absolutely must go out, try to go for breakfast or lunch rather than supper, as dinner rates are usually higher.
16. Make reservations ahead of time
Next, make reservations wherever feasible.  Whether you're going out to eat, need a cab, or want to visit a museum or another site, try to plan out your schedule as much as possible with confirmed bookings. This means less time spent in line with weary and irritable children (or adults). Early bird discounts are frequently available when you book attractions in advance.
Read: How To Eat Healthy On Vacation [Answered]Learn about the healthy meal plan even before you leave
17. Bring multiple snacks with you
Hunger may make you irritable, regardless of your age. Whether you're traveling to your destination, seeing the sights in the area, or just hanging out at your hotel, make sure you have plenty of everyone's favorite snacks on hand to stave off hunger pangs in between meals and avoid a bad mood if dinner takes longer than expected.
18. Allow everyone to have some freedom
While holidays are a fantastic chance to spend quality time with your family, taking a break from each other every now and then is a smart method to keep the peace on the road. Encourage people to read a book, play games, or go for a walk alone. Teens and older children can walk off on their own to explore their hotel, resort, or cruise ship, while parents and grandparents can relax with a peaceful lunch or dinner.
Read: Why Are Vacations Important?Learn about vacations that can help you with stress management
19. Always keep everyone informed
Keep your kids informed about how long it will take to get where you're going, as well as any attraction lines or travel delays. Kids are less likely to become antsy when they know what to expect, and it's a great way to start a discussion about how they can keep themselves occupied instead of becoming bored. Everyone in your group should be aware of your plan and have the ability to change it if they become weary and desire a later start or a lighter agenda the next day.
20. Make things flow smoothly
Your attitude, more than anything else, determines how much pleasure you have on vacation. When planning a trip, things seldom go as planned, so try to go with the flow if something goes wrong. Traveling is difficult enough on its own, but it's even more so when you're traveling with a large group or children. Try to plan ahead as much as possible and keep your eye on the prize even if you run into something you hadn't anticipated. You can have a fantastic vacation if you stay positive regardless of what happens.
Read: Why are vacations so stressful?Learn about assuming that travel will help you solve all your problems
Final words
Whether you are traveling with your friends or family members, it is important to keep these tips in your mind. Then you will get the opportunity to experience unforgettable travel adventures. You will fall in love with all the great experiences that you can gather while you are traveling.