When you are traveling, you need to look for the best accommodation options available. This is where most people tend to take a look at the Airbnb rentals. It is the next best alternative for a hotel. There are multiple reasons available for you to stay at an Airbnb instead of a hotel. Let's take a look at 10 prominent reasons on why you should do it.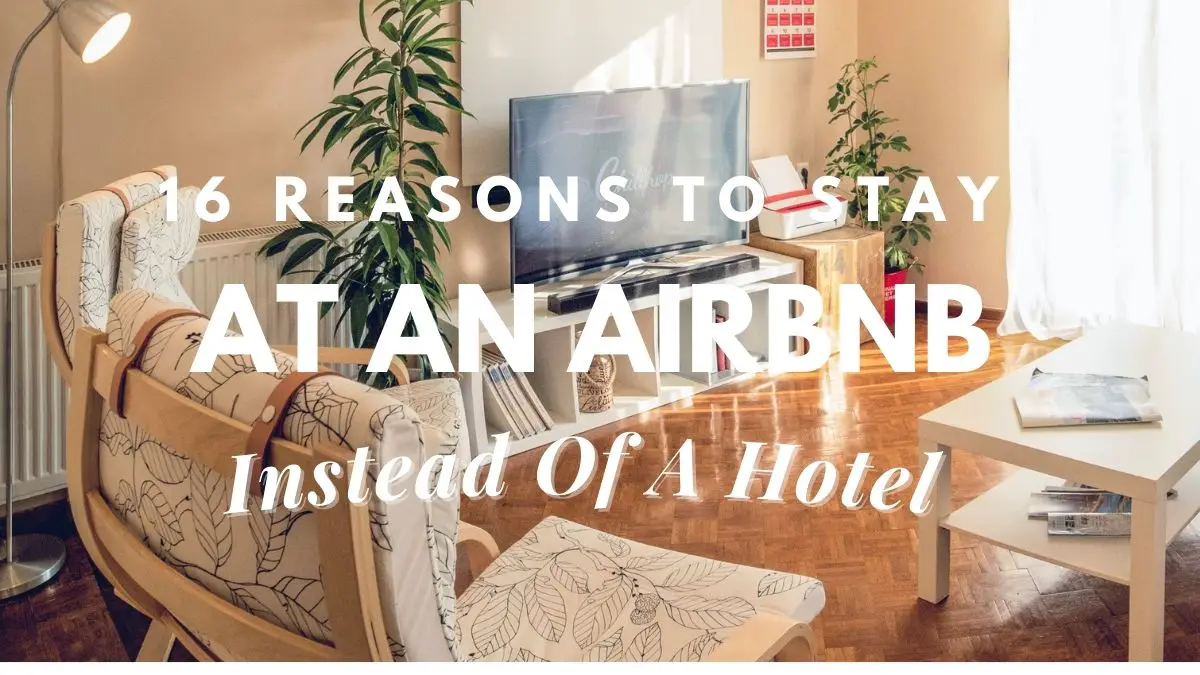 What is Airbnb?
Airbnb is the largest lodging sharing website in the world. You reserve lodging for a trip, whether it's for one night or 12 nights, just like a hotel. Unlike a hotel, however, an Airbnb is distinct in that you are most likely renting someone's home or an unusual location such as a treehouse, tent, or cottage. This results in a one-of-a-kind experience that is very different from a typical hotel rental.
To be honest, if you truly want to know what an Airbnb is like, it's difficult to describe because they're all different! I've been in a variety of Airbnbs, from a contemporary property in a town overlooking Cinque Terre to huge, airy flats large enough to accommodate a group of friends.
Airbnb provides unique experiences such as intriguing excursions with informed locals in addition to vacation cottages, flats, houses, and more. Their adventures differ from typical tour packages and might include anything from going to a club with a local techno fan to learning how to make chocolate with a chocolatier in their own house.
Read: [18 Reasons] to stay at a hotel instead of airbnbLearn about that you can switch suites or rooms as needed
Why should you book an Airbnb instead of a hotel?
The majority of travelers prefer to stay in hotels or hostels. That, however, is rapidly changing. Especially when there are alternatives such as Couchsurfing and Airbnb, where you may stay somewhere cozier, homier, and sometimes cheaper than a hotel or hostel. We're big fans of both Couchsurfing and Airbnb, although we've been using Airbnb more recently.
Here are some of the most prominent reasons on why you need to pick an Airbnb for stay instead of a hotel.
1. You can get an authentic local experience
When you rent an Airbnb rental, you may be able to stay in a local area, gain insider knowledge about your destination, experience your location through the eyes of a local, and get a taste of how people live. Dine where the locals dine to feel more connected to your destination, venture off the beaten path, and converse and have fun with a local. There's no reason to settle for a generic hotel experience when you may choose for something more unique and local.
Read: Is Traveling A Hobby? The Ultimate Guide To An Exciting Way Of Life Learn about the Downsides Of Traveling As A Hobby

2. You can get some exclusive Airbnb discounts
You didn't realize you have a $35 off Airbnb promo code, did you? Even if you aren't a first-time Airbnb user, reading this post earned you a $35 off Airbnb voucher that you may use during your stay. If you aren't sure how to grab it, you may take a look at the articles available online about the topic. You can even see some YouTube videos, which will provide step by step guidance on how to grab this discount.
Read: Plane vs rental car on vacation – (pro's and cons)Learn about the what experiences matter the most?
3. You can get privacy on a budget
Don't get me wrong: hostels are fantastic, especially in terms of socializing. However, there are moments when you require some alone. When the moment comes and you don't want to share a room with ten people and want some alone time without having to pay for a hotel, turn to Airbnb. Which takes me to the second point I'd want to make.
4. Airbnb rentals are less expensive than you think
Airbnb accommodations are suitable not just for luxury and business visitors, but also for those on a tight budget. All you have to do is use Airbnb's price range filter to rent a room, a sofa, a tent area, or a whole apartment on even a backpacker's budget. In Pai, Thailand, we once slept in a lovely house with a private bath and kitchen for only $13 USD per night! That is the cost for two persons. With Airbnb, even budget visitors like us can feel like royalty.
Read: Plane VS Cruise Ship On Vacation – What Is The Best Option?Learn about which one is better?
5. Airbnb is there to support you
It's reasonable that some individuals might be hesitant to rent an Airbnb apartment from someone they don't know. Airbnb, on the other hand, does an excellent job of mitigating safety concerns and risk by providing the following services.
Hosts are needed to provide identification to Airbnb in order to be verified. Hosts can also authenticate their identity by using their email address, phone number, driver's license, or social media profiles.
Reviews are a fantastic method to get a feel for a listing and the reputation of the host, especially because neither the host nor the visitor sees the other's review until both are published. This gives both the visitor and the host the freedom to provide honest feedback without feeling obligated to satisfy the other.
Message the host to learn a bit more about them beyond their profile and reviews. You may message a host without reserving the rental space on Airbnb. All of your inquiries will be answered by a good Airbnb host.
Airbnb provides a 24-hour helpline that may be used as a safety net if something goes wrong during your stay.
Because all payments are processed through the Airbnb system, you don't have to worry about strangers getting your personal information. In addition, the host does not get payment until 24 hours following your arrival.
Verified listing photos demonstrate that an Airbnb photographer visited the listing and photographed the rental space. That way, you can be sure you'll be staying somewhere that looks just like the photos.
6. You have multiple rental options to consider
There is no such thing as a generic Airbnb listing because no two homes are alike. You may stay in fascinating and unusual places like treehouses, bungalows, castles, lighthouses, yachts, boathouses, and even penthouses if you feel like living like royalty or splurging a little. The options are limitless.
Read: Paddleboards VS Kayaks – What Is The Best Choice For Your Next Vacation? Learn about the level of control
7. You can call it a home
The hotel scent and synthetic atmosphere will remain no matter how much a hotel attempts to make those gray painted walls and dreary appearing rooms warm and friendly. Most Airbnb homes will give you a comfortable and homey atmosphere, and you may even feel at ease.
8. You can access a kitchen to prepare your food
As a celiac, having a kitchen where I can prepare my own meals is essential. It relieves me of the stress of worrying about cross contamination in hostel kitchens where bread and spaghetti are the norm.
Read: Why Are Vacations Important?Learn about vacations that can help you with stress management
9. Airbnb rentals are ideal as you travel in groups
Are you going on a trip with your family, friends, or as a couple? On Airbnb, you may rent a whole apartment. Everyone may be together while still having the solitude they want at a lower cost than staying in several hotel rooms. Not to mention that you may split the cost, which will help you save money on your trip.
When traveling, using Airbnb can help you get the most out of your trip because Airbnb rentals provide perks that hotels and hostels do not. We hope that these 9 reasons have persuaded you to choose Airbnb while seeking for a place to stay during your vacation planning. We can't stress enough how beneficial Airbnb may be for your travels. Still don't trust us. Give it a go. You won't regret about it.
10. It is great when you are traveling with children
Even the most expensive hotel may not be able to provide you with enough room and beds as Airbnb can. Most hotel rooms, especially in Europe, do not offer enough space for a family to travel. With an Airbnb apartment rental, you can choose a location with enough beds, couches, and kitchen for the entire family; everyone can hang out, and you won't have to beg for more blankets.
Read: How to go on vacation when you're brokeLearn about to travel during the off peak season
11. You can find a rental that matches perfectly well with your preferences
It might be difficult to locate your ideal hotel, but with Airbnb or HomeAway, you can choose a house that suits your needs, whether you need a little room, a large one, saunas, fireplaces, an apartment with a washing machine, or just about anything else. This flexibility is enough to persuade many customers to pick Airbnb over the costliest hotel in town.
12. Airbnb rentals are unique
With Airbnb, you have the option of staying in a cave house, a home with a hot tub, or a home with fireplaces. This is in stark contrast to hotels, which may appear to be safer and nicer on the surface but are often dull. While some people see hotel boredom as a benefit, others see it as a disadvantage.
Read: Why are vacations so stressful?Learn about assuming that travel will help you solve all your problems
13. You can experience numerous little perks
In several cases, hosts have been found to give benefits not available in hotels. While it is not required, several hosts frequently serve breakfast or welcome refreshments. Some may also give you advice on the greatest locations in town, such as restaurants, and some may even provide restaurant suggestions. Your host is frequently invested in the success of your vacation, which you won't find in even the greatest restaurants.
14. You can easily check in and check out
Checking in and out of rentals has become easier thanks to Airbnb and other booking services. These platforms are regarded as a treasure hunt by many. You don't need to know the apartment's addresses until a few days before your visit, and you don't need to know all of the rental's information. You won't have to wait in line for 30 minutes as you would in a hotel; all you have to do is book a rental unit and pick up the keys from lockboxes. Today, you don't even need to meet the host; there are even smart door locks that require only the rental address and a secret code to open.
Read: How To Eat Healthy On Vacation [Answered]Learn about the healthy meal plan even before you leave
15. You will get the opportunity to learn more about the culture
Every destination you visit is unique, and the best way to learn about their culture is to stay in an Airbnb property. If you stay in a hotel, you won't notice much of a difference between your stay in Cleveland and your stay in Istanbul or Tallinn, especially if it's a chain hotel. Everything is the same; the corporation is the same, the rules are the same, and the designs are the same, even in the restroom. If you rent an apartment, on the other hand, everything is different in various areas. You get to try new items for a cheaper price. Of course, you may have an apartment that looks just like the last one, but if you don't, you'll learn about other cultures.
16. You can leave reviews and go through the reviews left by others
Of doubt, there are some bad Airbnb homes out there, but there are also some bad hotels. The difference is that with Airbnb, you can rate and evaluate the host while simultaneously being rated. Some people who have leased an Airbnb have experienced horrible stories, but at least the host or seeker may feel good about posting a poor review. Because Airbnb hosts are frequently under pressure to improve their ratings, it's likely that everyone will be happy by the conclusion of the stay.
Read: Biggest Lakes In Texas [Top 20]

Learn about the largest natural lake in Texas
Final words
Some Airbnb hosts are better than others, but there are a handful of professional Airbnb hosts who can give hotel-quality service. Follow our Airbnb guide for renters for first-time users to learn the ins and outs of making the most out of your Airbnb. If you're looking for a premium Airbnb, look into Airbnb Plus; these homes have been confirmed by Airbnb, so you'll always know what you're receiving. Any person who is impressed by these reasons can think about securing an Airbnb rental without thinking twice.