Angels Landing is a must-see destination. This renowned Zion National Park walk attracts thousands of visitors each year for a reason. This breathtaking walk is much more than just a destination. It's an adventure and a trip. Angels Landing demands courage, commitment, and a little death desire to hike. Definitely an adrenaline thrill. Continue to read and we will help you in understanding the best time to hike Angels landing.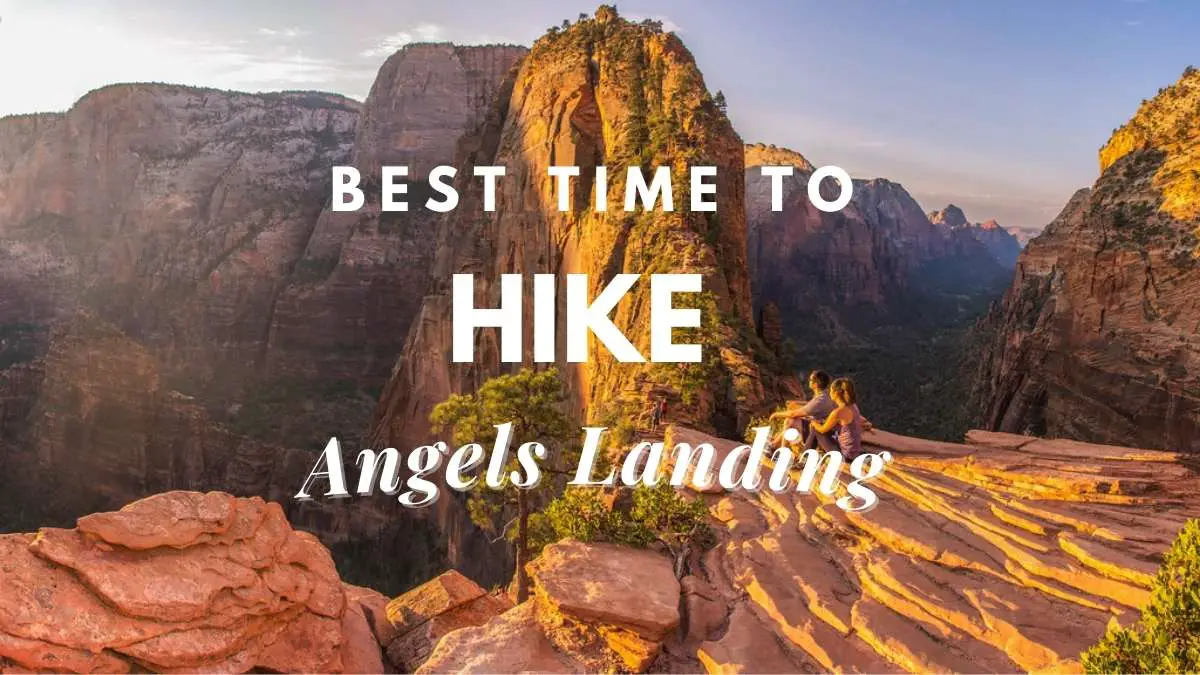 Hiking Angels Landing
The trek ascends the Zion Canyon cliffs to a little viewpoint, where those afraid of heights may decide the last push isn't for them. This last effort is a rock scramble rather than a stroll over a narrow ridge. Visitors ascend this ridge with 800 ft fall on each side using chains to a spectacular landing where they are met with one of the iconic National Park vistas.
Angels Landing is a challenging and enjoyable walk. Before you try to walk Angels Landing, there are a few things you should know. Angels Landing Permits Lottery As part of a trial initiative to regulate hiking traffic on the path, Zion National Park will issue permits to hike Angels Landing from April 1, 2022, until February 28, 2023.
The first set of permits will be granted at the start of each quarter in a seasonal block, and the second set will be issued the day before. For up to six persons, the lottery application costs $6. You will be charged $3 for each individual you enrolled if you win a permit. All permits are obtained via Recreation.gov; to locate the entry page, scroll down to Activities & Experiences.
Read: Is Traveling A Hobby? The Ultimate Guide To An Exciting Way Of Life Learn about the Downsides Of Traveling As A Hobby

Angels Landing Lottery Information for the Season
Once a quarter, a seasonal lottery is conducted for the next quarter. The lottery will be open from the 1st to the 20th of each month. The drawing will take place in 5 days. As a result, you'll need to apply for permits four to six months in advance. How Can You Improve Your Chances of Getting an Angels Landing Hiking Permit During Seasonal Release?
I predict the Angels Landing permits to be similar to the Half-Dome permits in that there will be a few thousand more entries than available permits. This means that not everyone will be granted a permission. For the Zion Permit Lottery, the National Park Service is enabling permit applicants to choose seven favorite dates or date ranges.
If you're going with a group, make sure each person fills out their own Angels Landing Lottery application and names an alternative tour leader. Please enter a date range. Enter for your full Utah road trip if you're planning one. However, the more options you have, the higher your chances of acquiring a permit. If your name is drawn, the National Park Service will provide you the first available permit within your preferred dates. If there are no permits available for your preferred dates, you will not be granted one.
What is the best time to hike Angels Landing?
Hiking Season at Angels Landing the Angels Landing Trail is available all year. Spring and fall are the finest seasons for trekking. Because the path has little shade, a summer trek may be quite hot. If hiking Angels Landing in the winter, be prepared and don't go any farther than Scouts Landing if the route is ice.
Angels Landing is best explored early in the morning or late in the day. Taking the first Zion Canyon Shuttle into the canyon is strongly recommended. Hundreds of people climb this path every day throughout the summer in Zion, making it an extremely popular trek. The majority of hikers will begin between 8 a.m. and 3 p.m.
Taking the first shuttle gives you an hour or two to trek up the path before the hordes arrive. Starting late in the afternoon means you'll be ascending when most hikers descend, avoiding crowds and allowing you to enjoy the sunset from Angels Landing.
Going ahead with your hike
Angels Landing Zion Shuttle the Grotto Trailhead is where the Angels Landing Trail begins. The Grotto Trailhead is situated at Zion Canyon Scenic Drive Shuttle Stop 6. Access to Zion Canyon Scenic Drive is usually confined to the Zion Canyon Shuttle from May to Mid-November. The Zion Canyon Shuttle is available at the Visitor Center and the Campground.
Trail West Rim
At the foot of Zion Canyon, the trek begins by crossing the Virgin River. The sandy path gradually gains height as it follows the Virgin River. Always remember to glance up. The canyon bottom provides spectacular views of Angel Landing.
The route curves as you near the foot of Angels Landing, and you'll come to the first series of switchbacks up the slope of Cathedral Mountain. I hope you didn't forget about leg day. Take one last glance towards the canyon. It'll be a long time before you see it again. Refrigerator Canyon is called for these switchbacks.
Between the Landing and Cathedral Mountain lies this tiny slot canyon. This segment of the path is quite enjoyable. It is flat and has some shade. A pleasant chilly wind regularly blows across this tiny canyon. Take advantage of this brief respite. Now comes the exciting part.
Wiggles of Walter
From the bottom of Refrigerator Canyon to Scouts Lookout, Walther's Wiggles is a sequence of 21 steep switchbacks. Prepare yourself for them. They are really steep but counting as you ascend is entertaining. Take your time climbing these stairs. Walther's Wiggles is named for Walter Ruesch, the first superintendent of Zion National Park. In 1926, Walter was in charge of the building of these switchbacks.
As you make your way up switchback after switchback, don't be afraid to take a rest and catch your breath. There are just 21 of them, each about 20-25 feet in length. They may seem endless, but they make the vista from Scouts Lookout all the more worthwhile.
Lookout Scout
Scouts Lookout is reached after hiking up the final switchback. The official name is Scouts Lookout. Chicken's Coop is how I like to refer to it. Scouts is a great area to drop your daypack and relax for a few minutes while enjoying a snack. Look down into the canyon and check out the remainder of the route to Angel's Landing while you're having a break.
Examine it carefully. Consider the warning indicators before deciding. Many hikers reach Scouts Landing and then turn around and return (thus the name Chicken's Coop). To be honest, there's no guilt in skipping the last half mile to the Landing. Do what you believe is prudent.
Final words
Now you are aware about the best time to hike Angels Landing. You will need to keep all these in mind and then come up with a proper plan to get the most out of your visit to Angels Landing. If you can do that, we can ensure that you will be able to end up with securing maximum returns out of your visit. You will never forget about it for the rest of your life as well.