The Washita River originates in the Texas Panhandle and flows east through Custer, Washita, Caddo, Grady, Garvin, Murray, Carter, and Johnston counties before entering western Oklahoma in Rogers Mills County. Before entering Lake Texoma, it travels 580 kilometers across Oklahoma. Near Turner Falls and Price Falls, about 22 miles of the river are excellent for recreational kayaking.

The river also carves out magnificent and colorful rock formations with 350-foot walls that span for nearly 15 miles through the granite of the Arbuckle Mountains. If you're visiting Chickasaw Country in the spring or summer, try an exciting water adventure on the Washita River, or enjoy a relaxing drive through the magnificent foliage in the autumn and winter! If you are planning to go to Washita River, you should go through this Washita River kayaking guide. Then you can have a clear idea on what to expect and how to get the most out of your tour.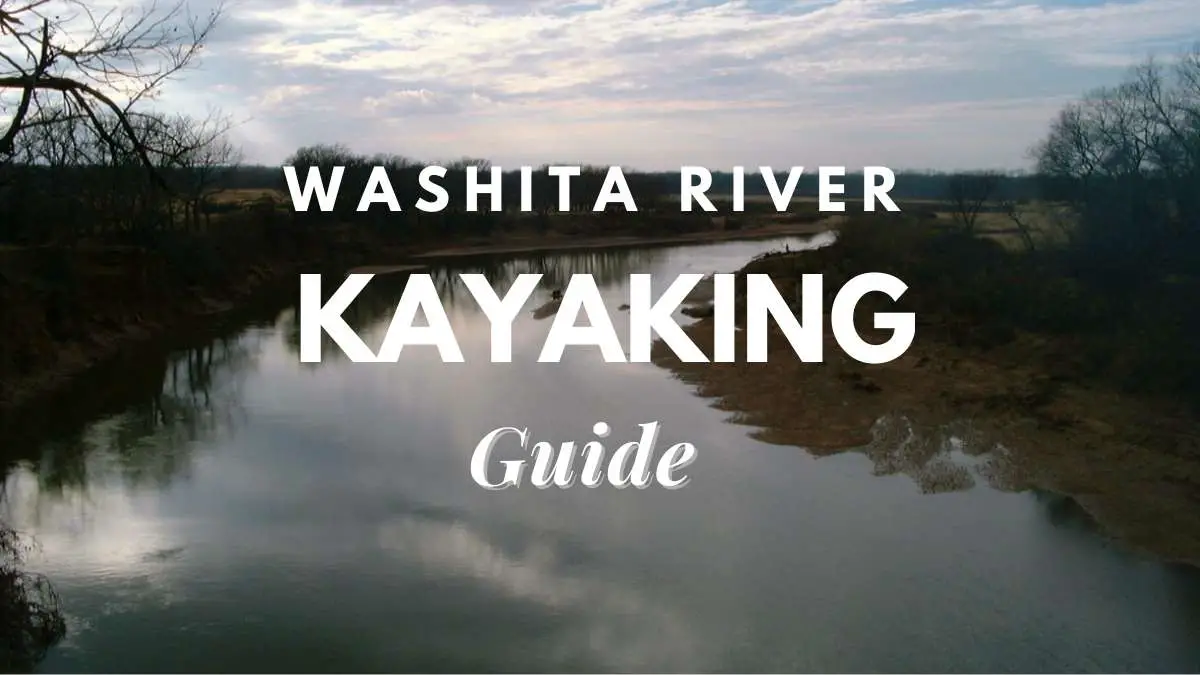 What can you expect at Washita River?
The Washita River rises approximately south of the Canadian River in Hemphill County, Texas, and travels 295 miles to Lake Murray and the Red River in Lake Texoma. The river is not navigable for the most part, and the only portion suitable for recreational paddling is a 22-mile length in southcentral Oklahoma, between Turner Falls and Price Falls, and next to the Chickasaw National Recreation Area. Except for 1.2 miles of its 21.7-mile length, the Washita is a calm river.
Standing waves of several feet may flood an open boat or capsize any boat if not run correctly or portaged around the "Big Canyon" stretch, which begins 11.3 miles beyond the Highway 77 put-in below Davis, Oklahoma. While the river's overall gradient is 3.9 fpm, it exceeds 30 fpm at Big Canyon. In high water, the enormous standing waves may reach 6 feet or more, making this stretch of the Washita River very impossible to paddle. Aside from this one possible danger, the remainder of the river is suitable for families or paddlers with less expertise. It is a user-friendly river in current terminology.
The river's journey downstream is picturesque and colorful, with large rock formations in the Arbuckle Mountains. The region is rich in historic Native American civilizations, and many descendants of ancient tribes still reside in the area, as well as across Oklahoma. The greatest time to catch the Washita with water is in the spring and early summer, since it tends to run low throughout the year, especially during droughts. The Washita River runs through the granite and limestone of the Arbuckle Mountains southeast of Davis, cutting such a river basin with 300-foot cliffs that stretches for many miles. Sulphur, Ardmore, and Gene Autry (the town, not the singing cowboy!) are all within a few miles of Paul's Valley. Take notice of the fields of symmetrically placed rocks that stretch for kilometers as you travel up from somewhere south. It's an anomaly in geology.
Enjoying Washita River kayaking
Near Turner Falls is the nicest section of river for kayaking. Depending on the river level and location, it is classified as Class II or III whitewater. Early summer is the greatest time to paddle here, before the summer heat drains the water. In this section of the state, there aren't many outfitters, although a few have sprouted up and are open throughout the summer. This portion is ideal for beginners since it allows them to spend time outside while also experiencing some hard river parts.
Location
Murray and Carter Counties are located in southcentral Oklahoma, about halfway between Dallas and Oklahoma City. Near Davis, the river's runnable stretch runs through the Arbuckle Mountains.
The distance between large cities
Dallas is 110 miles away, Austin is 310 miles away, San Antonio is 390 miles away, Houston is 360 miles away, Oklahoma City is 95 miles away, Tulsa is 175 miles away, Ardmore is 15 miles away, Little Rock is 342 miles away, Kansas City is 430 miles away, St. Louis is 560 miles away, Albuquerque is 587 miles away, Phoenix is 1,085 miles away, Denver is 695 miles away, Grand Junction is 907 miles away, and Salt Lake (all distance are approximate depending upon starting point, destination at the river and route taken.)
Flow Rates and Water Quality
Generally excellent but turning hazy to muddy depending on recent rainfall intensity, with heavier showers causing the most discoloration. The river is generally navigable, although during lengthy droughts, particularly in the dead of summer, the river will run dry or become impassable. Flow rates of 2,400 to 7,000 CFS are ideal.
The best time to visit
Because of the larger flows and warmer temperatures, most people favor Spring and Fall. The river is reliant on runoff from local rainfall within the drainage basin, therefore it may flow high and quickly, moderately and smoothly, slowly and meanderingly, or not at all, depending on Mother Nature's will. Summer months are not ideal for spectacular paddle outings because of the often low water levels.
Navigational hazards
As the floods approach Big Canyon, 11.3 miles downstream, heavy local rains will reach deadly proportions. Big Canyon is a 1.2-mile-long stretch of Class I-II+ rapids with six-foot standing waves that may swiftly swamp or capsize a boat, sending you swimming in a fast current over a rocky roller coaster (and you forgot to bring your steel cup!) The E-ticket ride finishes 12.5 miles downriver, after which there are just felled trees and debris clutters to worry about, particularly after a flood.
River Entry Points
7 Sisters Hills Road on river left at approximately 19.9 miles; US Highway 77 Bridge on river right at about 0.0 miles; Dougherty Bridge on Kay Star Trail on river right at about 7.5 miles On this stretch of the Washita River, there are no other access locations.
Accommodations and campgrounds
The Arbuckle Mountain Area is a tourist-friendly destination with plenty of camping options nearby. Oklahoma is very adept at offering public camping spots all around the state. There are multiple campsites accessible at Arbuckle Reservoir, which is located east of Highway 177. Turner Falls (580-369-2917), located west of IH-35, provides camping with picnic sites and electricity connections, as well as an RV park with hookups, cabin rentals, and stores and businesses. With 455 camp sites, outdoor grills, picnic areas, public boat ramps and docks, pull-throughs, and two sanitary dump stations, Chickasaw National Recreation Area (580-622-3161) is open year-round, 24 hours a day. On or near the Washita River, there are at least two commercial campsites.
Shuttle services, outfitters, and liveries
On or around the Washita River, there are at least three commercial outfitters offering rentals, shuttles, and/or river information.
Recommendations from reviewers
My parents used to take me and my siblings to Turner Falls to swim and play in the park when we were kids. We were always fascinated by that massive waterfall in the middle of nowhere, however I never had the courage (or the head fart) to climb up and leap down the 77-foot drop into the pool below. There were rocks protruding from the ground! I had no idea that the Washita River was such a short distance close, and that it was such a beautiful spot to paddle for sheer visual splendor without driving a thousand miles or more. Between US Highway 77 off SH 7 south of Davis to SH 53 east of Gene Autry, you may go 7.5, 13.4, or 21.9 miles.
The Large Canyon is a terrific joyride if you appreciate directing the bow of your boat towards big haystacks and then going straight at them fast and furious. If you want a more sedate river experience, scout your route carefully in Big Canyon and strike your line! Except for high flood levels when heavy rains bring an excess of water pouring down the river channel, it's not too awful.
Final words
The beauty of Oklahoma's natural surroundings and the way the water current travels down the stream are incentive enough to come here to paddle. This 9-mile length of the Washita River in Oklahoma is classified as a class II-III whitewater course by American Whitewater. The starting point is a short drive from Ardmore; a road map with further information may be found lower down the website. Because whitewater rafting and kayaking are frequently simpler in this state than elsewhere, keep in mind that many of the portions are suitable for novices.
There are campsites nearby for all you campers. This is one of a few kayaking segments in this river system; there are a few others. There aren't many hotels close; you'll have to travel a little to find one, but if you make reservations ahead of time, you'll be OK. You gain considerable mileage on this segment, and you can easily run it in an afternoon. Paddling whitewater in the Arbuckle Mountains is a fantastic experience. Whether your whitewater rafting or kayaking, there aren't many other options in this region.
You'll be pleased you came since your paddling muscles will be exercised and you'll get to spend some time outside.