Experience Colorado the way the early explorers did, when using horses to go from point A to point B was the quickest method. There are still numerous secret locations in the state where a comfortable SUV cannot take you. The choices are unlimited for you and your four-legged companion, from famous sights tucked away in Colorado's public lands to jagged panoramas over the Continental Divide. Here are the best horseback camping trips Colorado that you will be able to experience as of now.

Every horseback ride in Colorado is an exciting trek into the wilderness, where visitors can experience the cowboy lifestyle that the state is known for. Colorado horseback riding outfitters provide fast day rides and jam-pack multi-day expeditions. Cowboy breakfast rides are a favorite among many outfitters, rewarding early risers with sizzling skillets and freshly brewed coffee.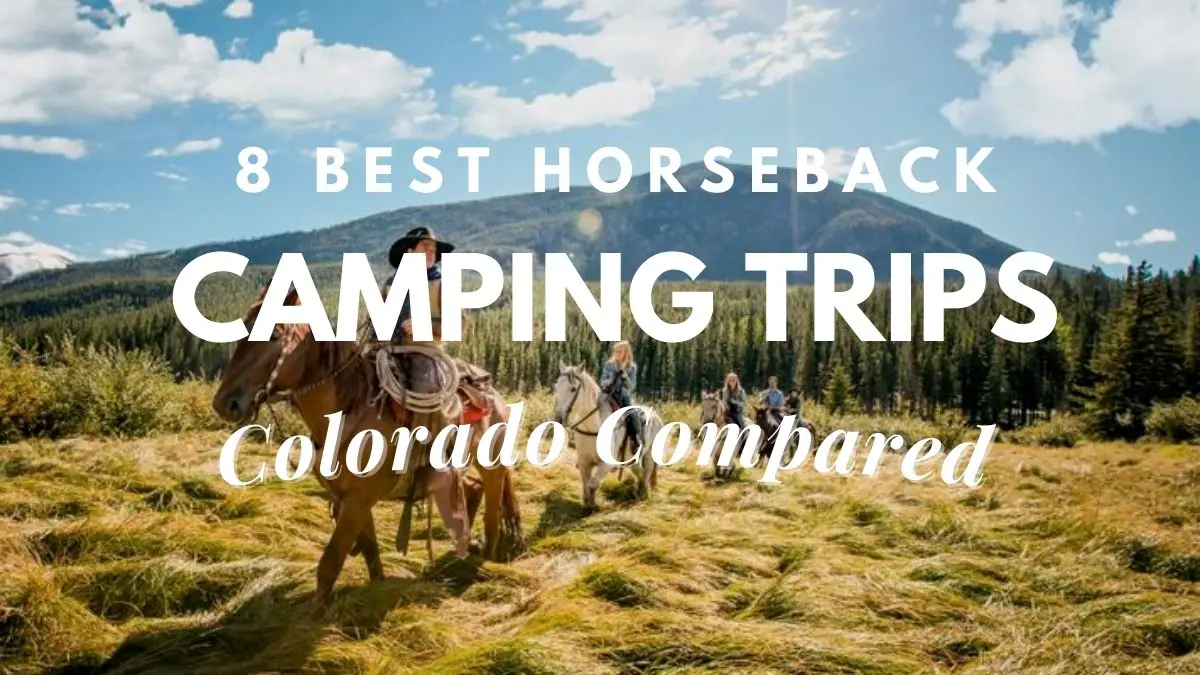 1. Ricky Mountain National Park
There are numerous ways to take in the breathtaking scenery of Rocky Mountain National Park, but when you go there next, keep in mind that riding a horse is one of the greatest ways to cover some substantial ground. A delectable steak meal may be had at the chuck wagon, or you can saddle up for a ride over raging rivers and high mountain lakes, see animals up close in meadows covered with wildflowers, or get near to it all while viewing wildlife.
Read: Is Traveling A Hobby? The Ultimate Guide To An Exciting Way Of Life Learn about the Downsides Of Traveling As A Hobby

2. Maroon Bells
The Maroon Bells, which consist of two peaks called North Maroon Peak and Maroon Peak, are believed to be the most photographed mountains in Colorado, and it's easy to see why. Give your thirsty horse a drink in the glass-like lake that reflects the aspens and conifers that frame the rocky peaks that are often covered in snow. A camera should be in your saddlebag for this picture-perfect excursion in Aspen. Maroon Bells Stables, Capitol Peak Outfitters, and Aspen Wilderness Outfitters are well-known outfitters.
3. Garden of the Gods Park
Long before horses ever arrived in North America, the spiky red-rock formations in Garden of the Gods were created more than 230 million years ago. Riding across this geological wonder's terrain is awe-inspiring and perfect for novices. The main outfitter in Garden of the Gods, Academy Riding Stables in Colorado Springs, offers one- to two-hour rides in the park.
4. Estes Park
The city of Estes Park itself is teeming with expansive valleys, dense woods, and sparkling alpine lakes, despite its reputation as the eastern entrance to the splendor of Rocky Mountain National Park. Explore Roosevelt National Forest on horseback while riding in the shadow of towering peaks in order to view animals like deer, elk, and coyotes.
5. Weminuche Wilderness
For a serious horse rider wishing to explore the Wild West close to the southwest Colorado communities of Durango, Pagosa Springs, and Ouray, the Weminuche Wilderness is perfect. Cross the Continental Divide's craggy peaks as they give way to vast, lush plains. It is advised to do a multi-day pack trip to view the majority of Colorado's greatest wilderness region. From the stables, many of the picturesque landscapes need more than one day to travel.
6. Brown's Creek Falls
You can be sure that this excursion will leave you with a grin on your face since it combines two things that the majority of people enjoy: horses and waterfalls. The waterfalls along Brown's Creek, which are found in the San Isabel National Forest close to Salida, are popular among treasure hunters in Colorado. As you softly climb the valley between Mount Antero and Tabeguache Peak, hit the many spotted falls that are located along the path. Deer Valley Ranch and Mt. Princeton Riding Stables are well-known outfitters.
7. Historic Trails
A small-group excursion (four-person maximum) through the storied Homestead Meadows in the vicinity of Rocky Mountain National Park is provided by Estes Park Outfitters. As professional trial guides provide insights about living then, picture yourself as a homesteader in the early 1900s, surrounded by blue sky, pure air, and stunning vistas.
A&A Stables in Idaho Springs offers a frightening 1800s cemetery ride that is a whole unique equestrian adventure. The Full Moon Ride and Gambling Spree Rides to Central City's historic downtown are two other unusual excursions.
8. World Class Dude & Guest Ranches
You can cross off everything on your Colorado bucket list while on a dude ranch vacation. With unrestricted access to amazing riding programs, whitewater rafting, biking, fishing, and resting on some of the most remote grounds in Colorado, dive right into some good old' Western fun. Before going to the campfire for s'mores beneath a night sky filled with stars, give those saddle-sore legs a break in secluded hot springs or make an appointment for a sumptuous massage.
Tips to get the most out of horseback camping trips Colorado
Are you considering taking a horse for the first time? You are going to ride a very huge, live animal, so it is only reasonable to feel a little uneasy. Because of this, it's crucial to have professional guidance while learning how to ride a horse. They can provide you the encouragement and confidence you need to feel secure and at ease, as well as helpful start riding advice. After all, every master once started out as a novice. They will be able to identify with your situation and provide insightful criticism.
One of the greatest (and most pleasurable) methods to learn the fundamentals is to go on a horseback riding vacation for beginners since one session won't even come close to being enough for you to be able to ride correctly. You'll have plenty of opportunity to improve your horsemanship abilities as well as to form a bond with your horse, meet like-minded individuals, and get a fresh perspective on a foreign nation (or your own). Here are 10 pointers for beginning riders to help you seem more experienced on the horse before your first equestrian vacation:
1. Don the appropriate horse riding gear.
No matter whether you like English or Western riding, it may seem apparent, but you shouldn't show up in a miniskirt, shorts, or sandals from the beach. When riding a horse, you must wear long pants and appropriate footwear. To prevent your feet from sliding between the stirrups, it would be great if you had a pair of low heeled boots with a heel height of no more than 1-1.5 inches (2.5-4 cm). However, any close-toed shoes would likely do the trick.
Wearing scarves, handbags, or other items that might entangle in the saddle, shrubs, or trees is not advised. Finally, for your own protection, it is always advised to wear a helmet.
2. How to greet your horse
Remember that your horse is a live being and not a machine that you can drive about as you choose. The horse may also feel uneasy, worn out, or even afraid of being ridden by a stranger. So, when you first meet your horse at the ranch, say hello to him to start a nice bond right away.
Extend your arm out in front of you, offer your hand's back to your horse to sniff, and wait until he contacts it with his nose to say "hello." The "horseman's handshake" is a straightforward gesture that might be interpreted as a request for permission to mount the subject.
3. Mount a horse with confidence
The horse may sense your anxiety and may start to feel anxious himself if you are. The horses are normally taught to be mounted on the left side if you decide to go on a ranch holiday. When you mount, your guide most likely will keep your horse's head still, but if not, ask someone to do so he doesn't move.
Move as smoothly as you can as you lift your left foot into the stirrup, grasp both reins in your left hand, and raise yourself with your right leg. You may place your hands on the horse's back for balance but avoid pushing the animal down with your arms since this might damage him.
4. Avoid slouching. adopt a calm, upright horse-riding stance.
It's likely that you chance to watch the Kentucky Derby and were so fired up that you believed you had to try to ride as quickly as you could like the jockeys on television. So bear in mind that a weekend getaway on a horse is all about enjoyment and not going to the Grand National.
To maintain control of your horse, the optimum posture is to sit up straight and tall, relax your back, grasp the reins lightly, place a foot in each stirrup, and maintain your balance so that your horse doesn't feel as if he is carrying a bigger weight.
5. Use the tips of the reins gently.
Depending on whether you're studying the English or Western styles, your riding technique may change. In Western riding, you hold both reins in one hand, but in English riding, you hold one rein in each hand. Whatever you decide, don't pull too hard or your horse might be injured. Instead, keep your arms relaxed. Rarely should you raise the reins over shoulder height; instead, your arms should typically make right angles at the elbow.
Move the left rein in the direction of the left, as if opening a door, to guide your horse to the left. Simply use the identical maneuver to the right rein to steer to the right. Stop by drawing back slowly and putting your heels on the ground.
6. Avoid using the saddle horn as a balancing aid.
Most likely, your horse's equipment will have a saddle horn that you may use when riding in the United States or Mexico. The saddle horn won't be able to keep you balanced, however. Try altering your stance, stretching your legs, or gripping the reins more lightly if you feel unsteady.
If you grasp the saddle horn all the time, you'll find it difficult to maintain your balance in an emergency scenario and are more likely to trip and fall. Therefore, even while you are just strolling, you should never become used to gripping onto the saddle horn. It's best to learn the right way from the start rather than forming poor habits that might endanger your future.
Note that the equipment normally does not contain a saddle horn in the UK or other European nations. Remember that you shouldn't use the front of the saddle as a balancing aid.
7. Keep your eyes on where you're going
While riding, avoid keeping your eyes glued on your horse. No matter how gorgeous he is, you must constantly focus on the route. You wouldn't want to be in a vehicle with a driver like that; it would be like staring at the hood of your car while neglecting the road in front of you.
It's advised to see the future from the perspective of the horse. But keeping a straight posture and keeping an eye on the route should be enough to ensure a secure trail riding excursion.
8. Maintain a connection with your horse.
Our finest Mr. Miyagi-esque instruction is to always be yourself. Maintain your composure and move your body in sync with your horse. Allow him to sway you from side to side as you feel how he walks without objecting. If you're overly tight, you can bounce, lose your equilibrium, and experience some back pain.
Give the horse space. Of course, this does not imply that you may do as he pleases, but you can act as a leader rather than a tyrant.
9. Simply strolling, riding a horse, and walking are all perfectly acceptable.
Recall point number four. Reread the first sentence and keep that frame of mind in mind for tip number 9. The four common gaits for horses are the walk, trot, canter, and gallop. As you may have guessed, while you're just learning how to ride a horse, galloping is not an option.
The walk is the steadiest gait, therefore it's possible that when you first start riding, it's the quickest you can go. For the purpose of impressing someone, it is not worth jeopardizing your safety (besides, a broken arm, if you fall, is not as impressive as it was in high school). At some time, you can certainly start trotting, but as a beginner, going much faster may not be the best course of action.
10. Dismount expertly
Make sure your horse is motionless when you're ready to get off. Additionally, having someone hold the horse while you do it is much better. Lean forward, swing your right leg over the horse, and hop off with both feet out of the stirrups.
Try to execute it as effortlessly as you could, just as when you mounted. After a fantastic ride, thank your horse, give him some water, and enjoy being back on the ground. You probably won't have much time to wait before you have to get back on the horse!
Final words
Now you have a clear idea on how to get the most out of horseback camping trips Colorado. Pick one of these trips and make sure that you get the most enjoyable experience with horseback riding.