Hawaii is consistently a top travel destination for a variety of factors. The Aloha State is home to a unique culture, stunning scenery, and picture-perfect beaches. We provide information on the ideal time of year to go to Hawaii. Although the islands are stunning year-round, the optimum time to plan your tropical holiday will depend on your own interests. Want to make a little money back? Select a time for your trip that is off-peak. Searching for a humpback whale? Go on vacation in the winter or early spring. If you want to know about cheapest time to go to Hawaii, continue to read and we will share more details.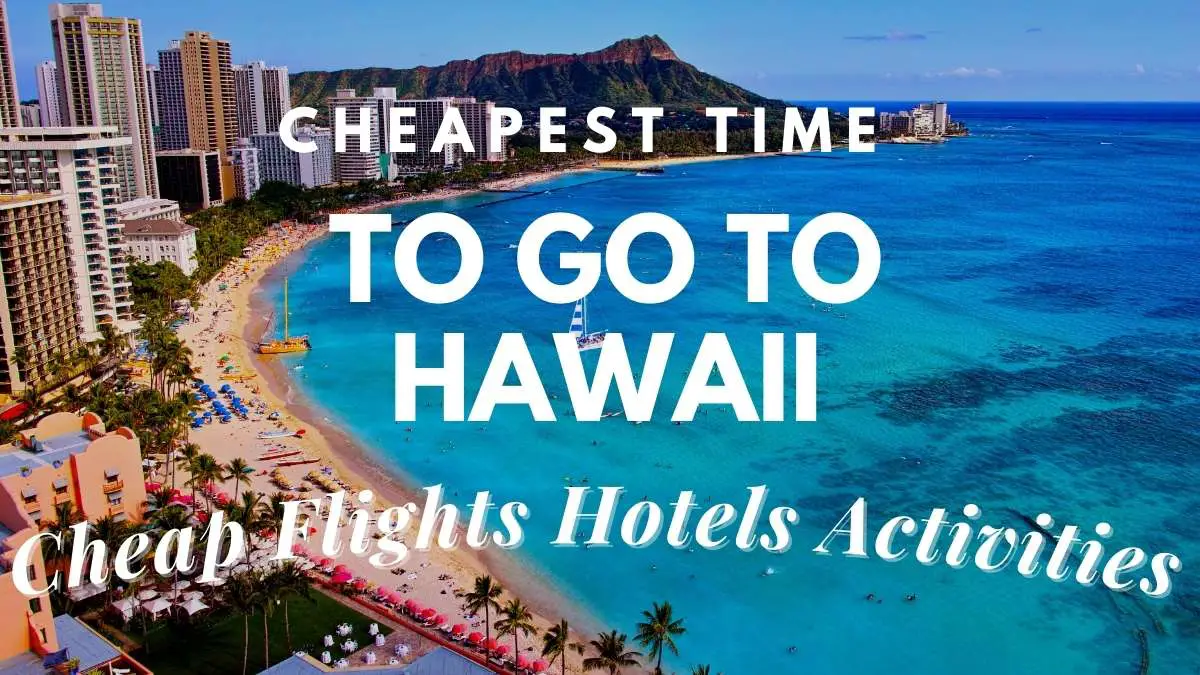 Generally speaking, hotel prices increase around Christmas and New Year's during the latter two weeks of December and the first week of January. According to Hawaiian Airlines, spring break and summer vacation are two more high travel times. So, stay away from certain times of the year if you want to save money on both lodging and travel.
When to Travel to Hawaii for the Best Weather
Hawaii has year-round mild weather, with winter months (November to April) having somewhat lower temperatures than summer months (May to October). According to the Hawaiian Tourism Authority, Hawaii's average daily winter beach temperature is 78 degrees Fahrenheit while its average daily summer temperature is 85 degrees.
Rainfall in Hawaii is at its lowest from April through October, making these months ideal for tourists seeking the nicest weather. Although a major tropical storm may strike at any time, the Hawaii Department of Health states that the central Pacific hurricane season lasts from June through November.
Read: Is Traveling A Hobby? The Ultimate Guide To An Exciting Way Of Life Learn about the Downsides Of Traveling As A Hobby

Ideal Periods to Visit Hawaii
Prior to the COVID-19 pandemic, Hawaii welcomed more than 10 million tourists in 2019, with the months of July (997,872), June (950,931), and December (942,969) seeing the highest numbers of visitors. However, when the epidemic struck, tourism abruptly stopped. For incoming guests, Hawaii implemented stringent self-quarantine regulations. Later, via the Safe Travels Program, which expired on March 25, 2022, the state mandated that all entering domestic passengers provide evidence of a COVID-19 test result that was negative or proof of a complete COVID-19 vaccine before admission.
All in all, Hawaii is working to restore its tourist industry to levels seen before the outbreak. 6.8 million people visited the islands in total in 2021, with the busiest months being July (879,551), June (791,053), and December (753,670), comparable to 2019.
Before the epidemic, the so-called "Golden Week," when four Japanese festivals are observed over a seven-day period, saw an influx of Japanese tourists heading to Hawaii on a regular basis. Since the pre-departure screening procedures for foreign air travelers to the United States have been eliminated (as of June 12, 2022), Hawaii's tourist numbers may once again increase during this busy time for Japanese visitors. Escape this period if you wish to avoid the crowds.
There are several yearly occasions to keep in mind as well. The PGA Tour in January, the Aloha Festivals in September, and the Hawaii Food & Wine Festival are notable annual events that draw tourists to Hawaii.
Read: First Time Hawaii Itinerary Learn about Day 1 in Oahu
Hawaii's Best Surfing Seasons
Hawaii's world-famous waves are open to both tourists and residents year-round, but there are a few precautions to take before hanging ten. According to the Hawaiian Tourism Authority, waves are often bigger in the winter, particularly on the islands' north-facing coasts, thus the weather isn't the best for those learning to surf. However, this is a great time to go if you want to see the pros ride some monster waves.
Hawaii's Best Times for Whale Watching
From December to May, humpback whales may be seen off the beaches of the Hawaiian Islands by tourists who come to the islands with the intention of whale watching. Many people see January, February, and March as the height of the season since these months are when the public is invited to participate in the National Oceanic and Atmospheric Administration's annual Sanctuary Ocean Count and assist monitor whales.
The shoulder season in May or September is likely to provide the optimal booking window for those seeking the ideal balance of fewer tourists, reduced rates, and pleasant weather.
Things to consider while making travel plans
Now you have a basic idea on cheapest time to go to Hawaii. There are few other important things that you need to know before you head to Hawaii as well.
1. Driving is Not Allowed Between the Hawaiian Islands
I often get the question, "Can you drive from island to island in Hawaii?" The simple response is no. There are no bridges connecting Hawaii's islands, and the distances between them are simply too great for car travel.
Additionally, there is no state-wide ferry. Many years ago, there was a brief-lived ferry system called the Super Ferry. A ferry to Molokai was also formerly available, but it is no longer operational. There is now just one ferry from Maui to Lanai, and it only carries passengers. In Hawaii, island hopping is a fantastic method to see many islands. a person in front of an aircraft window clutching a hibiscus flower.
Most of the Hawaiian Islands need air travel. Therefore, island hopping in Hawaii will be necessary if you wish to see different islands while on vacation there. The Hawaiian Islands are connected by a ton of daily inter-island flights. Each island has a few inter-island flights; however, Honolulu International Airport serves as the primary hub. It's the simplest approach to visit many islands.
2. Avoid the Golden Week.
If you reside in Japan, vacationing might be quite difficult. They must be requested well in advance. Prevent traveling to Hawaii during Japan's Golden Week (end of April to early May.) That week is a busy one for Japanese visitors to Hawaii, and it is also a pricey one to go. a picture of the packed Waikiki beach
During Golden Week, Waikiki Beach is quite busy. However, during a period known as Golden Week, workers in Japan are granted four days off. Because of this, it is a particularly popular time to book a trip to Hawaii. This is due to the fact that it is the quickest flight from Japan to the United States.
Golden Week occurs towards the end of April and the beginning of May (2022: April 29–May 5). Hawaii is also overrun by Japanese visitors. Hawaii is not at its finest right now. Golden Week should be avoided since it will be difficult to obtain hotel rooms, beaches will be packed, and you may not be able to fit in all the excursions or activities you desire. This is particularly true if you're traveling to Oahu.
In addition, it seems that hotel rates for Hawaii trips are surging that week. To save money, do yourself a favor and double-check the dates before making a reservation.
3. Companion fares may save you money.
Even if you visit in the off-peak season, airfares to Hawaii may be rather costly from anyplace on the mainland (mid-April to June and September to mid-December). Are you looking to save costs in Hawaii? Utilize companion fares, such as those offered by Alaska Airlines. a picture of an airport and an aircraft.
Our Alaska Airlines companion price significantly reduces the cost of our trips to Hawaii. Obtaining an Alaska Airlines credit card is one of my top suggestions for saving money in Hawaii. It includes the companion rate offered by Alaska Airlines, which is essentially a BOGO offer for air travel. You will have to pay the full amount for the first ticket, but just $99 for the second. Each of my spouse and I has a card, and as a result, we can buy our flights to Hawaii for half off. All four of the major Hawaiian Islands may be reached directly by Alaska Airlines, which also offers affordable fares.
Alaska Carriers is by far our favorite airline, even though we haven't flown nearly all Hawaii-bound airlines (we still need to try Southwest). It seems like the ideal method to get to Hawaii.
4. Most sunscreens are prohibited
Any sunscreen that is not reef-safe in Hawaii is prohibited there. This is due to the state of Hawaii placing a high premium on protecting its amazing marine life. So, when you pack for Hawaii, be sure to only include sunscreen that is safe for the coral reefs.
Be sure to include Reef Safe Sunscreen on your Hawaii packing list as it is the only sunscreen that is permitted there. a picture of Babyganics sunscreen. My preferred sunscreen for Hawaii is this. The Babyganics sunscreen spray is our go-to reef-safe sunscreen. My oldest began using it when she was a newborn, and now the entire family does. Here are the best pricing. The Babyganics spray sunscreen absorbs quickly and provides excellent protection, unlike certain mineral-based sunscreens that may leave a chalky white residue.
Simply wait to purchase sunscreen in Hawaii if you are unsure about its safety for the reef. All sunscreens sold in the Hawaii islands is reef-safe, so you can shop with confidence. However, the price is often higher when purchased from hotel gift shops (so head to Walmart or Target instead).
5. A Rental Car Will Probably Be Required
You actually must hire a vehicle in Hawaii unless you are staying in Waikiki. This is due to the fact that the majority of excursions and shuttles essentially only pick up from Waikiki hotels. Therefore, you should research Hawaii vehicle rentals.
You should hire a vehicle if you want to get the most out of your trip to Hawaii. picture of a Jeep at a Hawaiian beach.
6. Be mindful about traffic
Prior to making your accommodation arrangements, consider where you wish to travel in Hawaii. If not, you risk being trapped in traffic whenever you try to leave your hotel. This also implies that you should provide plenty of time for yourself to travel to any planned events. Because I was unaware that it would take over two hours to go from Waikiki to the North Shore in the evening, we almost missed our Oahu luau. In addition, Hawaii is well recognized for its extensive year-round road development.
7. Skip the spa day at the end of your trip
Yes, maybe we had to learn this lesson the hard way. If your home isn't as sunny as Hawaii, you probably won't go the whole vacation without getting a sunburn. One of the greatest Hawaii holiday blunders is leaving a spa day until the very end. a picture of a lady receiving a massage with tropical stones
When planning your Hawaii vacation, make reservations for your spa treatments. It is quite simple to drift off when sunbathing, forget to reapply sunscreen after swimming, or be on a boat where you are becoming burnt without even realizing it. That's why I advise booking spa appointments before you go. When your skin is so sensitive, getting a massage (or a body scrub) is certainly not what you want to do. Instead, spend some time in the spa at the beginning of your stay to avoid being burnt.
8. Hawaii is Very Expensive.
I'm aware that the Hawaii islands have a reputation for being pricey, and that reputation is based on fact. not simply in terms of lodging or travel costs. A pencil, calculator, and notepad are shown.
Hawaii travel may add up rapidly in cost. In Hawaii, almost everything is a foreign import. The same is true with island vacation spots. You'll experience price shock buying basic products like milk or cereal. Additionally, parking is expensive almost everywhere in Waikiki. These little details pile up over time. It's crucial to make a realistic Hawaii vacation budget; I don't say this to frighten you off, and there are plenty of methods for doing so. All of our travels to Hawaii tend to come with unanticipated expenses.
Final words
While keeping the tips we shared in mind, make sure that you pick the best time to visit Hawaii. Then you will surely be able to have a great time out there.