Do you want to take a road trip along the East Coast in search of some gorgeous hidden treasures and hidden towns? Or are you seeking for a peaceful East Coast weekend getaway? If that's the case, we are looking forward to sharing some hidden gem vacation spots on East Coast to visit. You just need to come up with a proper plan based on these vacation spots, so that you can get the best possible experience out of your stay.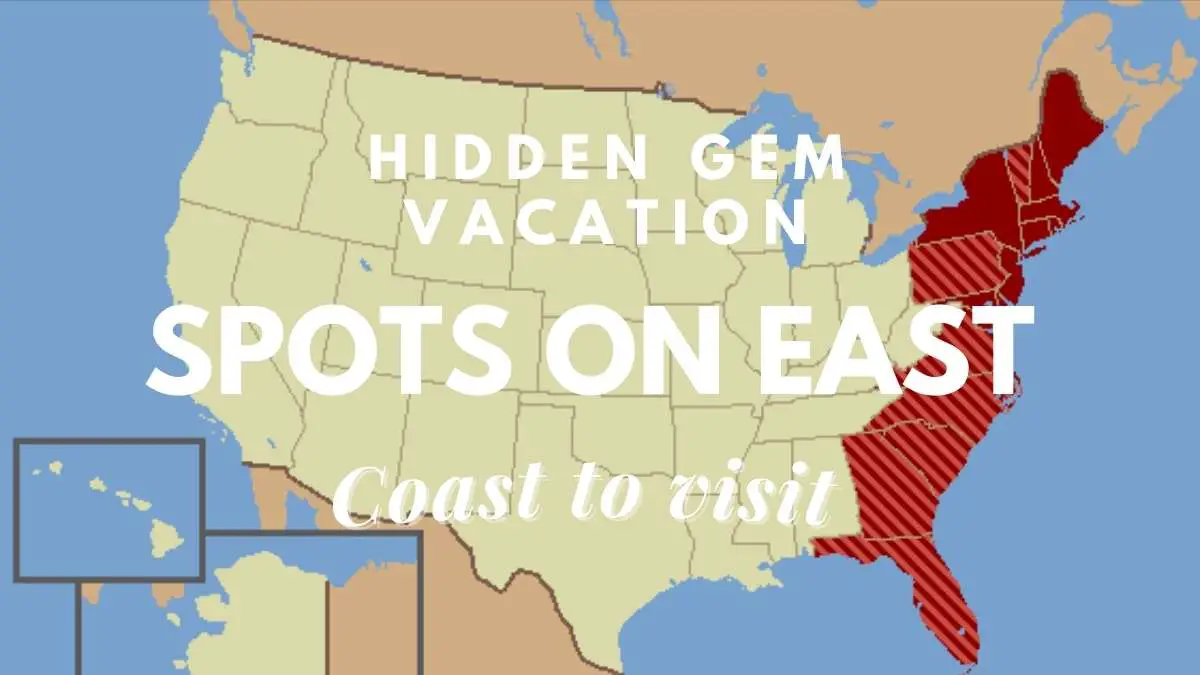 1. Provincetown Cape Cod
With mountains, dazzling freshwater lakes, and excellent art and cuisine scenes, these less touristic East Coast cities offer the ideal retreat. I've spent the most of my life on the east coast, summering in places like New Hampshire, Boston, Washington, DC, and now Pittsburgh. I know where the most gorgeous and salt-tinged sites and attractions may be found. Places where stressed-out city dwellers and rusticators may get away from it all and retreat into history or nature. These East Coast cities will wow you with their distinct combination of culture, culinary expertise, and natural beauty.
You may combine them into one lengthy road trip, choose multiple towns for a week-long regional itinerary, or select one exceptional location for a relaxing weekend vacation.
Read: Is Traveling A Hobby? The Ultimate Guide To An Exciting Way Of Life Learn about the Downsides Of Traveling As A Hobby

2. Stowe Vermont
Winter resort communities abound throughout New England. Stowe, on the other hand, is a stunning year-round resort that you can't help but fall in love with. Summertime in Stowe means hiking, golf, mountain biking, kayaking, swimming, and picturesque drives up the twisting Auto Toll Road, rather than skiing. You may go hot air ballooning over the Green Mountains for a wonderful experience.
Stowe's hiking paths, with a variety of alternatives to suit every level of expertise, are where the hilly town truly shines. Some will lead you to high peaks, while others will lead you to waterfalls.
After your hike, reward yourself with apple cider doughnuts or a Vermont Maple Sugar Body Scrub at the Snowflake Spa. Stowe's downtown is lovely and picture-perfect. The white steepled church is the main attraction. Boutiques, crafts merchants, and antique shops along the narrow Main Street. You may keep yourself occupied by visiting libraries, museums, theaters, and cultural groups.
3. Burlington, Vermont
"You can't throw a stone without striking a poet/painter/potter," as the phrase goes in Vermont. Burlington has established a superb art scene being the major town in a state of little hamlets. Burlington is compared as a little Seattle by some. College students, regional power brokers, and creative minds make up this politically and socially progressive enclave.
The Fleming Museum on the University of Vermont campus is the crown gem of Burlington's art scene. The museum has a diverse collection of artwork and artists. The Arts Alive Festival takes place in June.
The Flynn Performing Arts Center is where you should go to catch a performance. It's an art deco masterpiece that's been completely restored. Concerts, dramas, and touring Broadway productions are all held at the Fynn.
If you're a foodie, Burlington is the place to be. With a profusion of locally produced food, it outshines much of the United States. Farm to table dining isn't simply fashionable; it's a long-standing tradition. Farmers and Foragers Cuisine Truck also serves delicious street food.
Hotel Vermont, Hilton Garden, Hilton Burlington Lake Champlain, The Essex Resort are some of the places to stay in Burlington. In Burlington, there are many restaurants to choose from: Bleu Northeast Seafood, Hen of the Wood, Juniper, The Great Northern, and Honey Road.
4. Brattleboro in Vermont
Brattleboro, Vermont, is a lovely hamlet on the Connecticut River that is clearly off the usual path. The Creamery Covered Bridge, a historic monument dated from 1879, should be your first visit. Downtown Brattleboro has been renovated. It presently houses art galleries, artist studios on the top floors, and a diverse range of art events.
The Brattleboro Art Museum is situated in a train station that has been refurbished. It hosts eight exhibits each year, including works by Andy Warhol, Wolf Kahn, and Janet Fish. Brattleboro also features a classical music-focused performing arts community. The Marlboro Music School is the marquee venue. The New England Bach Festival, a winter Chamber Music Series, and the Vermont Renaissance Festival are all held in Brattleboro (in nearby Vernon).
Brattleboro also boasts a thriving culinary scene. You may visit the renowned Brattleboro Area Farmers' Market every Wednesday and Saturday from 9:00 a.m. to 2:00 p.m., in addition to the wonderful eateries.
5. New Hampshire's White Mountains
New Hampshire is incredibly underappreciated. Its ancient White Mountains are a wonderful naturalist's paradise. If you're searching for a taste of pure East Coast charm, this is the place to go. This beautiful setting is embraced by a full community of companies and individuals.
Horseback riding, moose safaris, Saco River tubing, zip lines, and kayaking are all available. Take the historic Cog train to the top of Mt. Washington, the highest point in the Northeast. The Canon Mountain Aerial Tramway in gorgeous Franconia Notch State Park will sweep you away. Hike to stunning waterfalls on the Falling Waters Trail. When you've had your fill of exercise, visit the rural communities of Sugar Hill, Bethlehem, or Littleton to look for antiques. Stay in Conway, Lincoln, or Jackson for a base in the White Mountains.
Omni Mount Washington Resort, The Inn at Thorn Hill & Spa, and Omni Bretton Arms Inn at Mount Washington are among the places to stay. Thompson House Eatery, The Cave at the Omni Mount Washington Resort, and Polly's Pancake Parlor are all good places to eat.
6. New Hampshire's Hanover
Both my kid and I went to Dartmouth College. So it's no surprise that I like Hanover (and all things New England, truth be told). Hanover, a little rural town on the East Coast, packs a surprising artistic punch. It's also readily accessible from Boston or Concord.
The Hood Museum of Art is the finest spot to get your art fix. It is one of the country's oldest educational museums. It features a huge collection of Assyrian antiquities and art going back to 900 BC.
But not everything is old. The museum features an impressive modern art collection, including pieces by Rothko and Ed Ruscha. Contemporary African and Native American art is also on display. In the reading area of Baker Library, you'll discover eye-catching paintings by Jose Clemente Orozco. In college, I used to sit next to them in class.
The Hopkins Center for Performing Arts (the "HOP") is also located in Hanover. There are plays, shows, concerts, special events, movies, and other forms of performing arts available there.
7. Acadia National Park in Bar Harbor, Maine
Bar Harbor, perched on Frenchman Bay, is a delightful New England hidden treasure. Because it is close to Acadia National Park, you may visit both in one trip. The name of the town comes from the twice-daily tidal drop, when a gravelly beach bar forms, forming a natural port.
The seaside town of Bar Harbor is ideal for kayaking or boating. A two-hour cruise is available. You may also take a self-guided tour of Bar Harbor's history along the coast walkway, which is designated with signage. Don't forget about the lobster! Alternatively, take a guided cuisine tour to sample the tastiest dishes. Then spend some time at Maine's sole national park, Acadia National Park. Begin on the Bowl Trail, which leads to the lovely Bowl Lake. Then climb Mount Champlain or Gotham Mountain (tougher paths) (easer climb).
8. Mount Battie
Camden is a gem on the Maine coast. It's a sailing paradise. Camden also has a seductive mix of art, cuisine, and outdoor activities. It lives up to Maine's motto, "the way life should be." A lovely library with a grass and seating overlooking the harbor may be found at the north end of Camden's major commercial area. There's a magnificent array of schooners, sailboats, and yachts to photograph.
Unique gift choices may be found at the Smiling Cow, the Cashmere Goat, the Owl & Turtle Bookshop, and the Leather Bench. The vista from Mount Battie is a must-see for every visitor to Camden. Take the 1.4-mile road and path. You can get a bird's eye view of Camden and the islands of Penobscot Bay from the top. Try Barret's Cove, a freshwater beach on Megunticook Lake, if you wish to go to the beach. Even in the heat, it is peaceful.
9. Block Island's sandy beaches
Looking for a cheaper and less crowded option to Cape Cod? Block Island's time-warp beachy attractions are worth a try. It's just 13 miles off Rhode Island's shore. Block Island is a small island with miles of sandy beaches and Victorian mansions. Block Island is a laid-back place. You've come to wear a lobster bib, drink a beer, take in the ocean breezes, and watch the sunset. What's more, how much luxury do you truly require? And isn't it lovely to be free of the crowds?
You arrive by water in a boat from Galilee's Point Judith. Get some wheels and go up High Street to the Mohegan Bluffs for a brief ride. The journey is a little frightening. However, the breathtaking view is well worth the anxiety. On picturesque Mansion Beach, you can unwind and catch some rays. After that, it's happy hour. Porches with sea views abound on Block Island. The Spring House Hotel is one of the finest. Then dine in a beautiful garden setting at the Victorian-styled Hotel Manisses.
10. Aquinnah, Massachusetts' Martha's Vineyard
In the summer, travelers from Boston and New York flock to Martha's Vineyard. They come for the spectacular natural beauty, active cultural life, and clever gourmet places on the island. However, the throngs are concentrated on the island's northern tip. Aquinnah, a small hidden treasure on the East Coast, is located down southwest, or "up island" as the locals refer to it. To avoid the throng, locals and island veterans flock to the little village.
The white sand Moshup Beach, located below the clay-colored Aquinnah Cliffs (a national monument), offers a haven from the crowds. There's a cleared route downward to the beach, which is littered with massive stones. It's one of America's top beaches.
Final words
Now you are aware about 9 hidden gem vacation spots on East coast to visit. Keep these options in your mind and plan your tour. Then you will surely fall in love with the east coast.