At Ichetucknee Springs State Park, enjoy tubing, kayaking, canoeing, and stand-up paddle boarding on the crystal-clear waters of one of Florida's greatest rivers. Tubes, kayaks, canoes, and SUPs are accessible throughout the park. Paddle or tube along the spring-fed Ichetucknee River with family and friends. In this Ichetucknee springs kayaking guide, we are planning to share all useful details that you must be aware of kayaking in the region.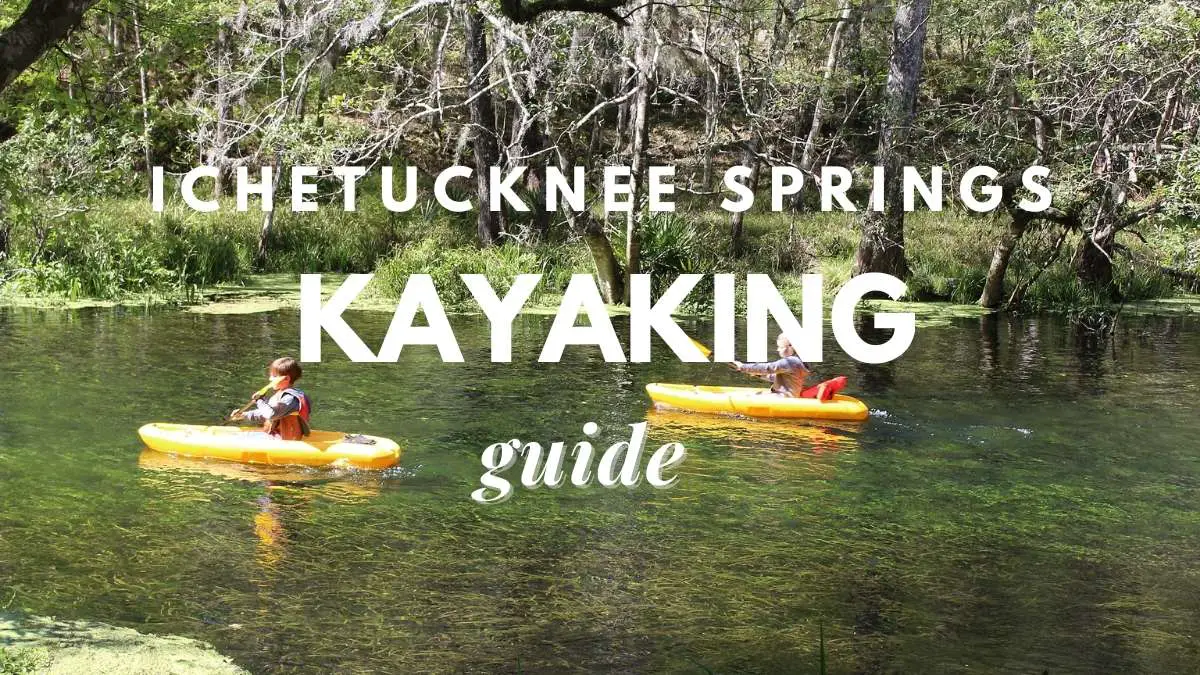 What is it like to kayak in Ichetucknee Springs State Park?
Allow the smooth stream of the blue river to take you on a soothing journey through shaded hammocks and cypress, maple, oak, and pine trees. See turtles, otters, deer, birds of prey, wading birds, manatees, and fish up close on the beaches and underwater in Florida. You could even come across phosphate industry relics, such as little surface mines. In the summer, the Ichetucknee River in northern Florida is a popular tubing river. My favorite time to visit this amazing piece of Florida beauty is by canoe or kayak in the autumn and winter.
Without tubers to keep them away, Ichetucknee Springs State Park is teeming with birds in the winter. During our mid-November canoe ride down the 3.5-mile-long stream, we observed heron, ibis, egrets, cormorants, anhinga, limpkin, and wood storks.
Ichetucknee Springs State Park was so calm that other paddlers appeared to talk in respectful hushed whispers instead of the squeals of ecstatic tubers. Any time of year, the view is breathtaking. The water is as pure as a swimming pool, thanks to eight big crystalline springs. The banks are lined with majestic cypress trees, which frequently create a canopy above and turn golden in the autumn and winter. The creek has dug through limestone cliffs in certain areas, creating stunning jagged banks.
Sea grass sways in the current; schools of fish and turtles seem to fly in water so clean it appears to be transparent. The river's current is strong enough that you won't need to paddle; just maneuver your kayak or canoe to avoid striking the banks. Because there are essentially no impediments in the water, this is a beginner-friendly race.
Read: Is Traveling A Hobby? The Ultimate Guide To An Exciting Way Of Life Learn about the Downsides Of Traveling As A Hobby

Renting a kayak
This year in Ichetucknee Springs State Park, there is a new procedure: kayakers arrive at the southern end of the park and park their automobiles. They are then brought to the canoe launch in the north. For the 3.5-mile run, which takes around two hours, you may hire kayaks, canoes, or SUPs.
A longer kayak or canoe journey is also offered. It's a nine-mile journey that takes four to six hours and starts at Ichetucknee Springs State Park and concludes at William Guy Lemmon Park. Outside of the park, there are outfitters to consider. Similar equipment is available for hire at Ichetucknee Family Canoe and Cottages, which also has camping spots and rustic cabins. On a regular basis, Adventure Outpost offers kayak tours at Ichetucknee Springs State Park.
Additional activities at Ichetucknee Springs State Park
At one of the park's spring heads at the north end, there's a tempting swimming hole. The 72-degree water seemed warm and tempting on a day when the temperature was below 60 degrees, and two people of our party took a plunge despite the cold.
The walkway to the Blue Hole, which is situated close to the swimming area, is not to be missed. A hidden wonder in the woods at the end of a 10-minute trek is this first-magnitude spring. This pool is open to snorkelers and swimmers, and those who delve below may view the cave system's entrance.
Ichetucknee Springs State Park offers summer tubing.
Tubing down the Ichetucknee River is a popular summer activity among locals, particularly students from the University of Florida in Gainesville, approximately an hour away. Tubing is so popular here on summer weekends that the park has devised a system to manage the crowds and preserve the river's beauty, so it's a good idea to read up on what to anticipate.
What's Near Ichetucknee Springs State Park Camping: There is no camping at Ichetucknee Springs State Park, but O'Leno State Park in High Springs, 12 miles away, was named one of Reserve America's top 100 campsites. Reservations may be made online at reserve.floridastateparks.org or by calling 1-800-326-3521, Monday through Friday, 8 a.m. to 8 p.m., up to 11 months in advance. Find out more about O'Leno SP here.
Ichetucknee Family Canoe and Cottages, a private campsite just outside the park, provides camping spaces and rustic cabins. High Springs, a half-hour drive from the Ichetucknee, is the starting place for another beautiful spring-fed kayaking area. The Santa Fe River is included in this Florida Rambler guide.
Some additional tips to know about kayak rentals
Both sides of the park are roughly an hour's drive from Gainesville, just outside of Fort White. If you're kayaking, enter at the north entrance, which will take you along with the river.
I believe we hired our kayak from Ichetucknee Family Canoe and Cabins, which is located near the park's north gate. It was conveniently located beside the highway. It's $25 for the day, and they drop it off and pick it up, which was quite convenient since we didn't have to bother about transporting a kayak.
It seems that you may rent them online, but we just went there and received one. I imagine they'll sell out in the summer, but I have no idea how many they have. If you want to be on the water without kayaking, you may hire tubes and tube down the river. Alternatively, paddle boards may be used.
Wildlife on the Ichetucknee River
Although not as good as other sites in Florida for watching wildlife, the odds of seeing anything are very high. It's simply that the fauna isn't the most spectacular. Maybe. However, there are a few things to keep a look out for:
Turtles
Manatees are a kind of manatee
Eastern Snake Indigo
Kestrel, American
Fox of Sherman Squirrel
Alligators
When is the best time to kayak the Ichetucknee?
I don't believe there is a poor season to kayak the Ichetucknee River, but November was my favorite. We went on election day, which may have contributed to the slowness. Who can say? In the short hours we were on the river, we only saw three other individuals. It was really worthwhile. Summer will be busier since it is a fantastic way to cool down, but winter may be busy as well because it is not as hot. In general, there is no wrong time to do this, although I like visiting in November. Not too hot, not too chilly, and not too crowded. It had been a pleasant day.
Final words
It is possible for anyone interested to go ahead with kayaking in the Ichetucknee Springs State Park. You can follow this as a guide and understand how to get the most out of your kayaking adventures. Then you just need to come here and enjoy the wonderful experiences offered on your way.