From what I gather, "floating the river" is as popular as football games and house parties in central Texas. And, with our half-year summers, it's very often. Do you wonder how to float the Guadalupe River for free? Then here is a guide that you can follow. We will share all useful facts with you on how you will be able to float in this river for free.

Because I went to college in Houston, a floatable river was hours away. In fact, I think the last time I went in a Texas river was on a Schlitterbahn ride. While Schlitterbahn is entertaining, the experience isn't the same. Better late than never, it was finally time to float. Floating on the river isn't only for college students. FLOAT! This is simply my (perhaps unique!) association. Anyway, here's how you float the river in Texas.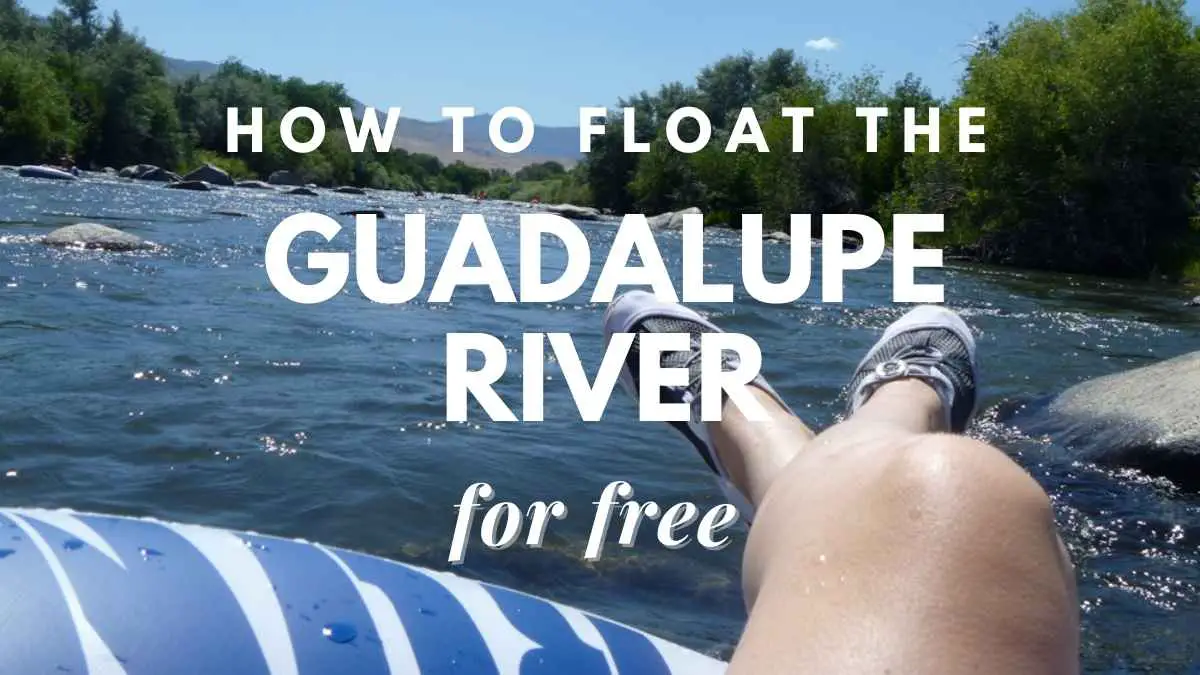 Pick a river.
The Comal, Guadalupe, Frio, and San Marcos rivers are all floatable. They're all close to Houston. The Comal is said to be slower than the Guadalupe. The Comal is my favorite entry-level river. The Guadalupe is the party river. This float might take up to 6 hours if the river is full and flowing fast (ours took about 4 hours). The Guad has a 2-hour main horseshoe path that you may complete twice if you like. The Guad features additional rapids for thrill seekers. I flipped, and now I have a great 6-inch skin on my knee.
Read: Is Traveling A Hobby? The Ultimate Guide To An Exciting Way Of Life Learn about the Downsides Of Traveling As A Hobby

Stock yourself
Grab a medium-sized cooler (a huge one will fit in a tube, but it may tip). Our party had a HUGE cooler that held quite well in the rapids. Next, grab ALL the beer. On the river, beer vanishes quickly (must remain hydrated), so carry a half dozen extra. Also, cheap beer. It's also nice to share your liquor with strangers. New pals! Bring koozies.
Pack water and snacks. We didn't touch them. Regrets. Bring watermelon, strawberries, pineapples, and cherries. Funnier drenched in champagne or vodka. Bring sunblock but reapply often. Always moist!
Rent a tube.
If you toss a rock, it will strike one of these tubes, but investigate before. You need one with free parking, shuttle, and river access. TubeHaus (fun fact, central Texas has a rich German heritage, hence New Braunfels and, well, TubeHAUS). PS: TubeHaus offers online $2 off discounts, making each tube roughly $18. That's pricey, but standard. The river is public and free, so you may simply jump in, but be warned that some shuttles won't carry you back to the start.
Texas State Tubes (San Marcos River) A person tube is $18, and a cooler tube is $10. Some include cup holders and are brightly colored.
Tie it all.
Tubers herd the river. Tether everyone together, particularly to the cooler. HEB has robes. If you're in a group of ten, split up into two groups of five. You can also effortlessly hold hands! Get a waterproof bag (not a Ziplock) and tie it to YOUR tube. We placed our clothing and food in a plastic bag and put it in our cooler, but it fell out. RIP, dress! That stung me forever.
 Float.
Boom. You're ready for 3-6 hours of drinking, sun, and rapids. Your float will be 10x more enjoyable with waterproof speakers. This is one of the most enjoyable activities available for you to engage with in Texas as of now. Therefore, we strongly encourage anyone to proceed with this adventure and secure all fun-filled experiences that come along with it.
Important things to know before you float in Guadalupe River
Now you know how to float the Guadalupe River for free. It's bustling. In the summer, expect crowds and waits if you arrive after midday. Once inside, it's generally a relaxed environment with everyone floating and having fun!
There is no littering. At the river's entry are free garbage bags. ONE! Tie it to your cooler and fill it. Anything less than 5 ounces is prohibited, even Jello shots. To be safe, stick to beer. Also, police (?) or patrolmen will inspect coolers. Don't risk it for a $500 fine.
The rivers are little. The water was no deeper than my knee whenever we had to stop and stand, although the depth fluctuates. In shallow water (particularly on rapids), elevate your butt!
Put on water shoes or sandals. RIP all the river-lost flip flops. In my flip flops, I was stumbling. They float, unlike my sunglasses, which were also snatched by the water at an early age (sad face). Because of the rough bottom and the need to walk, it was vital to wear SOME type of shoe.
Your back and legs may hurt. No amount of yoga or CrossFit will prepare your muscles for four hours of tube-holding. Don't schedule a marathon following a river vacation.
FAQ on Guadalupe River floating
Which shoes should I wear?

Protect your feet from sharp items, cuts, scratches, bruises, and the stony and frequently slippery river bottom when walking to and from the entry/exit locations while tubing on the Guadalupe River. Flip-flops are not suggested for river tubing due to their slickness and lack of foot protection. They can easily fall off your feet and float away, leaving you with naked, exposed feet!
Do I need to wear sunscreen?

Apply sun block or sunscreen before and during any float trip or time in the sun. Bring a white shirt sleeve t-shirt to wear if you start to tan (see 3a below). No sunblock? We sell that too. The blazing Texas heat may be beaten back with a cap, hat or visor and sunglasses.
What about kids?

For river tubing, children must be at least five (5) years old and accompanied by an adult. Life jackets/vests are offered "on request" with your tube rental for youngsters and non-swimmers. No lifeguards are on duty, so take care and put safety first!

Guardians: You are accountable for your children, so keep an eye on them. Whitewater Sports maintains the right to deny service. Above "Recreational Flows," the river becomes difficult and unsafe for youngsters, elders, and no swimmers, and we may refuse to rent tubes to anybody deemed at risk.
Final words
Swimming and river sports on the Guadalupe entail inherent and unforeseen hazards. Injuries or deaths are examples of this. The Guadalupe River has no lifeguards, so be careful and put safety first! Before tubing on the Guadalupe River with Whitewater Sports, you must sign a liability disclaimer for yourself and your party.
Customers who request a life jacket/vest will get one free of charge (s). Always go tubing with 2 or more people so you can keep an eye on each other and aid each other if required.