Burlington, the city that receives the most tourists in Vermont, is a little one, but it's so much fun to visit! In order to help you start planning your trip to this quaint and alluring city, I've included my top 15 indoor and outdoor winter activities in Burlington, Vermont.

Everybody can find something to do in Vermont in the winter, from charming villages to world-class ski resorts to some of the nation's most beautiful, covered bridges. The little community is located on Lake Champlain in northwest Vermont. Burlington's Church Street, a four-block pedestrian mall, and the quaint downtown district among the city's most visited attractions. Burlington is a must-visit city for a day or two during your vacation to Vermont since there are so many things to do there and because it is the epicenter of the state's nightlife, arts, and culture.

One of my favorite seasons to visit Burlington is winter since there are so many enjoyable things to do there. Even if you don't want to go outdoors in the chilly weather, there is something for everyone, from classic winter sports to interesting events and pubs! This list of the top things to do in Burlington, Vermont, in the winter is jam-packed with really useful advice, as well as the top hotels, breweries, and restaurants. You can follow this Burlington Vermont winter ideas and make sure that you get the most out of time that you spend out there.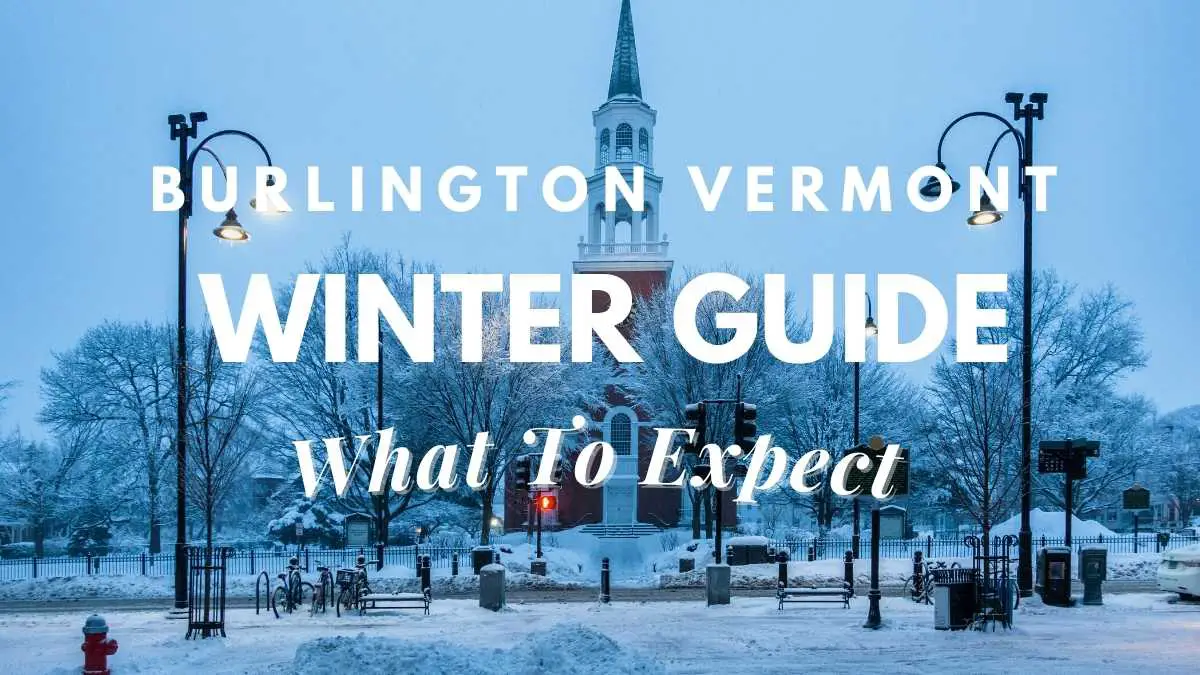 1. Skiing 
One of the most popular winter activities in Vermont is skiing, and Burlington is a short drive from several breathtaking mountains. There is a slope in or close to Burlington for everyone, whether you are a seasoned skier or a novice who needs some instruction on the bunny hill.
Read: Is Traveling A Hobby? The Ultimate Guide To An Exciting Way Of Life Learn about the Downsides Of Traveling As A Hobby

2. Ice skating at the rinks in Burlington
In Burlington, ice skating is a popular winter pastime that is a lot of fun. You may go to Calahan Park Community Rink and Lakeside Skating Rink, two community rinks. In a special location named Arthur Park, you may skate on wild ice, which means that you will be skating on a lake rather than a man-made rink. There are hazards associated with skating on wild ice and several safety measures must be taken. However, the Sea Caves are quite visible from the ice.
3. Snowshoeing.
Another enjoyable winter sport in Burlington, Vermont, is snowshoeing. North Beach, on the lake just north of downtown, is one of the most picturesque sites to go snowshoeing. As there are no groomed trails near North Beach, you may choose to visit Intervale Community Farm if you're a novice. If walking or skiing are more your speed, the Intervale offers both.
4. Take a Sleigh Ride
The finest winter activities are sleigh rides, which you must experience in Burlington, Vermont, to really appreciate the winter landscape. Shelburne Farms is not only a lovely location in the winter, but it is also the ideal location for sleigh rides! In less than 15 minutes, you can drive from downtown Burlington to the farm. Keep exploring the farm after your sleigh ride with other enjoyable pursuits including the indoor winter Farmers' market and informative winter farm programs.
In Stowe, Vermont, you can also go on sleigh rides at places like Sterling Mountain Carriage Services or Gentle Giants Sleigh Rides & Carriage Rides. Additionally, Stowe, Vermont, offers a ton of other amazing wintertime activities.
5. Visit Church Street in
This is my favorite winter activity in Burlington, Vermont. One of the major thoroughfares in Burlington's downtown is Church Street, which is home to the pedestrian-only Church Street Marketplace for four blocks.
Even though the market is outside, there are many stores along the street that are inviting to visit on chilly winter days. There are a few chain businesses, but the majority are locally owned, one-of-a-kind Burlington boutiques. It's the ideal spot to purchase your presents if you're visiting during the Christmas season. Many of the town's annual festivities take place on Church Street, including the lighting of the Christmas tree towards the end of November.
After finishing your shopping, take a break and dine at one of Burlington's fantastic restaurants. The Farmhouse, E B Strong's Steakhouse, and Top of the Block Sandwich Shop are a few well-known ones that are open all year long and include indoor seating!
6. Consume at the breweries in Burlington
Did you know that Vermont has the highest concentration of breweries per resident? Additionally, Burlington has many places to explore where you may pass a chilly winter day or night.
You can get craft beer brewed in Vermont anywhere you walk in downtown Burlington, whether it's a brewery, bar, or restaurant. And just south of Burlington's downtown are a bunch of well-known breweries.
7. Play Video Games All Night at the Archives
The Archives is a retro arcade bar located just off Church Street. Even on the chilliest winter days, they offer pinball machines, vintage video games, and other entertainment options. You may order craft beer, vintage cocktails, and wines from the bar while you're not playing games. They also offer several distinctive drinks, most of which are variations on classics. Winter activities in Burlington, Vermont Winter activities in Burlington, Vermont 8. It's a terrific way to appreciate Burlington in the winter to attend a live performance. What better way to spend a cold day than taking in a live performance in Burlington, Vermont, which offers a range of live entertainment.
The Flynn, a nearly century-old theater in Burlington, hosts several regional and international productions. The variety of acts includes anything from dancing troupes to comedic performances. When visiting Burlington, though, you never know what type of concert will be playing there, so check the schedule and get some tickets.
8. Visit the Vermont Comedy Club
Visit the Vermont Comedy Club in the heart of Burlington for a night of laughing. Every night of the week there are performances, ranging from upcoming comedians to open mic events and trivia nights. Additionally, the comedy club has a small café that is open throughout the day where you can have some coffee and a hot breakfast.
Live music is played at a few local taverns. A cozy pub featuring live music, theater, poetry readings, and dancing is called Radio Bean. You may enjoy local beers, coffee, drinks, and small appetizers while watching live performances.
Nectar's, a funky pub with live music that is more conventional than Radio Bean, is another option. They provide a wide selection of domestic and artisan beers, wines, and cocktails in addition to selling cuisine.
9. Take in the breathtaking Lake Champlain
This ought to be at the top of the list of the finest winter activities in Burlington, Vermont. In the chilly winter, Lake Champlain freezes over, leaving behind stunning views of the frozen lake and landscape. The Burlington Greenway, an eight-mile concrete walkway that runs around the lake, is worth the chill to stroll along.
To ensure your safety, the city does its utmost to maintain the route plowed and clear of snow and ice. However, since the route is so close to the lake, no salt or chemicals are used on it.
Final words
As you can see in this Burlington Vermont winter guide, there are numerous activities for you to engage with. Remember that Vermont often gets more snow each year than other US states if you're visiting Burlington in the winter since staying centrally makes it simpler to explore the city on foot. Another advantage of staying downtown is that it's the greatest choice for anybody who wants to be in the center of the bustling city. However, the selection is quite restricted and costs more than average. Just a short drive from Burlington, you may select a cabin or a lake home if you're searching for a peaceful and romantic escape.