The Apostle Islands National Lakeshore, situated on the world's biggest freshwater lake (by surface area), is a hidden jewel in northern Wisconsin. Until recently, when tours of the spectacular winter ice caves along the beach were possible, this region didn't get much attention. While these ice caverns are plainly inaccessible by boat, these identical sea tunnels may be visited by kayak in the summer. Kayaking in the Apostle Islands also allows you to move between 22 wild and beautiful islands, whether on a day trip or a multi-day camping adventure. From this article, we are willing to share all useful details about Kayaking the Apostle Islands.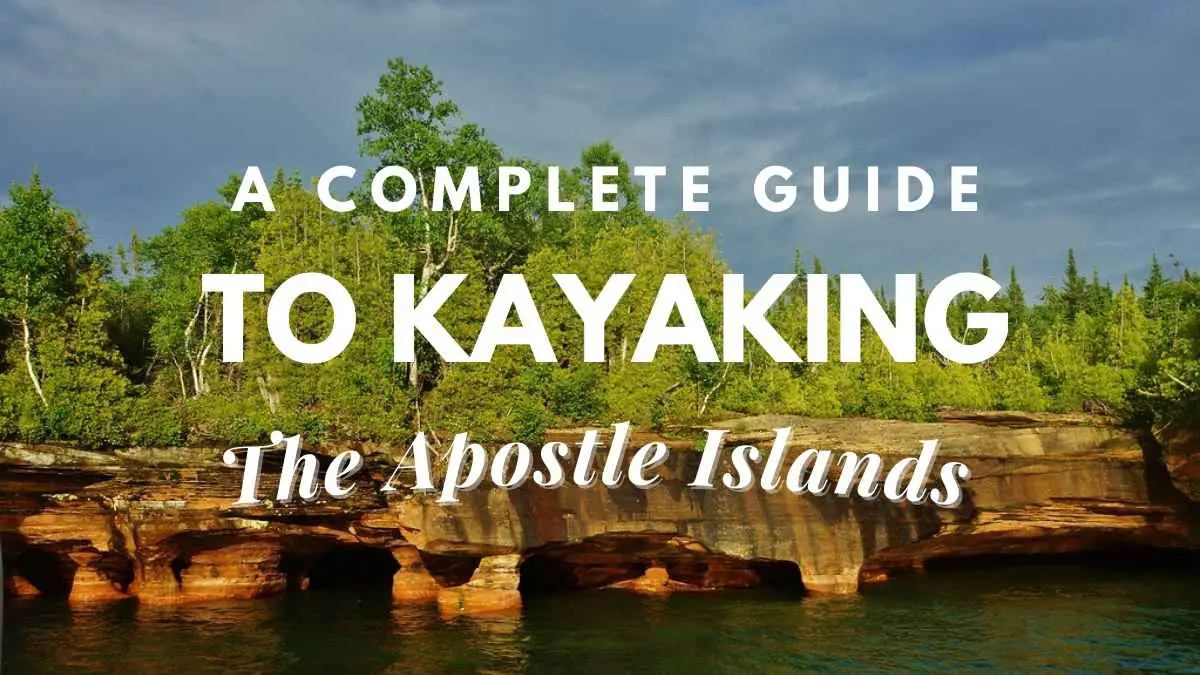 What exactly are the Apostle Islands?
The Apostle Islands, which are made up of 22 islands in total and are a recognized National Lakeshore Area, are home to over 800 plant species. These islands, unlike tropical islands, are extensively wooded and include a diverse range of trees, including balsam fir, white cedar, white pine, and quaking aspen, all of which contribute to a unique camping experience in Wisconsin.
The islands are home to a variety of creatures, including one of the greatest populations of black bears in North America, according to the National Park Service (Oak Island is currently home to almost 20 bears, which makes it the highest population density in the country). Furthermore, the Apostle Islands Lakefront is vital to the breeding of gull populations, accounting for more than 80% of the breeding populations on the whole Wisconsin lakeshore.
The Apostle Islands have a rich environment and a thriving animal population, as well as a range of distinctive geological formations. The sea caves, the most notable of which may be found around Sand Island, Devils Island, and Squaw Bay, are among the most interesting of these structures (on the mainland). The sea caves are a popular spot for exploration, especially by watercraft, due to its unusual arches and secret sea chambers.
Read: Is Traveling A Hobby? The Ultimate Guide To An Exciting Way Of Life Learn about the Downsides Of Traveling As A Hobby

Kayaking the Apostle Islands
The Apostle Islands have a lot to offer kayakers, whether it's a day trip or an overnight journey.  There are plenty of excursions of the sea caves and islands in the vicinity, thanks to its increased popularity over the last five years. In fact, if you've never tried sea kayaking before, or if you're unfamiliar with Lake Superior's severe conditions, it's a good idea to go with a professional guide. To get you started, here are a few of the top trips in the Apostle Islands.
Read: Guide To Kayaking Fernandina Beach In 2023
1. White Cap Kayak
White Cap Kayak, one of the area's top-rated guiding services, provides a variety of day and overnight adventures. Before spending the night on one of the various isles, you may explore the sea caves at Meyers Beach or visit some of the area's lighthouses. On their Canyons, Cliffs, and Waterfalls trip, explore a more remote location with rugged cliff faces and waterfalls abounding. The cost per adult is $90.
Read: 11 Best Kayaking Spots In Alabama
2. Mawikwe Bay Kayak Tour
The Mawikwe Bay Kayak Tour ($85 per person) is a must-do if you're seeking for a cultural experience while kayaking. This guided trip takes you to the Meyers Beach Sea Caverns, a historically significant site for the Chippewa people, where you'll learn more about the caves' history and people from a Red Cliff Tribe member.
3. Kayak and Cruise Adventure Tour
Take the Kayak and Cruise Adventure Tour ($149 per adult, $109 per kid) for an all-day adventure visiting some of the Apostles' most secluded islands. Their 50-foot motorized yacht will transport you to the finest kayaking region for the day (depending on weather and lake conditions), where you'll have two hours to paddle before returning.
While most guide businesses in the region only provide tours, a handful do offer kayak rentals and packages (with wet or dry suits, spray skirts, and other accessories) if you wish to do some self-guided Apostle Islands kayaking.
Trek & Trail rents out single and tandem sea kayaks made of plastic and fiberglass. For a plastic single, prices start at $40 for six hours. Additional days of rental are available for each model, with rates ranging from $40 to $60 per day depending on the model. It should also be mentioned that before renting a kayak, you must first complete their Basic Safety Course ($55). From Memorial Day through early October, Trek & Trail is open from 8 a.m. to 6 p.m.
Read: Ichetucknee Springs Kayaking Guide 2023
4. Makwa Den Rustic
Rustic Makwa Den offers both sit-on-top and sit-inside sea kayaks, so you may paddle near to shore to explore the mainland's sea caves or embark on an extensive tour across the islands. The cost of a single sit-on-top kayak, a single sea kayak, or a tandem sea kayak is $45 per day. Tandem sit-on-top kayaks cost $55 per day to rent. To hire a sea kayak, you must first pass a free safety exam. From June through October, rentals and sea cave trips are offered.
5. Adventures in Lost Creek
If you're considering an overnight excursion to the islands, Lost Creek Adventures provides not just single and tandem sea and sit-on-top kayaks, but also camping gear. Single sea kayaks cost $40 per day, single sit-on-top kayaks cost $15 for the first hour, double sea kayaks cost $60 per day, and double sit-on-top kayaks cost $20 per hour. In addition, you must complete an Introductory Safety Class ($50 per person). During the summer, Lost Creek Adventures is available on a walk-in basis, and by appointment during the spring and autumn.
Read: Washita River Kayaking Guide
How to Go Caving in the Sea
If you wish to hire a sea kayak from a local outfitter, you will be required to complete some kind of basic safety training. Sit-on-top kayaks, on the other hand, are ideal for kayaking near to the coast, where the mainland sea caves may be found.
Along the shore, there are two launching points: one at Meyers Beach and the other at Little Sand Beach. Both of these locations are popular for tours and inexperienced kayakers interested in exploring the sea caves.
Because Lake Superior is such a big body of water, it tends to create its own weather, making air and water conditions unpredictable. In the afternoon, if not sooner, a bright day might transform into a furious rainstorm. Before going out, be sure to check the weather forecast and water conditions.
If you find yourself in less-than-ideal water conditions, it is critical that you avoid approaching the sea caves. Rebounding waves, according to various sources, may make them virtually, if not altogether, impossible to traverse.
Read: Tahlequah Kayaking Guide 2023
Frequent kayaking routes
The Apostle Islands provide courses for every kayaker, from beginner-friendly coastal paddles to challenging overnight expeditions.
1. Meyers Beach
As previously indicated, the Meyers Beach region is well-known for its views of the mainland sea caverns. Paddle down the beach for a leisurely five miles (round trip) to see and pass through some of the arches and sea caves (calm waters permitting, of course). The paddle to the sea caves takes roughly two miles from the launch site, and you may easily prolong your paddle if you want to.
Read: A Complete Guide To Kayaking Yellowstone Lake In 2023
2. Madeline Island
For novices, paddling around Madeline Island, the park's sole permanently populated island, is also a good alternative. Spend a day exploring the Big Bay Lagoon and sea caves along the point from the boat launch at Big Bay Town Park or the beach at Big Bay State Park.
3. Outer Island Loop
The 75-mile Outer Island Loop of the Apostles is a fantastic option for die-hard yakkers with lots of sea kayaking expertise and a taste for adventure. This voyage will take around a week to accomplish, with stops along the route to see 11 of the islands. On some of the larger islands, you'll be able to see numerous sea caves and historic lighthouses, as well as hiking routes. The route around Devils Island is infamous for being rough, particularly in heavy gusts, therefore only experienced sea kayakers should attempt it.
Read: Lofton Creek Kayaking (What To Expect)
Camping sites for kayakers
The Apostle Islands National Lakeshore spans 69,372 acres, including several rustic kayak camping sites scattered among the islands. There are over 30 seats available, but they fill up fast, so acquire your permission and secure a spot ahead of time. The National Park Service webpage has additional particular camping information.
Sand Island is a popular camping spot due to its closeness to the mainland. On the island, there is a campsite, and the island is just a 3/4-mile paddle from Little Sand Bay. Before setting up camp for the night, be sure to visit one of the island's many marine caves.
Plan a 23-mile journey from Little Sand Bay to Sand Island, then to York, Raspberry, and Oak Islands, and finally back to shore for intermediate and expert paddlers seeking for a longer trip but not as far as the Outer Island Loop. Except for Raspberry Island, all of the islands have campgrounds, and the distance between them is less than 2.5 miles.
When is the best time to visit?
Northern Wisconsin winters may be brutal, and it's not uncommon for them to last far into the spring, so summer is the ideal season to visit the Apostle Islands. July and August have the finest weather, although they might become fairly crowded with other people. If you want to escape the crowds, visit in September or October, when you may take in the gorgeous Wisconsin autumn foliage. However, with the chance of early winter storms, the weather gets more unpredictable this time of year.
Whether you're an experienced sea kayaker or just getting started, kayaking the Apostle Islands of Wisconsin provides a unique perspective on one of North America's greatest natural marvels.
Prepare for Your Kayaking Trip to the Apostle Islands
Kayaking is a popular method to tour the islands since each of the 22 islands offers something different to visitors. While sea kayaks are a convenient and ubiquitous method to move about Lake Superior, kayaking around the Apostle Islands can be challenging and, at times, deadly.
Interested kayakers should be aware of the equipment and skill required to operate a sea kayak on the lake's typically choppy waters. Because the Apostle Islands National Lakeshore is a federally managed location, any visitors who want to participate in Apostle Islands kayaking should adhere to the National Park Service's requirements.
Day Kayaking Itineraries: For keen explorers searching for a short-term adventure, local guide firms offer a variety of half-day trips, many of which include tours of one or two Apostle Islands as well as a basic to intermediate level kayaking trip. Half-day and full-day trips are available from Lost Creek Adventures, with many of them including a brief tour of the sea caverns. Tandem kayaks are available for families at the Roman's Point Sea Cave and Nature Paddle, making it simpler for youngsters to enjoy their first open water kayaking adventure.
Multi-Day Kayaking Trips
Most kayak guide companies also offer multi-day Apostle Islands kayaking trips that include island camping while paddling from coast to shore. Seven distinct multi-day tours are available through Wilderness Inquiry. While some overnight excursions are designed for families and novices to sea kayaking, the majority of overnight trips are recommended for individuals who are more experienced with open water kayaking and outdoor enthusiasts looking for a more immersive experience at the Apostle Islands.
A four-day "Base Camp" type tour, which organizes day outings from a gorgeous campground on Little Sand Bay, is one of the many options on Wilderness Inquiry's comprehensive list. Each day has a new adventure, most of which include hiking and kayaking.
The Apostle Islands Paddle Pinot and Porter vacation offers beer and wine fans to explore the islands by day and tour local vineyards and breweries by night. Other adventures include a 5-day kayaking and camping adventure and an Apostle Islands kayaking, camping, and yoga experience, all of which are guaranteed to offer some Zen to an otherwise action-packed schedule.
While kayaking without a guide is legal (and appealing) in the Apostle Islands, it is only suggested for paddlers with some prior expertise on the water. Attempting to travel between the Apostle Islands on a single voyage is a task designed for kayakers with advanced abilities and navigation procedures due to changeable weather conditions and hard distances between the islands.
Camping and kayaking near the Apostle Islands National Lakeshore, especially during periods of excellent weather on the lake, may be the ideal multi-day camping trip during the summer months, when temperatures can reach into the 70s.
There are a variety of tours available for people who want to do an Apostle Islands kayaking trip on their own, including the well-known Outer Island Loop, a 75-mile kayaking adventure that includes 11 of the Apostle Islands over the course of roughly a week. Because of the length and duration of this voyage, as well as the high amount of exposure that the outlying islands get, it is only suggested for experienced paddlers.
Recommendations for Kayaking Gear
The National Park Service advises using watercraft that are at least 16 feet long and does not advocate open cockpit boats, canoes, or kayaks. Wet suits or dry suits are suggested for all paddlers due to the low water temperatures throughout the year (30s in the winter to low-50s in the summer). All paddlers must wear a Personal Flotation Device at all times, according to federal requirements. Carrying provisions for at least one day over your trip's intended duration is recommended for paddlers wishing to perform long explorations of the Apostle Islands. The National Park Service suggests including the following items on your kayak trip packing list:
Radio for mariners
Mobile phone
Kit for First Aid
a second paddle
Stove for backpacking
Compass
Maps
50 feet of securing cord (or rope)
Wet weather gear
Firestarter that is waterproof
Waterproof containers or dry sacks
Larger boats may have a difficult time identifying sea kayaks, especially in windy or high-seas conditions, according to the NPS. Paddlers should also carry a flag or paddle with bright markings. For improved visibility, brightly colored boats and apparel are also recommended.
Things to be mindful about when you are kayaking the Apostle Islands
While the sea caves are a spectacular sight for paddlers passing by, the structure and angles of the tunnels may pose a serious threat in high waves or windy weather. Smaller watercraft (even sea kayaks) are prone to being windbound, capsized, or wrecked in the incorrect circumstances since waves regularly bounce off of the granite formations.
The National Park Service encourages preparing ahead of time and keeping a watch on the weather forecast, since the weather on the lake may change in an instant. If the weather isn't cooperating with seeing the sea caves, there are plenty of other beaches and shoreline sites to visit on your Apostle Islands kayaking tour.
Because of the 19 various islands available for camping on your Apostle Islands kayaking tour, camping might be one of the most gratifying experiences of your outdoor adventure. Camping in the Apostle Islands offers a more private experience than most other NPS-designated campsites, thanks to the statistically low number of thru-travelers at any given time of year. When you combine it with the breathtaking landscape on Lake Superior, kayak-camping your way across the Apostle Islands is a must-do adventure.