You may explore the various unique towns and regions that Martha's Vineyard has to offer on a day trip there. Buses are operated by the Martha's Vineyard Transit Authority, eliminating the need for a vehicle. You may hop on and off as you choose with a day ticket that costs $7 and takes you on several routes throughout the island. If you wonder what to do in Martha's vineyard without a car, this article is for you. We will share a list of some of the most prominent activities to engage with.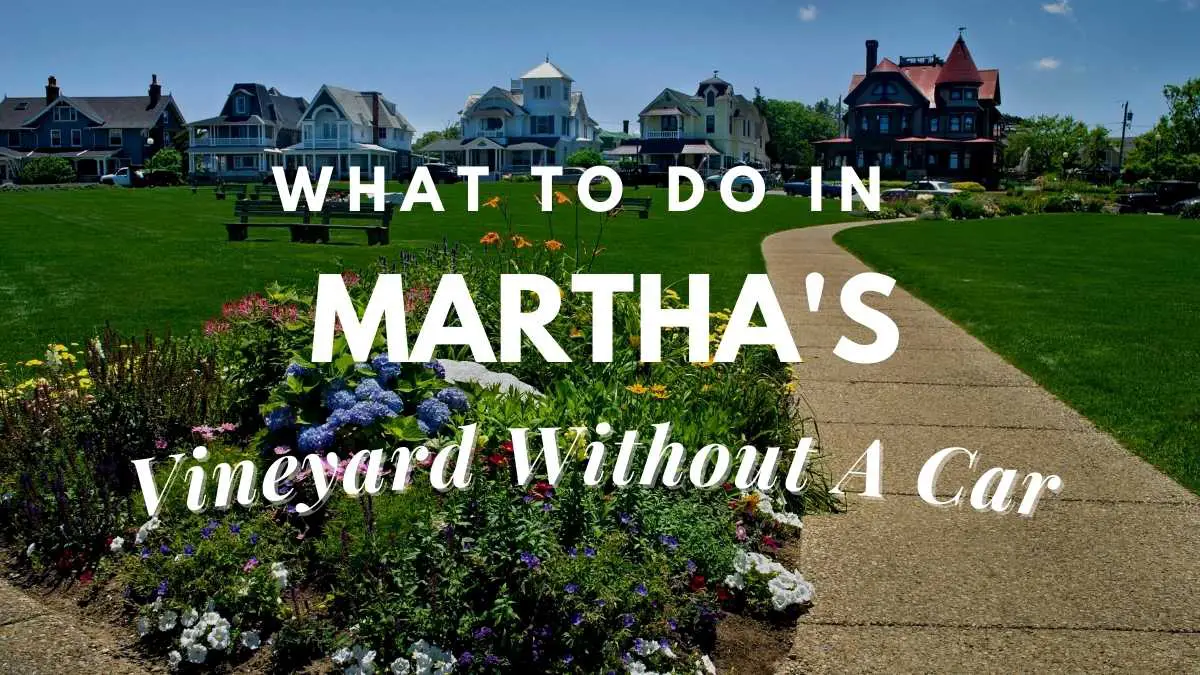 House City Oak Bluffs and Cottage City, Martha's Vineyard
Oak Bluffs, formerly known as Wesleyan Grove, hosted yearly Methodist Church camp gatherings in the 1830s. Tents changed into cottages when guests opted to remain all summer, and inhabitants competed to have the most ornately decorated exteriors. Today, there are around 300 "gingerbread cottages" with vibrantly colored interiors. The boat will probably arrive in Vineyard Haven, where you may explore the town's various stores and eateries. On Main Street, the Old School House Museum has been there since 1828. Owens Park and Beach is located off Main Street, beyond the commercial area, and it's a nice place to unwind and take in the activity of the port.
East Chop and West Chop, which each have a lighthouse, guard the port. Visit West Chop light by using the West Chop Loop bus; the journey takes just 15 minutes total. Along the beautiful Beach Road, you may go from Vineyard Haven to Oak Bluffs and Edgartown. The East Chop light should be observed.
Read: Is Traveling A Hobby? The Ultimate Guide To An Exciting Way Of Life Learn about the Downsides Of Traveling As A Hobby

what to do in Martha's Vineyard without a car?
It is accurate to say that Martha's Vineyard is an island off the coast of Cape Cod. You can't drive here since there isn't a bridge or associated road, therefore the only options for transportation are by air or by water. The only way to get your automobile over if you're taking the boat is via the Steamship Authority.
Can you rent a car in Martha's Vineyard?
At the ferry docks at Vineyard Haven and Oak Bluffs, as well as the Martha's Vineyard Airport, taxis are available. While rental vehicles are also easily accessible from the airport and ferries, it is advisable to make arrangements for one before traveling.
Has there been any public transit on Martha's Vineyard?
The Vineyard Transit Authority (VTA) operates a comprehensive bus network that links all of the following communities on Martha's Vineyard: Edgartown, Oak Bluffs, Vineyard Haven, Aquinnah, Chilmark, and West Tisbury. All VTA buses have bike racks and are wheelchair accessible.
Best activities to do without a car
1. Lobsterville Beach
Since parking is very scarce, Lobsterville Beach is one of Martha's Vineyard's less crowded beaches. You may enjoy 2 miles (3 km) of beach if you can park your car there; the Vineyard Sound's placid waters are perfect for floating, fishing, and other relaxing activities. If your furry buddy needs to go for a walk, feel free to bring them along on a leash. If you're fortunate, you could see seagulls nearby nesting with many of eggs.
2. Grapevine Golf Club
One of the few organic golf courses in the United States, Vineyard Golf Club is a magnificent walking course spread over 235 acres (95 ha) of undulating terrain near Edgartown. But don't imagine for a second that using these connections is simple. If you're not cautious, the course's many risk/reward shots, 112 bunkers, and varied greens might cost you a few strokes. Remember that Vineyard Golf Club is a private club, so err on the side of caution as you may not get another chance at the green.
3. Wildlife Refuge at Long Point
Long Point Wildlife Refuge is a lovely retreat for those who like the outdoors and being in touch with nature. In the 1700s, the prairie was destroyed for farming and hunting, but subsequent regrowth from the 1900s to the present has enabled many endangered species of plants and animals to continue living on Martha's Vineyard. The Long Cove Pond Refuge is accessible to the general public, and you can even hire kayaks or paddleboards to explore the pond. Birdwatchers and photographers should stick to the 2 miles (3 km) of hiking trails, but don't forget to pack a swimsuit so you may cool down at Long Point Beach after your stroll.
4. General Store Katama
Do not be misled by the name; Katama General Store is not your typical beach bodega. In the desirable location of being just a short walk from South Beach, it is surrounded by clouds of seasonal flowers in the historic village of Edgartown. Although you could stop by and get a sandwich or salad from their Grab'n Go cooler, a cooked meal is unquestionably preferable. Browse the store as you wait for your fish tacos or lobster roll and pick up a few trinkets so you can bring back more than just jealousy for your buddies.
5. Caribbean Island
Where do people who live on Martha's Vineyard go when they want to get away? They go to Cuttyhunk Island in the west. With the exception of a few businesses and residences, there is nothing here except solitary intimacy. People often go fishing, hiking, or just sit by the water alone and daydream. When you've taken the kids sailing with the Cuttyhunk Yacht Club and you're all in need of a refreshing snack, be sure to stop by The Ice Cream Stall.
6. Atashmoo Lake
Although Martha's Vineyard is an island with shorelines all around it, one of the most popular excursions is to Lake Tashmoo, which is on the northern side and is located just west of Tisbury. At the Lake Tashmoo Town Beach, you can sunbathe along the Vineyard Sound if you choose, although getting in the lake itself is more enjoyable. Nothing is more peaceful than renting a boat, making your way to the middle of the ocean, dropping anchor, and floating off for a few hours.
7. Early Morning Farm
In Martha's Vineyard, there are lots of wineries but no vines. However, you may still experience the tastes of the island by grazing on Morning Glory Farm's fresh fruits and veggies. The 65 acres (26 ha) of this family-run business, which has called the island home for 50 years, produce an abundance of herbs, squash, pumpkins, beets, grapes, and flowers, as well as eggs and meats, all of which are sold at their farmstand. The farm tours are a hit with foodies and families alike, but you'll appreciate the pies, muffins, and cookies available for purchase at the farmstand even more.
8. Aspen Beach
This historic African-American summer vacation enclave in Oak Bluffs is also more often known as Town Beach. It is a lovely public strand with a lifeguard on duty. Even in the winter, when swimming isn't possible, taking a leisurely walk down the jetty is still enjoyable. The Overton House, the historic residence of Joe Overton, a union activist from Harlem, New York, and the Flying Horses Carousel, the oldest platform carousel in the nation that dates back to 1844, are both nearby. Waban Park is on the other side of Seaview Avenue from here.
Final words
Now you have a clear idea on what to do at Martha's Vineyard without having a car. Pay attention to these activities and plan your itinerary, so that you can get an unforgettable experience out there.