Eureka Springs, Arkansas, is a charming outdoor town set in the Ozark Mountains. Many visitors come to see its historic downtown district, which is listed on the National Register of Historic Places and has mountainous lanes lined with Victorian mansions. Do you have any plans to visit this gorgeous, ancient town soon? You're in luck, because we're going to share a list of some of the greatest hotels in Eureka Springs with you today.

Save this page to learn about Eureka Springs' unique bed and breakfast inns, cottages, historic hotels, cabins, and other fantastic lodging options. We will carefully review all the best places to stay in Eureka Springs in 2022.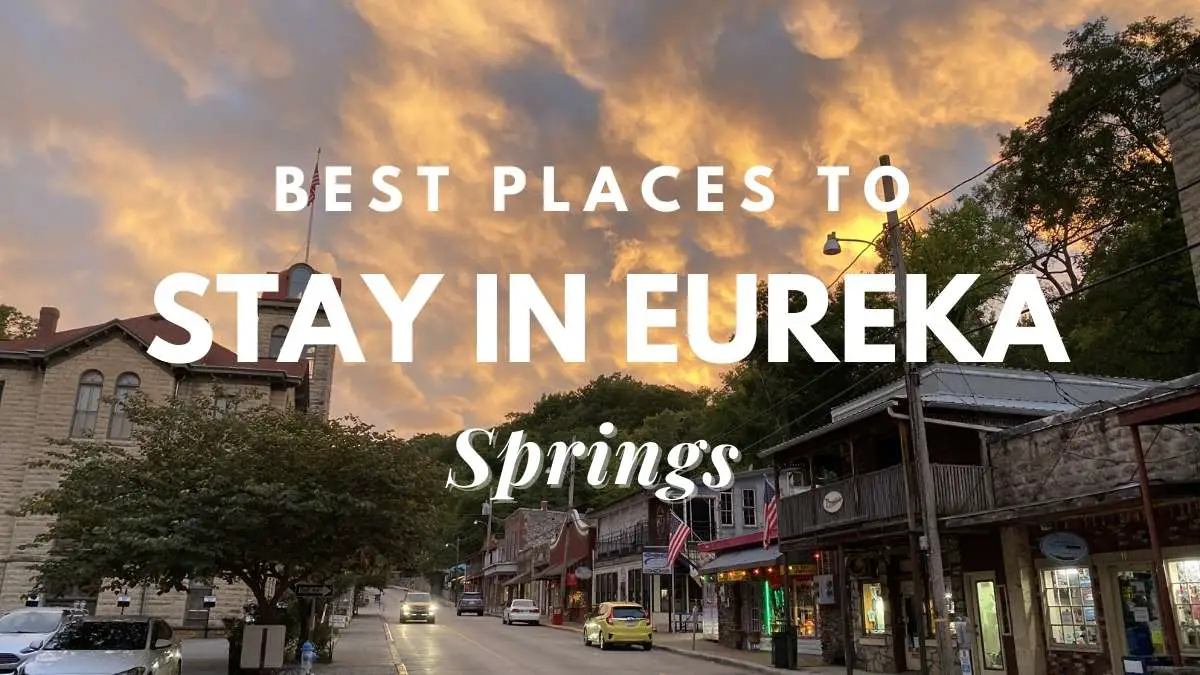 1. Sherwood Court
Sherwood Court in Eureka Springs, AR, is a laid-back lodge with comfortable rooms and cottages, lovely flower beds, and free weekend breakfast. This modest inn has low hotel prices and a fantastic position only minutes from downtown Eureka Springs and the wonderful outdoors. We propose that you spend your relaxing holiday in Eureka Springs at Sherwood Court.
Read: Is Traveling A Hobby? The Ultimate Guide To An Exciting Way Of Life Learn about the Downsides Of Traveling As A Hobby

2. The Trails Inn
The Trails Inn is one of Eureka Springs' great budget motels. This family-owned inn is a fantastic choice for individuals or families looking for a lovely, comfortable place to stay. Free WiFi, family rooms for up to 6 people, a picnic space, and a heated outdoor pool are among the amenities. Are you looking for a cheap hotel with a pool? If so, The Trails Inn is the place to be. Guests like the proximity to a trolley station and the fact that it sells tickets to the Passion Play and the Turpentine Creek Wildlife Refuge.
Read: Unique Places To Stay In Eureka Springs
3. The Hotel
The Lodge may not be one of Eureka Springs' five-star hotels, but it is certainly one of the best places to stay in the area. The Lodge provides hot tub rooms for couples staying in this intriguing area, which are ideal for dates or romantic trips. Looking for reasonably priced popular hotels near you? The Lodge, located on E. Van Buren, is a renowned tourist destination. The inn's pool, serene and quiet forest vistas, and walking access to various eateries are all included in the affordable hotel room rates.
Read: 9 Most Romantic Places To Stay In Eureka Springs
4. Edelweiss Inn
The Edelweiss Inn is one of the top hotels in Eureka Springs, particularly for budget travelers. Located on a Eureka Springs Trolley Stop, traveling around will be a breeze when you stay at our comfortable inn. Looking for a low-cost hotel in Eureka Springs? If so, Edelweiss Inn is the place to be. Guests like the hotel's central position and accessibility to the historic downtown, which has a variety of local shops and eateries.
5. Hidden Springs Bed and Breakfast
One of the top-rated hotels in Eureka Springs is Hidden Springs Bed & Breakfast, which is housed in a magnificent 1902 villa. Clean and comfortable cottages and suites, breakfast in bed, and special packages for special events and festivities are all available at this hotel. Looking for amazing Eureka Springs hotel suites? The Hidden Springs Bed & Breakfast is the place to be. Its quiet surroundings and intriguing rock garden attract visitors.
6. Eureka Inn Best Western
The Best Western Eureka Inn is a laid-back motel that caters mostly to visitors and families visiting Eureka Springs. An on-site restaurant, an outdoor pool, a whirlpool, and luxurious mattresses provide a good night's sleep.
Do you want to stay in one of the top family hotels in Eureka Springs? If that's the case, make a reservation at the Best Western Eureka Inn. Visitors, particularly children, love splashing in the outdoor pool, while adults relax in the hot tub.
7. Basin Park Hotel, 1905
The 1905 Basin Park Hotel is a lovely historic hotel with Mission-style rooms, a relaxing restaurant, and complimentary shuttle service. Spa1905 and Jack Rabbett's Whisky Bar are on the premises. Stay at the 1905 Basin Park Hotel, one of the top hotels in downtown Eureka Springs, if you're seeking for something unusual. It is near to numerous local stores, restaurants, and nightlife and is in the exciting downtown zone.
8. Beaver Lake Cottages
Beaver Lake Cottages is one of Eureka Springs' most beautiful hotels. On the first night of their stay, visitors are treated to beautiful views of Beaver Lake as well as free wine or sparkling juice and nibbles. Do you want to spend your holiday in the woods? If that's the case, Beaver Lake Cottages is the ideal place to stay in Eureka Springs. It's ideal for a romantic getaway since you can curl up in front of a warm fireplace, relax in the whirlpool, or gaze up at the stars and trees through the glass roof gables.
9. All Seasons Properties
All Seasons Properties is one of Eureka Springs' finest luxury hotels. The All Seasons Inn, Treehouse Village, Daffodil Cottage, Briarwood Lodge, and Piedmont Lounge are among the lodgings available. If you're staying in town for three to four nights, we suggest this hotel. Stay three nights at a quality resort in the Eureka Springs region and receive the fourth night for half price or free.
10. Crescent Hotel & Spa
The historic 1886 Crescent Hotel & Spa is located on Prospect Avenue in Eureka Springs. This rustic Victorian hotel has an incredible spa, a magnificent rooftop restaurant, a large dining room, and much more.
Why Do We Recommend This Hotel Are you getting married in Eureka Springs? The 1886 Crescent Hotel & Spa is one of the area's most popular sites for weddings, bachelor parties, and other large-group events. The Crescent Hotel provides everything you need for a successful and unforgettable wedding day, whether you pick a ballroom, garden, mountain, or tented venue.
11. Eureka Zen Cottages
Eureka Zen Cottages is in Eureka Springs, Arkansas, on Spring Street. This hotel has fireplaces, hot tubs, spa services, and charming one to three-bed accommodations, making it ideal for a romantic weekend getaway with your sweetie. If you're searching for a relaxing location to stay in Eureka Springs, Eureka Zen Cottages is the place to go.
The spa at Eureka Zen Cottages is run by spa consultants Jill and Rod Slane, and clients are in for a treat when they enjoy the quiet and pleasant treatments.
12. Beaver Lakefront Cabins
Beaver Lakefront Cabins is one of the most popular 4 star hotels, especially for dates, anniversary celebrations, and any other occasion that requires a romantic environment. This property is a one-of-a-kind getaway, with six secluded, roomy cottages scattered over a hillside overlooking the lake.
Plan your romantic weekend at Beaver Lakefront Cabins, one of Eureka Springs' top hotels, and enjoy the Hot Tub Lake House. Couples may relax in the jacuzzi while watching the beautiful lake, which is rendered even more beautiful by the setting sun.
Final words
Visiting Eureka Springs is something that you should do at least for one time in your life. If you are visiting there, make sure that you also take a look at these accommodation options. Then you can figure out the best accommodation option to enjoy your stay.