The amazing city of Saratoga Springs is well-known for its wonderful dining options, fantastic shopping, and mineral springs. Numerous quick food franchises, reasonably priced alternatives, gourmet dining venues, or locations with full-service bars, kid-friendly menus, or special occasion packages may all be found here. Whether you want to start your day with a delectable meal, have a leisurely lunch, or go on a dinner date with a special someone, this city has a ton to offer. From this article, we are looking forward to sharing more details with you on the best restaurants on Saratoga Lake. It is up to you to go through this list of lakes and then pick the best one to have a great time.  See for yourself below and be ready to satiate all of your cravings!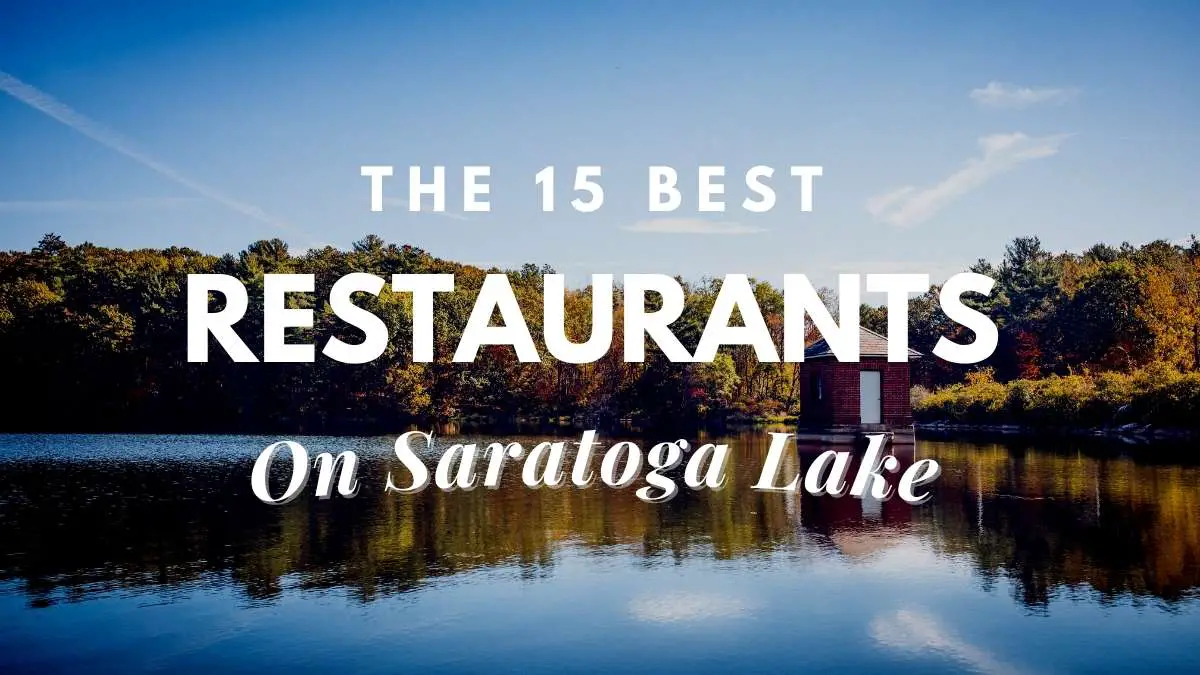 1. 15 Church
A tasteful, upscale restaurant called 15 Church is housed in a gorgeously refurbished old structure. Both indoor and outdoor eating options are available. If you want to enjoy great dining in Saratoga Springs with your friends, this restaurant is a fantastic option.
With its remarkable selection of high-quality wines and meals produced with hand-crafted pasta, prime-age beef, and other ingredients, it provides you with a refined and elegant dining experience. The Prime Filet Mignon, which includes gorgonzola butter, red onion marmalade, a bone marrow demi-glace, and more, is a must-try if you like red meat. The Chilean Sea Bass, which comes with a miso glaze, shiitake mushrooms, bok choy, and other ingredients, is a great option if you enjoy white flesh.
Read: Is Traveling A Hobby? The Ultimate Guide To An Exciting Way Of Life Learn about the Downsides Of Traveling As A Hobby

2. Osteria
Why This Restaurant Is a Must Try Travel to Italy without leaving the country by sampling its delectable food at Osteria Danny, one of the greatest restaurants in Saratoga Springs. It offers both a traditional and contemporary ambiance, outstanding service, a handwritten daily menu, fresh pasta, and more. Try the excellent Pahi's Salad to start your dinner, which includes mixed greens, red onions, olives, tomatoes, provolone, and a red wine vinaigrette. It is the ideal appetizer for your upscale taste buds.
If you appreciate both pasta and shellfish, try the Lobster Bolognese, which is prepared with the finest ingredients and hand-made pasta.
3. Mrs. London's Bakery
Are you looking for a few places to dine that are relaxed and ideal for a light brunch? Are you craving sweets and searching for a restaurant in Saratoga Springs? If so, think about having a meal at Mrs. London's Bakery. It has a Parisian-inspired décor with mouthwatering, freshly prepared pastries, bread, cakes, savory selections, and the like. The gluten-free Framboise is the ideal treat to sate your sweet taste. It is a dessert with filling of raspberry coulis and toppers of fresh strawberries.
Try the Finocchiona Baguette, a baguette with fennel salami, arugula, balsamic vinegar, and mozzarella, for a quick breakfast before beginning your city tour. Hampton Inn & Suites Saratoga Springs Downtown is a suggested accommodation nearby.
4. Onions
American fine dining establishment Scallions has been around for at least 20 years. It is located close to a number of museums and art galleries. One of the best restaurants in Saratoga Springs is Scallions, which is renowned for its wide selection of vegetarian, gluten-free, vegan, and family-friendly alternatives. It boasts a cozy atmosphere, colorful accents, a welcoming atmosphere, inventive drinks, and distinctive desserts for supper. If you're a vegan, the Sicilian Panelle is a fantastic, mouthwatering option. This delectable recipe includes roasted vegetable ragu, fresh spinach, fried chickpea fritters, and more. It is served with a salad.
If you like beef, choose the restaurant's delicious 10-ounce Kobe Flatiron Steak, which is served with roasted baby carrots and garlic mashed potatoes.
5. Triangle Diner
The Triangle Diner, which opened in 2009, is well-known for its inexpensive prices and ample servings. The Triangle Diner is a great option if you're on a tight budget and searching for a great spot to dine in Saratoga Springs with your friends. This family-run midday restaurant provides a relaxed setting, traditional diner cuisine, and a constantly-evolving menu of mouthwatering delicacies.
The Irish Benedict, which includes two poached eggs, handmade corned beef hash, an English muffin, fries, and hollandaise sauce, is a fantastic way to start the day. Fall Mix Salad is a must-try while traveling in the fall. It has walnuts, apples, cheddar cheese, and cranberry and maple vinaigrette. Courtyard by Marriott Saratoga Springs is a suggested hotel nearby.
6. Sweet Mimi's Bakery & Café
The 2014-founded Sweet Mimi's Café & Bakery is housed in the iconic Lena Building. It has 35 seats and an award-winning food. One of Saratoga Springs' top restaurants, this eatery is a great place to have a sumptuous breakfast with loved ones, a significant other, or friends. It has attractive furnishings, recently baked foods, a homey atmosphere, catering services for special occasions, and customized cakes that may be ordered in advance.
You should try the unique and delicious Lemon Ricotta Pancakes recipe. It is served with a delicious homemade blueberry sauce and is light and flavorful. Jeannette's Signature Buttermilk Pancakes, a favorite among both residents and visitors, are another delectable breakfast choice. It comes with delicious toppings like toasted coconut, mixed berries, chocolate chips, and others, along with handmade whipped cream. The Adelphi Hotel is a suggested area hotel
7. Olde Bryan Inn
An historic stone building from the 18th century houses The Olde Bryan Inn, an American eatery. Are you looking for the hippest local eateries so you and your traveling companions may have an unforgettable eating experience? The Olde Bryan Inn is the best option if you are. It offers a memorable experience with its historical dining spaces, intelligently crafted meals, visually beautiful décor, and many other extraordinary elements.
Try the Oven Roasted Turkey Supper if you want to have a fantastic dinner with your family, friends, or significant other. Homemade mashed potatoes, cranberry cornbread stuffing, gravy, and the chef's preferred sauce are all components of this delectable entrée. By sampling the homemade warm apple crisp, you may experience the delectable flavor of Saratoga apples that are harvested nearby. Embassy Suites Saratoga Springs is a recommended hotel nearby.
8. Druthers Brewing Company
One of the top restaurants in the city is Druthers Brewing Company, built in 2012. There are many excellent restaurants in Saratoga Springs, but Druthers Brewing Company is a fantastic choice if you want to go to a vibrant brewery with a diverse menu of delicious foods. It offers a ten-barrel brewing facility, handmade beer, and food produced using locally sourced ingredients.
I advise getting the House Veggie Burger if you're a vegetarian. Cheddar cheese, a special sauce, lettuce, and a home-made patty made from beet and black beans are all included in this meat-free substitute. Do you wish to relax with your friends while drinking beer? If you do, the Queso Fundido Taquitos are a great sharing snack. It has tortillas made of maize and flour, jalapeo ranch, Mexican cheese, and other ingredients. Holiday Inn Saratoga Springs, an IHG property, is a suggested lodging nearby.
9. Boca Bistro
Downtown Spanish eatery Boca Bistro, which debuted in June 2012, is housed in a stunning 1864 structure. Due to its private event facilities, distinctive food, and superb wine pairings, Boca Bistro is regarded as one of Saratoga Springs' top birthday restaurants. It offers an outstanding cuisine with traditional Spanish fare, kid-friendly fare, Mediterranean flair, and a variety of alcoholic drinks.
The Paella Mixta is your best choice if you're a gourmet looking to try some of the greatest Spanish cuisine this restaurant has to offer. It contains saffron, mussels, calamari, scallops, shrimp, cauliflower, and Calasparra rice among many other ingredients. If you're looking for a healthy, gluten-free alternative, I suggest the Mediterranean Grain Bowl. It includes quinoa, minced kale, feta cheese, hummus, and other ingredients. The Inn at Saratoga is a suggested accommodation nearby.
10. 30 Lake
A classy seafood restaurant called 30 Lake opened in the area of numerous fantastic tourist attractions in June 2016. Eat at 30 Lake with your loved ones, significant other, or friends to experience some of the greatest cuisine in Saratoga Springs. It has a lot to offer, including a modern and fashionable setting, a calm ambiance, premium seafood dishes, creative cuisine, handmade drinks, and a lot more. If you like pasta, I would advise you to get the Lobster Fettuccine.
House-made pasta, pancetta, parmesan, sherry cream, roasted tomatoes, and a side of bread make up this exquisite meal. Order the Duck A L'Orange with Bay Scallops if you want to indulge in something more opulent. In addition, this gourmet meal has citrus black quinoa and a Grand Marnier and orange zest bigarade sauce. Hilton Garden Inn Saratoga Springs is a Recommendable Hotel in the Area
11. 550 Waterfront
550 Waterfront is a gastropub and seafood restaurant with 7,000 square feet of space. It became operational on the banks of Fish Creek in June 2020. Dine with your friends at this outstanding seafood restaurant for the greatest lunch in Saratoga Springs. It is the ideal location to sample delectable foods while taking in the clean air and breathtaking waterfront views. Try something different by trying the Swordfish BLT, one of its signature meals.
It has a brioche bread, Boston butter lettuce, crispy bacon, beefsteak tomato, and honey chive mayo. The Five Fifty Fish and Chips is another unique meal you need to try if you want to satiate your adventurous appetite. It comes with fries, coleslaw, and beer-battered haddock, as well as your choice of cocktail or tartar sauce. Saratoga Casino Hotel is a suggested lodging nearby.
12. Ghost and Hamlet
In what used to be a feed and grain shop, you may discover Hamlet & Ghost. It debuted in the heart of Saratoga Springs in 2016. One of Saratoga Springs' top supper spots is this magnificent restaurant, which serves seasonal meals and New American cuisine. It is a visually appealing restaurant with a hip atmosphere, a contemporary design, mixology specialists, and a delicious dining menu.
Are you a fan of steak as a dish? If so, I advise you to get the Boyden Farm 14oz NY Strip. Horseradish, upstate abundant potatoes, and a bavaroise sauce are all components of this succulent meal. To enjoy a novel salad dish, try the Arugula and Apple Salad. Snapdragon apples, bacon, pear and cider vinaigrette, and spiced nuts make up this dish. The Homewood Suites by Hilton Saratoga Springs is a suggested lodging option nearby.
13. The Merc
One of the most well-liked eateries in the downtown area is The Merc, sometimes known as The Mercantile. Are you looking for Saratoga Springs food to share with your friends for a special dining experience? The Merc is a great option if you are. This beautifully designed restaurant offers a delicious breakfast and supper menu, ample meal amounts, and a cozy atmosphere. When you are searching for unique restaurants on Saratoga Lake, this is a great option to consider.
One of the better alternatives for vegans is the quinoa black bean burger. Smashed avocado, crispy onions, Pico de Gallo, house veganaise, and other ingredients are all included in this home-made burger. Consider the Airline Chicken Breast if you like chicken-based dishes. A side of green beans called Haricot Verts and a cheesy dish called Manchego Polenta are also available. Best Western Plus Saratoga Springs is a recommended hotel nearby.
14. Hattie's Dining Room
A popular restaurant serving fried chicken since 1938, Hattie's Restaurant is known for its offerings. When searching for nearby eateries that provide delectable Southern cuisine, take this great restaurant into consideration. In addition to a patio, a late-night lounge, gluten-free alternatives, a welcoming atmosphere, lovely design, and crispy, delicious fried chicken, it also has these qualities.
Without trying Hattie's Famous Fried Chicken, this restaurant's well-known delicacy, your visit will fall short. It is a 1938 original dish that comes with fries or grits on the side. Choose the Savory Shrimp and Grits, another delectable Speciality dish, if you like seafood. Six shrimp are dipped in a savory, fatty Creole sauce. Comfort Inn & Suites Saratoga Springs is a suggested accommodation nearby.
15. The Cantina
In the downtown area, Cantina is an authentic Mexican restaurant that first opened its doors in June 2007. One of Saratoga Springs' top dining establishments, Cantina, has both indoor and outdoor seating. It offers a relaxed ambiance, contemporary Mexican cuisine, inventive margaritas, a lively happy hour at its rooftop bar, among many other things.
Are you seeking for the ideal hors d'oeuvre to accompany fine margaritas? I then suggest the Cantina Nachos. With hand-cut corn chips, chopped jalapenos, pico de gallo, and three distinct types of cheese—Monterey jack, queso fundido, and queso blanco—it is perfect for sharing. Order the Short Rib Chimichanga if you want to sample mouthwatering Mexican chimichangas. This meal consists of oxtail and short ribs that have been ancho-braised all day, as well as a portion of charro beans and red rice.
How to find the best restaurant?
Now you are aware about the best restaurants in Saratoga Lake. As you go through them, you will also come across the need to figure out what the best restaurant out of them is. Here are some useful tips that you can follow to locate the best restaurant out of available options.
Early booking discounts
Head out as soon as possible. We like nothing more than sneaking a peak through restaurant kitchen doors early in the day to observe which ones are bustling with activity and to get a whiff of delicious stock cooking away. The restaurants you want to reserve for lunch or supper are the ones that are active and kicking in the morning, the ones that are preparing stock, making bread, and cutting vegetables. Avoid those that get up an hour before service and rush to clean, prepare, and cook before the first guests arrive.
On the other hand, if you pass by after service at night, have the tables been cleared, the floors swept, and the establishment generally left spotless and prepared for opening the following morning.
Initial impressions matter
Is the message consistent across the establishment—from the name and branding to the decor—and does it have an identity? In general, simplicity is ideal.
Is the building's outside neat and welcoming? Check to see whether the plants are well-cared for, the windows and awnings are spotless, and any outdoor dining spaces are well-maintained. If a restaurant's outside has been disregarded, suspicions about what's inside should begin to grow.
If there are Michelin or restaurant guide stickers on the door, are they current, or is the establishment basking in the glory of a prize from a decade ago and the good old days?
Cleanliness of the restaurant
Of course, basic hygiene is necessary. Tables and glasses are they sparkling? If the restrooms are clean, you won't be rushing out the door. The use of potent air fresheners or harsh cleaning agents that linger in the air is also quite unappealing, particularly in a fish restaurant.
The first rule
The first item to arrive at the table often sets the tone for the whole dinner. The first edible bite at the table usually sets the tone for the remainder of the dinner; if it's a stale or soggy slice of bread or some really inexpensive breadsticks, there's a strong chance it will continue in that vein. You can practically count on a wonderful supper if there is a bread basket full of freshly made treats. Although there are requirements to this guideline, it is unquestionably useful when attempting to judge which restaurants are excellent by looking via their windows.
Use Your Eyes When Eating
Avoiding technology while looking for a restaurant in a new city would be foolish. When looking for recommendations in a new location, Google Maps is a fantastic resource, and our very own City Tasting Tours are also helpful.
Search "restaurants near me" and choose "best rated." Don't simply accept the rating as accurate; many establishments manipulate the review process by posting phony reviews. Instead, seek for establishments that have a lot of reviews and a high average rating. The secret is to click on each one from here and examine the available foods. Notice how they are presented, how the menu describes them, and if they use parsley garnish like it's 1980 or whether the plates are contemporary and fresh. When traveling, this is one of the best ways to get a feel for a new city; combine it with the above-mentioned Early Bird step, and you'll discover the best restaurants in town quickly. They say you shouldn't judge a book by its cover, but they also say we eat with our eyes, and it's undoubtedly true.
Use social media to your advantage. TripAdvisor and Instagram are excellent places to get up-to-date photos and comments from recent guests. You may start following local chefs on social media even before you go to a location to find out what and where they eat there as well as whose restaurants and chefs they follow.
Menu Size
Another telltale sign of a restaurant is the length of the menu: restaurants with 19 pages and 15 options for each continent should always be avoided. No kitchen can accommodate that many distinct meals without some kind of industrial type manufacturing and a lot of microwaves. Look for a well-written, thoughtful menu that changes often. If a restaurant's website or social media page indicates that they frequently modify their menu, this is typically a good indicator. Another item to look for on the menu is seasonal foods.
The restaurant's menu need to be visible from the street, establishing the tone for what you may expect inside. Ideally, it should relate to a few locally sourced items and be concise, not excessively wordy, ambitious, or arrogant. Greater daring foods, particularly when it comes to game, might point to a chef who has more expertise and uses local ingredients. A key indication is if the quoted costs appear appropriate for the location's size and aesthetic.
Final words
Follow these tips and you will end up with finding the best restaurants on Saratoga Lake. Also make sure that you refer to the list we shared. It is better if you can visit one or more of them to get an unforgettable dining experience.