While you might not need that winter scarf once you arrive at your destination, it could come in handy while you're traveling. Travelers who have visited a big number of airports frequently express their dissatisfaction with the cold. Whether they're flying throughout Europe, Australia, or Ecuador, airport temperatures seem to remain constant.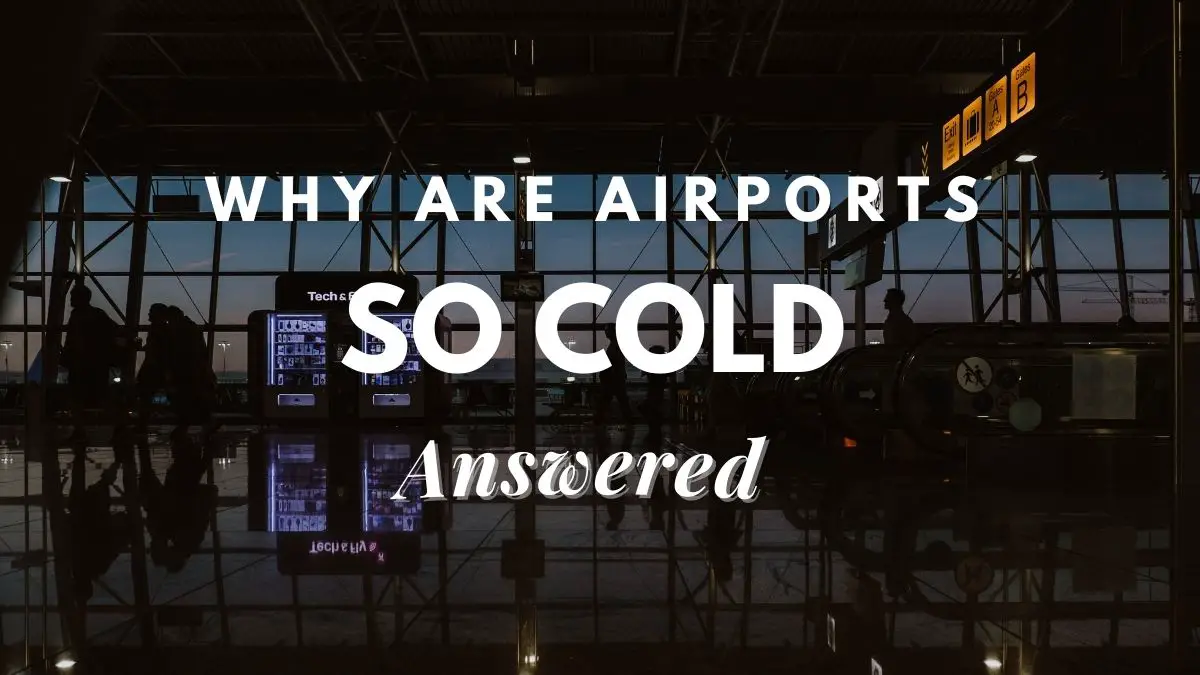 Why are airports so cold?
Perhaps you're reading this while bundled up in a winter scarf in an airport. Or you're one of these passengers who has always wondered why airports are so cold.
If that's the case, you're not the first to wonder or to ask this question! Check out our chosen list of reasons why by continuing to read.
Read: Is Traveling A Hobby? The Ultimate Guide To An Exciting Way Of Life Learn about the Downsides Of Traveling As A Hobby

To ensure your health and safety
There are three main reasons why airports prefer to keep colder rather than warmer temperatures. The first is motivated by passenger health and safety concerns.
Humans are prone to disorientation, thirst, and overall discomfort when exposed to excessive temperatures, particularly hot temperatures. Airports can minimize potential health concerns such as passengers fainting or falling unwell by tightly maintaining airport temperatures on the colder end of the spectrum.
In addition to these factors inside the airport, air quality is a crucial aspect of health and safety to note. Bacteria, mold, and other organisms that can travel through the air and harm passengers are more likely to develop in hot temperatures. The HVAC systems that keep the room at a comfortable temperature also circulate and purify the air. Because there are dozens, if not hundreds, of planes outdoors at any given time, the outside air has a significant amount of toxicity from their fumes and exhausts.
Indoors, airports can maintain good air quality and avoid cycling potentially dangerous pollutants like mold by implementing a regulated system. Health and safety are the fundamental reasons that airports maintain cool temperatures on a regular basis, from air filtering to illness prevention.
Read: Why Are Airports So Cold [Answered]Learn about the Regulations implemented at the airport
To make the travelers feel comfortable
The creation of a comfortable environment for travelers is the second aspect that leads to low temperatures in airports. Airports are a location where people are always on the go, whether it's rushing between terminals to make a connection or lugging heavy luggage. Cooler temperatures help to mitigate these activities and keep passengers from becoming overheated or sweaty.
People are constantly moving around in airports, whether they are changing terminals, boarding a flight, or disembarking from a trip. In addition, colder temperatures inspire me to walk among airport stores or investigate restaurants rather than stay seated in one location with freezing fingers and toes, as I have learned from personal experience. Maybe there's a benefit for airport commerce as well?
Because the number of people in an airport fluctuates by the second, HVAC systems often rely on sensors to manage temperature according to the needs of each specific area.
Heat is naturally created by people, electronics, and the sun through those massive walls of airport windows, thus the bigger the number of people a sensor detects, the lower the temperature will be adjusted to maintain a comfortable baseline for travelers.
There are situations where the airports can be specifically cold. This happens frequently. The latency between the sensor adjusting to a lesser number of people and the HVAC system kicking in to compensate is what causes it. We like to assume that the second key motivator of low temperatures is to keep passengers like you comfortable, whether you're flying in 30 minutes for a quick connection or 12 hours for a long layover.
Read: [Top 10 ] Best Low-cost Airlines In The USALearn about Southwest Airlines
Regulations implemented at the airport
We've looked at passenger comfort and health and safety thus far, both of which touch on the abstract reasons for cold airport temperatures. The third factor, which we'll go over in more depth, is airport laws and regulations. As you may expect, rules differ depending on the airport's location. We may expect regulatory disparities between countries at a minimum, but we've also observed regional differences on a more local level.
Regulations can generally be found in one of two places: the government or professional groups. The American Society of Heating, Refrigerating, and Air-Conditioning Engineers, or ASHRA, is an example of a professional group that is actively involved in developing and enforcing standards for airports and other sectors. The Chartered Institution of Building Services Engineers, or CIBSE, is a second professional organization based in the United Kingdom.
As a best practice, airports frequently follow industry standards set by these types of professional organizations. The optimal temperature, according to ASHRA regulations and guidelines, is between 73 and 78 degrees Fahrenheit. In addition to that range, CIBSE breaks down the ideal temperature based on the time of year (winter or summer) as well as the location of the airport. According to their findings, the appropriate temperature fluctuates depending on where you are, such as in baggage claim or customs.
Regulations supplied by professional groups and governments alike have gotten increasingly extensive and thorough, particularly since the rise of COVID-19.
All of these factors contribute to temperature control in airports, from improved health and safety to passenger comfort and regulations. Many airports follow rules for consistency and best practice, but when it comes to temperature, there is no "one-size-fits-all" solution. You may have been to airports where there was no air conditioning or an open-air structure where the temperature was determined by Mother Nature.
The beauty of travel is being able to see so many various areas throughout the world, so bring your winter scarves and bundle up on your next vacation, no matter where you're going!
Read: Plane VS Cruise Ship On Vacation – What Is The Best Option?Learn about which one is better?
Tips to stay warm at the airport
Now you are aware about the reasons on why airports are so cold. You will have to face a similar experience when you are in the airplanes as well. No matter what, it is essential to understand how to keep yourself warm while you are traveling. Here are some of the most useful tips that you can follow to keep yourself warm while you are at the airport.
Wear thermals to keep yourself warm
Thermals may have a bad record for being your grandmother's underwear, but they don't deserve it. They're an excellent method to stay warm without needing to bring cumbersome clothing with you. Thermals also allow you to wear lighter tops and tights without freezing, which is ideal if you're visiting Stockholm or one of Canada's multicultural towns.
Pack pounds as you travel
If you're going on an icy trip, you can't avoid bringing heavy boots and a big coat. However, this does not imply that they must take up suitcase space. Wear your heaviest stuff on the plane instead than trying to cram them in. They'll also keep you warm in the plane's air conditioning.
This tried-and-true strategy will free up a lot of space in your bag. Before you pack your clothes, wrap them up instead of folding them. Not only will this lessen the amount of creasing, but it will also reduce the number of unfilled gaps.
Read: Plane vs rental car on vacation – (pro's and cons)Learn about the what experiences matter the most?
Sun protection isn't normally at the top of people's minds when planning a winter vacation. However, if you're travelling to a snowy location, it's a must (unless you want to end up looking like Rudolph). Long days on the reflecting slopes can result in terrible sunburn, so it's especially vital if you're going skiing.
When putting together a cold-weather wardrobe, it's easy to reach for your biggest pieces. Bringing a lot of lighter stuff, on the other hand, is usually the better option. Layering up will keep you warm and toasty while also giving you more clothing alternatives to mix and match.
Read: Why Are Vacations Important?Learn about vacations that can help you with stress management
Keep your color palette simple.
When it comes to staying stylish in the colder months, black is the new black. You'll find it easier to put together stunning outfits with fewer pieces of clothing if you stick to dark, neutral colors. A pair of dark pants can go with practically anything, and a black coat will go with everything in your closet.
 Don't forget to bring a pair of boots.
You don't want to take up valuable luggage room with a bunch of heavy shoes. Unless you're crossing harsh terrain, a single pair of elegant boots can be worn all day and all night. If you're going somewhere more outdoorsy (like Iceland), you'll want to bring a more durable pair — but you can still save space! Boots and large shoes are ideal for storing rolled socks and undergarments.
Select the appropriate accessories
When it comes to packing for a vacation, accessories are often overlooked, but they may make all the difference. Consider gloves with wool linings and unique touchscreen tips for accessing the GetYourGuide app without getting your fingers frozen. Statement jewelry and bright scarves are a simple way to change up an outfit from day to day.
Read: Why are vacations so stressful?Learn about assuming that travel will help you solve all your problems
There is nothing more unpleasant than having cold feet. No matter where you're going, investing in a few pairs of decent socks can rapidly turn your day from terrific to horrible. They're especially useful on planes because they keep my feet toasty, and I don't have to bother about putting on my shoes when I need to use the restroom.
One of the best socks available out there for you to consider would be wool socks. Smartwool socks are amazing, and I can't say enough wonderful things about them. I've had a lot of pairs throughout the years, and they're all still worn. The fact that they adjust to the temperature is appealing. Your feet will stay warm if they are chilly.
Don't forget to wear gloves
To take all those gorgeous photos of your destination in the snow, you'll need your hands to remain warm. A good pair of waterproof gloves should be included in your luggage. It is better if you can keep a pair of good gloves with you while you are spending time at the airport. They can deliver much-needed assistance for you to keep yourself warm without a problem.
Read: How To Eat Healthy On Vacation [Answered]Learn about the healthy meal plan even before you leave
Another great tip that you can follow to keep yourself warm at the airport is to wear a hat. This would make you look fancy, but you will appreciate the level of comfort that a good quality hat can offer. Because the majority of heat is lost through the head, top off your warm clothes with a wool cap.
Take your scarves as well
You can also take your scarves as you travel. That's because the scarves are in a position to provide the assistance you want to remain warm while you are at an airport. It is true that you will not have to face any freezing coldness inside an airport. However, a scarf can deliver much-needed assistance for you to stay warm within the airport. Hence, you will not regret about the idea of taking a scarf to the airport with you. This is one of the main reasons on why you can find a lot of people wearing scarves inside airports.
Last but not least, you should think about investing your money to get hold of a good quality jacket. In most instances, thermal and jacket will help you to ensure your protection at the airport. This can be highly useful when you are going for a transit at the airport. You won't need a full-length wool coat for most travels; instead, a down or fleece jacket that you can layer will keep you just as warm while taking up less room.
Read: How to go on vacation when you're brokeLearn about to travel during the off peak season
Final words
Now you know why the airports are cold. There's nothing you can do about it. However, you can still be ready to make yourself comfortable as you travel to the airport. This will help you to stay away from frustrating situations that you will come across.