Have you begun making travel plans for the summer? Saco River tubing is at the top of my list of entertaining things to do in North Conway, New Hampshire! In North Conway, there are many recreational activities that demand physical fitness. Not everyone has the strength to run a few kilometers or climb a mountain. I venture to guess that even the most sluggish lazy people could get into a canoe or kayak and have a leisurely, pleasant Saco River Tubing trip! In this Saco River tubing guide, we will be sharing more details with you on what to expect out of it.

We used to go to North Conway, New Hampshire to go tubing on the Saco River when I was in my twenties. Back then, buying a tube for a few dollars at a large box shop wasn't an option. We got to enjoy and suffer through my dad's painstaking pursuit of numerous tractor trailer tire tubes, but we also had to repair the holes, fill them with air, rope-tie them to the top of our vehicle, and drive up to the Saco River for a day of tubing. Let me educate people who are unaware of the dangers of utilizing secondhand tractor trailer tire tubes. I must caution you; you can count on that!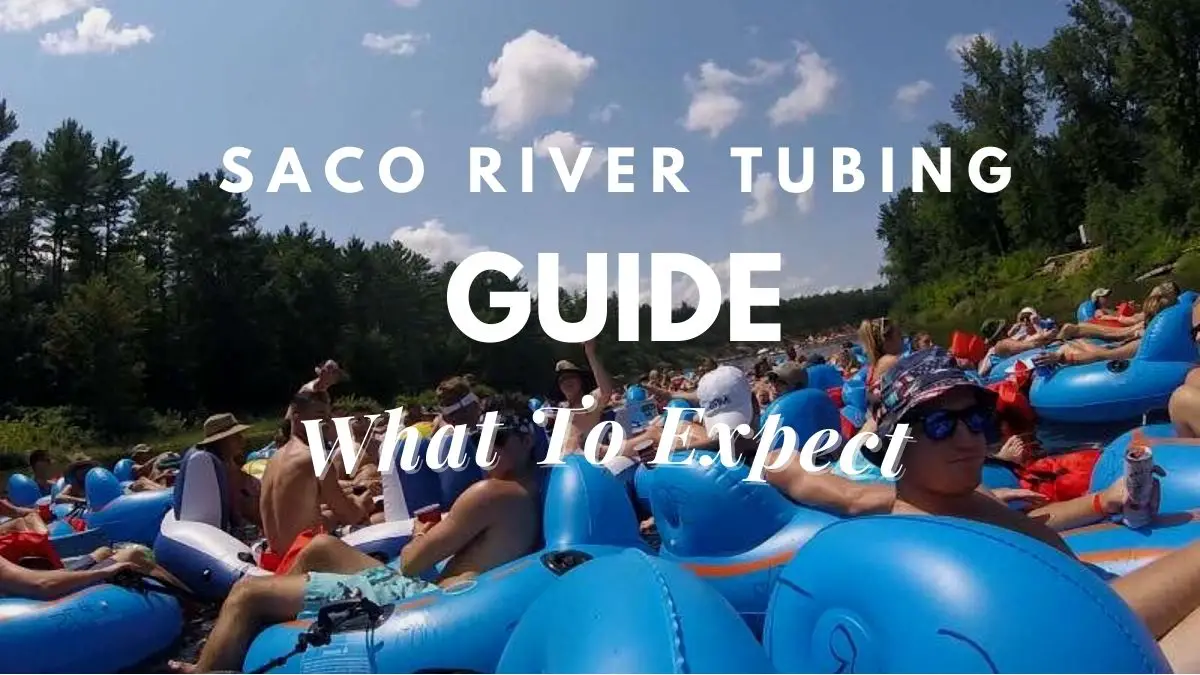 Things to keep in mind before you go ahead with Saco River tubing
They are weighty, to start. It was a big thing for me to carry my tube from the vehicle to the water when I was young and frail. They were also dirty, second. I recall waiting weeks to acquire a brand-new, exquisite swimming suit to wear on our weekend getaway. All weekend long, I was made fun of because of how black my butt was.
You know, I wasn't the kind of person to lie down and float back then. I used to swing on it like a doughnut, giving off the impression that I was doing so. I never wore the swimming suit again, but I can still vividly recall how I felt until fabric and rubber came into contact. Third, the fill stem tortured children. Anyone over the age of 55 has definitely experienced the agony and has at least one scar from cutting their arm or leg on one of those dangerous devices.
I still have one or two tire tubes, but I haven't used them in a long time. Go to your neighborhood shop to purchase one or rent one from one of the fantastic local businesses that will pick you up with your rental tube, kayak, or canoe and then bring your drenched, drippy body back to your vehicle at the end of the day.
Read: Is Traveling A Hobby? The Ultimate Guide To An Exciting Way Of Life Learn about the Downsides Of Traveling As A Hobby

How to enjoy Saco River Tubing
We have a wide range of possibilities today for spending a day on the water. Forget about visiting a water park and floating down one of those "lazy rivers" that are packed with chlorine. Visit North Conway, New Hampshire, and go tubing on the Saco River to experience the genuine deal!
The 136-mile-long Saco River rises in Crawford Notch, New Hampshire, flows directly through New Hampshire to Western Maine, and then empties into the Atlantic Ocean.
One of the main attractions of North Conway is a gorgeous river! On a steamy summer day, tubing down the Saco River is a dream come true, but don't forget to read my other blog, 8 Perfect Summer Days in North Conway, New Hampshire.
Although tubing down the Saco River is a lot of fun, there is much more to see and do, in my opinion. Keep an eye out for the Four Seasons Lodge horses! To cool down, we frequent the river often. Additionally, you'll witness a ton of animals, make some new friends, and take in some stunning views.
The Saco River's Water
The Saco River is a stunning river with sandbars, tiny sets of rapids, and generally clean water. Study your route before entering the river since there are several tricky sections and falls there. While the river smoothly sweeps you to the east, it's a terrific area to kayak, canoe, tube, or even swim.
Bring a hat and plenty of strong sunscreen since the water is normally a bit chilly but feels wonderful on a hot day. The river is also a little broad, so there isn't much cover. As a result, by hour five, you won't be burnt to the bone. Local Hint: Buy sunglasses at Dollar Tree instead of wearing your Ray-Bans outside. Thank you very much.
All of the sandy areas along the Saco River enable you to stop and have a picnic or enjoy the beach, which is one of its greatest features. Not to add, there are many options for family photographs with the lush trees and clean New England air.
Equipment for tubing the Saco River
If you don't already possess any, Saco Canoe Rental Company, located just off the White Mountain Highway in Conway, New Hampshire, is one of the finest places to rent one. The Russ-Tee Bucket Ranch is about thirteen minutes away!
They provide a 1.5 mile float that lasts 1-3 hours and is enjoyable for people of all ages. Take their 3-mile Redstone Rapids tour for a bit more thrill-seeking on your float and a longer day of tubing the Saco River. This one is excellent for children ages 8 and older and will take 3-5 hours, so be sure to arrive a little early.
Additionally, they give a 6-mile tubing adventure with sandy beaches and rope swings along the river. If you want to spend the whole day floating at your leisure, this is a fantastic alternative! Moreover, you may hire paddleboards, canoes, kayaks, and a tube for your cooler. There is never a need to walk or use another form of transportation to go back up river since shuttles are available at every landing place!
Saco Bound is another fantastic rental location if you want to go a bit farther up the river. Russ-Tee Bucket Ranch is 19 minutes away by car from Saco Bound, whose launch site is not far from the border between New Hampshire and Maine. On the Saco River, they provide white water rafting, canoeing, kayaking, and tubing. Depending on your needs, they also provide a few journeys of various lengths.
Their first expedition on the Saco River involves tubing three miles across calm, clear waters from where they are to Weston's Bridge. This is a fantastic choice for first-timers who just want to spend a few hours on the lake. Their second tubing tour departs from their site and travels 6.4 miles to Pig's Farm, where there are several beaches for swimming and picnics. This is a fantastic choice for the whole family.
Another alternative for tubing is to go from Redstone to Saco Bound, where you may park your automobile and take a shuttle to the launch location while returning to your vehicle comfortably. The last choice is a full day on the water that covers an incredible 10.2 miles and concludes at a stunning private campsite that is ideal for families and big parties. Every trip includes a transfer to your vehicle (or to your launch spot if you're traveling from Redstone to Saco Bound) and they also offer overnight canoeing camping! No matter where you start, you'll be able to unwind for the day by enjoying one of North Conway's best things to do!
What to expect during Saco River Tubing?
So, do you find the idea of tubing down the Saco River to be uninteresting? Rethink that! Your justifications are ineffective and lazy for a variety of reasons. Family time comes first, of course. A Saco River excursion is a fun activity for the whole family! If you want to unwind, it doesn't take much effort; if your kids want to jump from one of the numerous rope swings or swim in the cool water, it does. There are very few times, if ever, when you need to paddle in a kayak or canoe—except to navigate.
Saco River tubing is one of the most enjoyable things to do in North Conway, so don't forget the kids! You may always get a two-person kayak or canoe so that your kids can join you and take in the lovely day.
The second benefit is that you can go outdoors. Enjoy some cool water on your feet, take a deep breath of fresh air, and receive some of the vitamin D we all need.
On hot days, you are usually busy trying to stay cool. It's fun to spend the day tubing down a chilly river, and the water is always available for free cooling down. Float about to your heart's delight in the scorching heat but be sure to wear plenty of sunscreen and a wide-brimmed hat. You must safeguard yourself! And if you start to feel too hot, simply dive into the water. It will instantly chill you down!
Before leaving, be sure to check the weather in North Conway online. A little rain is one thing, but a thunderstorm is quite another. It wouldn't hurt to have a few clouds, either! Last but not least, unless you are a skilled white water rafter in which case you may be bored—but you need to relax too—tubing down a genuine river is not something you get to do every day.
It's entertaining and unique, and it will mix up the mundane daily routine (plus no Wifi and unless you have one of those super water proof phones possibly no phone as well). You may take pleasure in the outdoors without being bothered by work or the outer world. Who can top that? That's accurate. Nothing. You deserve a break, so take one. Take a tubing trip down the lovely Saco River!
What to pack in order to maximize your tubing experience.
1. Wear a lot of sunscreen.
2. If you forget your water shoes, they are available in our store.
3. Meals or snacks
4. Drink of choice, such as water
5. Airsoft guns
6. Be ready to get soaked
For your stuff, the Saco River Tubing Center offers dry bags and floating cooler trays. The Saco River is not a theme park; it is a natural river. Along the way, there weren't any lifeguards. The river's depth ranges from 3 to 8 feet, although on average it is just 3 feet deep. A life jacket is provided for each participant. All children aged 12 and under must wear them.
Things to NOT bring
1. Glass bottles
2. A little book. Neither Dunkin Donuts nor outlets are located along the river.
3. Any items that you don't want to get wet.
4. The absence of dry bags for cellphones or vehicle keys. (Keys may be deposited at the office)
The river is lively and bustling on Saturdays. Family-oriented days are Sunday through Friday. Most days when temps are expected to reach 80 degrees or more, we sell out.
Final words
Small Saco Lake in Crawford Notch serves as the source of the Saco River, which empties into Saco Bay in the Gulf of Maine. It is the third-longest river that flows at least partly through New Hampshire, behind the Connecticut and the Androscoggin, at 136 miles. It has a big and extensive watershed, covering 1,293 square kilometers.
The Saco watershed covers about 425 square miles in New Hampshire, 80% of which is in White Mountain National Forest. The Saco River descends nearly 1,500 feet in elevation over a course of 40 miles from its source at Saco Lake to the Maine border.
Before entering Maine, the Saco River flows through the towns of Carroll, Harts Location, Bartlett, Intervale, and Conway, which contains the well-known tourist attraction of North Conway. Dry River, Sawyer River, Rocky Branch, Ellis River, East Branch Saco, and Swift River are some of its biggest tributaries in this region. The river's potential for wild native trout is greatest here. Follow this guide and you can get the most out of Saco River tubing experience.