When you are about to go ahead with your next vacation, you will have few options to consider. Flying on a plane and renting a car are two of the most prominent options out of them. If you are currently trying to pick an option out of these two, continue to read. We will provide some factors, which will help you to locate the best method of transportation out of them.

Whether you like it or not, petrol and airline rates are both sky-high these days. So, if you're not crossing any oceans, how can you know which is the best choice? Here are a few questions to help you decide whether you'll be flying or driving on your next vacation.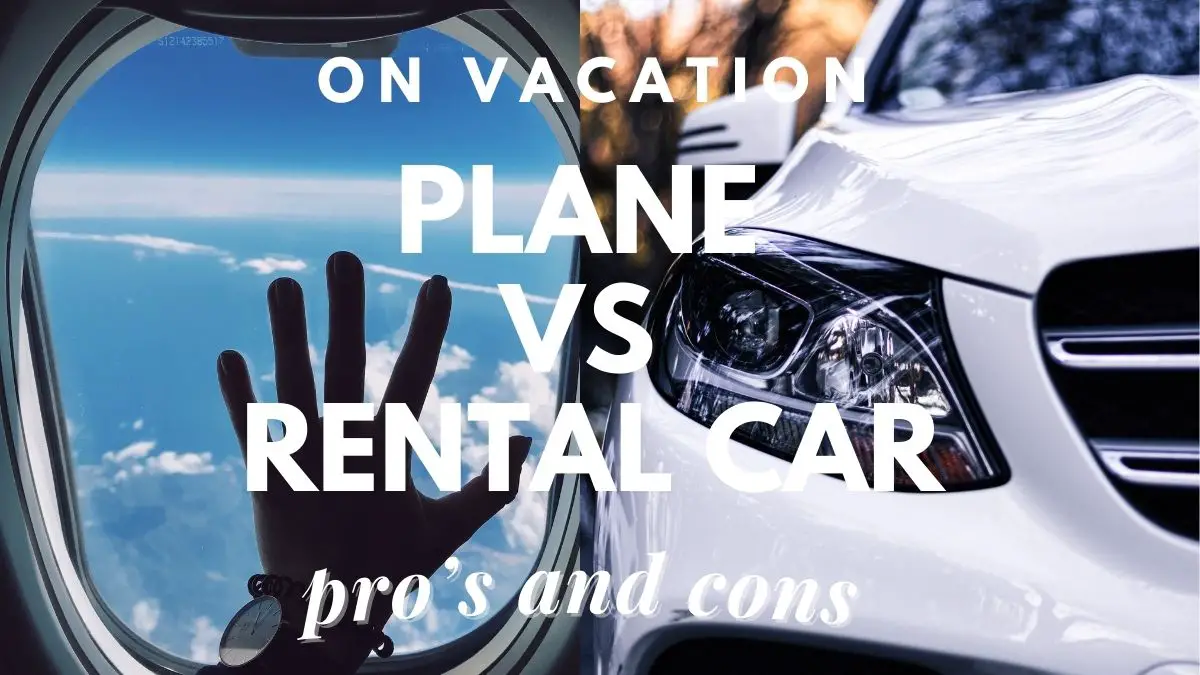 See how much you can spend
A budget is frequently what guides the decision to fly or drive, whether you've been saving your pennies for a long time or are willing to splurge on short notice.
In most cases, the financial element goes one of two ways: 1) You examine your bank account (or credit limit) to determine where you can afford to travel; or 2) You select a location and adjust it to fit inside your financial constraints.
The amount you're prepared to pay has a big impact in selecting whether to fly or drive, regardless of how you arrive at the magic figure.
When crunching statistics, keep in mind that it's not only about the airline ticket vs. the cost of petrol. Remember to factor in the minor expenses that add up.
Read: Plane VS Cruise Ship On Vacation – What Is The Best Option?Learn about which one is better?
The cost of driving a vehicle
What is the cost of petrol, and how much mileage will you get? Depending on where you travel in the United States, the cost of gasoline might vary between $.40 or $.50 per gallon.
Will you hire a car, or do you have a car capable of safely covering the distance? Include the cost of repairs if your vehicle requires them. Even if your car is in good shape, long-distance driving can cause wear and tear that necessitates repairs later. If you don't have a car, include in the cost of renting one, as well as any other costs, such as insurance.
The cost of flying
How are you going to go to the airport? Getting to the airport may cost anything from a few dollars to a few hundred dollars, depending on where you reside.
Will it be a fast journey if you drive (or if a buddy drives you) or will it take half a tank of petrol and a couple of hours to get there and back? Will you have to pay for tolls and/or parking? Are you going to contact a cab or a vehicle service? To calculate the ticket price, add these dollar notes to the total.
How much luggage do you think you'll need? Don't forget about those annoying baggage fees that you'll have to pay each way if you check your luggage.
When I lived in the northeast, flying into and out of Connecticut was generally more expensive than flying into and out of big hubs like JFK or LaGuardia, which were just 80 miles away. Driving into the city — often in New York's rush hour gridlock — combined with the expensive tolls and parking charges seldom made the somewhat cheaper ticket worthwhile.
Read: Is Traveling A Hobby? The Ultimate Guide To An Exciting Way Of Life Learn about the Downsides Of Traveling As A Hobby

Your travel destination
You should also do some research to see where you're going. Will you be traveling cross-country or staying within a one or two-day drive? Travel is more cost efficient if the driving distance is 4 hours or less, according to a popular rule of thumb.
However, depending on where you're going, driving 5, 6, or even 10 hours is sometimes a better value than flying. If your target airport is in a small town or has a restricted number of flights, this is typically the case. You may also discover a flight that is more expensive than driving, but if you're short on time, it's worth it to spend the extra money.
How much time do you have for travel?
After you've determined how far you're traveling, consider how long you'll be gone. Your holiday destination may be thousands of miles away or simply a 4-hour drive away, but if you only have one or two days to spend there, flying is typically the best alternative.
If you have a bit more time but need to go on particular days of the week or on specific dates, driving gives you some control over your plans, but airline timetables, weather delays, and other air-travel factors can throw your plans off track.
Read: Why Are Vacations Important?Learn about vacations that can help you with stress management
What is your plan for travel?
Your trip's aim and itinerary will also assist you decide whether to fly or drive. Will you require a car, or will you take public transit when you arrive? If you're staying in a congested city, parking a car can be more of a burden than a benefit.
If you'll need wheels on the ground, compare the cost of renting a car after you arrive with the entire cost of driving to your destination if you fly. Leave your car at home and enjoy the journey if you'll be with friends or relatives who will gladly drive.
Who is traveling with you?
When you see who is joining you, deciding whether to fly or drive becomes a no-brainer. If it's a tie, the quantity of individuals attending, as well as their ages and health state, are all significant factors to consider. Depending on your individual circumstances, flying, or driving may be ruled out when traveling with children, the elderly, or people with special needs.
If you're traveling alone, flying may be a better option. If you drive, you will be responsible for all of the driving and financial obligations, which may or may not be viable depending on your budget and time restrictions.
When comparing the cost of numerous aircraft tickets, it may make more sense to drive if others accompany you who can assist with driving and divide petrol costs.
Read: Why are vacations so stressful?Learn about assuming that travel will help you solve all your problems
What experiences matter the most?
It's important to remember that travel is about a lot more than just money and logistics. Although flying may be less expensive, driving allows you to go at a leisurely pace and explore in ways that flying does not.
Driving, on the other hand, may make more sense, but you might want to get there quickly so you can spend more time finding new places and making memories once you are there.
Everyone's travel style varies from trip to trip and narrowing down the options comes down to a mix of personal choice and circumstance. Whether you fly or drive, the most essential thing is to arrange a vacation that suits you.
Cross comparison of flying vs driving
Based on the answers to the above-mentioned questions, you will be in a position to decide whether you are going to drive or fly. However, we will also be sharing some of the differences in experiences that you can expect to have. While keeping these in mind, you will be able to make a better overall decision at the end of the day.
Traveling by vehicle used to be less costly but less convenient than flying. The contrast is less clear in a period of high petroleum expenses, heightened airport security, and ticket wars. Consider all of the considerations before selecting which route to choose. Each mode of transportation has advantages and disadvantages, and your final selection will be determined on your priorities.
Read: How to go on vacation when you're brokeLearn about to travel during the off peak season
Price
Consider the entire cost of each journey when deciding whether to go by car or by plane. A budget travel website, for example, may promote airfare without taxes, surcharges, or luggage fees, which can add hundreds of dollars to the final price. If the journey will include overnight hotel breaks and many meals, calculating the gas costs of a vehicle trip may not be correct. Add up all of the costs for each mode of transportation, and then compare the final figures.
Level of comfort
Modern airplanes are not recognized for their comfy seats unless you travel first class. You can, however, take a sleep, eat a snack, and go for a stroll. Although your vehicle seats are likely to be more comfortable than those on a flight, you must remain in the same position for several hours. Switching drivers allows everyone to change positions, but if you want to stroll around or grab something to eat, you must stop moving.
Time taken for travel
Air travel is much faster than driving on long distance journeys, as long as your aircraft is not delayed or canceled. The longer your travel, the more likely you are to have a delayed flight or perhaps get bumped owing to congestion. On shorter journeys, the amount of time spent at airports may be a consideration. To go past security, most airlines recommend arriving at least an hour before your flight. It's possible that claiming checked luggage will add additional 30 minutes to your journey. If the distance is small, spending those extra hours in the vehicle rather than at the airport may cancel out the benefits of flying.
Read: How To Eat Healthy On Vacation [Answered]Learn about the healthy meal plan even before you leave
Potential problems that you may run into
Both road journeys and airplanes are subject to weather delays. However, unlike flying, you may be able to organize your vehicle trip to avoid major weather difficulties. Even if you have to stop, you have complete choice over your accommodation and eating alternatives while traveling by vehicle. If your trip is delayed due to bad weather, you may be liable for your own lodging and meals, but your options are restricted to airport hotels or those that are easily accessible by public transit.
If your car breaks down while on a road trip, you are responsible for getting it fixed and finding lodging while the repairs are being made. The airline is usually liable for your hotel and food if your flight is delayed due to a mechanical issue on the plane.
Making a choice
Each person has unique wants and requirements, which may alter from trip to trip. On a journey with little children, for example, keeping their schedule as intact as feasible may be your major priority. When traveling with adult companions, the most important consideration is likely to be cost. Gather as much data as possible in each area before deciding which aspects are most relevant to you.
Read: [20 tips] Staying With Friends And Family On VacationLearn about involve everyone in the planning
Should you rent a car or drive your own car?
 If you chose driving, you shouldn't move in your own car. Instead, it is better to rent a car. If you have a brand-new car, you might be hesitant to put 5,000 miles on it in a week if you're having problems seeing it in parking lots. This is more of a psychological barrier, but you most likely want your car to appear fresh as long as it smells new.
Your vehicle is unreliable. If you drive a beater – a rust bucket that's well overdue for a scrapyard retirement – you already know the answer. It's barely good enough to get you to the end of the driveway; it's not suited for a road trip.
On the road, a rented car is considerably less likely to cause you problems. If this happens, you may always call the 24-Hour Hotline for assistance. Just keep in mind that the Rental Car Damage Protector does not cover towing or roadside assistance costs. It's designed to cover expenses if a car you're renting is stolen, destroyed in a covered accident, or left unattended.
You'd want to try something different. A road trip might be an ideal opportunity to try out a new car. After all, it's a far more thorough experience than making a quick loop around the showroom with the salesperson seated awkwardly behind the wheel.
You'll need a vehicle that's larger, stronger, and safer. If your road trip will take you across hilly terrain and you drive a rear-wheel-drive conversion van, you might wish to hire a car. Similarly, if there are six of you going camping and you and your subcompact car got the short end of the stick, start looking for a rental car.