Pinnacles National Park started to emerge some 23 million years ago when volcanoes erupted over central California. Pinnacles is roughly 200 miles north of the San Andreas Fault, which divided through time and pushed it north. The remarkable rock formations were generated by tectonic movement, wind and water erosion, and the formation of peaks above 3,000 feet. Tall spires, enormous pinnacles, tight gorges, talus caves, shear fractures, and undulating hills are among the characteristics that have survived.

The endangered California Condor, prairie falcons, bats, mountain lions, wild pigs, and other species may be found at California's newest national park, which was signed and protected in 2013. This one-of-a-kind desert setting in Central California is a must-see. The park's paths and routes, as well as the park's secluded position, make Pinnacles an excellent destination for stargazing for both hikers and climbers. This park has two separate entrances, one on the east and one on the west. Make careful to prepare ahead of time where you want to go so you don't wind up in the wrong place!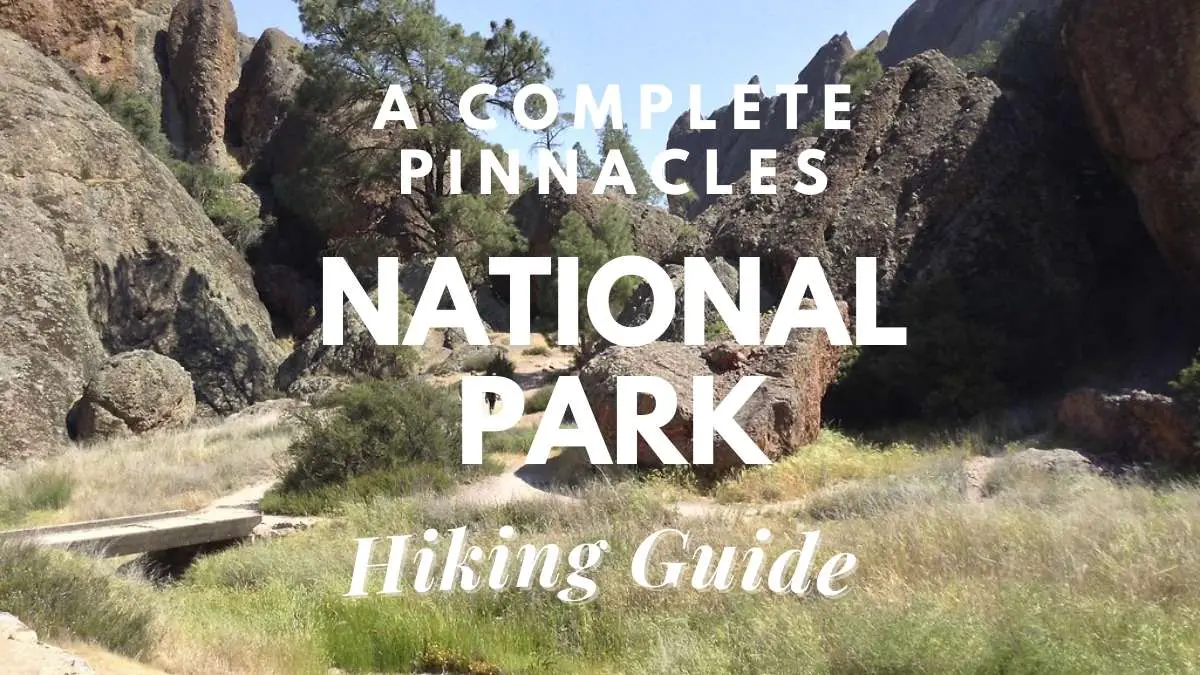 What is the location of Pinnacles National Park?
Pinnacles National Park is a protected mountainous region east of the Salinas Valley in Central California. It is located around 80 miles south-east of San Jose and 5 miles east of Soledad. Are you planning a trip to each of California's national parks? Don't miss out on the 3-hour trip east to Kings Canyon National Park and Sequoia National Park, or the 4 hour drive north-east to California's famed Yosemite National Park.
Read: Is Traveling A Hobby? The Ultimate Guide To An Exciting Way Of Life Learn about the Downsides Of Traveling As A Hobby

Facts about Pinnacles National Park
The California Condor, North America's biggest land bird, soars high over the Pinnacles. They have wingspans of up to 9.5 feet and may weigh up to 20 pounds. Pinnacles became a management and release site for the California Condor Recovery Program in 2003. With roughly 86 of these almost extinct condors controlled and preserved in Pinnacles, the nearly extinct condor has witnessed a population growth.
The Pinnacles area is thought to have been inhabited by Native Americans for about 10,000 years. Stone artefacts from the Ohlone people's Chalon and Mutsun tribes have been discovered. Pinnacles is home to approximately 400 different kinds of bees, as well as 14 of California's 23 bat species.
Read: [10 Best] Hikes In Pinnacles National ParkLearn about the Best moderate hikes at the park
Weather in Pinnacles National Park
Summers in Pinnacles are hot and dry, while winters are warm with moderate precipitation because to the Mediterranean environment. As a result, the ideal time to visit is during the milder winter months. From November through April, you will get the most pleasant weather. Temperatures increase to roughly 80 degrees between May and October, making it a pleasant time to visit. The months of June through September are quite hot, with temperatures exceeding 100 degrees. Water availability is restricted and trekking throughout the day is not recommended.
Read: What Is The Best Time To Visit Pinnacles National Park?
Hours of Operation at Pinnacles National Park
Pinnacles National Park is open every day from 7:30 a.m. to 8:00 p.m. for day usage. For the most up-to-date hours and accessibility to Pinnacles, check out the current circumstances. Arrive early because of the city's closeness to two large cities. Parking is scarce and rapidly fills up, particularly on weekends.
Pinnacles National Park Entrance Fee Pinnacles National Park is located in the state of California in the United States.
Pinnacles National Park has entrance fees of $30 per car, $25 per motorbike, and $15 for walk-ins or bicycles. Passes are good for 7 days from the date of purchase. An annual Pinnacles National Park pass costs $55, whereas an "America the Beautiful" National Parks Pass costs $80 per year and grants entrance to all National Parks.
Read: 14 Best Hikes In Denali National Park To Try Out 2023Learn about The Gorge Creek Trail
Pinnacles National Park's Best Attractions
Here are the key activities to do at Pinnacles National Park as you arrange your schedule. You can go through the list of activities and plan your visit accordingly.
Read: Mt. Moosilauke Winter Hike (What to expect)Learn about the Mount Jim Ridge trail
Pay a visit to the East/West Visitor Center.
It's always worth stopping at the visitor center, no matter which side of the park you arrive from. Rangers can provide you with the most up-to-date information on trial and cave conditions. It's time to enter the park and begin exploring after you've learned all there is to know about it.
You may acquire appropriate mementoes and a stamp for your Passport to Your National Parks at the East Entrance. A modest store and tourist resources are also available at the West Entrance Contact Station.
Read: [9 Best] Hikes In Everglades National ParkLearn about Pa-hay-okee Overlook
Advanced Hikes in Pinnacles National Park
Pinnacles National Park is called after the towering peaks of volcanic rock that rose from the earth's crust and travelled to this portion of modern-day California due to tectonic processes. These High Peaks are among California's national parks – and fact all of California's mountains and rock formations – for their beauty and uniqueness.
The High Peaks region of Pinnacles National Park involves many kilometers of trekking due to its stunning and lofty nature. You may approach the region by separate paths on both sides of the park, but regardless of whatever route you choose, expect significant elevation changes and at least a half-day to complete the climb.
Additionally, as you reach the High Peaks region, the route narrows to single-file, with fences and – at times – carved-in foot footprints. This tactical segment isn't very frightening, but it's worth anticipating since it may generate trail backups and requires careful foot placement when trekking. But don't let that put you off: after finding the region on our initial trip, I scheduled a second journey to Pinnacles.
Read: 12 Best Washington Spring Hikes To Try Out In 2023Learn about Hoh Rain Forest Loop trail
Take a trip to Bear Gulch Cave
The Talus Caves in Pinnacles National Park, as previously noted, are one of the park's key attractions – and part of the trekking experience. Talus caves vary from solutional and erosion caves in that they are produced by stones and boulders that fall and accumulate to form caverns.
Bear Gulch Cave is located on the park's east side and may be reached through the Bear Gulch day-use area (as well as a short stroll on Moses Spring Trail; see below for further information). Bear Gulch Cave is home to a colony of Townsend's Big Eared Bats, in addition to the spectacular rock formations.
To preserve the colony, the park limits entry to the caverns at specific times of the year, so check the NPS Pinnacles Conditions website to see whether the cave is accessible or closed.
Visit Balconies Cave
Not to be outdone, the park's west side also boasts a cave system to explore. Balconies Cave gets its name from a nearby rock feature (that looks like balconies carved into the side of the mountain).
Balconies Cave also has bats, although they aren't a colony, hence the cave isn't usually closed to preserve them. It has some fantastic trekking, including a major height drop in the cave's second half. Bring a flashlight with you since you'll need it to traverse the cave's dark maze of rocks and stones.
Keep an Eye Out for California Condors
Although it may seem weird, birdwatching is one of the most popular activities in Pinnacles National Park, and you should make time for it on your stay!
The major location for the California Condor Restoration Program is Pinnacles National Park. There were less than two dozen California condors in the world when the program started in 1987, and Pinnacles became a release location in 2003. There are about 500 condors in the world now, with over 300 living in the wild, thanks to a vast restoration effort that has so far been successful.
Pinnacles National Park is home to California Condors. It's one of the greatest venues to do it, in fact. They are most often seen in the park's High Peaks portion — or flying above it on thermals. Keep a look out for the red, featherless heads and a characteristic band of white feathers beneath the wing.
Stargazing
Finally, Pinnacles National Park, like many others in the western United States, is a fantastic place to go stargazing. If you're staying late in the park (or at the campsite), be sure you schedule time to gaze at the sky. The natural geology of Pinnacles offers excellent shielding from light pollution from adjacent settlements, particularly on the East side. This is a fantastic way to round off the day.
Read: [9 Best] Kid Friendly Hikes At Mount HoodLearn about Laurance Lake trail
Pinnacles National Park's Best Hiking Trails
As I previously said, trekking to High Peaks is one of the greatest things to do in Pinnacles National Park, but not everyone is up for the challenge. I'll break down 7 outstanding hiking paths in Pinnacles in this part (including two that take you to High Peaks).
Trail conditions for these walks vary regularly, so keep that in mind. When planning your journey, check the NPS website for any advisories.
Juniper Canyon Loop
This is my favorite walk in Pinnacles National Park, and the one I suggest if you want to really appreciate High Peaks. Juniper Canyon Loop is a 4.3-mile loop that connects Juniper Canyon Trail, High Peaks Trail, and Tunnel Trail, ascending into the center of High Peaks and looping around the formations before descending to the Chaparral day-use area. This is a challenging trek, but not quite as difficult as I had anticipated based on previous experiences.
This path has multiple intersections that link to other trails, enabling you to visit the park's west and east sides.
Read: 10 Best Dog-friendly Hikes In Acadia National ParkLearn about Wonderland Trail – 1.6 mile distance
Condor Gulch Loop
This is the ideal choice if you just want to see the East side of the park during your stay and desire one lengthy, tough climb. You'll ascend to Condor Gulch Overlook on this 5.3-mile difficult loop, then continue up to the Steep and Narrow section of the path in the High Peaks part of the park. This is a challenging path, but it is well worth the effort.
If you like hiking and wish to go on a few short treks, these are the ones I recommend. Depending on how early you get started, I believe you could do 2-3 of them in a single day.
Condor Gulch Overlook
From Bear Gulch Day Use Area, the Condor Gulch Trail is a moderate trek. One mile each way on the two-mile out-and-back walk to the Condor Gulch Overlook. While there is significant elevation gain on this climb, it is well worth the effort to get a sense of being close to the High Peaks region and the potential to see Condors flying above on thermals.
Read: [9 Best] Stroller Friendly Hikes Sedona In (2023))Learn about Devil's Bridge Trail
Balconies Cliffs
If the cave is open during your stay, the Balconies area of Pinnacles National Park is highly worth seeing. This 2.4-mile circular trip, which offers great vistas and the opportunity to explore a talus cave, is definitely more on the intermediate side (based on my hiking experience in the park).
It's worth mentioning that you may get to this path from two different directions: Old Pinnacles Trail (which begins on the East side) and High Peaks Trail (which starts on the West side) (using part of Old Pinnacles Trail to create an 8.4-mile loop).
Day Hikes from Moses Spring to Bear Gulch Cave
Read: 10 Kid Friendly Hikes In The Red River Gorge ReviewedLearn about Tom McCall Preserve trail
From Bear Gulch Day Use Area, Moses Spring is a short/moderate trek. After a little more than 0.5 mile, it connects to Bear Gulch Cave. If you go the whole length of the cave, the journey will be around 2.4 miles round trip.
Bear Gulch Reservoir to Moses Spring
Moses Spring leads to Bear Gulch Reservoir and connects to the Rim Trail. This adds to the effort, but the view of the reservoir is definitely worth it. The Moses Spring/Rim Trail loop to the Reservoir is roughly two miles long. This path may also be accessed from the west side by descending from the High Peaks Trail.
Sycamore Trail
From the Visitor Center to Bear Gulch Day Use Area, the Sycamore Trail is an easy, mainly level trek. It's not as spectacular as other treks, but it's a good way to get a feel for the park without having to climb a lot of stairs. This trek is just 2.3 miles one way, so plan on doing the whole almost five-mile climb or taking the shuttle back to the Visitor Center.
Read: 8 Best Hikes In Saguaro National Park RatedLearn about Valley View Overlook Trail
Final words
Now you know how to spend your time at the Pinnacles National Park. Keep these tips in mind and go ahead to get the most enjoyable experiences offered by it.