Between Destin and the Beaches of South Walton, in the center of the Choctawhatchee Bay, sits the upscale golf course town of Emerald Bay. The stunning Emerald Bay Golf Club is a prime example of Destin, Florida's longstanding reputation as a top vacation spot for golfers. But before you plan to visit the Emerald Bay golf club, it is better to be aware of what this golf club is all about. Based on that, you will be able to get the best possible experience while you roam around in here.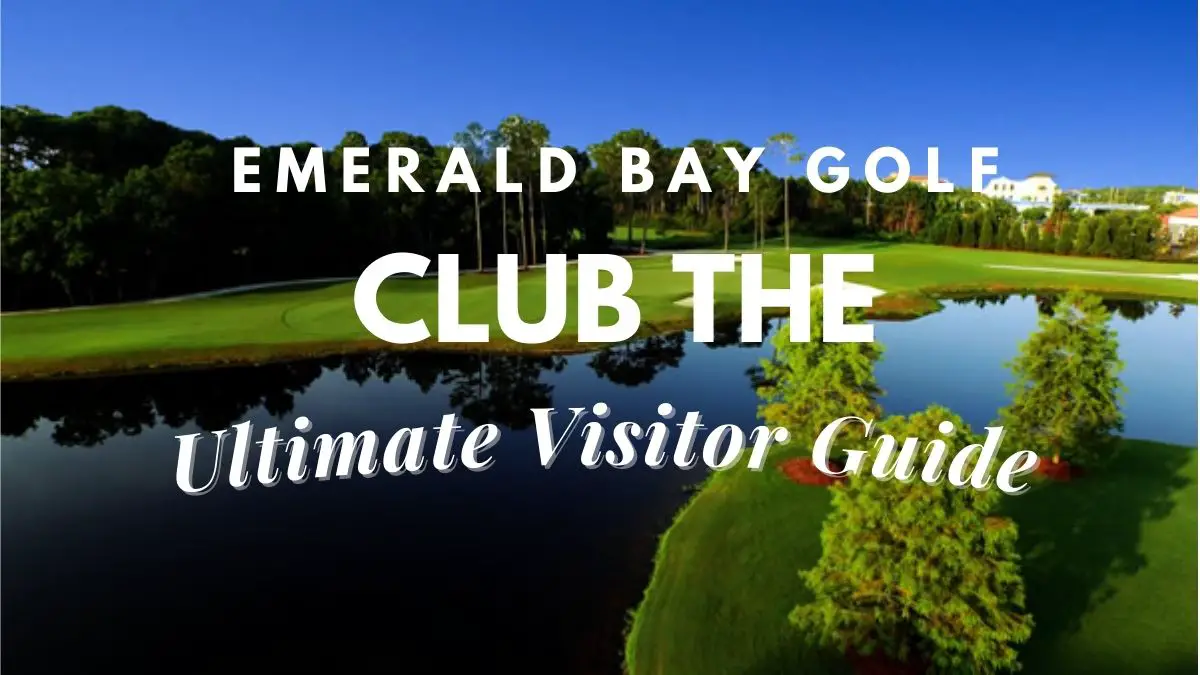 What is the Emerald Bay golf club?
Emerald Bay not only provides top-notch golfing activities, but also a lovely residential neighborhood that is near to beaches, eating, shopping, amusement, and entertainment options. Residents of Emerald Bay have access to two Rubico tennis courts as well as the neighborhood pool.
The award-winning Emerald Bay Golf Club, a Destin golf course that all aficionados must play, is located just two miles from Seascape. The greatest golf in Destin, Florida, can be found on this 18-hole championship course built by renowned architect Bob Cupp, a former chief designer for Jack Nicklaus. Emerald Bay is a private, premium neighborhood with bunker-lined fairways, stands of towering pines, skillfully positioned greens, and a layout that embraces cool bay breezes. It is nestled along the coast of the stunning Choctawhatchee Bay. There isn't a "signature hole," as Cupp puts it, "but it is a hallmark golf course."
Read: Is Traveling A Hobby? The Ultimate Guide To An Exciting Way Of Life Learn about the Downsides Of Traveling As A Hobby

What can you experience at the Emerald Bay golf club?
The Emerald Bay golf course had an extensive restoration in 2014. A full-service golf pro shop and The Grille, which provides a delectable cuisine, a full bar, indoor dining, and an outdoor covered veranda with a fireplace overlooking the 18th green, are also included in the freshly rebuilt Clubhouse. For years, residents and transient visitors to Destin, Florida, have enjoyed the best golfing at Emerald Bay Golf Club. Discover Emerald Bay's Golf Course – You deserve it.
Bob Cupp, a renowned golf course designer, created the course at Emerald Bay, and this year he is back there to supervise a significant overhaul. While winding through the luxury gated neighborhood of Emerald Bay, the course has several water features and offers vistas of the bay. Emerald Bay is now at the absolute top of the golfing possibilities in the Destin region thanks to a recent major makeover of the course.
Whether your golf event is for business, pleasure, charity, or any other reason, the newly remodeled Emerald Bay Golf Club is the ideal setting. Our experienced team guarantees that your event will be professionally conducted and well-organized since they have hosted hundreds of them.
What tournaments and event services are available at Emerald Bay golf club?
At Emerald Bay, tournament and event services may include:
On-cart GPS Green Fees with Unlimited Cart Use of all practice facilities and access to the practice range before the event
Golf cart staging
Customized Scorecards and Cart Signs
Markers for Special On-Course Events (longest drive, closest to the pin, etc.)
Using a professional scoreboard to score events and competitions
Various Menu Choices are Available
service for beverage carts
Hire clubs Products Packages That Are Available
Golf Instruction, Group Clinics, and Playing Lessons are among the several group services offered.
Additional Support Required to Set Up Your Event Motives Emerald Bay Is the Ideal Location for Your Upcoming Event!
Recent developments at the Emerald Bay golf club
Emerald Bay recently finished a multi-million dollar restoration that included new and larger greens and tee boxes, bunkers, cart pathways, water features, and bridges, as well as improved and extra practice facilities, an updated bar and restaurant menu, and an indoor/outdoor sound system.
Excellent layout – designed by renowned architect Bob Cupp, emerald bay has a unique theme, including landforms that are evocative of older courses, are nestled in the pines, and include the well-known water dangers seen in coastal areas. The visual aspect is merely that, however. The subtle uniformity of many golf strokes for players of all skill levels is its genuine style.
Customer service – emerald bay's goal is to service our clients' requirements in a professional, timely, and polite manner.
Affordable, personalized golf packages – we provide customized packages and affordable rates to suit your excursion, tournament, or event requirements.
The emerald bay guesthouse, which offers on-site lodging options, is the ideal place for parties looking for the comforts Destin has to offer, the seclusion of an eight-bedroom mansion, and the conveniences of a top-notch Destin golf course.
Practice facilities – to accommodate all facets of your game, improved and extra practice facilities have recently been constructed.
Professional team: to make sure your event is successful and stress-free, our knowledgeable, professionally trained golf staff will plan and personalize it.
Why should you plan to come to Emerald Bay golf club?
Emerald Bay golf club is one of the most prominent golf clubs that you can find in the region. One of the main reasons on why people visit this golf club is due to the stunning views offered by it. In other words, the Emerald Bay golf club is located in one of the most picturesque locations that you can find in Destin, Florida. As a golfer, you don't need to think twice before you come up with the decision to visit Emerald Bay golf club and get the finest golf playing experience offered in here.
You can find an outstanding golf course here in Emerald Bay golf club as well. It is ideal for both experienced as well as beginners to the game of golf. Regardless of your experience and your skill level, you can end up with securing a perfect golf playing experience here at Emerald Bay golf club.
When you visit Emerald Bay golf club, you will not just be able to enjoy golf. It is also possible for you to experience many other activities around. For example, you can discover pristine beaches. They will provide a relaxing atmosphere to enjoy your time. You will also be able to shop till you drop since there is a large number of shopping malls located around the region. Any food lover will be able to try a variety of dishes that are available in here. Similarly, there are tons of entertainment and amusement options available in here as well. It is up to you to go ahead and get the best possible experiences offered on your way. There are two different tennis courts in the neighborhood, and you may even play a game of tennis in there.
It is also important to leave a note on the golf pro shop that is located at Emerald Bay golf club. Alongside, you can find a restaurant called "The Grille". It offers some delicious cuisine to you along with a full bar. You can have a perfect indoor or outdoor dining experience in here.
top of the golfing possibilities in the Destin region thanks to a recent major makeover of the course.
The renowned course architect Bob Cupp, who created the original Emerald Bay course and is one of the best in the nation, has recently finished a significant restoration of the championship golf course at the Emerald Bay Golf Club, one of the best in northwest Florida. The Emerald Bay golf course has been upgraded by Mr. Cupp in collaboration with Southeastern Golf, a renowned golf course building business.
For more than 40 years, Bob Cupp has been creating golf courses. Before founding his own business in 1984, he spent more than 15 years as Jack Nicklaus' senior designer. Since then, more than 50 national and international competitions, including seven major championships, have taken place on his courses. Bob was honored as the first-ever Golf Architect of the Year by Golf World in 1992.
His work has been chosen by Golf Digest and Golf Magazine as the finest in the country no less than four times and as runner-up six times. Numerous courses taught by Bob are included among the Top 100 courses. One of the best golf course building businesses in the nation, Southeastern Golf has completed projects at the Medina Country Club, Atlanta Athletic Club, and Sea Island Ocean Forest Course. Southeastern Golf's professionalism and quality of work on the Emerald Bay refurbishment have really pleased us.
The Emerald Bay course restoration includes upgraded and extra practice facilities in addition to new and larger greens and tee boxes, bunkers, cart pathways, many new water features, and bridges. With Teagle Ultra Dwarf Bermudagrass, which offers a highly thick surface for better putting speed and consistency, the greens are noticeably bigger.
Other prominent golf clubs in the region
The Regatta Bay Golf Club
The Regatta Bay Golf Club, home to some of the world's greatest beaches, is situated in the picturesque city of Destin, Florida, on the Emerald Coast. We are a public course that is among the finest and most highly rated in northwest Florida. In Destin, our Golf Academy offers the most simple-to-understand golf instruction thanks to PGA Professionals and Trackman Technology. Premium Callaway clubs are available for rent!
Enjoy our colorful course at the Regatta Bay Golf & Yacht Club as well as the stunning emerald-green seas of the Gulf of Mexico. Our golf course is appropriate for golfers of all skill levels and offers the ultimate risk vs. reward golf experience. Before setting off for a memorable round, take our virtual tour and examine the course hole-by-hole to choose your strategy.
Kelly Plantation Golf Club
One of the most aesthetically pleasing and ecologically responsible golf courses in northwest Florida is Kelly Plantation Golf Club, which is situated near Destin, Florida. This semi-private golf course, which is located along Choctawhatchee Bay, has 18 interesting holes and was once a turpentine plantation owned by Mattie and Coleman Kelly. Incorporating miles of coastline, winding bayous, and towering trees, architects Fred Couples and Gene Bates created a stunning championship golf course from the natural beauty of the surrounding area.
The Kelly Plantation Golf Course has expansive, contoured greens of over 7,000 yards, spacious, well-kept fairways, a variety of well-placed hazards, and gorgeous vistas of Choctawhatchee Bay.
Kelly Plantation Golf Course, rated 4 12 Stars by Golf Digest, also has a great scenic appeal unmatched by any other golfing experience. This golfing experience is guaranteed to impress, from the breathtaking, panoramic view of Choctawhatchee Bay from Hole No. 4 to the nearby native Magnolias and Palmettos. Along with 11 lakes, there are miles of coastline to be seen, the biggest of which is 7.5 acres and surrounds holes 9 and 18.
The amenities of Kelly Plantation Golf Club go well beyond simply a fantastic round of golf. Kelly Plantation offers the perfect environment for a variety of events, whether you're seeking to reserve a special event or want to organize a charming wedding. Kelly Plantation has a dining room that can hold up to 50 people, a terrace that is great for parties and beverages, and, best of all, the ability to host the ultimate outdoor wedding.
With so much to offer, it's understandable why Golf Magazine named this Destin golf course "One of the Emerald Coast's finest kept and most respected layouts."
Indian Bayou Golf Club is the right setting, whether you're a local seeking for the appropriate course to swing through the day, enjoying the leisure activities available in the Destin region, or organizing a wedding. Indian Bayou provides breathtaking scenery with holes that will test and excite you on three different golf courses.
Final words
Now you have a clear idea on what it is like to visit the Emerald Bay golf club. While keeping these facts in mind, make sure that you come and enjoy playing golf at the Emerald Bay golf club. It will provide a unique and a fascinating experience, which you will surely fall in love with.