Sequoia National Park is one of the most popular tourist attractions that you can discover in California. You should think about visiting this national park for at least one time in your life. This Park is packed with massive trees that you won't find anywhere else in the world, and there are so many incredible things to do here that you'll want to come back again and again.

If you just have one day at Sequoia National Park, you may make the most of it by visiting some of the park's most beautiful vistas. This day trip itinerary for Sequoia National Park will help you locate the places you won't want to miss while you're here!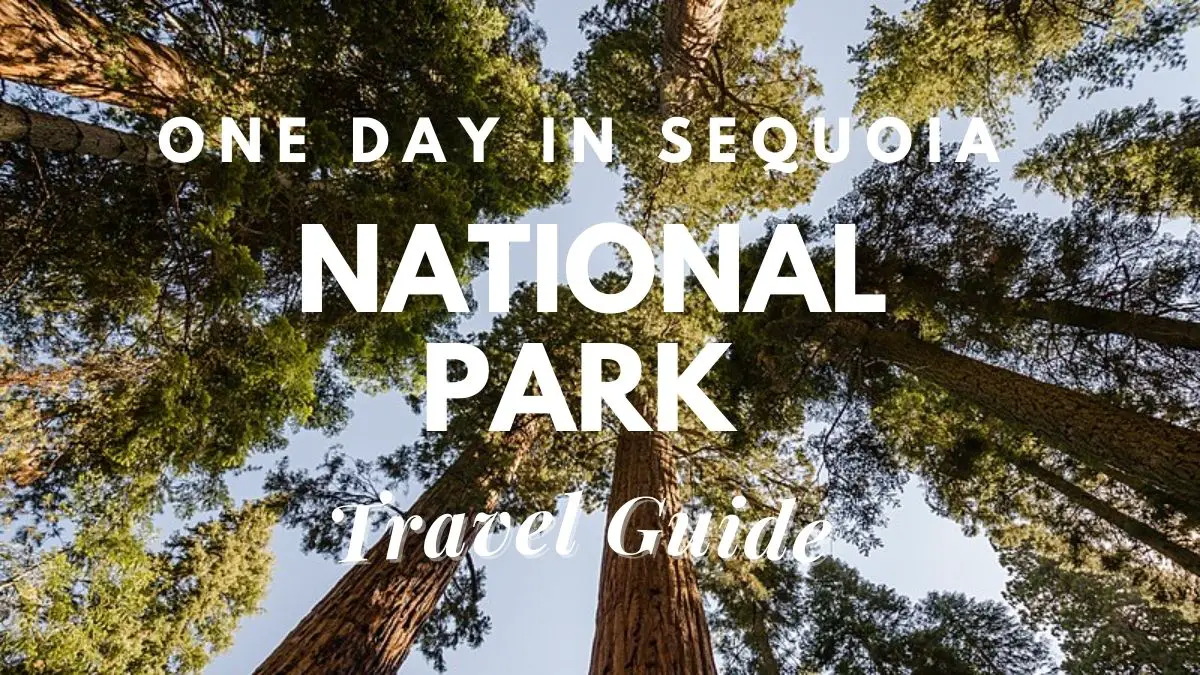 What is Sequoia National Park?
Sequoia National Park is one of California's nine magnificent national parks. Mountains, caves, and, of course, some of the world's tallest trees—known as Giant Sequoias—abound in this park.
Sequoia National Park was the first national park to be established to protect a living organism.
We're thankful that this indicates there are still live huge sequoias today! Loggers were chopping down tons of big sequoias for their timber before Sequoia was founded.
However, owing to President Benjamin Harrison's creation of Sequoia National Park in September 1890, these trees are still alive and well today, and you may see them for yourself!
A handful of fascinating facts about Sequoias: the tallest sequoias may reach the height of a 26-story structure. In fact, Sequoia National Park has the world's biggest trees in terms of volume!
Just wait till you meet them in person if that isn't enough to wow you.
When you visit Sequoia National Park, you'll see that it's close to Kings Canyon National Park, and the two parks are linked in the sense that you just have to pay one admission charge to enter both.
Furthermore, the highways that run through Kings Canyon and Sequoia National Parks are linked, making it easy to see both parks while you're here.
However, if you only have one day at Sequoia National Park, I recommend making the most of it and returning another day to see Kings Canyon, so you aren't overwhelmed and don't spend your time traveling to areas instead of getting out and exploring.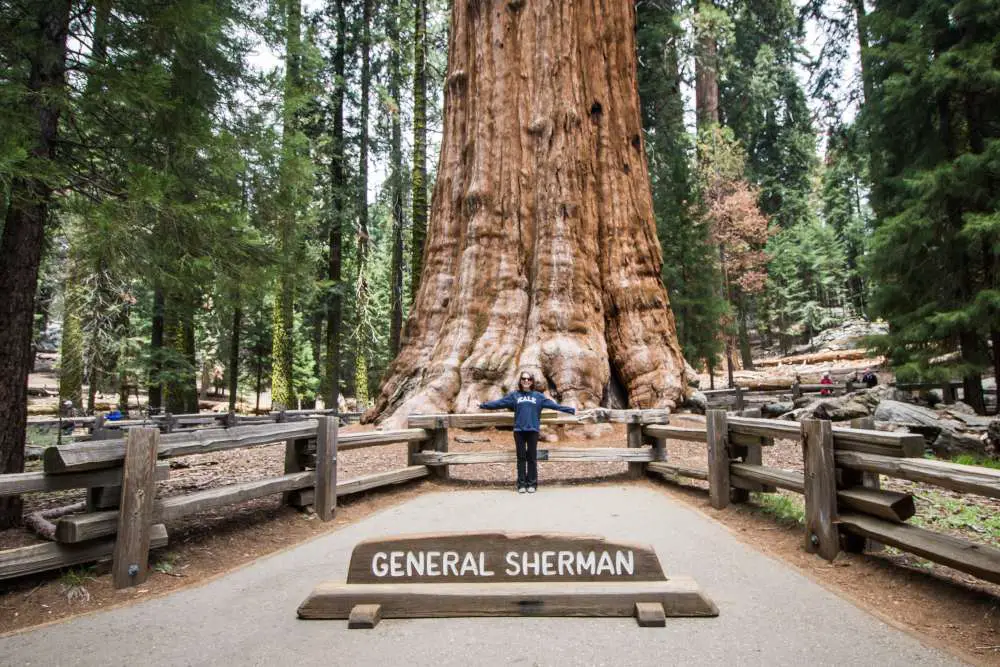 Read: Is Traveling A Hobby? The Ultimate Guide To An Exciting Way Of Life Learn about the Downsides Of Traveling As A Hobby

What to See on a Sequoia National Park Day Trip
The ideal one-day schedule for a visit to Sequoia National Park is shown below.
Even if you just have a short amount of time, there are lots of wonderful locations to see inside this lovely park!
Visit the Giant Forest Museum to see Sequoia Seedlings.
The Giant Forest Museum is a great place to start if you just have one day to see Sequoia National Park.
This is especially true if you want to understand more about Sequoia National Park's many forest parts, since there's some pretty interesting information on the various groves around the park and where you're likely to see the largest trees.
This museum is also one of my favorite places to visit because it has some young sequoia seedlings.
It's weird and intriguing to watch these little seedlings and imagine that they'll grow to reach the size of the massive trees that dot the park!
This is also a nice stop since you may ask a ranger at the information desk any questions you have about the park or their favorite spots in the park.
The rangers are quite kind and helpful, and they can provide you with information on any upcoming special events or ranger presentations.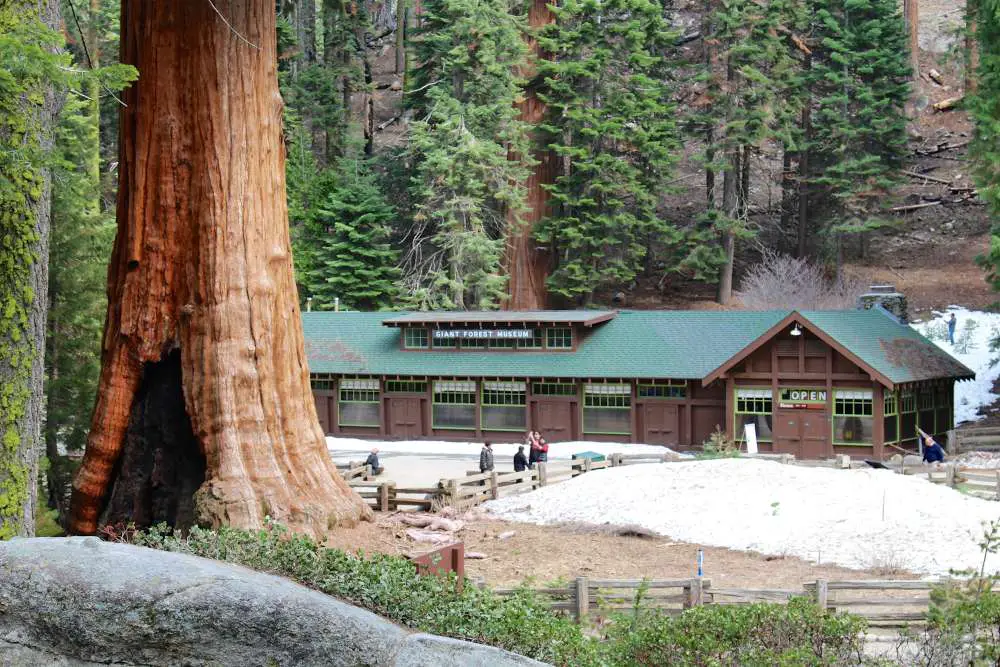 Read: Great Basin National Park Stargazing (What To Expect) Learn about Where in Great Basin National Park Can You Go Stargazing?
Take a stroll along the Big Trees Trail Boardwalk
After leaving the Giant Forest Museum, proceed to the Big Trees Trail to start your exploring portion of your one-day vacation to Sequoia National Park off properly.
Because there is no parking at the trailhead unless you have a handicapped parking permit, you may just park your car at the museum and walk to the adjacent trail.
This is one of the park's most popular paths, and you won't want to miss it! It's a 1.2-mile circle path with a wheelchair-accessible boardwalk that takes you through gorgeous woodland sections.
And, as the trail's name implies, this is where you'll find some very massive trees.
While this is a short and simple climb, walking here will give you a better understanding of the size of these giants.
You can't appreciate how enormous these trees are unless you stand next to one! So don't forget to include it in your Sequoia National Park Day trip plan.
Read: How To Get To Biscayne National ParkLearn about the Drive in the Maritime Heritage Trail
Take a look at the General Sherman Tree.
General Sherman is a tall sequoia tree that is the world's largest tree by volume.
The General Sherman tree is one of the things you really must visit on your Sequoia National Park one-day schedule.
Therefore, add it to your Sequoia National Park agenda right now to ensure you don't miss it!
Why is this the most popular thing to do in the park? Because General Sherman is the world's biggest tree! That's right, you read that correctly.
You will get the opportunity to see the world's biggest tree. That's too good to pass up!
Don't be fooled; this isn't the world's tallest tree (that honor belongs to a coast redwood that also grows in California).
It is, nevertheless, the biggest, with a volume higher than any other tree on the planet. General Sherman is at least 275 feet tall with a 36-foot circumference at the base if you're curious in its exact dimensions.
Just wait until you see it in person if you think this is amazing. When you stand next to it and see how massive it is, you'll be in amazement.
You'll need to park nearby and walk a 0.8 mile out and back route to get to General Sherman.
Because this is one of Sequoia's and the world's most renowned trees, you'll likely see a lot of other people on the path with you, and you could even have to wait in line to snap a photo with General Sherman. But it'll be well worth it!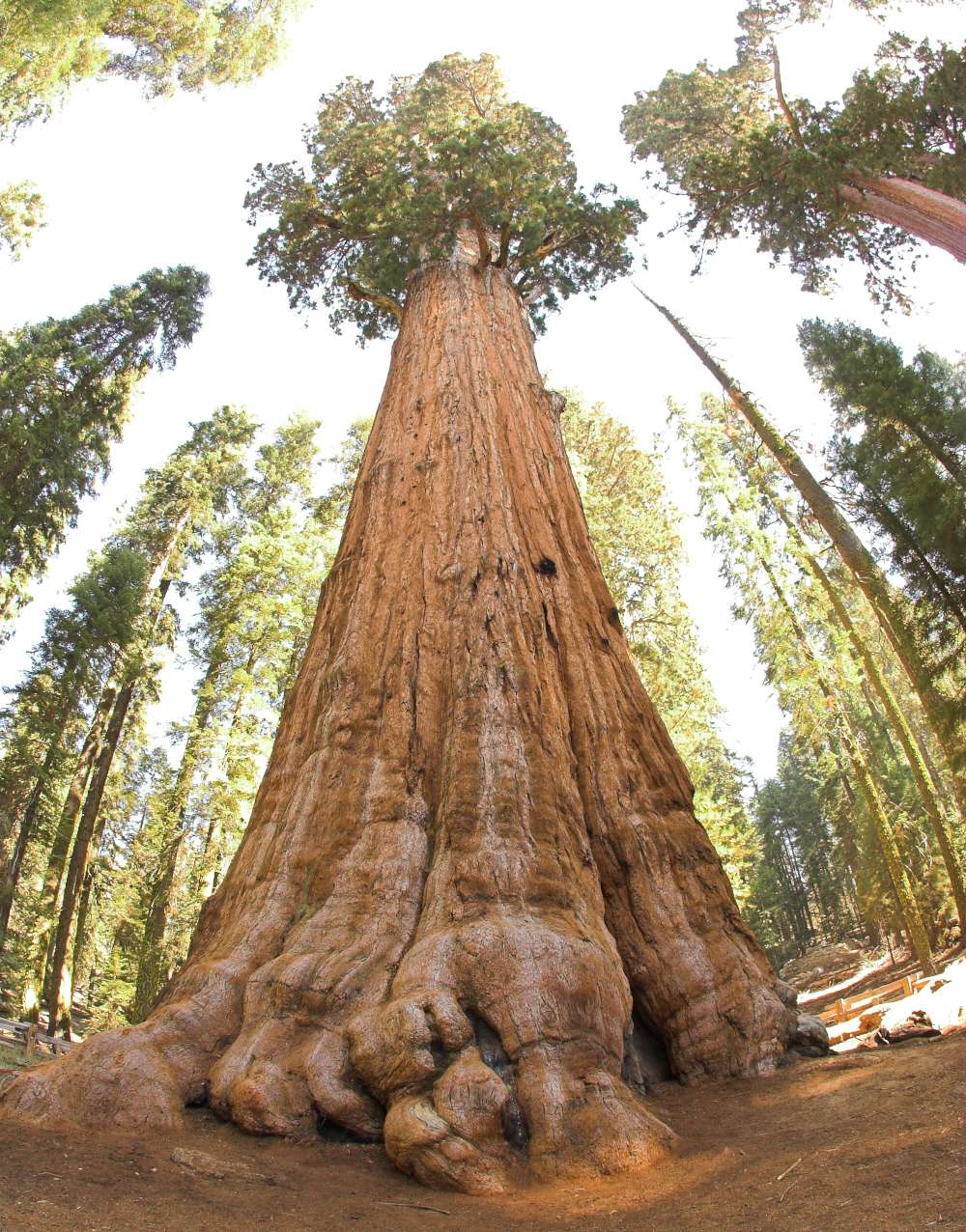 Read: How Much Does It Cost To Get Into Cuyahoga Valley National Park?Learn about the top activities to do and places to visit without further ado!
Look at the Auto Log.
The Auto Log, a famous site within the park, is another intriguing visit on your Sequoia National Park 1 day itinerary.
The Park superintendent allowed the building of a highway to allow horse-drawn carriages and vehicles to travel across the fallen trunk not long after the enormous sequoia collapsed in 1917.
On top of the Auto Log, there is a black and white photograph of antique vehicles and people.
The Auto Log immediately became a popular attraction due to the novelty of driving on a fallen log, and it has remained so ever since.
The wood, however, has rotted over time and can no longer withstand the weight of automobiles.
However, if you come to view the location, you may still walk across the log for fun!
Read: Best Time To Visit North Cascades National ParkLearn about the Ross Lake that is a great place to go fishing, boating, or just relax
Ascend Moro Rock
While ascending Moro Rock in Sequoia National Park, you can see the mountains with the sun beaming in the sky.
While the park's massive trees are unquestionably the stars of the show, your one day in Sequoia National Park wouldn't be complete without a hike up Moro Rock!
Moro Rock is a fantastic trek that leads to some spectacular views of the park. While the trek is brief, the route leads you straight up the rock face through a succession of stairs (some with railings and others without).
This trek will appeal to both adults and children but keep a watch on your youngsters if you bring them along…especially while ascending the sections without rails!
This trek is enjoyable at any time of day, but if you have the opportunity to miss it and return later in the day, hiking it after sunset is ideal.
There's no better spot to see the sky change magnificent hues of orange and pink than here, with 360° panoramic views!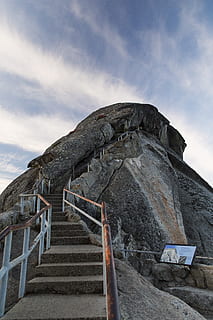 Read: 21 Fun Facts About Capitol Reef National Park You Should KnowLearn about Capitol Reef National Park has a variety of lodging options
Drive Through a Tree at the Tunnel Log In Sequoia National Park
If you like the Auto Log but want to see more sequoias and cars, the Tunnel Log should be included to your Sequoia National Park one-day travel schedule!
A fallen sequoia tree with a hole through which you can drive your automobile is called a tunnel log.
This is a fast stop because you don't have to get out of your car to view it, but it's still a fun sight to behold and it's on your way to your next destination (Crescent Meadow), so you may as well see it.
Prepare to queue with other cars during busy periods to have your turn to drive past this remarkable fallen tree, so plan accordingly.
If you're lucky and go during a less crowded time, you could just have the place to yourself!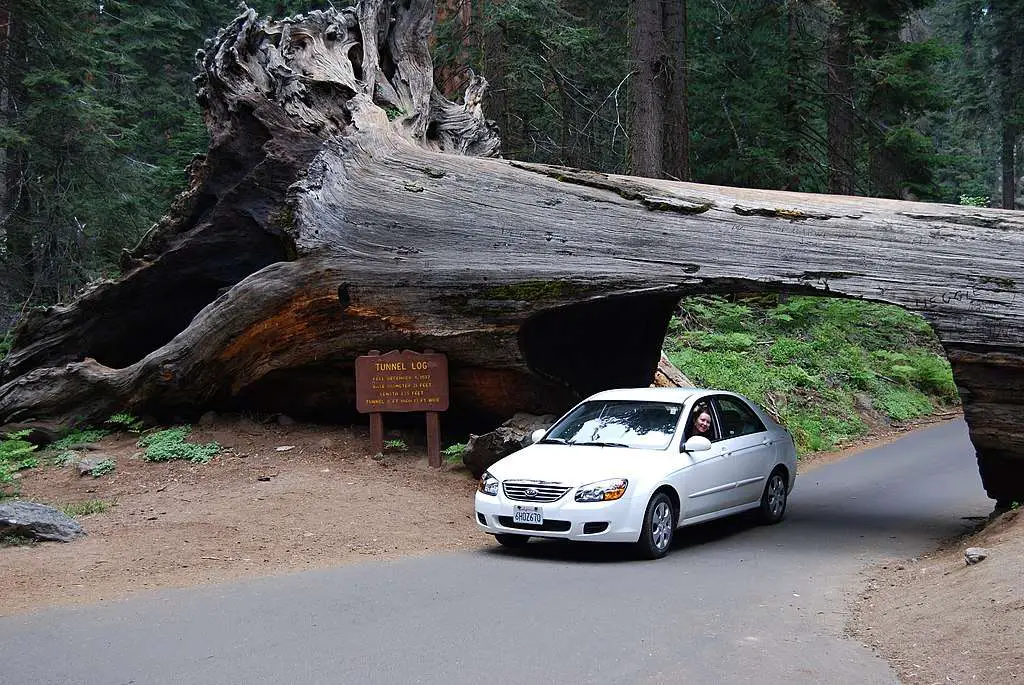 Read: Saguaro National Park East VS West: Which Side Is Better?On which side of Saguaro do you find the most cactus?
Take a walk along the Crescent Meadow Trail.
Tharp's Log is a cabin built from the trunk of a sequoia tree and a traditional man-made log home. Crescent Meadow should be on your list of things to visit in Sequoia National Park in a day if you just have one day.
The Crescent Meadow region is a great spot to go hiking, and the Crescent Meadow Loop is a great short day trek.
This trek is only 1.8 miles long and has very little elevation gain, but it rewards you with wonderful views of the meadow (which is especially lovely in the spring with wildflowers!). This route also leads to Tharp's Log, a strange tiny log house built out of a hollowed-out sequoia tree.
Although you can't get all the way inside the cabin to the hollowed log end, you may peep inside the more typical log cabin part to see what it's like inside.
Along this route, you'll also come across the Chimney Tree, which is one of Sequoia's more distinctive and odd sights.
This tree was burned in a fire some years ago, and as a result, it is hollowed out on the inside and open at the top, like a chimney.
It is, however, still standing, and you may step inside to view what a sequoia looks like from the inside! You won't want to miss this stop.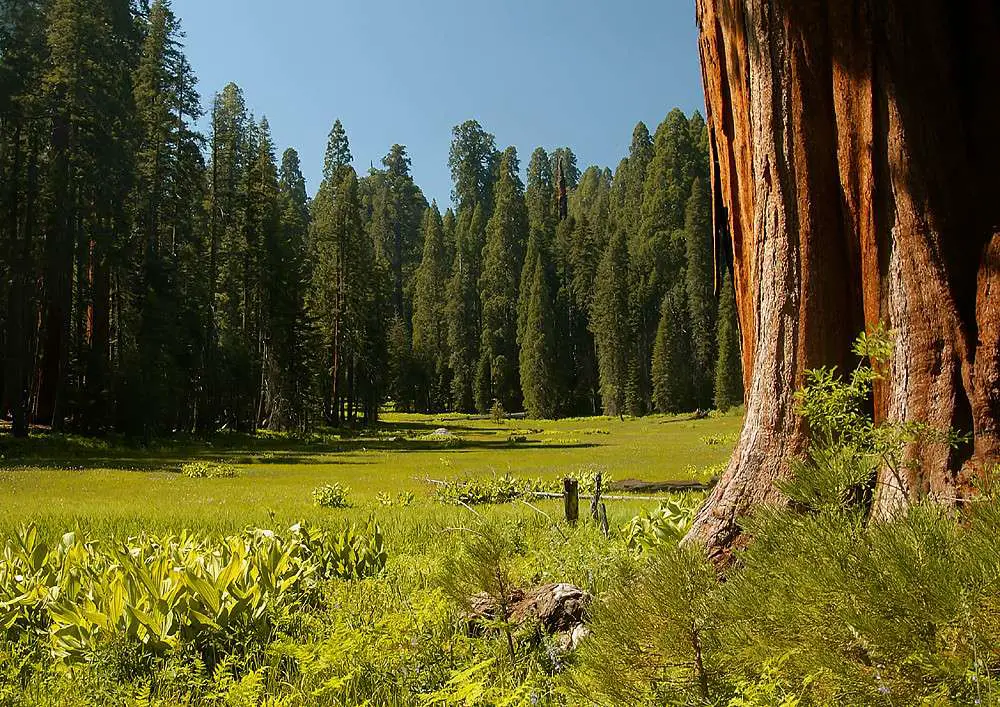 Read: 20 Must-Know Great Smoky Mountains National Park FactsLearn about the Clingmans Dome is the highest point in the Smoky Mountains
Other popular activities that you can do
While the above activities will most likely fill your Sequoia Day trip, you do have a few more options if you have spare time or want to replace one of the above activities for something different.
There are lots of other fantastic walks in the region to choose from, including the well-known Tokopah Falls.
Crystal Cave is a fantastic alternative if you're searching for a more unusual pastime to enjoy!
Crystal Cave is only open from the end of May to the end of September and is closed the rest of the year.
You can take a guided 45-minute tour to walk the 1/2-mile loop that leads through the marble cavern, but between the time it takes to get to the cave and the time it takes to do the tour, this activity will eat up a significant portion of your day.
To ensure that you arrive on time for your tour, plan on spending approximately half a day in the Crystal Cave…so, while the cave is beautiful, if you only have one day, this will eat into your time to explore the rest of the park.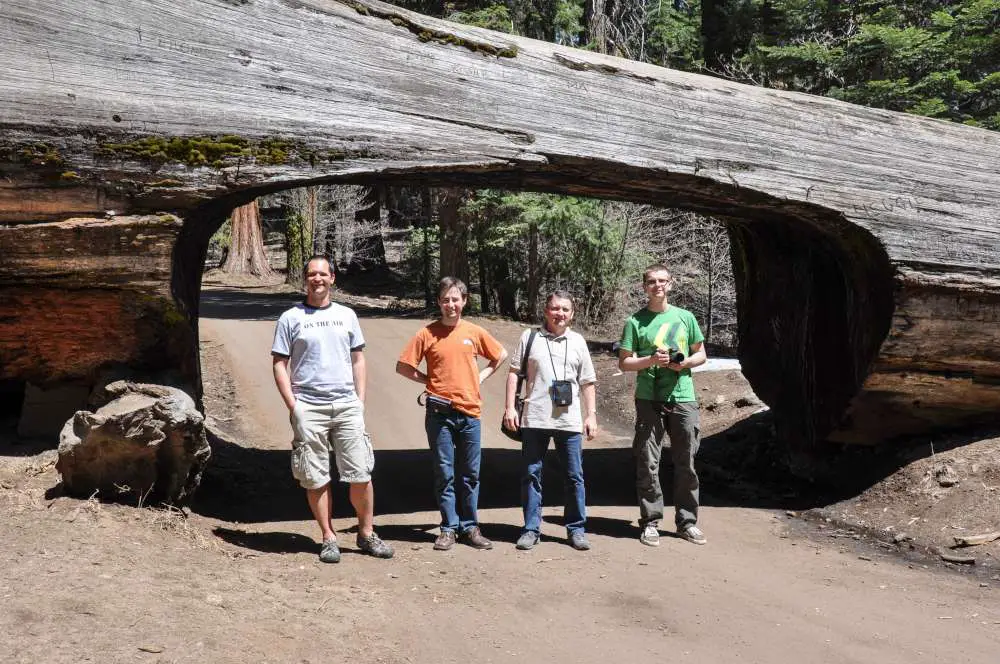 Read: Visiting North Cascades National Park (What You Should Know)Learn about Where to Camp in the North Cascades National Park
How to get to Sequoia National Park
When visiting Sequoia National Park, there are two primary entrances to choose from: Ash Mountain Entrance and Big Stump Entrance.
Highway 198 leads straight into Sequoia National Park from the Ash Mountain Entrance. The Big Stump Entrance, meanwhile, leads into Kings Canyon National Park (and you can then proceed to the Sequoia area to follow this day trip itinerary).
The Big Stump Entrance, which is accessible through Highway 180 and enters from the west via Fresno, is the ideal entrance for longer vehicles.
Prepare to drive tight and twisty mountain roads when visiting Sequoia National Park. If you're traveling in an RV or trailer, there may be some restrictions on which routes you may drive due to length restrictions and cautions.
You may get comprehensive driving instructions from nearby/popular California towns or look for detailed park maps to assist you get about once you're inside.
Keep these in mind and get the best experience on the day you spend at Sequoia National Park.
Read: Olympic National Park VS Mount RainierLearn about Mount Rainier vs. Olympic National Park: Access Comparison