Visitors swarm to Sedona to take in the area's breathtaking red rock formations and to experience the town's well-known New Age vortexes, which are energy storms generated by the earth. But don't ignore the area's top-notch eating scene; from chic diners to informal neighborhood hangouts, Sedona's restaurants feature breath-taking vistas and delectable meals. In Sedona, you may satisfy your cravings for traditional Mexican food, fresh fish, real Italian food, or barbeque. Continue to read and you will be able to get to know about the best Sedona downtown restaurants that you can find as of now.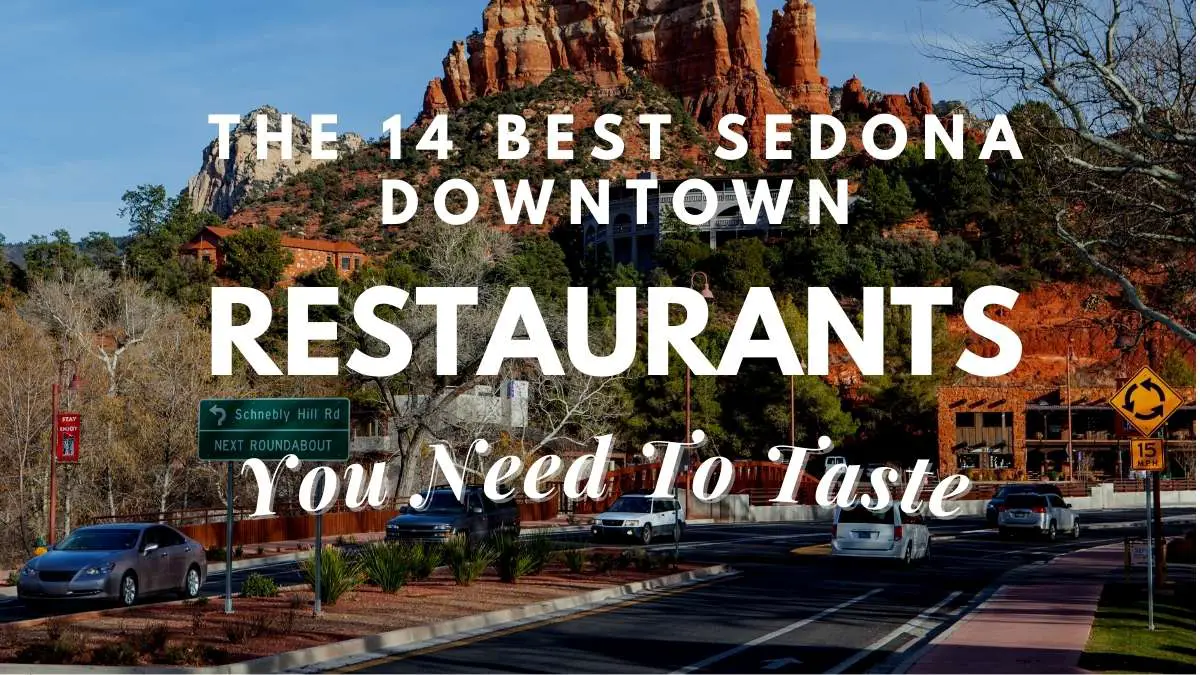 1. Elote Cafe
One of Sedona's most well-known eateries is the Mexican and Southwestern eatery Elote Cafe, which has a stunning view of the red rocks. You may choose to eat indoors or on the terrace, and if you want a drink, you can even sit at the bar. The restaurant's Elote, which is fire-roasted corn on the cob covered with spicy mayo, lime, and cotija cheese, and its smoked brisket enchiladas, which come with a side of rice and refried black beans, have won the praise of recent customers. Many people also advised getting a margarita to go with your lunch. These drinks are available in seven various flavors, from the conventional lime to guava to grapefruit. However, those who don't drink won't be let down either: Elote Cafe also has a mocktail menu that includes a blood orange limeade and an alcohol-free prickly pear and serrano cocktail.
All visitors must make reservations at this upscale restaurant; seats may be reserved up to two months in advance, but many say the wait is worthwhile. Remember that Elote Cafe can only handle groups of eight or less, so if you're planning a huge gathering, search elsewhere.
Read: Is Traveling A Hobby? The Ultimate Guide To An Exciting Way Of Life Learn about the Downsides Of Traveling As A Hobby

2. Creekside American Bistro
Creekside American Bistro is praised by customers for its breathtaking view of the red rocks and for serving modern American cuisine with a twist. Even the pickiest eaters will find something they like on its broad menu, which includes everything from soups and salads to burgers and salmon in addition to specialties like lamp chop lollipops and umami burger bowls. Recent diners suggest enjoying your lunch on one of Creekside's covered outdoor decks, citing the shrimp and grits and the peach cobbler as two of the restaurant's notable dishes. Although walk-ins are often accepted at this business that has earned the trust of travelers, you should make a reservation in advance to prevent lengthy lines.
3. Pisa Lisa
Pisa Lisa is the place to go if you want mouthwatering wood-fired pizza. This traditional Italian restaurant offers a wide selection of red and white pizzas in addition to soups, salads, paninis, and tapas. Additionally, the restaurant offers tiramisu, seasonal cheesecake, and handcrafted gelato to satiate your sweet craving. Eat where you choose in the bar, the main dining room, or outdoors beneath one of Pisa Lisa's shade umbrellas. There are no reservations allowed here, and a number of diners have cautioned that there may be a wait. It should be noted that Pisa Lisa does not accept groups greater than six persons.
4. Grill & Spirits Cowboy Club
Although this family-run restaurant has been open since 1993, its history really goes back much farther. This historic location was formerly home to the Oak Creek Tavern, a famous pool hall and tavern that first opened in 1946. Before it fell into ruin, it is claimed to have hosted superstars like John Wayne, Donna Reed, Joan Crawford, and Elvis Presley. Years later, when it reopened to the public, its new name seemed appropriate: Cowboy Club Grille & Spirits. Even though the tavern pool tables are long gone, the Cowboy Club's saloon-style doors and refurbished barnwood walls still serve as reminders of its colorful history.
Dine outside or indoors while taking in the Wild West-themed decor: The outside porch and plaza of the Cowboy Club have heaters and misters in addition to breathtaking views of the desert surroundings. The menu offers a variety of Southwestern classics including bison chili and rattlesnake sausage along with crowd-pleasing options like burgers, salads, and steaks in what the restaurant refers to as "high desert cuisine." Some customers praised the elk chops and the brisket sandwich while others praised the cast-iron cornbread and original cactus fries (served with a prickly pear dipping sauce.
The Cowboy Club has a lengthy history dating back to 1946 when it first opened as a bar and pool hall that drew Hollywood's western celebrities when they shot in Sedona's red rocks, including Burt Lancaster, John Wayne, Donna Reed, and Joan Crawford. In 1993, the pub changed its name to the Cowboy Club, preserving its attractive features like the fireplace, bar, and refurbished walls made of barn wood. On the weekends, the restaurant serves a must-try pecan-smoked prime rib, but during the week, you may choose from the evening menu's elk chops or bison pot roast.
5. ChocolaTree Organic Oasis
Look no farther than ChocolaTree Organic Oasis for outstanding vegan and vegetarian cuisine. With 100% organic, gluten-free, and house-made food on the menu at this restaurant off of state Route 89A, you can feel good about what you're putting into your body. Eat a light snack first, such as avocado toast or chipotle paneer, and then follow it up with a salad, sandwich, or wrap. You can also choose from a variety of beverages, such as ginger lemonade, lattes, and wellness shots. Just keep in mind that the menu is mostly seasonal and varies according on what is readily available in the area. Recent visitors appreciated the restaurant's lovely grounds, which feature an indoor eating room and an outside garden that grows many of the herbs used in ChocolaTree, and they suggested trying some of the chocolate sweets created at the on-site store.
6. Hidden House
This relaxed restaurant is the ideal spot to grab a lunch after a walk since it offers delectable Italian cuisine and breathtaking views of Arizona's famous Snoopy Rock. Choose from a variety of pizza, spaghetti, and sandwiches, and then eat on one of three open-air patios while seeing the stunning red rocks in the background. The restaurant has two dining rooms as well as a bar for those who would want to eat indoors. Save your dress shoes for another time since Hideaway House takes pride in its casual, come-as-you-are attitude. Previous customers praised the restaurant's attentive service and claimed that no matter what meal you choose, you can't go wrong.
7. Dahl & Di Luca Italian Restaurant
This upscale restaurant is perfect for special events. Dine al fresco on the terrace or in the opulent dining room of Dahl & Di Luca Ristorante Italian while sharing a candlelight supper with your special someone. This magnificent restaurant is among the finest for fine dining in Sedona. It offers exquisite Italian meals, a large range of fresh, sustainably produced seafood, as well as an extensive wine list. Recent diners praised the restaurant's stylish ambiance, although they cautioned that dinners and beverages are expensive. Remember that the dining room has a "resort casual" dress code that prohibits the wearing of hats, flip flops, cut-offs and short shorts, tank tops, and branded sportswear. Reservations are also necessary. Additionally, groups bigger than six persons cannot be accommodated at this restaurant.
8. Hudson River
This neighborhood restaurant, which is close to Marg's Draw Trailhead, is adored by visitors for its breathtaking views and tranquil setting. Come for lunch or dinner to sample the delicious American cuisine served at The Hudson, which includes everything from burgers and steak to chopped salads, bruschetta, and seafood. If you feel like a drink, choose one of the restaurant's famous concoctions, which also feature unusual drinks like cold brew martinis and prickly pear margaritas in addition to traditional selections like gin and tonics and lemon drops. Visit the restaurant during its daily happy hour to get discounts on a number of beverages and small plates in the bar and lounge. The open dining area and outside deck of this "industrial chic" restaurant both provide seats.
9. The Golden Goose American Grill
The Golden Goose American Grill is highly praised by visitors for its top-notch service and mouthwatering meals, which range from creative seafood dishes to beautifully cooked steaks. After dinner, choose from a variety of delectable desserts (including tiramisu and triple chocolate cake) or treat yourself to a dessert coffee. The Golden Goose is a family-run business that is renowned for its warm atmosphere, which is perfect for small or informal groups. What's best? The Golden Goose has a dog-friendly terrace where patrons may eat with their animals.
10. Mesa Grill
Visit Mesa Grill for a wonderful dining experience. This unusual restaurant, which is close to the Sedona Airport, lets customers enjoy delectable Southwestern cuisine while watching airplanes and helicopters take off and land. Floor to ceiling windows at Mesa Grill allow you to see the live performance from within, or you may enjoy the scenery from its heated terrace. Come in the morning to try the breakfast and weekend brunch selections and maybe have a mimosa flight with your meal or come in the evening to witness the sunset over the red rock formations. Visitors may anticipate a selection of salads, steaks, burgers, and sandwiches all year long. The lunch and supper menus vary seasonally to include classics like red trout and pulled pork.
11. Mariposa Latin Inspired Grill
The 6,500-square-foot Mariposa Latin Inspired Grill, which offers a wide range of wines and delectable meals influenced by South American cuisine, is popular with tourists seeking a fine dining experience. The main dining room's sumptuous couches and floor to ceiling windows that display the striking Sedona scenery provide a really opulent setting. Mariposa's outside patio is ideal for sunny Arizona nights if you want to eat outside, particularly while the sun is setting. Reservations are required, and visitors should check the restaurant's website to make sure they are adhering to the resort casual dress code.
12. Oak Creek Cress
This upscale restaurant is a component of the L'Auberge de Sedona hotel and is located on the bank of Oak Creek, although you do not need to be a guest to eat here (though you will need a reservation). Visit this excellent dining restaurant for breakfast, brunch, lunch, or supper to sample the delicacies of southern European cuisine, including pate and steak. A huge selection of rare and quality wines are available at Cress on Oak Creek in addition to a premium cuisine, with many of them proudly coming from Arizona's Verde Valley. Recent guests praise the restaurant's beautiful Creekside location and the cuisine, with many saying it's a fantastic spot for a celebration supper.
13. The Coffee Pot Restaurant
The Coffee Pot Restaurant in Sedona has something for everyone to enjoy. Since the 1950s, Coffee Pot has been a fixture in the neighborhood and is a beloved spot for residents. It is most known for its delectable breakfast menu, which has favorites like omelets, pancakes, huevos rancheros, and eggs benedict. Although breakfast is offered all day, the restaurant also offers a lunch menu that includes both traditional Mexican fare and food prepared in an American-style. Although this restaurant does not take bookings, customers stated the staff provided prompt, courteous service.
14. Eatery Elote
With a cuisine drawn from his 20+ years of travels across Oaxaca, Veracruz, Puebla, and his home Arizona, chef and owner Jeff Smedstad's enormously well-liked Elote Cafe relocated to the center of Sedona. A memorable lunch is made up of dishes like smoked brisket enchiladas, lamb adobo with ancho chile sauce, Niman Ranch skirt steak with pasilla chile sauce, smoked hog cheeks with cascabel chile sauce, and buffalo mole poblano. Dessert should be Mexican chocolate pie.
Final words
Sedona is the destination for hikers and outdoor enthusiasts, so it makes sense that there are so many fantastic eateries in this area. After spending a long day hiking the trails, tourists are looking for a fantastic location to dine, and this Arizonan city does not let them down. There is a wide variety of delicious food served here, including French, Italian, Mexican, and more!