Texas is a huge and bold state. It has a long and illustrious history, as well as unrivaled iconography and cultural variety. It also has a worldwide reputation for cuisine. The state is known for its distinctive dishes, which help it to become a culinary powerhouse.

If you are interested in exploring the state, you should be aware of the best restaurants that exist out there. Here's a list of 10 of the most prominent restaurants that you can discover in Texas as of now. Whether you are from Texas or you visit Texas, you should visit any of these restaurants.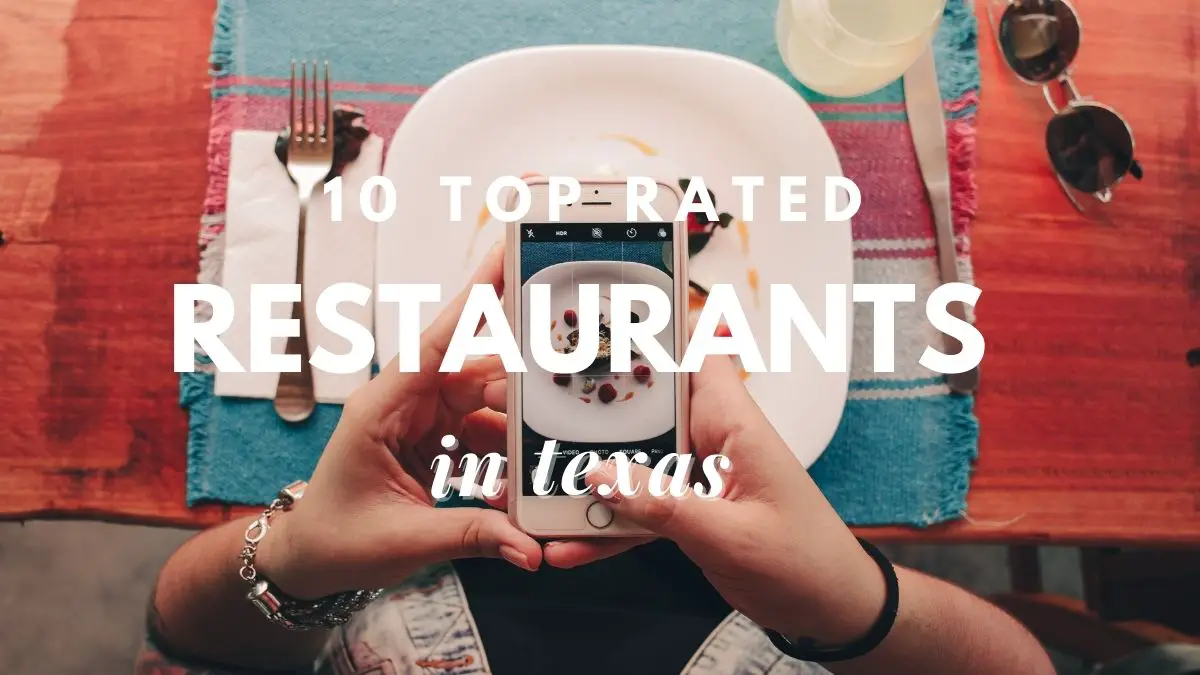 1. Royers' Round Top Café
Houstonians enjoy day excursions and antique hunts to Round Top, and no trip is complete without a stop at this renowned café famed for its comfort-food menu items served with homely sides like jalapeo cheese grits or mashed potato casserole. However, Royers is well-known for its pies. Eat in, take out, or place an online order.
If you are interested in trying out new dishes, Royers' Round Top Café would be a great option available out there to consider as of now. The owners always experiment with new items. It is up to you to experience the benefits that come along with them. If you take a look at the menu at this restaurant, you will even get surprised by the options.
You can expect to receive numerous gourmet food items in the menu of Royers' Round Top Café. The menu is a mouthwatering one, and you will fall in love with what comes on your way. Whether you are interested in gourmet foods or contemporary food, you may think about visiting the Royers' Round Top Café.
Read: Biggest Lakes In Texas [Top 20]

Learn about the largest natural lake in Texas
2. Snow's Barbecue
How can a Texas barbecue place be famous all over the globe if it's only open one day a week? That's just one of the many delectable quirks of this Lexington smoked-meat shrine, which was awarded the finest barbecue in Texas by Texas Monthly. Since that honor in 2008, Snow's has been thronged by international barbecue fans who queue for hours on Saturday mornings to sample smoked brisket, ribs, chicken, and sausage. Tootsie Tomanetz, the beloved and most renowned face in Texas barbecue, was hired as pitmaster by owner Kerry Bexley, who had the foresight to do so.
Even if you are looking for an early morning meal, you may think about visiting Snow's Barbecue. It provides a unique dining experience to any person. The tender and savory dishes are quite addictive. Hence, you will come across the need to visit the restaurant over and over again. The restaurant is looking forward to delivering unique experiences to all the guests. It is up to you to visit the restaurant and grab those experiences.
Read: Is Traveling A Hobby? The Ultimate Guide To An Exciting Way Of Life Learn about the Downsides Of Traveling As A Hobby

3. Christie's Seafood & Steaks
Since 1967, the same Greek family has owned Greater Houston's oldest restaurant, which was started in Galveston in 1917 and transferred to Houston in 1934. The Christies are still known for their fried fish sandwich, but the menu also includes seafood platters, steaks, gumbo, Gulf shrimp in various forms, and the oyster stew that was a favorite of President George H.W. Bush.
Any seafood lover will not regret about the idea of dining at the Christie's Seafood & Steaks. It is one of the best places available for you to experience traditional seafoods. Seafood dishes are not just tasty, but also fresh. On the other hand, you can find light breading on the dishes.
The overall service you can receive at Christie's Seafood & Steaks is somewhat friendly as well. However, it is better if you can reserve a table before you visit. This will help you to stay away from last-minute disappointments while you are at the restaurant. The overall atmosphere you can find in this restaurant is warm. Hence, you will be able to enjoy the dining experience at Christie's Seafood & Steaks. It is a perfect restaurant in Texas that you can visit with your friends and family members for enjoying a meal.
Read: Texas [5 Free] Fishing LocationsLearn about the Choke Canyon Reservoir
4. The Big Texan Steak Ranch
With a menu of enormous steaks, including the original 72-ounce Steak Dinner Challenge (eat it in an hour and it's free), this Amarillo restaurant lives up to the tagline "bigger and better in Texas." The Big Texan, which opened in 1960, is a tourist magnet owing to its brewery, motel, RV park, and restaurant, which serves mountain oyster platters, slabs of ribs, and plate-defying chicken-fried steak.
The Big Texan Steak Ranch is one of the top-rated restaurants that you can find in Texas as of now. It is known as a great place for having steaks. You can discover a variety of steak dishes in here. Hence, you will never get bored with the options that are available for you to consider. You can keep on visiting and try out different items available on the menu.
Guests who visit The Big Texan Steak Ranch love the unique atmosphere in there as well. It is offering a perfect atmosphere to enjoy a meal. This is among the most desired family restaurants in Texas for anyone to visit.
5. Patillo's Barbecue
Central German, Czech, and Polish immigrants contributed Texas' excellent sausage traditions, but the Cajun and Creole influences of sausage manufacturing can be seen at this Beaumont institution. It's Texas's oldest Black-owned BBQ restaurant. Patillo's, which opened in 1912, is famous for its beef hot links, also known as "greaseballs" or "garlic bombs," which are spicy hand-crafted "lanks" that drip molten-red liquid fat. It's a real flavor of Southeast Texas BBQ.
If you are looking for a great service, Patillo's Barbecue will be a good option available to consider. The quality of service matches with the outstanding food options served in here. Due to the same reason, guests tend to call it as an amazing place for dining in. Your mouth will water every bite of what you eat at this restaurant. Make sure that you try out the most popular dishes that are served to the customers in here. No matter what you order, you will be provided with large portions. Hence, you will never get hungry after you finish a dish.
Read: [Top 10] Rated Hotels In Texas You Need To VisitLearn about the Four Seasons Resort and Club Dallas
6. Matt's El Rancho Classic Tex-Mex
Matt's El Rancho Classic Tex-Mex restaurants may be found throughout Texas, but the legacy established by Matt and Janie Martinez in 1952 is etched in the state's culinary history. The menu has a variety of combo-plate favorites, but it is the house's Bob Armstrong Dip that has made Matt's renowned across the world. The dip is a bowl of queso heaped with taco meat and guacamole, named for the former Texas Land Commissioner – a much-copied innovation that will forever make Matt's a Tex-Mex attraction.
The Matt's El Rancho Classic Tex-Mex restaurant is well-known for offering great dishes to the people. You can enjoy Mexican authentic foods while you are at Matt's El Rancho Classic Tex-Mex. You can also expect to receive an excellent service from the team that is working at this restaurant.
The Matt's El Rancho Classic Tex-Mex is a restaurant that does everything right. Therefore, you will not end up with any regrets about the decision that you take to visit the restaurants. Unlike most restaurants, you will not have to wait for a longer period of time to get your food at this restaurant as well. In fact, they will serve fresh food to you within a short period of time.
7. Fearing's Restaurant
Dean Fearing, a James Beard Award-winning chef, is recognized as the "Father of Southwestern Cuisine" for a reason. Fearing, along with a few other area chefs, pioneered a style of cooking that would define Texas for decades, beginning at The Mansion on Turtle Creek and later at his trademark restaurant at the Ritz-Carlton Dallas. With dishes like tortilla soup, barbecue shrimp tacos, short rib enchiladas, and mesquite-fired Texas steaks, his cuisine seems both nostalgic and fresh.
Fearing's Restaurant is among the top 100 restaurants that you can find in the entire country as well. That's because it is offering unique southwestern steak dishes for the people who are interested in them. Everything you can find in this restaurant are outstanding. One of the most popular dishes among the guests is pecan pie. Even cleanliness and décor at Fearing's Restaurant are outstanding. Hence, the amount you spend at Fearing's Restaurant is totally worth the experience.
Read: [20 Best] Bass Fishing Lakes In TexasLearn about Lake Palestine that is an excellent location to start if you're wondering how to catch bass in Texas.
8. Gaido's Seafood Restaurant
Since 1911, Galveston's renowned restaurant has served seafood to beachgoers, and it remains a must-do Texas dining experience. The sprawling restaurant, perched on the Seawall, continues to serve oysters, shrimp cocktail, shrimp scampi, shellfish towers, fried seafood platters, gumbo, and cast iron-seared steaks in a joyful and respectful ambiance. All roads in Galveston lead to Gaido's, the archetypal seafood restaurant in Texas.
You can find multiple Japanese restaurants scattered throughout Texas. Out of them, Gaido's Seafood Restaurant is holding a prominent place. You will also be able to see thousands of positive reviews about this restaurant on the internet. If you are interested in celebrating special moments of your life with loved ones, Gaido's Seafood Restaurant is a restaurant that you can think of visiting. You can get a worthy service from the restaurant for the amount that you spend.
Gaido's Seafood Restaurant allows you to make reservations online. You will need to keep that in mind and go ahead with confirming your reservations. Then you can visit the restaurant and enjoy the dishes without encountering any problems.
9. Ray's Drive-Inn
Although the origins and supremacy of this hole-in-the-wall mecca for the city's cherished, iconic creation might be difficult, even locals will defend the supremacy and originator history of this hole-in-the-wall mecca for the city's beloved, iconic creation. The puffy taco (deep-fried masa dough shell) can be packed with chicken, carne guisada, shrimp, or beans at this Westside institution, but the old-school beef picadillo is the finest. Also popular are the cheese enchiladas, nachos, and fried fish platters. The puffy taco, on the other hand, is the shining star, and deservedly so.
Ray's Drive-Inn is a great Mexican restaurant that you can find in Texas as of now. You will be able to secure a perfect dining experience. Among the Mexican dishes served to the guests at Ray's Drive-Inn, the Puffy taco holds a prominent place. You will fall in love with the crunchy experience offered with it. On the other hand, you can expect to receive a unique dining experience while you are at Ray's Drive-Inn as well. This is a place that you shouldn't ignore visiting.
Read: [20 Best] Beach Towns In TexasLearn why Galveston is one of the best beach towns in texas
10. Café Blue Bonnet
Since 1929, this Marble Falls restaurant has been offering homely cuisine and Texas friendliness. The café, which was once a popular hangout for townies, is now regarded as a culinary legend, where diners can enjoy all-day breakfast and heaping portions of mile-high pie. Chicken-fried steak, burgers, pot roast with brown gravy, chicken and dumplings, cheese enchiladas and crispy beef tacos, fried catfish, and malted milkshakes are all on the menu at the café.
Among the top rated restaurants in Texas, Café Blue Bonnet is holding a prominent place. This restaurant is quite popular for the combo palates. There are multiple options to consider, and you have all the freedom to try out different options. Regardless of the dish you order, it is possible for you to get your hands on a bunch of highest quality ingredients. The guests of Café Blue Bonnet have also fallen in love with the outstanding margaritas served in this restaurant.
Read: [Top 10] Texas Beaches That Are So Gross You Could get SickLearn about the Pleasure Pier bacteria concentration is over 104cfu per 100ml
Final words
These are the top 10 restaurants that we can see in Texas as of now. The decision you take to visit any of these restaurants will not be a one that you will regret about. It is up to you to pick the best restaurant out of these and visit for enjoying your dining experiences.