Are you looking forward to visiting Arbuckle mountains? Then you should be aware about the things to do in the Arbuckle mountains. The stunning 77-foot cascade known as Turner Falls – Oklahoma's biggest waterfall — is nestled under the Arbuckle Mountains in south-central Oklahoma, just under an hour from the Texas/Oklahoma line. Visitors from all over come to appreciate the ambience that Mother Nature has created as the waterfall cascades into a pool of fresh spring water. During the summer, you may enjoy a whole day of swimming, hiking, exploring natural caverns, visiting a historic rock castle, and more from dawn to sunset. Turner Falls has long been a favorite family getaway among Oklahomans and Texans alike.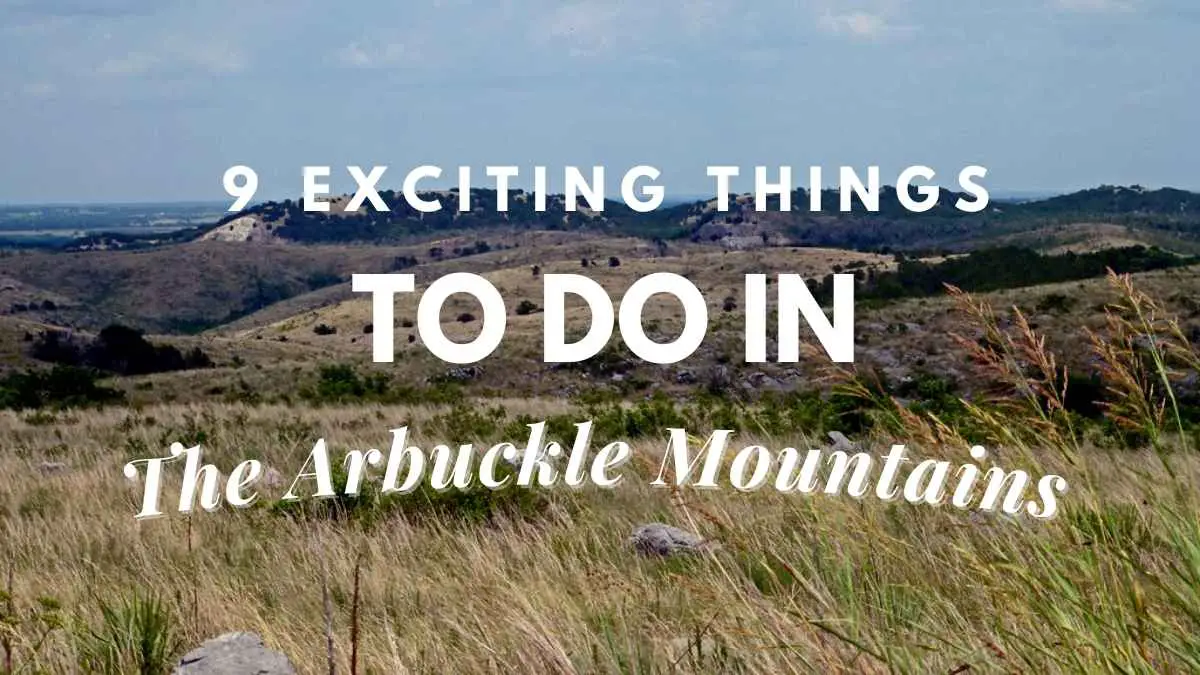 1. Appreciate Turner Falls Park's View
Yes, the park's centerpiece is the waterfall, but Turner Falls Park, Oklahoma's oldest park, has so much more to offer its visitors. Many tourists come here merely to roam about the park and take in the beauty of its surroundings, which spans over 1,500 acres on three levels. If you intend on doing this, make sure you have a decent pair of walking shoes with you since the park has a variety of terrains.
Because there's so much to see and everything is spread out across many levels, my advice is to organize your day by looking up the park online and deciding where you want to park your car, particularly if it's your first visit. I visited there many years ago, and I'm happy I planned my day by looking up information online prior since so much has changed since then.
Hours are 6 a.m. to 8:30 p.m. throughout the summer. Parking is accessible on all levels, with level three being free. Buses operate all day, transporting passengers from one level to the next – and they're free. So, keep it in mind while you plan your trip. Turner Falls Park's Facebook page is also a great place to go for current updates. Because the park does not accept pets, you'll have to leave your beloved pets at home.
The wait to get in during peak season might be fairly lengthy. During the summer, buses cease operating at 6:30 p.m.
Read: Is Traveling A Hobby? The Ultimate Guide To An Exciting Way Of Life Learn about the Downsides Of Traveling As A Hobby

2. Take a 77-foot Waterfall Wading
I'm very confident that putting your toes in the water near the falls is the major reason why so many people visit Turner Falls every year. The waterfall is a sight to see and makes a fantastic photograph for your photo book. If you're visiting the park for the first time and wish to swim or wade in the water, this is the most manageable region to do so. It's rocky but getting into the water is simple.
The water is really cold — not chilly, but extremely freezing — yet that does not deter guests from swimming in it. Some, maybe, such as me! My almost-11-year-old grandson rushed in and began swimming over to the other side, leaving me stranded as I struggled to adjust to the cold. I don't mind dipping my toes in the water at all! This is the finest place to enjoy the water for the elderly and toddlers.
All children under the age of 12 must wear a life jacket. Bring your own since they are quite expensive at the park. In all places where swimming and wading are permitted, water shoes are strongly advised.
3. Bring Your Own Picnic
Picnicking in the park seems to be a common pastime. Some families had their picnic stuff set up and their grills burning when we arrived early in the morning. I'm thinking they were not first-time visitors. Picnic spaces are first-come, first-served, but don't let that deter you; there are so many beautiful locations to choose from, and most feature a picnic table and grill.
Bringing a wagon to carry your food and other supplies, as well as a rolling ice chest, is a good idea, particularly if you're having a family picnic. If you're fortunate enough to locate a picnic space near where you parked, that's excellent; if not, there's a storage compartment in the rear of the buses where you may store bulky goods throughout your voyage. Pop-up canopies, as well as beer and alcoholic drinks, are permitted in the park as long as they remain at your picnic location. Arrive early to get a position beneath a tree or in the shade afforded by the mountains.
4. Go for a swim in the Blue Hole Pool.
The Blue Hole Pool is where the grandchildren will want to spend the most time. My grandson's favorite part of the park was this area. A large slide that goes into the ocean as well as a diving board are situated in this region. There is a lifeguard on duty, which gave me great comfort. Just be cautious while going by the stream or swimming in it. The moss may make it quite rough and slimy. There are a few shaded seats where you may relax and observe.
5. Visit the Old-Fashioned Castle
Turner Falls Park's castle is an example of English architecture built using local stone in the early 1930s. The castle, now hollowed out, is a magnificent work of art to wander around while contemplating what transpired within many years ago. The castle is reached through steep steps, and once inside, there are numerous floors to explore as well as a tight stairway to a higher level. There are no guided tours, so you may visit the castle whenever it is convenient for you and your family.
Be cautious while wandering about the castle and keep an eye out for pebbles. There are a few locations that are challenging to traverse.
6. Visit a Natural Cave
Who doesn't like to explore some fascinating caves? The three caverns in Turner Falls Park are a bit concealed above the falls. Take your time looking for them in the neighborhood. I got it down the steps and across the rocks to one of the caverns, but seeing the other caves was too tough for me. But, hey, my knees are in awful shape! I let my grandson go out on his own and he discovered a new cave. He said he was pleased I didn't walk down there because I wouldn't have been able to make it.
7. Take a Hike on the Trails
Turner Falls Park is a great place to spend the day hiking. There is a two-mile hiking track with multiple deviations to lesser trails that leads to views of the park's attractions. Set out to explore the park and keep an eye out for wildlife including whitetail deer, wild turkeys, and other species that have made it their home. Keep in mind that since the park is built on three levels, there are elevation fluctuations throughout the park's route. To view all of the paths that are accessible to explore around the park, use the map that you get when you check in. The park's trail hiking is moderate to challenging. Plan properly once again.
8. Take a Trout Fishing Trip
Trout fishing is accessible at Turner Falls from late November to the middle of March if you chance to be there during the winter months. Before you travel, check for availability since dates are subject to change. Fishing would be a great reason to get the grandchildren together for a weekend at one of the cottages (more on these below). Turner Falls would be a great place to camp in the winter. See Turner Falls Park's things to do page and scroll down to the fishing section for information on fishing fees, daily catch limits, and licenses. It is necessary to have a valid Oklahoma fishing license.
9. Camping for the Night
There are lots of possibilities for overnight camping at Turner Falls, whether you stay in a cottage along Honey Creek's side or pitch a tent in the primitive camping area on Level 3. On the two lower floors, there are cabins with facilities such as barbecues, picnic tables, and fire pits, as well as screened-in shelters. RVs are also welcome. Turner Falls Park's Cabin website has a layout of the cabins and what's contained within. Camping in the off-season, when the weather is cooler and the autumn foliage is in full bloom, is a fantastic way to appreciate the outdoors. Of course, that's just my viewpoint since autumn is my favorite camping season.
Final words
Now you know the best things to do in the Arbuckle Mountains. If zip-lining is your thing, there's a course just outside the park on the same road. 777Zip Zipline is the name of the zipline. It's a sit-down zip line for two people. There is no need to make a reservation. We kept seeing folks across the park right above us the previous time we were at Turner Falls. My grandson and I would have done it if we hadn't been so hot and fatigued after leaving the park. So now you have two good reasons to return in the fall: camping and ziplining!