Two Harbors, Minnesota is a charming, attractive lakeside hamlet nestled along the lovely North Shore of Lake Superior with a rich history. The Split Rock Lighthouse, the most photographed lighthouse in the nation, is one of several historic attractions situated around the city. The village is surrounded by rivers, ponds, streams, waterfalls, and lakes, making it a naturalist's dream. Certain attractions may be closed temporarily or need reservations in advance. Currently, some eateries only provide pickup. It's possible that the hours and availability have changed.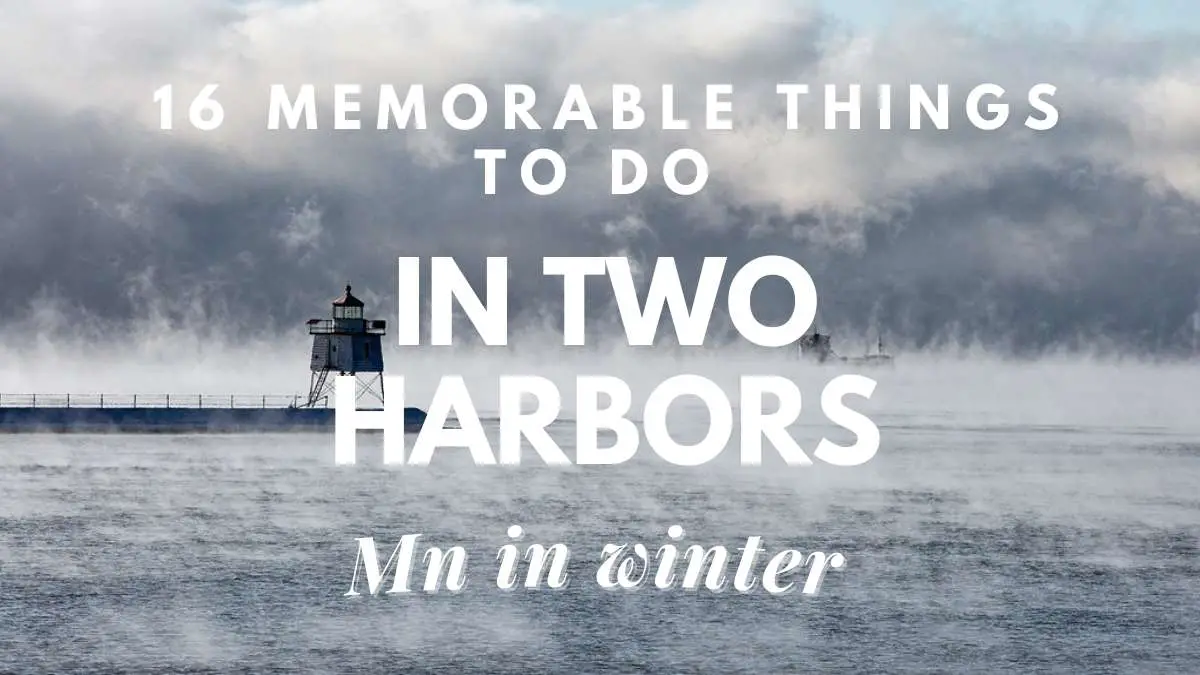 1. Gooseberry Falls State Park
Gooseberry Falls State Park, established in 1937, is situated on the magnificent Minnesota Highway 61 on the North Shore of Lake Superior.
Lower, Middle, and Upper Gooseberry Falls are part of this 1,687-acre park that encircles the mouth of the Gooseberry River.
Gooseberry Falls also has 18 miles of hiking trails and eight miles of mountain bike routes, both of which link to the famed Superior Hiking Trail, which stretches for 310 miles.
Snowshoeing, snowmobiling, and cross-country skiing are popular sports in the park during the winter months.
Naturalists will like the park's visitor center, which has informative displays, interpretive events, and a gift shop.
The park also has a few historical sites, notably the original bridge.
Read: Is Traveling A Hobby? The Ultimate Guide To An Exciting Way Of Life Learn about the Downsides Of Traveling As A Hobby

2. Split Rock State Park & Lighthouse
On Lake Superior's North Shore, the Split Rock Lighthouse & State Park is a 2,200-acre state park.
The Split Rock Lighthouse, a historic monument and one of the most photographed lighthouses in the country, is its most visible feature.
A trail center, a lakefront picnic area, and a visitor center with a museum shop with marine décor, Lighthouse souvenirs, north woods artwork, clothes, and locally produced products from craftsmen are all available.
Along the lakefront and into the northern forest, the park offers 14 miles of hiking, biking, cross-country skiing, and snowshoeing paths.
3. Two Harbors
The Superior Hiking Trail (SHT) is a 310-mile pathway that follows along the rocky ridgeline overlooking Lake Superior.
From one end of the route, near Jay Cooke State Park, to the other end, near the Canada-US border near Lake Superior, there are approximately 50 access locations.
The route passes through cascading waterfalls, gurgling brooks, and rushing rivers as it winds through pine, aspen, birch, cedar, and fir woods.
Hikers will be rewarded with spectacular views of the Sawtooth Mountains and the boreal woodlands.
Long-distance hikers will appreciate the SHT's 93 backcountry campsites, which are spaced every five to eight miles.
4. Lighthouse of Two Harbors
The historic Two Harbors Light Station, which was first illuminated in 1892, is Minnesota's oldest working lighthouse.
It consists of six structures: a fog signal building, a skiff home, a garage, an oil house, the lighthouse tower with connected keeper's residence, and an assistant keeper's home, all of which are made completely of red brick.
Visitors may see the Lighthouse Tower, which houses the revolving light, as well as the Keeper's Quarters, which operates as a bed and breakfast and was renovated in the early twentieth century.
The Assistant Keeper's residence is also open to the general public.
It has been restored to its 19th century appearance and now serves as a museum with exhibits about the history of Agate Bay and shipwrecks on Lake Superior.
5. Iona's Beach Natural and Scientific Area
Between Split Rock Lighthouse State Park and Gooseberry Falls State Park, Iona's Beach Scientific and Natural Area is located in Two Harbors.
It's a clean and unspoiled pebbled beach with pink felsite and rhyolite stones that generate tinkling melodic noises as the waves sweep in and out, a distinctive feature of this region.
It is one of Minnesota's only three Scientific and Natural Areas.
Although there are no maintained pathways, people are invited to walk in the area to see wildflowers and native plants as well as animals.
They are also allowed to swim in Iona Beach; however it is advised that they wear water shoes.
6. Two Harbors
Palisade Head, also known as Hellacious Overlook, is a North Shore landmark situated near Silver Bay along Highway 61.
Visitors must look for the small, lakeside road that arises at milepost 57 to reach the 350-foot-high bluff.
To get to the viewpoint, they'll leave onto this road and drive gently up the steep but safe road to the top of this towering coastal cliff.
At the summit, there is a tiny parking spot that necessitates some tight maneuvering.
This spectacular cliff formation is made of volcanic rock and overlooks the beautiful Lake Superior.
The Depot Museum is situated in a National Register of Historic Places-listed historic brick structure that was erected in 1907.
The structure, which served as the headquarters of the Duluth and Iron Range Railroad, was significant in the development of the iron ore industry in the area and in Minnesota.
It remained operational until 1961, supplying both passenger and freight requirements.
The structure now functions as a museum, highlighting Lake County's growth via diverse displays concentrating on three primary industries: lumber, commercial fishing, railroads, and iron mining.
It also houses the Lake County Historical Societies' administrative offices, the Judge William Scott Library, and archive storage.
7. The 3M Museum
The 3M Museum was established to celebrate the founding origins of 3M, a worldwide company that was originally known as the Minnesota Mining and Manufacturing Company.
It is housed in the old Dwan Law Office Building.
The museum, which is located in Two Harbors, has displays that illustrate how 3M developed the research and development business model, as well as how they grew into a global force that employs approximately 90,000 people globally.
A reconstructed office of Attorney John Dwan, a lab, and a detailed history and chronology of the corporation with pictures, papers, and artifacts are among the exhibits.
They also feature a variety of technological apps and interactive activities.
8. Northwoods Pioneer Gallery & Gifts
The Northwoods Pioneer Gallery & Gifts was founded in 1972 by a group of modest local artisan groups.
It was established as a way for elderly and low-income residents of Northeastern Minnesota to sell their products while also providing educational arts and crafts activities to both locals and tourists.
Since then, it has been available to all local craftspeople, regardless of their wealth or age.
The facility is operated by its members as a cooperative, and they tend to the store and act as sales clerks.
Often, the members who are working provide demonstrations of their skill and share their trade practices.
Wheat weaving, beading, woodworking, beading, and painting are all examples of this.
9. The Purple Lotus
The Purple Lotus provides a variety of therapeutic massage and bodywork services.
Christina, the owner and qualified massage therapist, has created a relaxing environment for her clientele in the center of Two Harbors.
The Purple Lotus is an earthy haven with magnificent hardwood flooring, sea foam green walls, a welcoming lounging area, and a private Zen room with a Japanese garden vibe.
Customers may pick from a variety of treatments, including pregnancy massage, sports massage, relaxation massage, deep tissue massage, hot stone massage, and raindrop massage.
The Purple Lotus also provides aromatherapy and head and scalp massages, as well as paraffin wax treatment for the hands and feet.
10. Architectural Antiques on the North Shore
The 10,000-square-foot antique business North Shore Architectural Antiques is situated in the picturesque village of Two Harbors.
They specialize on antique building materials from the 1850s through the 1950s, with a focus on the Midwest.
Their territory is the western shore of Lake Superior, centered on Duluth, Superior, Minnesota, and Wisconsin, and it reflects late-nineteenth-century and early-nineteenth-century architecture.
This business has a large selection of Victorian, early Art Deco, and Art & Crafts items.
They have items from both residential and commercial structures and appeal to everyone from expert restoration professionals to DIY interior designers.
11. Two Harbors
The Cedar Coffee Company is situated in Two Harbors, a tiny town in the state of Michigan.
It is surrounded by magnificent trees and is located off the main road.
It is housed in a wood-paneled mountain-style residence with big floor-to-ceiling windows and a spacious garden space with shared picnic tables for the whole family.
Its interior has a contemporary style with a rustic touch, with bikes dangling from the ceiling and colorful artworks adorning the walls.
On huge chalkboards, a variety of coffee, espresso, and non-coffee beverages are displayed, and a short menu with breakfast and lunch options is available.
The Fign' Pig, a hot sandwich prepared with bacon, ham, fig jam, and cream cheese on a ciabatta bread, is one example of traditional American meals with a modern twist.
12. Café at the Rustic Inn
The Rustic Inn, housed in a historic 1920s vintage building, is a warm and friendly restaurant with mountain cabin-style décor, including hand-milled cedar walls and birch flooring.
For almost thirty years, this second-generation family-owned and run restaurant has been providing traditional American meals with a Two Harbors twist.
Tender roast beef, fresh Lake Superior fish, handmade mashed potatoes, sizzling hot breakfast skillets, and inventive omelets are just a few of the delectable meals on the menu.
Only their handmade, handcrafted pies, which come in a range of flavors including Cherry Pie, 5 Layer Chocolate, North Shore Berry Crumb, and Lemon Angel, can surpass their savory, comfort meals.
13. Louise's Residence
Louise's Place is located in downtown Two Harbors, on the beautiful beaches of Lake Superior.
With its wood furniture, handcrafted crafts, and kitschy décor, Louise's is a quaint, rustic log cabin type building that gives visitors with a cozy ambiance.
They provide made-from-scratch daily specialties, breads, and sweet delights every day for breakfast and lunch.
Breakfast options include savory cinnamon buns, Swedish pancakes, and a substantial breakfast sandwich prepared with eggs, cheese, and your choice of sausage, ham, or bacon on a toasted English muffin.
The lunch menu has a variety of traditional American sandwiches as well as daily specialties including pulled pork, lasagna, and meatloaf.
14. Betty's Pies in Two Harbors
Betty's Pies has been a Two Harbors institution for more than sixty years.
The property is housed in a large, rustic mountain-style residence with a wood and brick facade.
With blue and white checkered carpeting, a breakfast bar with swivel stools, and big blue leather booths, the interior is decorated in a 1950s manner.
Betty's provides conventional American breakfast, lunch, and supper fare, as well as a variety of baked pies.
A range of two-egg breakfast combinations, skillets, and sweet griddle delicacies, as well as burgers and sandwiches, are available on the menu.
Butterfinger, 5 Layer Chocolate, Toffee Cream, and Apple Crunch are just a few of the over three dozen pies available.
15. Two Harbors
The Vanilla Bean Restaurant is located along Highway 61 in the picturesque village of Two Harbors.
The restaurant, which is housed in a charming pastoral style home with a warm mountain-cabin décor, serves an all-day brunch buffet with traditional American dishes.
Flavored sweet rolls, small doughnuts, and Norwegian crepes are just a few of their sweet and savory options.
The heartier breakfast menu selections include oven-baked omelets, two-egg breakfast classics, a couple benedicts, and a range of Speciality items like their Walleye Cakes & Eggs.
Lunch menu items include appetizers such as Border Battle Cheese Curds, soups, salads, and a range of sandwiches and burgers.
16. Castle Danger Brewery
Castle Danger Brewery is a large brewery with a 30 barrel brewing equipment, a canning line, and a taproom overlooking Lake Superior in downtown Two Harbors.
Their storied beers are regarded for being well-balanced, clean, and accessible.
Visitors are invited to sample their wonderful beers in their modern but rustic taproom, which has an adjoining outdoor terrace.
They have a rotating taproom release list that includes Ode IPA, Vienna Lager, and Honey Raspberry Wheat, as well as a range of current signature beers.
On Friday and Saturday nights, Castle Danger offers brewery tours that last around thirty minutes and include a free drink.
Final words
These are the best things that you will be able to do in Two Harbors during the winter you spend. Keep these activities in mind and plan your visit accordingly, so that you can receive the best possible experience out of your stay.