German immigrants established New Braunfels, Texas, which has a rich old world tradition and a small town charm. This little town, which is situated in the Texas Hill Country, has a wide variety of activities, attractions, and entertainment. The majority of the water for the 70-acre, family-friendly water paradise Schlitterbahn Waterpark comes from the Comal River. A trip to Canyon Lake is enjoyable for both those who like fishing and those who are curious about the remains of extinct dinosaurs. Prior to your visit, make sure to phone the restaurants and attractions to check the most recent operating hours. While keeping that in mind, let's take a look at the fun things to do in New Braunfels at night.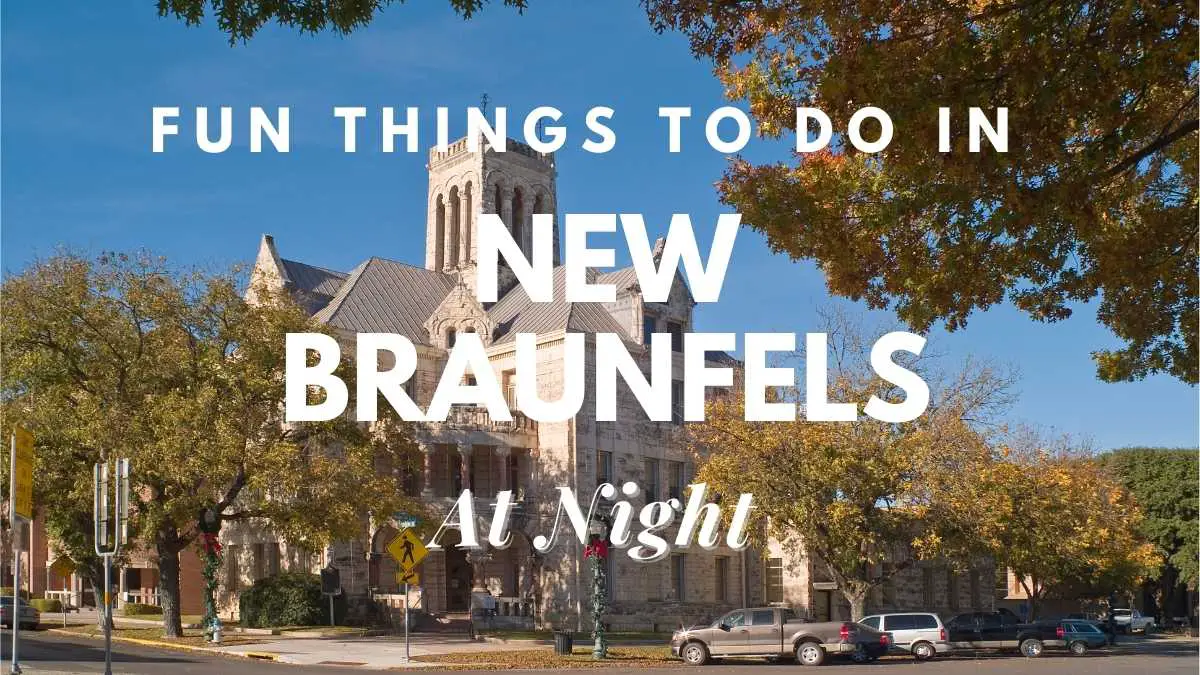 1. Children's Museum at McKenna
Children may engage with interactive, hands-on exhibits at the McKenna Children's Museum that are focused on space, technology, and culture with the intention of inspiring and igniting their curiosity and learning. There is something for everyone among the wide variety of displays. The games are based on real-world situations that youngsters may investigate, such the Lend a Hand Ranch, Grocery Store, Outside the Lines Art Studio, Tot Spot, Destination Space, and a lot more.
Due to the fact that it transports children from their own world into another, Destination Space is especially well-liked. They discover interesting things about space, go on a light and musical trip, and even don unique space-related attire. They practice managing a shop, learn to count, and practice speaking Spanish at the grocery store. They get knowledge of what occurs in hospitals, patient rooms, and ambulances at McKenna Hospital. Children may learn about animals that live in rivers and other bodies of water at the Under the Comal River Exhibit.
Read: Is Traveling A Hobby? The Ultimate Guide To An Exciting Way Of Life Learn about the Downsides Of Traveling As A Hobby

2. The heart of New Braunfels
It's fun to explore New Braunfels because it has such a unique mixture of residential buildings, gorgeous historic structures, fantastic stores, museums, restaurants, and entertainment venues. Here you may locate Henne, the oldest hardware shop in Texas, as well as Naegelin's, the oldest bakery in Texas. The city spent a lot of time and love transforming Main Street and downtown over the past 40 years.
The area extends from Seguin Avenue via a series of underpasses and 10 blocks of San Antonio Street until coming to an end at the Main Plaza, which has a beautiful antique fountain, sculptures, a concert pavilion, and finely groomed gardens. You can enjoy various concerts as well as parades and the Christmas "Festtage" here.
3. Texas's Canyon Lake
One of Texas's deepest lakes, Canyon Lake is located less than 14 miles from New Braunfels and midway between Austin and San Antonio. Fishermen, boaters, and anybody else who enjoys cooling down on the water on a hot summer day frequent it. The lake has 80 miles of beautiful coastline and is situated on the Guadalupe River.
Around the lake are five neighborhoods, two yacht clubs, a bustling marina, and more. The U.S. Army Corps of Engineers is in charge of eight public parks that include camping, boat ramps, and picnic spaces. You may tube down the Guadalupe River below Canyon Dam. Dinosaur footprints and fossils dating back 100 million years may also be found in the Canyon Lake Gorge.
4. River Comal
The Comal River, which is fed by underground springs from the Edwards Aquifer, formerly served as New Braunfels' principal tourist draw. The river emerges from the aquifer and runs past the lovely Landa Park before passing through Downtown New Braunfels and the adjoining Schlitterbahn Waterpark before joining the Guadalupe River.
The water is always between 70 and 72 degrees, making it comfortable to swim in during the sweltering Texas summers and warm enough for a dip in the winter. No visitor to New Braunfels should skip tubing, the most well-liked pastime on the Comal River. All you need is a swimming suit to rent tubes from one of several outfitters. At Landa Park, you may hire a canoe or a paddleboat and take in the river.
5. Texas Tubes
In New Braunfels, tubing down the Comal River is a well-liked pastime. This sport may be done year-round because to the consistently nice water temperature, and some individuals can never get enough of it. Texas Tubes Outfitters in downtown New Braunfels on the banks of the Comal offers day tickets that enable tubers to take a return shuttle all day long to accommodate them.
They thus go up and down, up the shuttle, in one of the bottomless or bottomed tubes, with or without a cooler. Since drinking is permitted on Comal, most people hire the tube with a cooler or bring their own. Even with a free and optional life jacket, it's still not a smart idea to consume too much alcohol while out on the lake.
6. Farmer's Market in New Braunfels
More than simply a location to purchase fresh vegetables may be found at the New Braunfels Farmer's Market. Vendors from all around the neighborhood congregate every Saturday to offer anything from pizza and chocolate to baked products, meats, cheeses, and fruits and vegetables.
Additionally, you may get handmade things like clothing, toiletries, and home items manufactured from superior natural components. Celebrations and live entertainment are often available. For details on what is being sold each week, see the farmer's market website. Every Saturday, whether good weather or bad, the market is open from 9 am to 1 pm.
7. Natural Bridge Caverns
The entire family may have fun and enjoy a range of outdoor excursions at Natural Bridge Caverns. 180 feet below earth, visitors may see the stunning stalactites, stalagmites, and rock formations of the caves. Alternately, they may do the Canopy Challenge, which involves ascending a 60-foot obstacle course to the summit and returning by zip line.
It is also possible to mine for fossils and gems. After all the excitement, visitors may have a snack at the on-site café or purchase a present from the gift store. Every activity is suitable for both kids and adults. Other than significant holidays, the caves are open every day.
8. Brauntex Performing Arts Center
The Brauntex was a movie theater for many years when it was opened in 1942. The city's residents banded together in the late 1990s to gather funds for the theater's preservation and transformation into a performing arts center.
The Brauntext is now one of the area's top venues for performing arts. The arena has 605 seats and mixes current technology with vintage art-deco design. Plays, bands, comedians, and country music singers are just a few of the performances that visit the Brauntex each year. You may buy tickets at the theater's box office or online.
9. Stars and Stripes Drive-In Theater
On the grassland of Texas, it seems like a time warp! One of the few surviving drive-in theaters in the United States is The Stars and Stripes. Rain or shine, this family-run business is open every weekend from Friday through Sunday.
Every night, three enormous screens display three different movies. Customers get two movies for the price of one when they purchase tickets for a double feature! The drive-in theater offers inexpensive refreshments including burgers and fries, corn dogs, funnel cakes, and, of course, popcorn in addition to movies. Online or in-person ticket purchases are also available.
Final words
If you wonder what to do at night time, you may take a look at this list of fun things to do in New Braunfels at night. Plan your nights and you can keep yourself awake drowned in all fun and excitement.