Are you looking forward to visiting the Shawnee National Forest? Then you need to take a look at the opportunities that are available for swimming as well. Continue to read, and we will share details with you about some of the best swimming opportunities that you can find out there. Based on these, you can go ahead and get the most out of time that you spend in the Shawnee National Forest.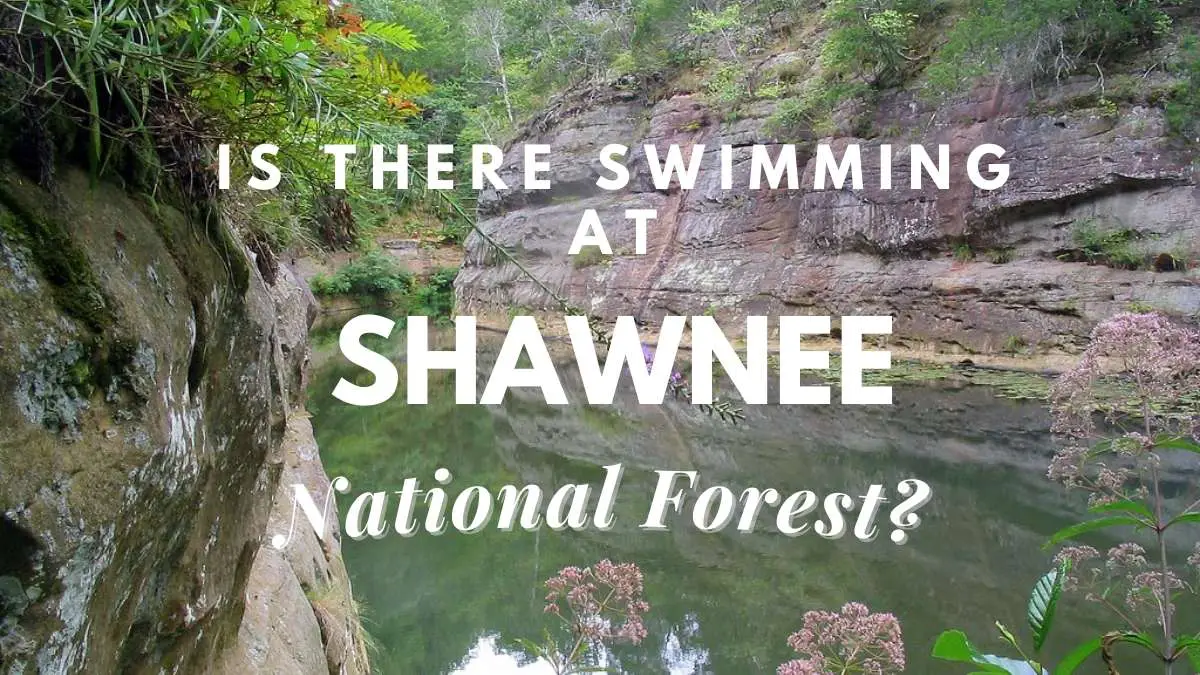 About the Shawnee National Forest
The Shawnee National Forest, which covers 280,000 acres in southern Illinois and stretches from the Mississippi River to the Ohio River, is located in the Shawnee Hills. Hills and valleys, timber-producing terrain, attractive views, and animals such as deer, foxes, ducks, turkeys, and quails distinguish this area from central Illinois' plain croplands. The forest is crisscrossed with a network of public roads and trails that provide access to campers, animal habitats, and interesting rock formations.
The Rim Rock National Recreation Trail is a.7-mile circuit that travels around some of the state's most spectacular geological features; the.25-mile Garden of the Gods Trail examines 200 million-year-old rock formations; and the Bell Smith Springs Trail has caverns and a natural bridge. The Illinois Iron Furnace, a 52-foot-tall facility erected in 1837, utilized during the Civil War, and renovated in 1967, is located in the forest; interpretive panels explain the site's history.
Read: Is Traveling A Hobby? The Ultimate Guide To An Exciting Way Of Life Learn about the Downsides Of Traveling As A Hobby

What can you do at the Shawnee National Forest?
The Shawnee National Forest is a 289,000-acre hideaway at Illinois' southern corner. Hiking, mountain biking, horseback riding, and climbing are all possible in the broad tracts of woodland, marshes, and picturesque bluffs. The majority of the forest is also available to hunting, and the region is well-known for trophy buck hunting. Hundreds of species travel through the forest during yearly migrations in the spring and autumn, making it one of the most varied habitats in the state for birdwatchers.
The forest's 11 lakes and 52 ponds, which are home to a variety of fish species, may also be explored. Largemouth bass, bluegill, crappie, and sunfish, as well as a variety of other species, may be caught. With lengthy, sheltered shorelines, most of the lakes in the vicinity are ideal for kayaking and canoeing.
In the forest, there is just one established RV campsite. It does, however, provide plenty of room, with 93 sites, several of which have electricity connections for your RV. You'll be directly on Lake Glendale's shoreline, with miles of hiking paths, a swimming beach, and great fishing. If you want more solitude, scattered camping is available in a variety of locations across the forest.
Read: 19 Best Places In Shawnee National Forest To Visit 2023Learn about the Garden of Gods
What is the best way to go to the Shawnee National Forest?
Shawnee National Forest is located in southern Illinois and is within driving distance of a number of major towns in the area, including Nashville, St. Louis, and Chicago. With a number of significant highways running across the region, the forest is pretty straightforward to explore. However, you will need to travel down tiny dirt or gravel roads in a few isolated areas of the forest.
If you're travelling from Chicago, follow I-57 south out of town for around five hours to get to the forest. Take IL-3 from St. Louis and you'll be there in about an hour and 45 minutes. Take I-24 out of town from Nashville and you'll be in the forest in about two and a half hours.
The major RV site is near to Lake Glendale, which is just a few minutes away from Interstate 145. The campsite is simple to find, with few hard twists or small roads. Large RVs should have little trouble navigating the region.
Pounds Hollow Recreation Area – The best place to swim
If you want to visit the Shawnee National forest for Swimming, you should think about visiting the Hollow Recreation Area. Do you like to go boating, hiking, or swimming with your family? Pounds Hollow Recreation Area offers all of this and more! Pounds Hollow has a wide range of outdoor activities that will appeal to the whole family. The twenty-five-acre lake, which is surrounded by hundreds of acres of picturesque woods, offers a variety of natural activities. The lake in Pounds Hollow and the surrounding trails, which were completed by the Civilian Conservation Corps Men (CCC) in the 1940s, continue to give lots of activities for a full weekend, or you can do it all in one day!
Hiking in Pounds Hollow
Hike the Beaver Trail for a panoramic view of the lake! Take a leisurely stroll along the hiker-only pathways marked with blue diamonds and across wooden bridges that cross trickling streams that feed into the lake to see the busy wildlife. The sun is kept at away by a deep canopy of trees, allowing you to take in the wonderful natural sights that can be seen when traversing this wooded ecosystem. Many of Pounds Hollow's equestrian/hiker pathways are designated with a white diamond, so go horseback riding! Take Beaver Path Southwest nearly a half mile beyond the lake to the lower Rim Rock trail for a lengthier stroll.
Lake Pavilion and Swimming Beach
The CCC erected a big stone pavilion with stunning views of the lake and beach area, as well as numerous large picnic tables ideal for a large gathering or a simple family picnic meal. Shawnee Forest guests have access to a number of lakeside picnic sites. Cool off at the beach in the permitted swimming area! From sunrise to sunset, relax on the sand as the kids splash about on the beach, or jump in with them! To ensure a safe swimming experience, stay inside the buoys.
Fishing and boating
Small boats are permitted on the lake during the daylight hours, and it is stocked with largemouth bass, channel catfish, and sunfish for our fishing buddies! To safeguard the Pounds Hollow Recreation Area from unwanted human influence and maintain the wildlife that many Shawnee Forest visitors have come to love, only electric vehicles are permitted on the lake.
Pounds Hollow Camping
The Park Ridge Campground has more than 35 campsites with access to the beach through pathways. There are no bookings allowed for camping from April 1st to December 15th. Camping in the park is strictly first-come, first-served. The cost of camping varies.
What other activities are available at the Shawnee National Forest?
Shawnee National Forest offers a wide range of activities for outdoor enthusiasts. This National Forest in Illinois is also Bigfoot area! It's known for its daring trekking and breathtaking beauty, but it's also Bigfoot territory!
Thanks to Southernmost Illinois for inviting us to come see what the Shawnee National Forest Area has to offer. Here's what you can expect to receive during the time you spend.
Going for a hike in the Garden of the Gods
The Shawnee National Forest's Garden of the Gods is the most popular tourist destination. Hiking in this area is a must-do because of the breathtaking scenery and unusual geological formations. Garden of the Gods is one of Illinois' most photographed locations, including spots to walk, camp, picnic, and enjoy nature. The Observation Route is a quarter-mile trail with short, steep inclines and stairs, as well as benches. The incredible reward is the steep cliffs and panoramic vistas.
Take a selfie with Bigfoot in the Shawnee National Forest.
This fabled Bigfoot monument was placed on a whim by a local homeowner and business owner, and it's gotten a lot of attention since then!
On the side of the road across from the Garden of the Gods Outpost, Bigfoot is impossible to miss. Simply drive into the little parking lot and take some goofy films and photos!
Stop at the Garden of the Gods Outpost for some ice cream.
Cold refreshments, ice cream, Bigfoot, and local souvenirs (including pressed pennies!) and more are available at the Garden of the Gods Outpost. The staff is really welcoming and can assist you with directions and other questions you may have about the region. Don't miss the ice cream eating Bigfoot family across the street!
Enjoy a picnic under the Golden Circle.
The Golden Circle is a fascinating place that many people are unaware of. The stunning granite bluffs, caverns, and natural arches are a great spot to explore for the adventurous.
The Golden Circle Trail begins just down the road from the Outpost in the Garden of the Gods area. There is a natural arch where you may picnic but be aware that it is absolutely unlabeled. I strongly advise you to stop at the Outpost for instructions – and be ready for an adventure! You'll have to do some backcountry gravel driving (or trekking), but our minivan had no problems. Just make sure you take whatever you brought in with you and don't leave any rubbish behind!
Take a hike down to Rim Rock.
Because of its highly interesting geological structures, Rim Rock was one of my favorite spots to visit in Shawnee National forest. I suggest going the furthest trail on the left, which will take you directly to the slot canyons' narrow, steep steps.
You'll also come across some ancient Native American Woodland people who erected stone walls about 5000 years ago. In Giant City, Illinois, similar forts were constructed.
Take a look at Ox-Lot Cave.
At the bottom of the Rim Rock Trail, you'll find Ox-Lot Cave. It got its name from the fact that it used to be a corral for oxen, mules, and horses. A little spring that was utilized as a drinking spot for animals is hemmed in on the cave's side.
Visit Pounds Hollow for swimming, fishing, boating, or camping.
Pounds Hollow Recreation Area is a lovely, tranquil portion of Shawnee National Forest, but it's also a favorite summer swimming site! It's within a short distance from Rim Rock. The best part of Pounds Hollow is that anybody may come, swim, fish, or boat there for free – just bring your own equipment. There are no costs, however a fishing license is required (like anywhere else in Illinois). For roughly $10 per night, you may pitch a tent and camp in Pounds Hollow.
I enjoyed visiting Cave in Rock since I have a strong interest with caves. Many criminals, pirates, and counterfeiters are said to have lived in the limestone cave in the late 18th and early 19th centuries. At Cave in Rock, there are pirate stories dating back hundreds of years. Many of the tales are made up, but the most ferocious is true.
Captain Samuel Mason, a native of Pennsylvania, was a career thief and pirate who preyed on vessels on the Ohio River as well as stealing from people's homes on Sundays when they were at church. In 1797, Mason made Cave in Rock his criminal headquarters.
At the American Fluorite Museum, look for fluorspar.
The American Flourite Museum sits on the site of the Rosiclare Fluorspar and Mining Co., which was formerly the biggest fluorspar mining corporation in the United States.
From 1837 through the 1880s, this magnificent piece of history served as Illinois' sole operational iron furnace. In 1967, however, it was reconstructed. It generated 9 TONS OF PIGEON IRON PER DAY, which is still an amazing achievement!
Stay at the cabins in the Shawnee National Forest
Looking for a place to stay when visiting Shawnee National Forest? The Shawnee Forest Cabins are very snug, with individual hot tubs, fireplaces, and fully equipped kitchens! You can stroll to Bigfoot and the Outpost from your cabin, and Garden of the Gods is just 2 miles away!
On the eastern side of the Shawnee National Forest, or anyplace else in the Shawnee National Forest region, there are many more places to visit and stay.
Final words
Now you are aware about the best swimming destinations and other great things available to do at the Shawnee National forest. Visit the national forest and get the best out of all these experiences.