There's a lot more to the Crystal River than simply a gorgeous name. It's a river with over 30 springs that run roughly 7 miles to the Gulf of Mexico. You can see straight down to the sandy bottom as you glide through the pure water. Kayaking on the Crystal River is both rewarding and enjoyable. Here are a few pointers to help you get the most out of your trip.

Crystal River has just 3,055 people, and driving through town, you'd believe they all work in the manatee industry. The manatees of Crystal River attract visitors from all over the globe. It is the only area in Florida where manatee swimming programs are being developed. Nearly every hotel and business in Crystal River has a sign advertising "swim with the manatees." While keeping that in mind, let's learn more about Crystal River kayaking. Then you can figure out what sort of an experience that you can get out of it.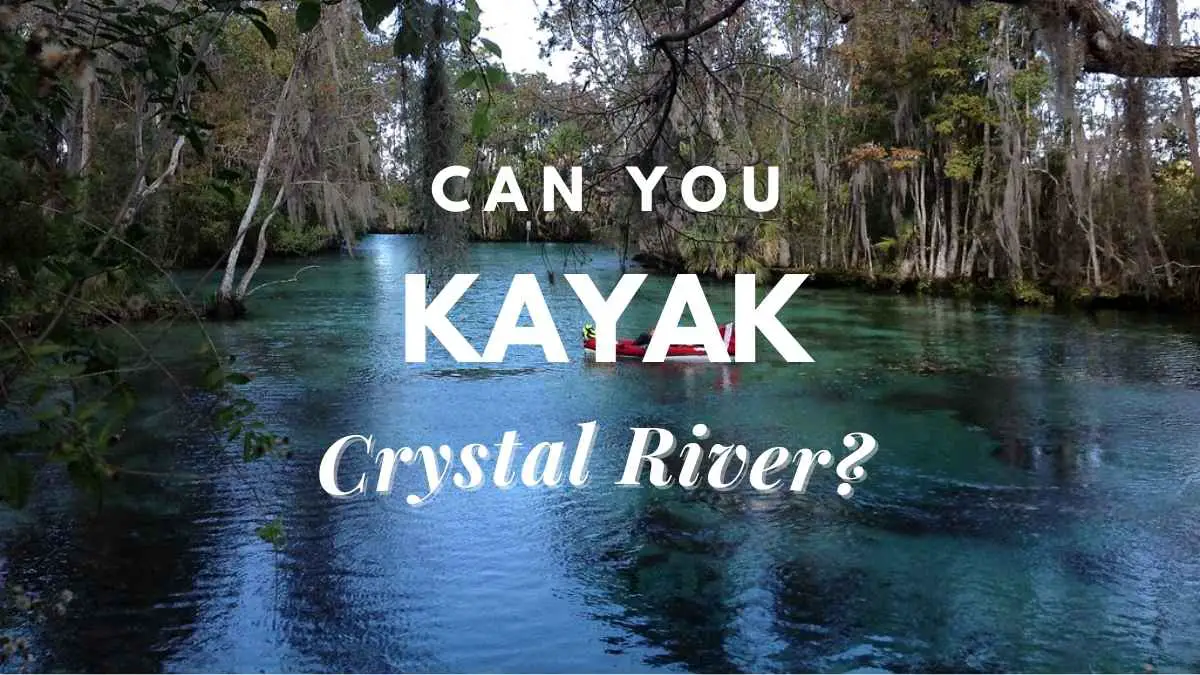 Seek instructions.
If you've never been in a kayak before, the greatest thing you can do before paddling the Crystal River is learn how to turn, stop, position yourself for comfort, and most importantly, follow the laws of the road.
Simple instructions will assist you in becoming familiar with the kayak, paddle, and getting in and out of the boat.
If you hire a boat, you must observe Manatee Manners for kayakers.
It is critical that you study the local regulations for kayaking with manatees.
If you have a fundamental understanding of what you're doing, you'll have a lot better time in Crystal River.
But don't worry if you're a newbie; Crystal River is a fantastic place for both novice and experienced kayakers.
Read: Is Traveling A Hobby? The Ultimate Guide To An Exciting Way Of Life Learn about the Downsides Of Traveling As A Hobby

Examine the Weather
The weather at Crystal River is usually ideal for kayaking.
Without waves, the sea is usually tranquil.
However, winds over 10 knots might provide rough conditions in the Bay and inland areas.
Always check the weather forecast before leaving the house.
It's conceivable that isolated thunderstorms will develop. If there is a chance of lightning, postpone your travel.
Dress in Water-Temperature Appropriate Clothing
The water temperature at Crystal River is 72 degrees Fahrenheit year-round, despite the pleasant air temperature.
You may feel yourself shivering in your shorts after just a few minutes in the water, or after an accidental soaking.
Wear a wetsuit if you aren't accustomed to being in cold water.
If you don't want to wear a wetsuit, bring an additional set of clothing in case you get wet.
Select the Correct Kayak
Kayaking in Crystal River, Florida is possible with either your own boat or a rented kayak.
Choose between single or double-seat kayaks, as well as a stand-up paddleboard (SUP).
You'll have a great time seeing manatee, birds, and other wildlife if you have the correct kayak.
River otters, raccoons, and alligators and dolphins are sometimes seen.
Obtain a Map
There are so many beautiful places to see in the bay.
You won't want to miss out on this opportunity to experience all Crystal River has to offer.
Take a map from the Kayak rental business with you so you may wander around and discover the greatest springs.
Take a trip to Three Sisters Springs
Don't miss Three Sisters Springs, no matter what you do.
This area, on the east side of King's Bay, includes a number of vents and sand boils.
It's a must-have for a stunning kayaking location.
Manatees spend their winters at Three Sisters Springs.
Manatee watching attracts visitors from all around the world.
To get into this spring, you'll need a kayak or a canoe (or the ability to swim).
Motorboats are not allowed, making this a tranquil and serene location.
Even strong swimmers may find it difficult to drag themselves to this spot during low tide.
Before you travel, double-check that the springs are open.
However, the Three Sisters Springs group is merely three of the 600-acre bay's 70 springs.
Take a stroll in Hunter Spring City Park.
Spring City Park is one of the most popular sites to go kayaking on Crystal River.
A kayak launch, boardwalk, beach, and restrooms are all available.
Kayakers and individuals who wish to swim with manatees go to this location.
Read: 3 Best Amelia Island Kayak Excursions
Canoe along the Chassahowitzka River.
If you want to spend a relaxing day, kayaking on the Chassahowitzka River is a terrific alternative.
Like so many of the rivers here, this one is spring-fed, clean, and beautiful.
Trace the "Chazz" down to its source (a spring known as "The Crack").
There are no manatees here, but there are mullet and birds.
Read: Can You Kayak On Lake Michigan?
Go on a Manatee Safari
Looking for a unique water adventure by boat or kayak? You must take a manatee tour.
You will be accompanied by a qualified guide.
You'll be able to locate the greatest snorkeling and swimming with manatees' areas.
Finish the day on the Gulf Beach at Fort Island.
It's time to unwind and relax on the beach after a fantastic day of kayaking in Crystal River, Florida.
For Island Gulf Beach, you may enjoy panoramic views of the Gulf of Mexico and a picture-perfect sunset.
A picnic area, outdoor showers, and changing facilities are available for you to remove your wetsuit.
Despite its proximity to the pier, the ocean remains tranquil.
You can even mistake yourself for being on a lake.
After a day of kayaking, this beach is a great place to unwind by the sea with the family.
Each year, an increasing number of people visit Crystal River to observe manatees and interact with them, prompting the Fish and Wildlife Service to tighten laws in an effort to safeguard the endangered species from its throngs of admirers.
(More new restrictions are in the works.) While these limitations have restricted how and where people may engage with manatees, the Crystal River/Kings Bay region still has lots of opportunity to witness manatees and even swim with them.
This is a step-by-step approach to seeing manatees in Crystal River.
These Crystal River manatees are at the roped-off Idiot's Delight Spring sanctuary, which is located just outside Three Sisters Spring.
The vista is from the springtime boardwalk.
These Crystal River manatees are at the roped-off Idiot's Delight Spring sanctuary, which is located just outside Three Sisters Spring.
The vista is from the springtime boardwalk. (Photo courtesy of Bonnie Gross)
The area of Kings Bay, Crystal River, and Three Sisters Springs receives the most media interest, and for good reason.
It's stunning: A remarkable freshwater spring with natural luxuriant flora around its vibrant and brilliant blue waters that has never been created into a swimming hole or park.
It's popular with both humans and manatees!
However, the Three Sisters Springs group is merely three of the 600-acre bay's 70 springs.
In the winter, an estimated 600 to 800 manatees migrate to the region to take use of the comparably warm 72-degree water pumped from the numerous springs, therefore Crystal River manatees may be seen in a variety of places.
Three Sisters Springs is a nice site to watch manatees in Crystal River.
From the boardwalk, you can see Three Sisters Springs.
In the town of Crystal River.
On this particular day, there were no manatees to be seen. (Photo courtesy of Bonnie Gross)
In addition to Three Sisters, the Fish and Wildlife Service has maps that depict regions that are off-limits to boats because manatees cluster there, and those maps identify a half-dozen additional manatee refuge zones.
Swim-with-manatee outfitters and kayakers exploring on their own frequent two additional areas:
Kings Spring, the biggest and original spring that spurred the founding of the Crystal River National Wildlife Refuge in 1983, is located next to a mangrove-filled Banana Island in Kings Bay.
Manatees cluster here in the winter, and boats — but not swimmers — are prohibited from entering Kings Spring.
Hunter Spring City Park, located just north of Three Sisters Spring, is the most popular spot to launch kayaks and is adjacent to Jurassic, House, and Hunter springs, all of which attract manatees and visitors who wish to swim with them.
Within five minutes of paddling inland into Hunter Cove, we noticed manatees.
We continued on toward Three Sisters Springs, but a manatee swam beneath our canoe in Kings Bay before we arrived.
We observed more in the canal that goes to Three Sisters Spring.
Read: Rainbow Springs Kayak Guide (10 Best Kayak Adventures)
Final words
Now you know how to go ahead with crystal river kayaking. It can deliver an enjoyable and a hassle-free experience to you. While keeping that in mind, you can start getting ready for your kayaking experience at the crystal river. It will never be an unforgettable experience, and you will fall in love with all the great adventurous moments that will come on your way. Just go ahead with kayaking and enjoy the greatness that comes on your way.