In recent years, hikers have been more interested in no-cook hiking cuisine. They have more freedom and flexibility camping without a pot and stove since they can spend more time outdoors gazing at mountains instead of worrying about camp kitchen setup and cleaning.

I think this strategy is OK if you're just planning to trek for a couple of days at most and the weather is pleasant and sunny. In a colder region and on winter excursions, however, this might have unfavorable implications. I like delicious cuisine and would never turn down the opportunity to eat hot, substantial meals while hiking. However, for a fast lunch or a snack while hiking, I prefer no-cook cuisine. Some foods may be eaten raw, without the need to heat or cook them: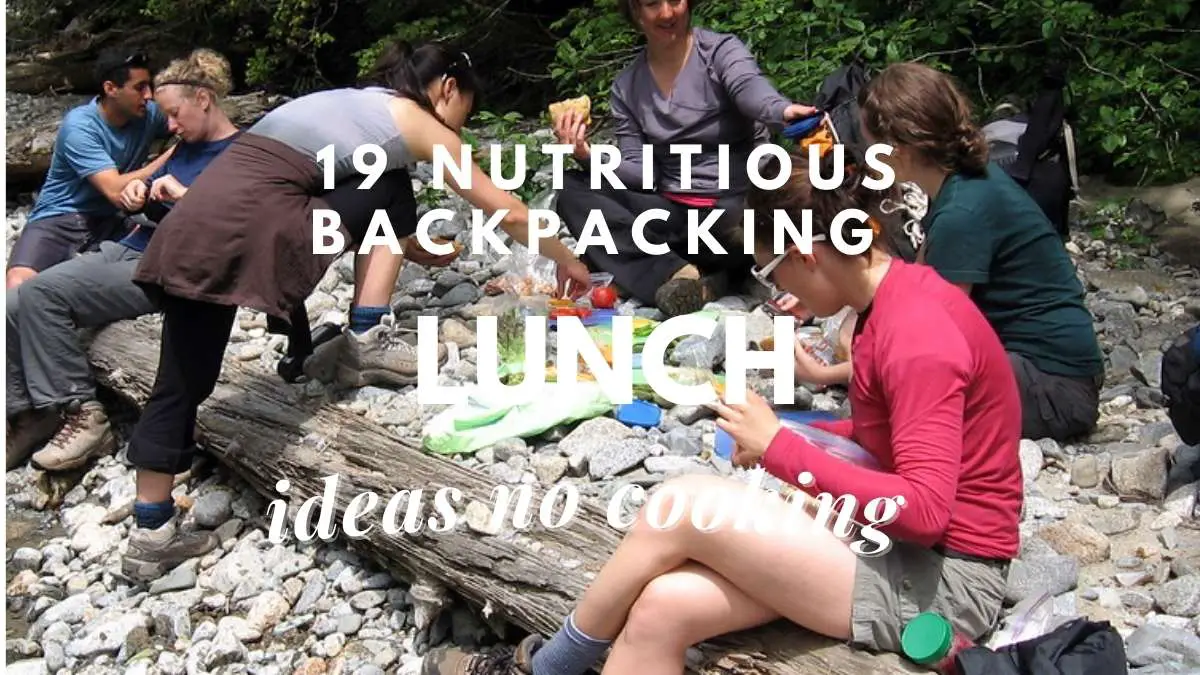 1. Oats Overnight
This trendy craze is catching on at home, but I recommend taking overnight oats on the trail!
Simply soak your oatmeal oats overnight in water.
(Or, if you have milk or dehydrated milk, even better.) For added taste, soak with cinnamon and dried fruit, but remember to add nuts in the morning.
Read: Is Traveling A Hobby? The Ultimate Guide To An Exciting Way Of Life Learn about the Downsides Of Traveling As A Hobby

2. Granola with a Cold Soak and Milk
I enjoy this cold-soaked granola cereal from Peak Refuel at any time of day, whether it's for breakfast or lunch.
Simply fill the bag with one cup of cold water and let the dehydrated milk to rehydrate.
There's no need to clean up since you can eat it right out of the bag!
3. Bagels
So, you don't have to eat it plain, cream cheese is available in individual, single-use packages.
In the mornings, I like peanut butter on a bagel.
Alternatively, for a protein boost in the morning, get smoked salmon.
4. Breakfast Burritos You Can Make Ahead
This is another dish that can be prepared ahead of time and is ideal for shorter journeys.
Wrap a tortilla over eggs, cheese, and chorizo, then eat first thing in the morning!
5. Shakes for Breakfast
We recently experimented with Soylent.
I wouldn't drink it every day, but it's high in nutrients and would make a terrific on-the-go hiking meal.
Plus, the powdered form is ideal for individuals on extended vacations who want to keep their luggage light.
6. Cream Cheese & Smoked Salmon
Smoked salmon is one of my favorites hiking foods! You won't have to worry about a mess or odor while trekking since they're offered in vacuum-sealed packets.
It's ideal for a long weekend walk.
I wouldn't leave it out of the fridge for too long, so consume it during the first few of days of your walk.
7. Chia Pudding
Chia seeds are high in protein, fiber, and omega-3 fatty acids.
I like putting them in my oatmeal!
But I attempted to think of other ways to eat more while on trial.
What is the solution?
Pudding with chai! Combine the dehydrated milk, water, and chia seeds in a bowl.
You may boost the taste by adding cinnamon, vanilla, or sugar.
Alternatively, add dried fruit and notes in the morning.
When I prepare them at home, I use mason jars, but if you're on the road, a thermos in which you can soak the chia seeds overnight works excellent.
The pudding is ready to eat after just a few hours of soaking, but the longer you soak them, the thicker and creamier it will get!
While camping, I suggest using this dehydrated coconut milk in your chia pudding!
8. Cold brew
Coffee isn't a meal, but it is a great way to start the day and doesn't need any preparation.
Any instant coffee may be dissolved in cold water with enough stirring.
Starbucks even sells instant coffee packets with a "cold brew" option.
However, it's essentially simply sugared instant coffee.
This cold-brew instant coffee is one of my favorites!
9. Tuna Wrap in Pita Bread
One of my favorites creations is this one.
Why? Pita bread does not get crushed in your backpack.
Because I purchase the tuna in foil packets rather than cans, it's a fast and light hiking supper.
This selection of various tuna foil packets is fantastic!
On a lengthy hiking journey, you'll appreciate the diversity of tastes.
Many of these types are hard to come by in shops, so I usually get them online.
10. Ready rice
It's already cooked, so you can eat it straight from the bag without having to prepare it!
If you combine it with some vegetables or smoked sausage, it's fantastic.
11. Cheese & Smoked Sausage
Another wonderful way to obtain a lot of protein when hiking is to eat smoked sausage.
When you buy it, it's already cooked, and it's delicious cut up with some cheese.
Cheddar and other hard cheeses are excellent trekking companions!
12. Salad with Quinoa
Another one of my favorites make-ahead dinners for when you're on the trail and don't want to cook.
Because it's high in protein, it keeps me satisfied even on lengthy hikes.
A delicious quinoa salad may be made in a variety of ways.
This Asian Quinoa Power Salad dish is one of my favorites.
13. Charcuterie Board
If you're looking for anything other than beef jerky to eat while travelling, I recommend cheese and meat.
On the trail, a supper of nuts, hard cheese, and dried meats is a terrific option.
14. Wrap with Hummus
Did you know you can get hummus that has been dehydrated?
It's even available in quantity at our local grocery shop, which I adore!
Bring pita bread and dried hummus with you on the road for a fast supper.
Sun-dried tomatoes are also a terrific addition!
15. Bean Salad
Another one that's high in protein and fiber, so it'll keep me satisfied on a long trek!
You may make the bean salad at home or purchase dry beans that you can rehydrate with cold water on the route.
Or, for the most basic form of a terrific no-cook camping dinner that will keep you full, just grab white beans and season them with a little oil and pepper.
16. Sandwiches
This is one of those concepts that is self-evident.
I could eat a sandwich every day and never get tired of it.
Peanut butter and jelly are a basic trial sandwich that is delicious (and you don't have to worry about anything going bad!).
But I also like to carry dry meats and a few vegetables to the trial for a fast lunch.
I prepare these ahead of time and bring them on weekend hikes as a grab-and-go supper.
17. Meal Substitute Bars
Because there are so many various types of meal replacement bars to choose from, I suggest sampling a few and deciding which ones you like best!
18. Chicken Salad,
There are a variety of dehydrated meals available that can be made by just adding cold water – no need for a campfire!
PackitGourmet has a Chicken Salad pack that you may check out.
One of my favorites picnic or day hiking lunches is chicken salad.
My recipe for a veggie-loaded chicken salad may be found here.
19. Pasta Salad No. 20
On the path, here's a terrific recipe for buffalo pasta salad.
To rehydrate dry noodles, just add cold water.
You may experiment with new pasta salad varieties every day once you have dried noodles.
For a quick pasta salad supper on the road, I'll mix in dehydrated vegetables, sun-dried tomatoes, and olive oil.
How much food should I bring on my backpacking trip?
The amount of food to carry on a camping trip is a frequently asked subject.
Many things influence this, including the intensity of your exercise, your size and weight, the number of calories you burn, the number of days you'll be out, and so on.
An acceptable daily dietary target is 112 to 212 pounds (or 2,500 to 4,500 calories) per person.
A person going 10 miles with a 4,000-foot ascent would certainly expend more calories—and need a lot more food—than someone travelling a few miles on a reasonably level path with the intention of relaxing at the campground.
Consider the following factors when deciding how much food to bring:
How long will you be gone?
Consider the meals you'll have at the trailhead and at the end of your journey.
What is the total number of people in your group?
When you're on your own, meals may be a lot easier.
Decide if you want to share meals if you're backpacking with others.
Food, fuel, and cookware may all be shared among a larger gathering.
What does your typical day entail? If you're going to be covering a lot of ground in a day, stock up on snacks you can eat on the fly and prepare a no-fuss meal that night.
What Should I Pack for a Backpacking Trip?
Most meals may be taken on a camping trip, but it's better to stick to foods that are small, light, and not too bulky.
Fortunately, whether you dehydrate the meal at home, buy ready-to-eat dehydrated meals that only require adding hot water, or assemble your meal from a mixture of fresh and dry ingredients, there are ways to take backpacking versions of your favorites meal—from burrito bowls to tuna noodle casserole—there are ways to take backpacking versions of your favorites meal—from burrito bowls to tuna noodle casserole.
Include some fresh foods: While refrigeration is one of those conveniences you'll want to leave at the trailhead, not all camping food has to be processed or packed.
If you don't mind a little additional weight, it's simple to integrate some fresh meals into your camping menu. A baguette, nuts and seeds, and hard cheeses like parmesan or gouda are also good options.
You might also bring some fresh produce: Depending on the temperature, most fresh items will last one or two days inside your bag.
Carrots, broccoli, bell peppers, onion, kale, snap peas, apples, and oranges are good choices since they don't spoil quickly.
Read more about Backpacking Better and Eating Right on the Trail.
Look for lighter versions of your favorite's dishes, such as: Macaroni and cheese is a classic comfort dish, and packaged versions are easy to prepare in the bush.
Tuna, salmon, Spam, and chicken come in convenient vacuum-sealed pouches that may be found in most grocery shops.
Easy options include instant rice, couscous, noodles, spaghetti, rice mixtures, and other shelf-stable packaged entrees.
Individual portions, pouches, and powdered peanut butter are all common options.
Spices may improve the attractiveness of hiking cuisine while adding very little weight.
Don't be scared to include it into your dishes. Season your home kitchen with salt, pepper, crushed red pepper, cumin, lemon pepper, or anything else you need.
Cinnamon enhances the flavor of hot chocolate.
Mac & cheese gets a kick from hot sauce.
Instant mashed potatoes get a boost of flavor from garlic powder.
Stay hydrated with flavored beverages: Staying hydrated is simpler with a hot or cold flavored beverage.
Consider hot apple cider, tea, chai, hot chocolate, chicken or beef broth, instant ginger tea, and miso soup in addition to electrolyte-rich drinks.
Fruits and vegetables dehydrated on racks in a food dehydrator
Make your own dehydrated meals.
While drying your own camping meals takes more time and effort, it may save you money as well as weight and volume in your pack.
You may bring your favorites home-cooked meals and have complete control over what goes into them.
Read How to Dehydrate Food for a complete guide.
Take a look at freeze-dried/dehydrated foods: Despite their high cost, these ready-to-eat meals are handy, require little cleaning, and fit into most bags.
Wait for the meal to rehydrate after adding hot water. Over time, the selection of healthy, appetising options has grown, and they now provide above-average flavor and nourishment for the weight.
With so many more firms producing backcountry food, you'll be able to discover a wide range of tasty alternatives, including gluten-free and vegan camping food.