Tubing is the best and most peaceful way to see Florida's amazing waterways. Floats, rafts, and tubes are all simple to use — just lie down and float away! Continue to read and we will share more details about Rainbow Springs state park tubing with you.

The Rainbow River, which runs through Ocala/Marion County and is spring-fed, is a great site to attempt tubing. The gentle, leisurely river glides you downstream (at around 1 mile per hour), allowing you plenty of time to see the area's stunning natural settings while witnessing Florida's colorful fauna in the water and on the beach.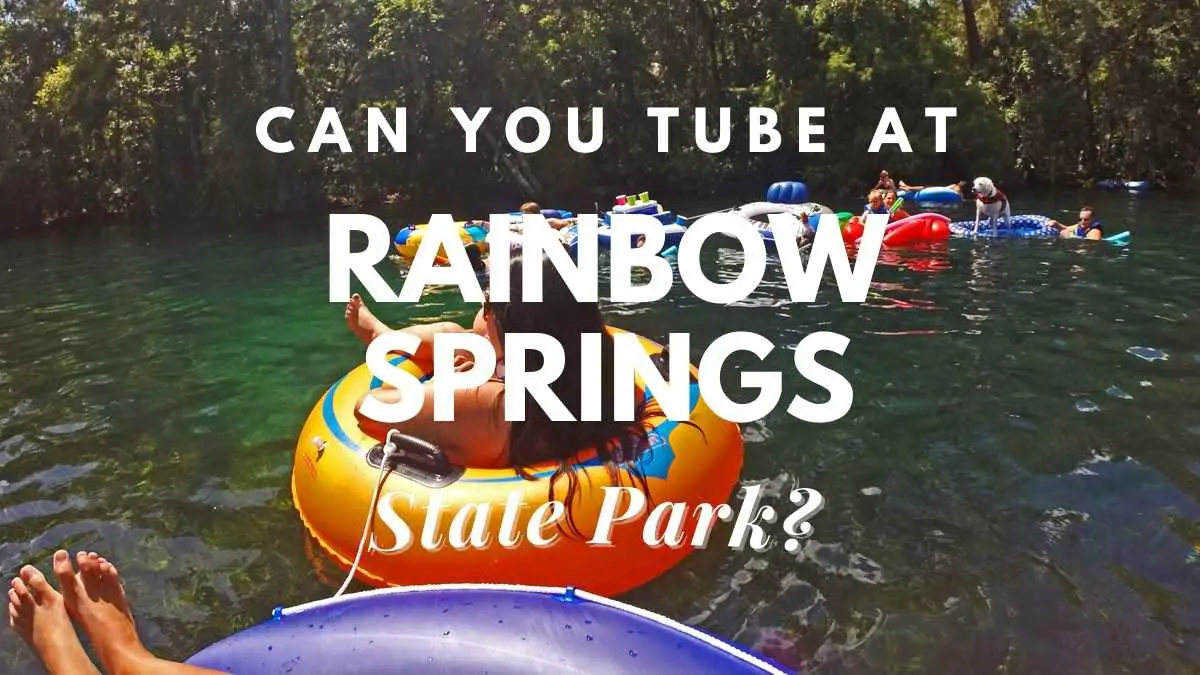 What are the best places to go on Rainbow Springs State Park tubing?
There are few great places available for you to consider when you go ahead with Rainbow Springs State Park tubing. Let's deep dive and figure out what those places are.
Read: Is Traveling A Hobby? The Ultimate Guide To An Exciting Way Of Life Learn about the Downsides Of Traveling As A Hobby

1. KP Hole
The KP Hole is an excellent place to begin your Rainbow River tubing trip. The normal float time from the KP Hole to the Tuber's Exit (i.e., the Blue Run of Dunnellon Park) is around four hours, however this varies depending on weather and water levels. From May 1 to September 30, tubing rentals and shuttle services back to the KP Hole parking lot are provided on a daily basis.
K.P. Hole is a county park along the Rainbow River that rents tubes and kayaks. To go to K.P. Hole County Park, type in the address again. Rainbow Springs State Park is about 3 miles away from K.P. Hole. The park's activities, which include picnicking and swimming in addition to kayaking and tubing, are charged a $5 daily fee. From May 1st to September 30th, K.P. Hole offers tubing and shuttle services.
K.P. Hole's Rainbow River Tubing is a fantastic alternative. The cost of renting a tube is $10, which includes transportation back to the park after your float excursion. The cost of the return shuttle service is just $7 if you carry your own flotation equipment. Tubing the Rainbow River from K.P. Hole to the Tuber's Exit at Blue Run in Dunnellon Park takes around 4 hours, depending on water levels and weather.
Read: Rainbow Springs Kayak Guide (10 Best Kayak Adventures)
2. Rainbow River State Park
Access the Rainbow River through the State Park Tubing Facility if you're searching for a shorter tubing experience. You may rent tubes here, take a complimentary tram up-river, then float back to the State Park Tubing exit on a 1.5-hour float tour.
You must pay the $2 Rainbow Springs State Park entry charge for both of these alternatives. Here's the address once again.
Rainbow Springs Tubing costs $20 per person and includes a tube as well as a tram ride back to the state park. The float lasts around 2 hours. From November to March, this activity is closed. For the most up-to-date information, visit this page.
Rainbow Springs State Park also rents out kayaks, canoes, and standup paddleboards. Although I have not launched or leased from this location, it seems that they do not provide a return shuttle service. As a result, rentals may only be paddled in the spring area. Rentals are available for the whole day or by the hour, with single and double rentals costing $16/$22 per hour and all-day rentals costing $50/$60. For the most up-to-date pricing information, see the Rainbow Springs State Park website.
Read: Tubing San Marcos River (What to expect)
Visiting Rainbow Springs state park for tubing in summer
Every day throughout the summer, hundreds of tourists on tubes float down the Rainbow River's beautiful waters. April through October is tubing season. The Rainbow River has strict restrictions on what you may bring on the river to reduce the effect of so many people: no coolers, no alcohol, no food or drinks in disposable containers, and no paper towels or bags.
Tubers may put in at two locations: KP Hole County Park and the state park's tube entry, which is operated by Guest Services. During the calm season, you may go kayaking on the Rainbow River. From autumn through spring, kayakers have exclusive access to the Rainbow River, which makes for an excellent adventure.
To get us and our canoe to KP Hole County Park, we employed Rainbow River Canoe and Kayak. From there, we went a mile upstream to Rainbow Springs State Park, where there is a kayak landing, and then paddled back to Rainbow River Canoe and Kayak with the current. Paddling against the stream is difficult, but not impossible for a mile.
The springhead isn't as spectacular as other first-magnitude springs, including Silver Springs near Ocala. There is no one vent that can be designated as "the spring" since it is surrounded by dense grass and marshes. Rainbow Springs, on the other hand, has a hundred little vents along its headwater
Read: 11 Rainbow River Tubing Tips You Should Know
Why should you visit the Rainbow Springs state park for tubing?
Rainbow Springs was a commercial roadside attraction from the 1930s until 1973, but it couldn't compete with Disney, which debuted in 1971, when the newly created Interstate system pulled traffic out of local communities. Following its closure, the community banded together to safeguard Rainbow Springs from development, and it was transformed into a state park in 1992.
There was a zoo and a rodeo event, and the foundations of both structures are marked by markers. Rainbow Springs featured a monorail and submarine-like boats with underwater windows in its peak. Rainbow Springs State Park now offers a relaxing shaded stroll through gardens, as well as multiple picnic shelters, a snack bar, and a gift store. Beyond the planted area, there are a few kilometers of trails. When tubing season is ended, you may hire kayaks, canoes, and SUPs at the park and paddle downstream as far as you'd like before returning.
In the autumn, cypress trees turn a golden yellow and orange color. Near Dunnellon, along the Rainbow River
Scuba diving and snorkeling in the Rainbow River are very popular.
Divers love the Rainbow River because of its purity, and the Rainbow has a unique configuration that appeals to them. Divers may board a water taxi at KP Hole Park and be transported a mile to the springhead, where they can swim back to the park. Along our paddling path, we noticed numerous divers, some wearing wet suits and waving diver-down flags. (
Rentals of kayaks and canoes, as well as livery services, are available on the Rainbow River.
In Dunnellon, Rainbow River Canoe and Kayak sits near the junction of the Rainbow and Withlacoochee rivers. Paddlers are dropped off at KP Hole Park, where they must paddle back for two to three hours. If you paddle upstream to the park, as we suggest, add an hour.
There is a cost to have your kayak or canoe pulled to KP Park, and you may paddle back to your vehicle at your leisure. At KP Park, there is a $5 per person fee.
Read: Ichetucknee Springs Tubing Guide
Tips for tubing on the Rainbow River
The Marion County concession at KP Hole Park ($25 per person) and Guest Services at Rainbow Springs State Park ($20 per ticket) rent tubes throughout the summer. Both Rainbow River tubing concessions provide shuttle service to and from your vehicle.
Floating down the Rainbow River from the state park's launch location takes two hours, while launching from KP Hole Park takes four hours. The two operations' launch points are on opposing sides of the river.  On summer weekends, both Rainbow River tubing operations are usually sold out, so get there early.
To reduce the effect on the river, the county has built a large dock and launch facility at KP Hole. It has lockers for valuables, as well as changing and bathing facilities. In the summer, both Rainbow River tubing concessions provide canoes, kayaks, and SUPs, with paddlers using the same shuttle service as tubers.
Rainbow River tubing options include Rainbow Springs State Park's Guest Services and KP Hole Park's Rainbow River tubing.
The Withlacoochee River is another good kayaking river, and you can rent gear or have livery service from the same company, Rainbow River Canoe and Kayak. The "Forest Float" was a 9-mile paddle for us. It's a lot wilder, more isolated kayak than the Rainbow River, with considerably fewer people. Although the water is not clear (it is tainted with tannin), it is a lovely paddle.
Read: A Complete Guide To Caddo River Tubing
Final words
For decades, the Rainbow River has been a natural Florida treasure, attracting both residents and visitors to its crisp, calm waters. Rainbow Springs State Park's headspring, one of Florida's biggest freshwater springs, feeds the Rainbow River. The beautiful colors and crystal clear water of the river make it an ideal complement to any holiday or weekend break. Rainbow Springs kayaking and tubing are great activities for the entire family, so be sure to include them to your Florida bucket list! Go ahead and get hold of the best tubing experiences that Rainbow River state park can offer.