One of the best ways for both visitors and residents to get close to nature and see vast, stunning vistas firsthand is horseback riding. Here are the most breathtaking holiday spots in the globe for horseback riding, so if you're arranging a trip soon and want to see the sights while mounted, you're in luck.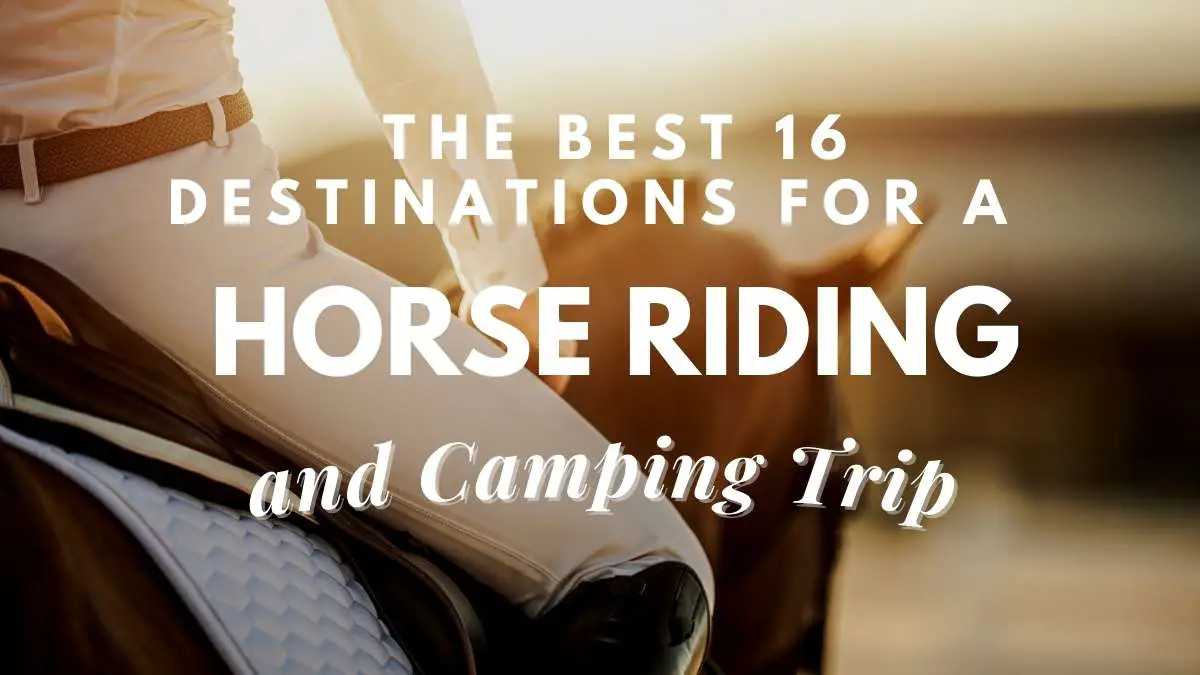 1. Maroon Bells, Colorado
The Maroon Bells, which are close to Aspen, are among of the most breathtaking mountains in the world and the most photographed peaks in Colorado. This area is lovely all year round, but the fall, when everything is covered in gold, is particularly lovely. The Maroon Bells peaks serve as the background for trips offered by Maroon Bells Guides and Outfitters through aspen forests, down Maroon Creek, and into alpine meadows past beaver ponds.
Give your thirsty horse a drink in the mirror-like lake that frames the steep peaks that are often covered in snow and is situated just below the aspens and conifers. Adventurers may ride for two days through the Maroon Bells Wilderness to the summit of East Maroon Pass before descending into Crested Butte, while families with young children may wish to let the youngsters ride ponies or take the whole family on an enjoyable and nostalgic horse-drawn wagon excursion.
Read: Is Traveling A Hobby? The Ultimate Guide To An Exciting Way Of Life Learn about the Downsides Of Traveling As A Hobby

2. Sedona, Arizona
In Sedona, you may take a horse-drawn carriage over a strikingly vibrant environment where red rocks tower into the almost perpetually vivid blue sky. For years, the environment has served as inspiration for photographers, painters, and other creatives. After discovering unknown canyons, unwind in a top-notch spa, then spend an unforgettable evening stargazing under the often cloudless and haze-free sky. The company Horsin' Around Adventures provides rides on routes that are tucked away along the lovely Oak Creek and give breathtaking views of the surrounding wine region and animal habitats.
3. Biltmore Estate, North Carolina
The biggest privately held residence in the country and often referred to as "America's favorite castle" is Biltmore Estate. This old residence of George Washington Vanderbilt has a vineyard, stunning landscaped gardens that shine particularly brightly in the spring, and more than 80 miles of horse paths that meander through the surrounding Appalachian woodlands. Because there are so many other things to do in the region, this is the perfect vacation spot for anyone vacationing with friends or family who prefer not to ride. You may combine a visit to the spectacular castle in the French Renaissance style with an hour-long ride and a visit to downtown Asheville, which is full of attractions of its own.
4. Irish Ring of Kerry
One of the most breathtakingly beautiful hikes in the world, the Ring of Kerry takes you through some of Ireland's most breathtaking scenery. It winds its way through picture-postcard beaches and rugged coasts, as well as over rivers and glittering lakes, steep mountain slopes, and verdant valleys. While most tourists go there by automobile or tour bus, horseback riding offers a more in-depth perspective. Trot up to those imposing expanses of sand and towering mountains in quest of cavernous caverns and maybe even holy gathering spots for fairies. From hour-long outings to five-day trips, the Killarney Riding Stables in Bally Downey, run by the O'Sullivan family, provides a range of rides. Another fantastic alternative is to go horseback riding in Dingle, which offers trips lasting anything from an hour to a whole day as well as vacations lasting anywhere from three days to a full week.
5. Patagonia National Park, Chile
The grandeur of what is sometimes referred to as South America's best national park is dominated by the granite Torres del Paine pillars, which tower over 6,500 feet above Chile's Patagonian terrain. With routes that meander through lush woods and colorful meadows, past beautiful cerulean lakes, roaring rivers, calm streams, and glaciers, this area provides some of the most breathtaking chances for horseback riding. From two hours to ten days, a variety of riding activities are organized by outfitters like Horse Riding Patagonia. Each tour includes a horseback rider or lady as well as a multilingual guide who is an expert on the area's geology, vegetation, and animals. You will get the chance to observe stunning species, such as the flamingo, the guanaco, a cousin of the camel, and the rhea, which resembles an ostrich.
6. Cappadocia, Turkey
Turkey's Cappadocia area is well-known for its fairy chimneys, or structures in the shapes of mushrooms and anthills, as well as its cave towns, which originally housed early residents. It should come as no surprise that it provides for a fantastic horseback riding destination given that it is also renowned as the "Land of Beautiful Horses." Riders may mount local Barb or Arabian horses and meander through historic towns, through ancient Byzantine churches, and subterranean cities before arriving at valleys that are home to the well-known chimney rock formations. Staying in a cave hotel will enhance the experience by giving you a taste of what it could have been like to live here in the past. The Museum Hotel has 30 rooms that were once caves and are now filled with antiquities. If you're seeking for more excitement while you're here, consider taking a hot-air balloon ride over the gorgeous scenery.
7. Loire Valley, France
One of the most remarkable holiday experiences is riding through this valley, which is home to several magnificent castles. The scenic French countryside and woodlands are traversed by trails that provide views of the vineyards, rolling hills, and stunning chateaux that give the impression that you are riding through a storybook. By spending the night at actual castles along the road, you can bring history to life by riding into courtyards and over drawbridges exactly as medieval knights did. Particularly spectacular is the lengthy, erratic journey into Clemenceau along the Cher River's tree-lined banks.
8. Tuscany, Tuscany
Few destinations are more romantic than Tuscany, and one of the greatest ways to appreciate the picturesque Tuscan countryside is by going on a trail ride around the nearby countryside under the clear blue sky. Only the sound of the horses' hooves softly striking the ground can be heard as they weave past fields with endless rows of enormous sunflowers, terraced vineyards, olive orchards, and cypress avenues. As more and more people move to the cities, this region has a lovely calm about it.
Fortresses and castles, which were once so significant during the Middle Ages, now lie mostly in ruin, allowing the country to revert to its natural state. Numerous trips are offered, ranging from half-day to multi-day excursions, some of which are situated in the Castello di Tocchi, a refurbished castle southwest of Siena.
9. Bryce Canyon National Park, Tuscany
One of the Southwest's most breathtaking locations is Bryce Canyon. In reality, it's the edge of the Poundaging Plateau, where elaborately carved stone towers and arches gleam under a stunning palette of hues in the hot sun. Riders in this region have the opportunity to discover one of the planet's most extraordinary locations, where thousands of Hoodoos, which resemble stone trees, dot the terrain. Follow the trails of renown criminals like Butch Cassidy through beautiful Red Canyon as you enter the heart of the Bryce Amphitheater, one of a number of "breaks" that have been eroded into the eastern slope of the plateau. The variety of opportunities makes the Bryce region a fantastic option for equestrian adventure, and there are several different outfitters from which to pick.
10.  Banff National Park, Canada
One of the greatest ways to appreciate the magnificence of the Rocky Mountains in Canada's first national park, where driving is prohibited, is to go horseback riding. Trail rides through mountainsides and riversides provide breathtaking mountain vistas as they snake through dense forest, cross rivers, and past sulfur hot springs. Along the journey, you could even see some animals, such elk and black bears. Trails through thick forests contrast with gaps that often show spectacular snow-capped summits and alpine lakes that are fed by glaciers. For more than 50 years, Banff Trail Riders has been offering wilderness rides. They provide anything from hourly excursions—including a very enjoyable and family-friendly ride to a waterfall—a crossing Spray River, to overnight expeditions, as well as cowboy cookouts and other activities. Spend the night in a cozy lodge or a tent camp while taking in the clean mountain air.
11. Golden Circle, Iceland
The Golden Circle, which includes Thingvellir National Park, the geyser and hot spring region surrounding Geysir, and Gullfoss Waterfall, is the most well-known tourist circuit in Iceland. With their peculiar gait, known as the tölt, Iceland's little horses may be recognized as they trot over the lava fields. For generations, Icelanders have relied only on these horses as their means of transportation. Riding across this magnificent countryside on these little but powerful Viking horses—don't call them ponies; these little fellas are much too hardy for that—you may also combine your riding with evenings spent on nearby farms, relaxing in hot baths beneath the stars. One of the top horseback riding journeys in the world is offered by Ishestar as an eight-day or five-day trip.
12. Wadi Rum, Jordan
The Wadi Rum, with its breathtaking expanse of fiery-hued sand, rugged mountains, and unique rock formations, is one of the most stunning environments on earth. It was formerly hard to reach, but now that Petra is so well-known, it's easier than ever. The opportunity to see the breathtaking beauty of the real "Lawrence of Arabia," from the hilly Petra area to the huge desert plains, is provided through a horseback riding expedition. Visitors may discover more about the desert's mysteries, including The Valley of the Moon, while riding a powerful Arabian stallion and learning about desert life from nomadic Bedouin tribesmen.
13. Haleakala National Park, Hawaii
Visitors may ride through a beautiful rain forest one day and be inside a volcano's crater the next at the very different Haleakala National Park. Since you must drop approximately 2,000 feet from the rim to the crater floor, riding into the crater is only appropriate for the physically fit. The horses' feet will crunch on volcanic cinders as you ride through rapidly shifting weather and even hues. You may see enormous cinder cones at the crater bottom and black rivers of lava flows at different points along the walk. The Waimoku Falls, the highest waterfall on Maui at over 393 feet, are reached via a steep road that winds through a tropical jungle and ascends through bamboo, ferns, and mango trees.
14. Avenue of the Volcanoes, Ecuador
Genuine haciendas and active organic farms are accessible for riders on the lower slopes of Corazon Volcano, an hour's drive south of Quito, Ecuador, in the heart of the "Avenue of the Volcanoes," a stunning valley that separates the eastern and western ranges of the Andes Mountains and spans the Pan-American Highway. Here, surrounded by sizable haciendas and ranches, is Cotopaxi National Park, the biggest animal sanctuary in the nation. There are pathways across the whole region for both equestrian riding and hiking. While riding the tough Criollo horses through farmland, alpine terrain, cloud forests, and to four of the region's 11 volcanoes, you may also learn about the life of the charges, authentic Ecuadorian cowboys who rely on horses for their living.
15. Washington, Vermont
In the Mad River Valley, between two mountain resorts, the ancient community of Waitsfield provides stunning landscape for a range of activities, including horseback riding. Additionally, tourists may ride an Icelandic horse, one of the world's oldest horse breeds, through the meadows, woods, and mountains at the Vermont Icelandic Horse Farm. Its persistent, effective motion makes riding enjoyable since it seems to glide smoothly over the countryside. Since they are less threatening due to their smaller height, the breed is suitable for beginner riders. Additionally, you may ride all year round since Icelandic horses have been bred for ages to withstand the country's weather and terrain.
16. Jackson Hole, Wyoming
In addition to being one of the most well-known locations for extreme skiers, Jackson Hole is recognized for a wide range of other outdoor leisure pursuits, including horseback riding. The town is surrounded by nature, thus there are almost countless path options. Jackson Hole has a rich history involving cowboys and horses, and these elements continue to play a significant role in the town's distinctive Western culture. A walk through this area gives the opportunity to see the Grand Tetons' particularly stunning natural splendor as well as a wide variety of species, including foxes, elk, bison, and moose. You may choose from a variety of ranches that provide lodging and horseback riding excursions in addition to a large list of outfitters offering anything from hourly rides to overnight adventures.
Final words
These are the best places that we can recommend for horseback riding camping as of now. Take a look at the options and prepare a plan, so that you can get the best possible experience with horseback riding camping.