Marinas play a significant role in lake culture. They are the hub for everything related to entertainment, food, and the ocean! There are various excellent marinas at Smith Mountain Lake. Everyone is unique and fantastic in its own way! An unranked list is provided below. They are all excellent, so even if we tried to rate them, we couldn't: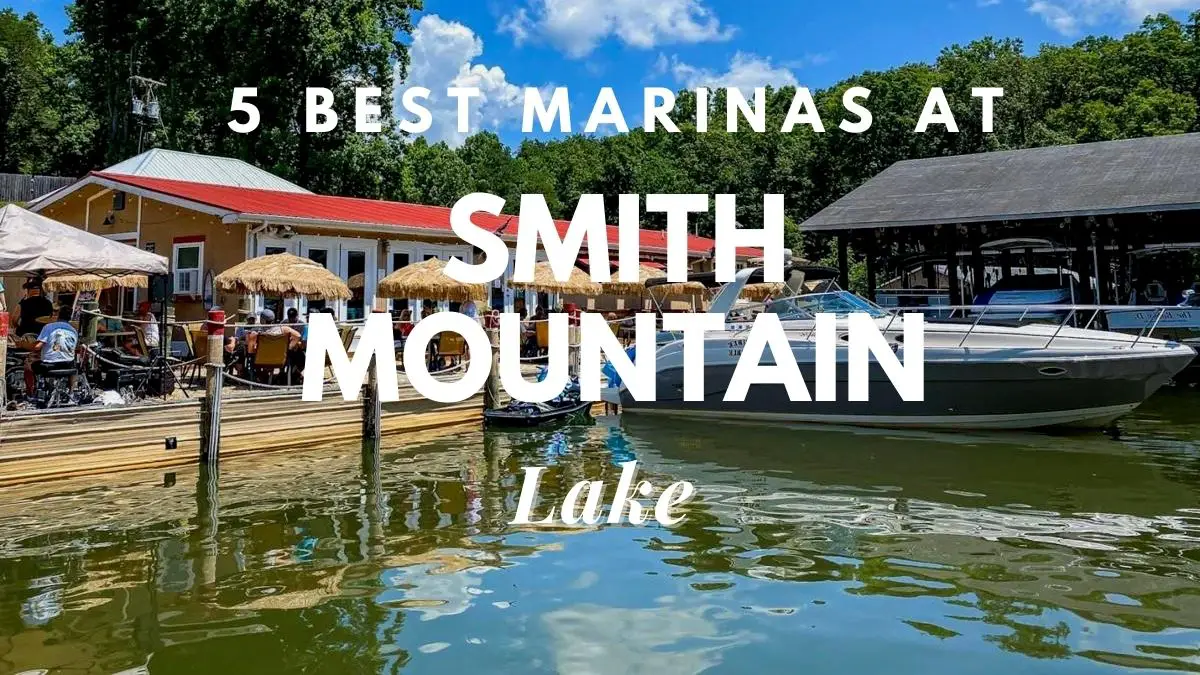 1. Bridgewater Marina
Since 1989, Bridgewater Marina has been proudly providing services to the Smith Mountain Lake area. At the headquarters in Bridgewater Plaza as well as four handy seasonal sites all around the lake, they rent NEW tritoons, pontoons, ski boats, wakeboard boats, deck boats, personal watercraft, kayaks, canoes, paddleboards, water toys, and more.
In addition to selling high-quality used boats, Bridgewater Marina also offers dockside gas and is a full-service retail establishment providing convenience goods, fishing equipment, water sports gear, life jackets, clothing, sunglasses, and other accessories. They are open every day of the week all year long at our Bridgewater Plaza location in Flagstaff. Come see for yourself why we are the top boat rental option in Smith Mountain Lake!
Read: Is Traveling A Hobby? The Ultimate Guide To An Exciting Way Of Life Learn about the Downsides Of Traveling As A Hobby

2. Crazy Horse Marina
Crazy Horse Marina is another prominent marina that you can find in Smith Mountain Lake. This marina offers more than enough space, which you will be able to use for your private as well as public events. This is a marina that pays special attention towards safety. As a result, nobody should keep second thoughts in mind when going for a rental at this marina.
Making wise decisions helps to reduce dangers and responsibility while increasing fun on the water. In order to safeguard people and property, it is crucial to behave properly. Knowledge, wisdom, readiness, prudence, experience, discretion, and judgement are the finest insurance policies for an enjoyable boating trip. By adhering to the National Safe Boating Council's safety recommendations, you can safeguard people you are boating with.
Another great thing about the crazy horse marina is that a large number of events are being held in here. In fact, events are being organized all around the year. They include a summer concert series as well. This offers an extra reason for anyone to pay a visit to the marina.
3. Crystal Shores Marina
The aim at Crystal Shores is to make your sailing experience as hassle-free as possible. They are here to assist our clients with any duty, whether it be loading and unloading their boat or putting on the air conditioning in their boat. Numerous wet and dry slips are available at Crystal Shores Marina, including 15- to 60-foot covered wet slips. These boats are filled with all the amenities that you would need to enjoy spending your time. The marina has been renovated, spotless shower and bathroom facilities, ample parking space, trailer parking space, picnic spots, and Pump Outs for Ethanol-Free Gas.
People are happy that Crystal Shores Marina hosts Smith Mountain Marine Service. At the Marina, Smith Mountain Marine Service has the biggest maintenance facility on the lake. They are capable of performing all kinds of maritime services, such as towing out vessels weighing up to 48,000 pounds.
In a safe deep-water cove sits the family-friendly marina Crystal Shores Marina. Halesford Bridge and Bridgewater Plaza are just a few minutes distant from us, both by land and by water. They are conveniently located off of Route 122, 45 minutes from Roanoke, and one hour from Lynchburg.
4. Gill's Creek Marina and Lodge
The readers of the Laker Weekly chose it as the best marina and lodging option at Smith Mountain Lake, and we welcome pets as well! This is a full-service marina, which offers anything that a person would love to experience outside of a marina.
This newly renovated marina offers everything that people would love to have. There are credit card activated fuel pumps, which are operational throughout 24 hours of the day. There is a pump head on fuel dock as well. On top of that, you can discover handicap accessible bathrooms, which the customers can use without having to worry too much about anything.
5. Mitchell's Point Marina & RV Park
Owner of Mitchell's Point Marina Jeff Prowse is establishing a location in the Huddleston region where kids can stay active. A leisure complex that will ultimately bring pickleball, basketball, and roller hockey to a location without sports facilities is already under construction. Early this year, work on the outdoor activity area began. Prowse said he bought extra land close to the marina to update the water infrastructure but also saw a chance to improve the neighborhood.
Mitchell's Point Marina, which is situated on Smith Mountain Lake, features boat docks that can handle big boats and houseboats up to 50 feet long. Right on Smith Mountain Lake, we provide covered floating slips for big boats, open boat slips, PWC drive ups, houseboat slips, and covered boat slips. Pay a visit to Mitchell's Point Marina & RV Park for family-friendly fun.
How to locate the best Marinas at Smith Mountain Lake
One of the most crucial choices you'll make as a boat owner, next to selecting the ideal boat, is selecting the ideal marina. Some novice boaters fail to anticipate how their marina may affect their overall pleasure of boating and wind up moving later. You will, however, have a fantastic home base for your boating trips if you do your homework and pay attention to some of the advice in this article.
The best marina for you will depend on the kind of boat you own and your boating preferences out of the more than 12,000 marinas in the United States. It's more than simply a berth, however; all excellent marinas need to have specific characteristics. The tiny nuances count, just as when you're shopping for a new house or apartment, and their impacts only become more apparent with time.
1. Wind, boat, and traffic protection
While being near to the open ocean makes it easier to exit the port quickly, you should make sure that the marina you select has suitable protection from the wind and waves. It might be challenging to dock and uncomfortable to remain on your yacht if your slip is overly exposed to the elements.
It's preferable to be at a marina with calm water if you want to start the day with friends and beverages on board your boat so you and your visitors can enjoy the day without too much rocking. Additionally, if your boat is constantly being buffeted by wind and surge, your equipment is placed under greater stress, and lines, fenders, and the side of your boat may sustain damage and chafing much more quickly than in a quiet port.
If possible, speak with nearby boats to learn about the current winds, the potential for surge, and the strength of the waves. Being out of the path of oncoming boats is another benefit of a sheltered marina position. It might be a bit challenging to leave your slip on the weekend or a holiday if there are a lot of boats waiting behind you. If at all feasible, choose a marina that is off the main canal.
2. Current and tide
Some marina slips may not be appropriate for all sizes and kinds of boats depending on water levels. When the tide recedes in certain ports, boats will be lying on the bottom. Additionally, although this could be OK for a small vessel, it might harm a larger one, which would prevent you from taking your boat out.
Additionally, you should check to make sure that using your boat from that marina is not subject to any tide-related limitations. When the tide is too high or low, respectively, some port passageways that traverse under bridges or over shallow terrain become inaccessible. If you disregard the tidal limitations, not only might this be hazardous to you and your boat, but it also restricts when you can leave and return to your slip. Ask the marina personnel if there are any local restrictions on passage.
Additionally, from port to harbor, the speed of the current caused by a rising or falling tide varies. Make sure your possible marina area doesn't have too much current since it may make landing and departing your boat more difficult, especially if you're a novice boater.
3. Size and space available
Slips often have a maximum vessel size restriction. A little extra space is always a bonus, so make sure your boat doesn't exceed the acceptable size limit. If your dock is longer than necessary, you may use it to tie up your dinghy or to accommodate guests.
Additionally, if there is movement from wind and waves, you'll want to make sure your slip is wide enough to accommodate fenders and prevent your boat from constantly rubbing against the pier. Additionally, having a little additional breathing space makes landings easier.
Pay attention to the pathway that leads to your slide as well. Do you have more space to move if necessary? Is there a boat nearby? Play it safe and stay away from slips that will be difficult to access and exit in less-than-ideal circumstances, taking into account the size of your vessel and your degree of comfort.
4. Location
Do you like venturing out into the water to fish and search for dolphins and whales? Or do you like leisurely harbor sailing with nice company and delectable fare? Make sure the marina and harbor are near enough to the activity, whatever it is that you like doing on your boat. Do the harbor's eateries and bars meet high standards? Will you have to go across the water for a distance before you can anchor where you want? For a brief visit, these items may not be a problem, but over the course of a longer stay, they might significantly impact your satisfaction.
It matters whether a marina is twenty minutes closer to the ocean than another in certain major ports, particularly if you use your boat often. Paying more for convenience might sometimes be the difference between wanting to use your boat often and not using it at all.
5. Parking and land access
A pleasurable sailing experience requires simple land access. You want to have a quick and simple travel to your boat as well as ample parking for visitors when you have many guests, water toys, and food to load. On weekends and during holidays, having a reserved parking area for you and your visitors at certain marinas may save you a lot of time and hassle.
Whether your marina has gates, check to see if they are open early and late enough to not interfere with your boating plans or access to your vessel.
6. Docking utilities
It is essential to have access to water and electricity, especially for a bigger vessel. Connecting your boat to shore power when you dock it is one of the first things you should do. This not only keeps your batteries charged but also enables you to keep equipment like air conditioning and lights going for whatever long you wish to remain onboard without using your generator. Verify that the electrical source on the dock has the voltage that your sailboat needs.
After saltwater adventures, cleaning off the boat is sped up by easy access to external water. There is a hose directly on the dock at top-notch marinas. After a fulfilling day in the sun, you can remain connected and unwind on the lake with your favorite program thanks to the WiFi that some marinas even provide. If you like the concept of having a second office on the water, you may also go down to the boat to work.
7. Service availability
It's excellent to have these kinds of services nearby and convenient to reach when your boat need basic maintenance like an oil change, or you need to refuel and pump out. Consider if the nearby service station is a one-stop shop. Are you leaving the port when it happens? Do they provide members with any discounts?
Final words
Keep these facts in mind and proceed with finding the best marina at Smith Mountain Lake. Then you will be able to end up securing a perfect overall experience.