It's no wonder that St. Petersburg is a hotspot for sports and outdoor activities, with an average of 361 bright days each year. Whether it's watching the Tampa Bay Rays play at Tropicana Field or participating in golf, tennis, and other sports, there's something for everyone. The Salvador Dali Museum, the world's most complete museum of Salvador Dali's works, is also located in St. Petersburg. Take in one of the numerous events that the city hosts as a result of its beautiful environment. St. Petersburg is just a short drive between Tampa and the Gulf Coast's beaches.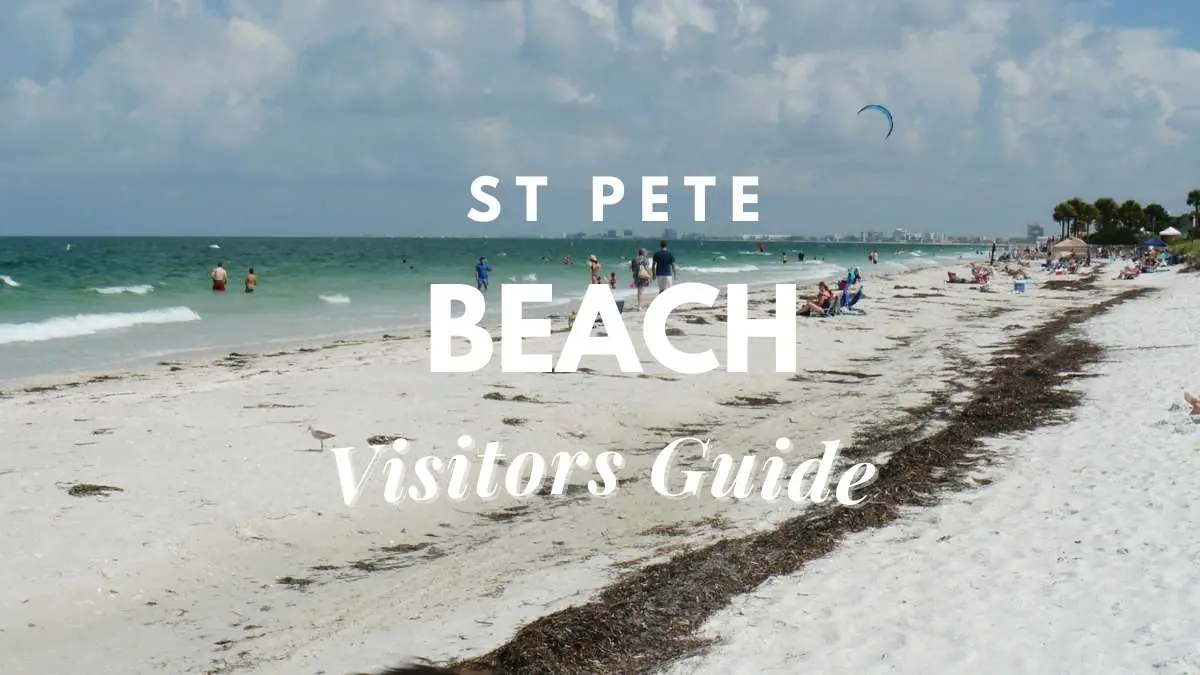 Why should you visit the St. Pete Beach?
On a seven-mile-long barrier island, St. Pete Beach consists of five miles of pristine sand. A picnic area, beach showers, bathrooms, gift shops, and water activity rentals are all available at this daily lifeguard staffed beach. The Pier in St Petersburg is a 0.5-mile-long (0.7-kilometer-long) promenade that welcomes tourists and sightseers. There are various viewing sites in the St Petersburg region that provide spectacular views of the southern Atlantic. The pier is also home to a number of merchants and stores.
Corey Avenue is a center for sights and sounds in St Petersburg, including gift stores, restaurants, and a major theatre. The structures are old, with some going back to the nineteenth century and each having its own narrative to tell. This avenue, which is just a few feet from the water on both sides, will provide entertainment for the whole family. The Sunken Gardens, which are 15 feet below street level, have been a tourist attraction in St Petersburg since 1935. The gardens feature activities and events, making them a wonderful spot to come on a lovely day.
St. Pete Beach Vacation and Tourists Guide St. Pete Beach, the southernmost of a line of barrier islands that make up the Tampa Bay Sun Coast, provides miles of white sand beaches that gently border the Gulf of Mexico to residents and visitors alike. St. Pete Beach, originally known as St. Petersburg Beach, offers a diverse range of lodging options, from four-star resorts to traditional Florida "mum and pop" hotels that harken back to a simpler era.
Read: Is Traveling A Hobby? The Ultimate Guide To An Exciting Way Of Life Learn about the Downsides Of Traveling As A Hobby

Things to Do in St. Pete Beach
St. Pete Beach's beaches are undoubtedly some of the greatest on the country's coasts, so if you're looking to spend hours upon hours lounging on the sand, this may be the place for you. Excursions begin at St Pete Beach, on route to historic Egmont Key for snorkeling or just to watch the sunset. Exploring Shell Key in search of shells and watching for wild dolphins frolicking in the Gulf seas from the deck of a certified Dolphin Smart pontoon boat is a family excursion not easily forgotten.
1. Water activities
There are also a variety of water activities to explore, such as kayaking and canoeing, as well as golf for those who can pull themselves away from the beach. There are 50 golf courses in the St Pete Beach region, making it a world-class golfing destination.
So, whether you're looking for deep-sea fishing, boating, sightseeing, parasailing, or any other activity while in St. Pete Beach, Florida, we've put together this helpful guide to Things to Do In St. Pete Beach, Florida. In St. Pete Beach, you'll find golf courses, wave runner rentals, dinner cruises, and more.
2. Visit the Florida International Museum
Through a variety of rotating exhibits, the Florida International Museum (FIM) offers unique educational programs and engaging experiences.
3. The Hands-On Museum
The Hands-On Museum ensures that you have a terrific time. All of the displays are interactive, allowing children to investigate the environment around them. They may have fun learning about music and scientific ideas, or they can use their imaginations to construct automobiles. The restaurant is open seven days a week.
4. Arboretum of Palms
Around 200 species may be found on this two-acre location for nature enthusiasts to explore. The variety and abundance of mature trees especially excite aficionados. Visitors are catered to with brick walkways, seats, and other amenities.
5. The Salvador Dali Museum
The Salvador Dali Museum is pleased to contain the largest collection of Dali's work in the world. The varied collection of paintings, which dates from 1917 to 1970 and includes many of his key subjects and symbols, covers the years 1917 to 1970.
6. Go for a walk in the Art Street
Our travels across South America taught us to adore and understand the power of street art to enhance a city's aesthetics while also establishing a worldwide reputation for art. With over 500 murals and counting, some on an extremely huge scale, portions of St Pete have been turned into a permanent open-air art show.
The non-profit St. Petersburg Arts Alliance's two-week Shine Mural Festival is one of the main reasons behind this. Every October, it draws together local and international artists to lead the way in the colorful transformation of St Pete's wide-open public places and hidden dark nooks. You don't have to be in town during the festival to appreciate the rewards of its labors.
The EDGE District, the Warehouse Arts District, and the Pinellas Trail are home to a lot of the outstanding art. Here's a terrific summary of St Pete's street art, and you can map out your own itinerary to see it all. On Saturdays, Florida Craft Art offers two popular walking and cycling mural tours; learn more here.
Consider visiting Fairgrounds St Pete, a permanent, immersive art and technology experience displaying the works of 60 different artists working in a variety of genres (including, of course, street art).
On Google Maps, you can discover Fairgrounds in downtown St Pete. Tickets may be purchased on the day of the event, although it is recommended that you reserve ahead of time online. Thursday through Sunday, the show is available to the public for $27 per adult.
7. Enjoy the delicious seafood dishes
Given that St Pete is surrounded on all sides by water, it's no wonder that this is a city that values seafood, with a plethora of ocean-side cafes claiming to offer up the finest grouper in the nation (this location is renowned as the 'Grouper Capital of the World') in generous US amounts.
This would very certainly mean that we, as two vegetarians, would be left out in the cold at many of the places we've visited. However, we were ecstatic to learn that downtown St Pete, particularly the core Arts and Edge District, is brimming with vegetarian and vegan treats.
From Bodega's life-changing tempeh Cuban sandwich, Plant Love's 'probably the best' vegan ice cream, and Red Mesa Cantina's delicious tofu tacos (spice addicts must try the super spicy hot sauce), to Central Melt's grilled cheese served in iconic red baskets, Ichicoro's soul-soothing bowls of ramen, and vegan poke bowls at the achingly cool Pacific Counter. You'll want to bring your fat jeans with you!
Eat St Pete food tours are a terrific way for foodies short on time to learn about the city's expanding culinary scene's local favorites and hidden treasures.
8. Enjoy the Saturday market
The greatest time to visit St Pete is on a weekend, when the city's culture, community, and social activities come to life beneath the beautiful sky. Soak up any traces of a hangover with a substantial breakfast after a Friday night under the floodlights (you'll find out later), and then go to the Saturday morning market, the biggest of its sort in the south-east US. It takes over several key streets, bringing people of all ages together to dine out, purchase fresh farm food, dance to live music, and support local craftsmen and craftspeople ranging from typewriter poets to families who make their own spicy sauce.
The cost is nothing. But you can guarantee you'll want to take a variety of different things home with you! The market is situated on the intersection of 1st Street and 1st Avenue S in the Al Lang Field parking lot. The main market is open every Saturday from 9 a.m. to 2 p.m., from early October to late May, to coincide with the agricultural season in central Florida. From June through August, however, there is a smaller Summer Market at Williams Park. Visit the Market's website for further information.
9. Visit the Dali Museum
We were truly shocked to learn that this museum is located in the fifth biggest city in Florida, rather than some upstate metropolis.
The tale behind the building of the Salvador Dali Museum, on the other hand, is pretty fascinating. Mr. and Mrs. A. Reynolds Morse, a Cleveland couple, were the first to buy a miniature Dali work in 1943. 'Daddy Longlegs of the Evening… Hope!' was the beginnings of an infatuation. The pair maintained a kind of 'opposites attract' connection with the Spanish artist and his wife over the following three decades, patronizing and acquiring many more of his works. Their collection was first held and exhibited at their Ohio home, but they soon realized it needed a more permanent home.
As a result, a statewide beauty competition ensued, with an old marine warehouse in St Pete emerging victorious. It was hailed as "the greatest gift to the City of St. Petersburg since sunlight" at the time.
And thus, the palm palms of the St Pete shoreline became home to the biggest collection of Dal's works outside of Spain, including eight of his eighteen masterworks! Regular temporary exhibits accompany the permanent display, which chronicles Dal's progress as an artist from conventional beginnings to his future surrealist works.
Beyond the iconic melting clocks and his personal eccentricities, we hadn't really grasped the significance, complexity, and theological aspects of his surrealist art: we left the museum with an entirely new perspective on his skill.
In 2011, the museum was reconstructed with a striking, contemporary hurricane-proof concrete design that is worthy of your attention in and of itself (particularly the spiral staircase and pillar inside).
10. Visit the National Wildlife Reserve at Egmont Key
This protected 280-acre island is a nature paradise in addition to its crystal blue seas and kilometers of white sand beaches. The southern part of the island is a dedicated bird sanctuary, home to nearly 120 species of nesting, migratory, and wintering birds (including osprey, brown pelicans, royal and sandwich terns, laughing gulls, and black skimmers), making it an ideal spot for bird watching, especially between April and August.
The island is also home to a large number of gopher tortoises (between 1000 and 1500), as well as nesting loggerhead sea turtles. On their website, you can get all the information you need on how to get to the reserve and how to arrange your stay.
11. Visit the Sunken Gardens
The 100-year-old Sunken Gardens, St. Pete's oldest living museum, is home to an outstanding collection of more than 50,000 tropical plants and flowers, including some of the region's oldest.
A route through the botanical gardens leads visitors to waterfalls, a butterfly encounter, and even a herd of flamingos! It's hard to imagine this nature-inspired retreat is located in the midst of downtown St Pete.
12. Go on the trail of the Pinellas
The Pinellas Trail (or 'The Fred Marquis Pinellas Trail,' to give it its actual name) stretches 37 miles from St Petersburg to Tarpon Springs over a portion of abandoned railway. It offers a protected natural area for walking, running, skating, and riding.
The Boyd Hill Nature Reserve, which began as a zoo, has grown into a 245-acre site that showcases a range of tropical settings along the shores of Lake Maggiore.
Trails and boardwalks (including a paved cycling path) wind through a variety of ecosystems, including hardwood hammocks, sand pine scrub, pine flatwoods, willow marsh, swamp forests, and lake shore, for a total of 6 miles. All trails are open to the public, and kayak and canoe rentals are available.
Final words
Now you know what to expect before you visit St. Pete in Florida. Plan your trip accordingly, so that you can get the most unforgettable experiences during the stay.