Looking to spend a few days in Virginia's Shenandoah National Park? Shenandoah National Park isn't the largest or most visited park in the United States national park system, but it's still a massive place. It's also well-liked. Because it's one of the nearest national parks to the Baltimore-Washington Metropolitan Area, careful preparation is essential. It's especially important if you only have a limited amount of time. Learn how to make the most of your trip to Shenandoah National Park by reading on.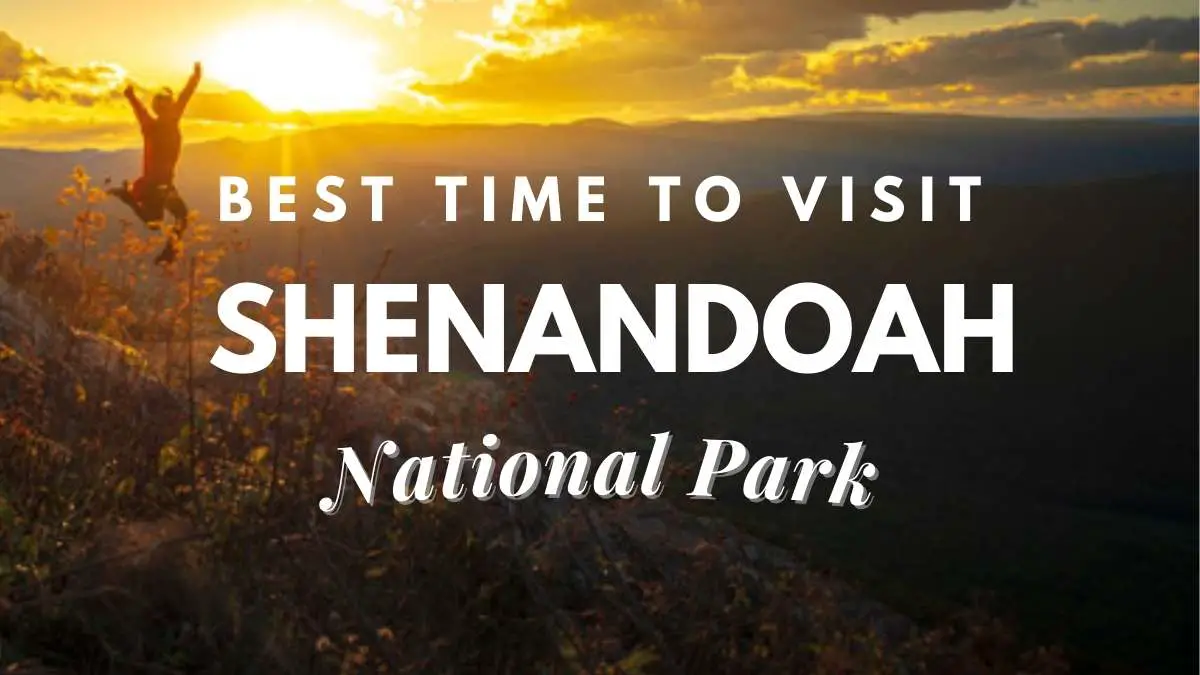 When Is the Best Time to See Fall Colors in Shenandoah National Park?
Virginia is a one-of-a-kind outdoor wonderland.
Do you consider yourself an admirer of the autumn foliage?
If that's the case, you must go to Shenandoah National Park.
The park comes alive in the fall with vibrant trees, crimson sunsets, and golden undulating hills.
Keep reading to find out what the ideal time is to visit Shenandoah National Park for autumn foliage.
Read: Is Traveling A Hobby? The Ultimate Guide To An Exciting Way Of Life Learn about the Downsides Of Traveling As A Hobby

The Best Time to See Fall Colors in Shenandoah National Park
Fall foliage at Shenandoah National Park should be on your bucket list if you have never seen it.
The trees are adorned with red, orange, and yellow leaves that will dazzle your eyes.
You'll see spectacular vistas if you come during the fall months of September, October, and November.
However, October is the greatest month to visit Shenandoah National Park for autumn foliage.
The leaves are starting to turn at the higher altitudes during the first week of October.
At mid- to low elevation, the autumn color show peaks during the last three weeks of the month.
Read: Dog-Friendly Trails In Shenandoah National Park ( Maps and Guides )
Take a Drive Along Skyline Drive for a Beautiful View
Skyline Drive is a famous route that extends 105 miles north and south through Shenandoah National Park along the top of the Blue Ridge Mountains.
On a low traffic day, it takes around three hours to drive the whole length of the park's one public road.
Stop at one of the 70 overlooks (yes, 70!) along the way for breathtaking views of the Shenandoah Valley's autumn colors.
Keep a look out for deer, black bears, and wild turkeys, among other animals.
Shenandoah National Park has some of the best fall hikes.
There are so many fascinating walks to choose from in this national park.
It's better to choose a few before setting off on your adventure.
The climb to Little Stony Man Overlook is just around a mile round trip, making it suitable for those seeking for a quick hike.
It follows a portion of the Appalachian Trail that leads to a spectacular vista.
We suggest Old Rag Trail to adventurers looking for a lovely yet tough all-day hike.
This 9.2-mile journey is filled with tight rock passages, unusual stone formations, and breathtaking views.
Enjoy a Meal with a View
The park has a number of excellent food alternatives.
Some restaurants even have panoramic views of the autumn colors in the Shenandoah Valley.
Skyland Resort is the first.
Breakfast, lunch, and supper are served in their full-service dining room, while the resort's Mountain Taproom offers light meals and evening entertainment.
Big Meadows Lodge, your second choice, has a dining area with a panoramic outlook that serves all three meals.
Both of these restaurants provide "grab n' go" alternatives, allowing you to take their excellent meal with you on an autumn picnic.
Driving in Shenandoah National Park: Tips
Keep a careful eye on the stated speeds.
The park's speed restrictions are also tightly enforced.
Skyline Drive has a maximum speed of 35 mph.
Near tourist centers, campsites, stables, significant trail crossings, and other points of interest, the speed restriction is reduced to 25 mph.
Always be on the lookout.
More than 50 animal species may be found in Shenandoah National Park.
Squirrels and white-tailed deer are often spotted crossing roads.
Along and/or across roads in the park, black bears, skunks, coyotes, bobcats, fishers, raccoons, opossums, groundhogs, chipmunks, and a variety of tiny rodents may be observed.
Prepare to share the road with bicycles and motorcycle riders as well.
On days when the weather is beautiful, you'll see a lot of both of them.
How long will you spend at Shenandoah National Park?
How much time do you have? To be honest, there is no correct response to this question.
This guide is for you if you have a weekend in Shenandoah. This is a fantastic spot to start exploring Shenandoah if you only have 5 days.
There is a lot to see and do in Shenandoah; the trick is to make the most of your time there and, if you can't accomplish it all in one trip, plan for a second.
Allow no one to convince you that you must spend a certain length of time in Shenandoah.
Every time, I would want to spend at least 3-4 days in the park, but not everyone has that luxury.
Two days in Shenandoah might be a great way to see all the region has to offer.
When is the best time to visit Shenandoah National Park?
I'm lucky enough to reside just 45 minutes away from the park.
In my view, any time of year is a terrific time to visit Shenandoah National Park, but each season has its own set of benefits.
If you're visiting from afar, here are some highlights to help you decide when is the best time to go.
Alternatively, if you chance to be in the region, we can assist you in making the most of your stay.
Shenandoah National Park during summer
Summer is the best time to visit Shenandoah if you like the heat and crowds.
The average maximum temperature ranges from the mid- to upper-80s.
Humidity levels in the mid-Atlantic area are often high, making it seem even hotter.
Shenandoah National Park's higher altitudes are nearly consistently 10 to 20 degrees colder.
This implies that visiting the park will be significantly cooler than visiting lower altitudes in the surrounding region.
During the summer, the flora is at its most abundant.
You'll notice beautiful green grasses, mature, blooming wildflowers, trees with thick green leaves, and a variety of other flora throughout this time.
From mid-May to mid-June, the azaleas, mountain laurel, and rhododendron put on a stunning display.
During the summer, the park is home to a plethora of butterflies, insects, and birds.
In the summer, bear cubs and deer fawns are abundant, and alert tourists often observe them.
During the summer, gnats, flies, ticks, mosquitoes, and other flying pests are most common.
Shenandoah in the Fall: If you want to see blankets of color, the ideal time to visit Shenandoah National Park is in the fall.
Various tree species may be found throughout the area.
Depending on the species and height, colors change at varying speeds.
Beginning in late August/early September, the colors progressively shift.
Colors will be most bright and appear as large blankets throughout the month of October, although color may still linger into early November and be very lovely.
The finest thing about Fall is the cooler weather.
It not only improves the comfort of hiking and other outdoor activities, but it also means fewer insects.
Shenandoah in the Winter
During the winter, the park is nearly deserted.
However, since road conditions may change fast, phone ahead to verify the state of the route before you leave (dial 540-999-3500 and follow the prompts).
If you're in the park while temperatures are near or below freezing and storm clouds are coming, it's best to go down to lower altitudes as quickly as possible.
Water is always plentiful in the area, resulting in some impressive ice sculptures on rocks and slopes along Skyline Drive.
As a result, you can enjoy the snowy ice show from the comfort of your own vehicle.
Ice occurs along streams, creeks, and rivers as well, but you'll have to brave the cold and go hiking to view them.
Black bears hibernate in dens throughout the winter, although they are not real hibernators.
Bears may go out in the winter when the weather is warm, but sightings are rare.
If you're terrified of bears, the ideal time to visit is in the winter.
NOTE: Bears are normally more fearful of humans, but they may attack if surprised, provoked, or otherwise threatened.
In the winter, when the deciduous trees are bare, deer are easier to see.
Other forest species such as turkeys, foxes, bobcats, skunks, and squirrels are also affected.
Birds, who graze for seeds, berries, and insects, are also easier to see.
Snow also makes it simpler to see animals since it makes animal footprints more conspicuous.
The air is usually cleaner, and the light is less harsh in the winter, which enhances vision and allows for greater views from overlooks of the park's many mountains and valleys.
Sunsets are also early in the winter.
Shenandoah in the Spring
Most park amenities, such as visitor centers, restaurants, motels, and waysides/stores, open around mid- to late-March.
When the Byrd Visitor Center, Big Meadows Lodge, and Skyland Resort are open, you can obtain free Wi-Fi.
In the spring, there are much less visitors in the park than in the summer.
Fuller, louder waterfalls and noisy, meandering streams result from the combination of winter snowmelt and spring showers.
The finest part of going in the spring is seeing the various trees and wildflowers green up and blossom.
The trillium and pink azaleas, both of which bloom in May, are among my favorites.
In the spring, gnats, mosquitoes, and other insects are just starting to emerge.
Shenandoah National Park two-day itinerary
A Long and Difficult Hike
Old Rag is the trek to tackle if you want to get in one large hike during your stay.
Old Rag Mountain is the park's most recognizable hike.
It's also one of the few paths accessible only through Skyline Drive.
East of Skyline Drive is where you'll find the trailhead.
Take US-522 south-east from Sperryville and turn right onto VA-231, F-T Valley Road.
After approximately 8 miles, turn right on Peola Mills Road to reach VA-601, then left on VA-707 to reach VA-600, which is just west of Nethers.
During peak seasons, arrive early since parking at the trailhead is restricted.
For the extremely tough 9.2-mile circular trek, you'll need at least seven hours and a lot of endurance (includes the famous rock scramble).
If you're not in great condition and need to take it easy, add an hour or three to your schedule.
Also, drink lots of water.
There are many more trails accessible.
There are numerous more path choices and over 70 views to explore if Old Rag isn't your style.
The majority of the treks in this book are located between Thornton Gap and Swift Run Entrance Stations in the Central Region.
Start your day off right with a trek on the Limberlost Trail.
At mile 43, you'll find the trailhead.
It's a 1.3-mile circle that's pretty level with just a 130-foot elevation rise.
The pathway is made of compacted crushed stone and has seats and shade.
Limberlost, in my view, is THE spot to go in June when the mountain laurels are in flower.
A variety of little birds use the enormous, thick laurel bushes as a playground.
Limberlost should only take an hour to explore, but give yourself extra time in June, particularly if you're a photographer.
Consider adding the Whiteoak Canyon Trail to your morning stroll if you want to add some distance and some waterfalls.
Limberlost and Whiteoak are linked.
The Robinson River runs through Whiteoak Canyon.
Six waterfalls, ranging in height from 35 to 86 feet, can be seen along the walk.
Smaller cascades may also be seen, as well as several excellent pools where you can wade or swim during the warmer months.
If you want to see all of the waterfalls, Whiteoak Canyon adds another 3 miles or more.
Final words
Now you are aware of the best time of the year to visit Shenandoah National Park. Keep these tips in mind and plan your visit accordingly.