Sun-drenched beaches, lazing by the pool, and maybe visiting volcanoes, jungles, waterfalls, and marine life are what most tourists associate with vacations in Hawaii. Golf enthusiasts visiting Hawaii may play on some of the most beautiful and difficult courses in the whole globe. Black lava rock on the Big Island, volcanic vistas on Maui, lush vegetation on Kauai, and historic courses on Oahu are just a few of the golfing experiences that each island has to offer.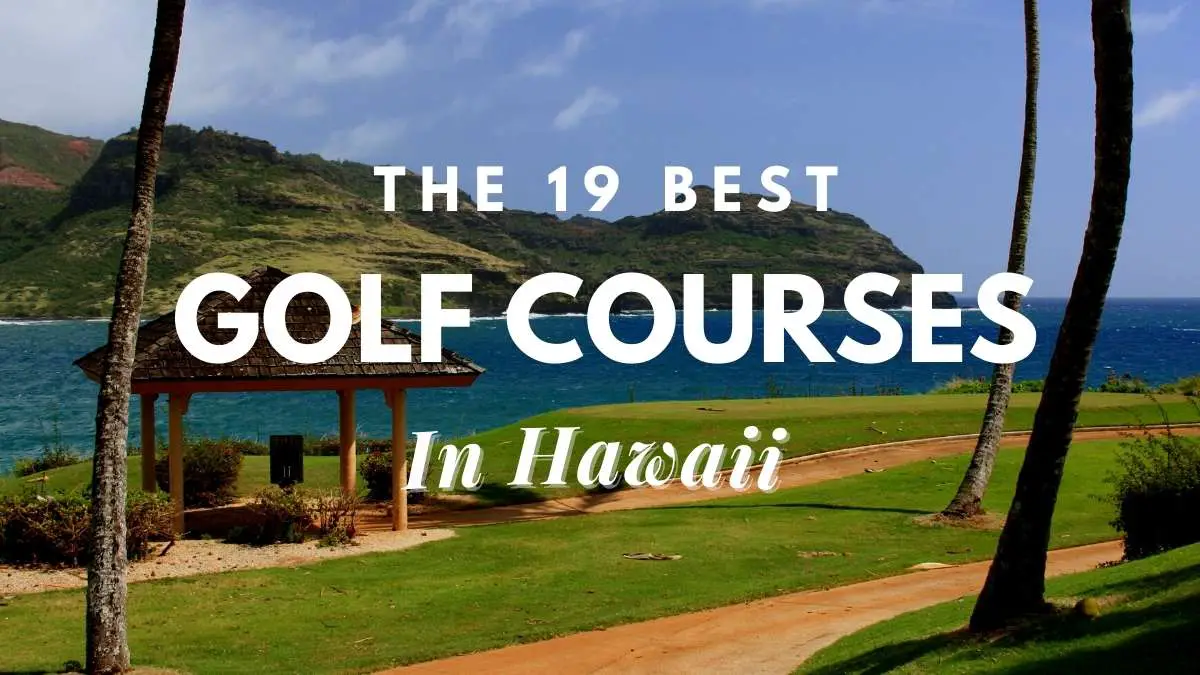 Some of the greatest places to take in Hawaii's breathtaking beauty are on the fairways, greens, and tees. From neighborhood public golf courses to upscale resort courses and country clubs, we've compiled a list of some of the top golfing locations in Hawaii. To get your game ready for the greatest Hawaii golf courses, choose your favorites and go the practice range. If you wonder what is the best island for families in Hawaii, you may get some inspiration from here.
1. Kapalua Golf's Plantation Course
This difficult course, which hosts the PGA TOUR's Sentry Tournament of Champions every year, has expansive, steep fairways, significant elevation changes, and breathtaking ocean vistas from almost every hole. The course, which was created by Ben Crenshaw and Bill Coore, had a significant makeover in 2019 and has maintained its standing as one of Hawaii's top golf courses.
This course, which was created by Arnold Palmer and Frances Duane, is regarded as being more user-friendly than the Plantation. Playing The Bay Course is an exhilarating experience thanks to views of the Pacific and the nearby Hawaiian Islands, and its beautiful 17th hole is the only one in Maui that crosses the water.
Read: First Time Hawaii Itinerary Learn about Day 1 in Oahu
2. K'anapali Golf Course
This iconic resort course, which Robert Trent Jones designed and built in 1962, has broad, curved greens and sloping fairways. This course offers panoramic views of the sea and the islands of Lanai and Molokai from the coast to the West Maui slopes.
On the Western Maui Mountains' slopes is where you'll find this exclusive golf course. Non-members may take advantage of the difficult course via the "Guest for a Day" program. Playing the course is a wonderful experience because to the tiered greens, beautiful water features, the Frank Lloyd Wright clubhouse, and vistas of the shore, valley, and Mt. Haleakala.
Read: Cheapest Time To Go to Hawaii (Cheap Flights Hotels & Activities)
3. Kahili Golf Course
This hillside course, located in the West Maui Mountains, debuted in 1991. With elevation changes, wind, and lengthy par fives, the par-72, 6,554-yard course offers stunning vistas and challenges for players of all skill levels. The course is situated in a remote area, far from resorts and homes.
The Emerald Course at Wailea Golf Club is managed by Brian Oar. With a total of 54 holes over three separate courses, they provide ocean vistas and altitudes up to 300 feet above sea level. The most difficult course is the Robert Trent Jones Jr.-designed Wailea Gold Course, with its rocky topography, natural undulations, and lava rock cliffs. Golfers on the Blue Course may see Wailea, Mt. Haleakala, and the ocean from the sloping fairways. The Emerald Course is renowned for its lush landscaping, coastal views, and user-friendly design.
4. Lanai Golf Course
The Manele Golf Course, the only 18-hole championship course on the island, is solely accessible to visitors of the Four Seasons Resort Lanai. Built on lava outcroppings, this Jack Nicklaus Signature course has cliffside greens, ravines, and ocean vistas from each hole.
Another instance of a recent restoration is the Jack Nicklaus-designed Four Seasons Resort Hualalai in Kailua-Kona, which is rated No. 5 in Hawaii on Golfweek's Best Courses You Can Play list. Work on the Jack Nicklaus-designed course was completed in 2020. The course's layout, which is surrounded by black lava rock and borders the Pacific, got a fresh layer of paspalum grass, new bunkers, and redesigned greens. The resort said that it worked closely with Nicklaus to maintain the quality of the course that serves as the site of the Mitsubishi Electric Championship on the PGA Tour Champions.
The Manele Course at the Four Seasons Resort in Lanai is ranked No. 51 on Golfweek's list of the best modern courses nationwide and No. 2 on the public access list for Hawaii. The course, which Nicklaus built in 1991 on lava outcroppings, has three holes that are perched above cliffs overlooking the Pacific.
The third-ranked public-access course in Hawaii is the namesake course at the Mauna Kea Beach Hotel on Kohala Coast. The layout was modernized by Rees Jones in 2008 after being constructed by Robert Trent Jones Sr. in 1964 and sitting above a field of black lava.
5. Kauai Golf Course
On Kauai's south coast, this Robert Trent Jones Jr. creation is situated next to the Grand Hyatt Kauai Resort and Spa. The difficult course, which is situated along a 150-foot cliff with vistas of the mountains, the ocean, and Poipu Bay, held the PGA Grand Slam of Golf from 1994 through 2006. Along the route, ancient stone walls and the remnants of Hawaiian temples may still be seen.
6. Kukui'ula Golf Course
The beachfront course, The Club at Kukui'ula, and other facilities are available to visitors at The Lodge at Kukui'ula. Even the most dedicated player will be distracted by the famed 14th hole's breathtaking ocean vistas, one of the design's many difficulties by Tom Weiskopf. The 15-acre practice area has a driving range, bunkers, and two greens.
The only Jack Nicklaus Signature course on Kauai, this award-winning coastal design has the longest run of shorefront holes in all of Hawaii. The course, which is situated at Timbers Kauai Ocean Club & Residences along Kalapaki Beach, provides breathtaking views of the Pacific Ocean and Kauai's highlands.
7. Princeville Makai Golf Course
The course is nestled amid beautiful landscape, lakes, and woodlands on Kauai's north shore, facing Hanalei Bay. Princeville Makai, which Robert Trent Jones Jr. renovated in 2010, is renowned for both its difficult topography and breathtaking landscape.
Robert Trent Jones Jr.'s first solo course, Princeville Makai on Kauai, is ranked No. 4 in Golfweek's list of the Best Courses You Can Play. The layout, which was first used in 1971 and was updated in 2009–2010, has six ocean holes.
Hawaii has beautiful private golf courses, as one would anticipate. Nanea in Kona is ranked No. 1 in Hawaii on Golfweek's list of the best private courses, and it is ranked No. 17 nationwide on Golfweek's list of the best modern courses.
On Hawaii's Private list, Kukio Golf and Beach Club in Kailua-Kona is ranked second, followed by Kohanaiki in Kailua-Kona at number three, Hokulia in Kailua-Kona at number four, and Kukuiula in Koloa at number five.
8. Puakea Golf Course
On what was formerly a sugar cane farm, architect Robin Nelson created Puakea, which is open to the public. Elevation variations, ravines, volcanic cliffs, water hazards, ocean vistas, and stunning displays of Kauai's lush flora are all part of the resort-quality course.
9. Four Seasons Golf Course
The Jack Nicklaus-designed course may only be accessed by visitors of the Four Seasons Resort Hualalai. There is an annual PGA Tour Champions competition there. The race winds through a naturally occurring terrain of black lava, gives breathtaking vistas, and ends next to the Pacific's roaring surf. A bunker near the center of the green on the par three 12th hole makes for a challenging tee shot.
10. Mauna Kea's Championship Course
This Big Island course was established in 1964 and is situated at the Mauna Kea Beach Hotel on the Kohala Coast. Robert Trent Jones Jr. and Rees Jones have recently refurbished the course, which was first created by Robert Trent Jones Sr. This is one among Hawaii's most memorable golfing experiences due to the ocean vistas, elevation changes, and the famous third hole, a par three that plays over the Pacific.
11. Hapuna Golf Course
This course at the Westin Hapuna Beach Resort spans links-style along the Kohala Coast and was designed by Arnold Palmer and Ed Seay. It is both difficult and attractive due to the views of the Pacific, elevation fluctuations, and rough terrain. A breathtaking perspective that encompasses Maui in the distance is offered by the course's famous 12th hole.
12. Mauna Lani Golf Course
The Mauna Lani Resort offers a quick nine-hole Wikiwiki fun course in addition to two 18-hole courses. A par three hole on the North Course is surrounded by a natural lava amphitheater and is situated on a lava bed with undulating topography. The South Course offers vistas of the ocean and mountains as it weaves over black lava rock. Its fifteenth over-the-water hole is both lovely and difficult.
13. Waikoloa Beach Golf Resort
The resort's 27 holes of golf are divided into three different nines providing a range of experiences. Large greens, low-lip bunkers, and a fairway that sweeps down to the beach amid fields of black lava characterize The Beach Nine. Wide fairways, pot bunkers, and vistas of Mauna Kea are all elements of The Kings' Nine, a course designed in the Scottish links style. The traditional resort-style Lakes Nine has an overwater par-three on the eighth course, elevation changes, and water hazards on five of the holes.
14. Club de golf Makani
A public course with lakes, animals, and stunning views of the Kona coastline and the volcano is situated at a height of more than 2,000 feet on the slopes of Mauna Kea. The Makani Golf Club, which was created by Pete Dye's son Perry Dye, has wide fairways and water hazards on nine of the holes.
15. Golf Courses on Oahu
The George Fazio Course and the Arnold Palmer Course are two of the two 18-hole courses available at Turtle Bay Resort. The Palmer Course shifts from a Scottish links-style layout to a more tropical rainforest environment as it plays. Bunkers and water dangers increase the difficulty. Wide fairways and coastal vistas may be found on the player-friendly and walkable Fazio Course.
16. Golf Club in Ko Olina
The course was created by Ted Robinson and is situated in a vacation neighborhood with four hotels on Oahu's west coast. The course is characterized by water elements, expansive fairways, and tier-style greens. Even two famous holes have beautiful cascades.
17. Golf Club of Hawaii Prince
The 27-hole course, which is situated on Ewa Beach's wide landscape, was created by Arnold Palmer and Ed Seay. With three interchangeable nine-hole layouts that include lakes, white sand bunkers, and large fairways, there are many different golfing experiences available.
18. Hawaiian Royal Golf Club
The course is located approximately 20 minutes from Waikiki in the Maunawili Valley, between Mount Olomana and the Ko'olau Mountains. The course was recently redone by architect Greg Norman after being originally created in 1993 by Pete and Perry Dye. The lush course has mature trees, including royal palms, koas, and banana trees, and the second hole's defining feature is a lovely pond.
19. Olomana Links Golf
This difficult public course is situated on the windward side of the island and offers views of the Koolau Mountains. Playing the course is intriguing since it has two very different nines. Former president Barack Obama has participated in tournaments there, and professional golfer Michelle Wie often uses the facility for practice.
Final words
As you can see, Hawaii is a perfect destination available for anyone who wishes to have a great time with golfing as well. We strongly encourage you to take a look at these golf courses in detail and pick the best one out of them for spending your next vacation. Instead of selecting just one golf course, you are also encouraged to try a few, so that you will be able to have a great time. It is even possible for you to use this list as the base and then look for the best island for families in Hawaii for spending a quality time as well.