This guide to Lake Powell houseboat rentals can assist you in organizing the perfect getaway among some of the most breathtaking scenery the country has to offer. In order to make organizing your vacation an easy, we walk you through the procedures of booking and scheduling your Lake Powell houseboat rental in this guide. On this guide to houseboat rentals in Lake Powell, we are looking forward to sharing all the important details that you need to be aware of.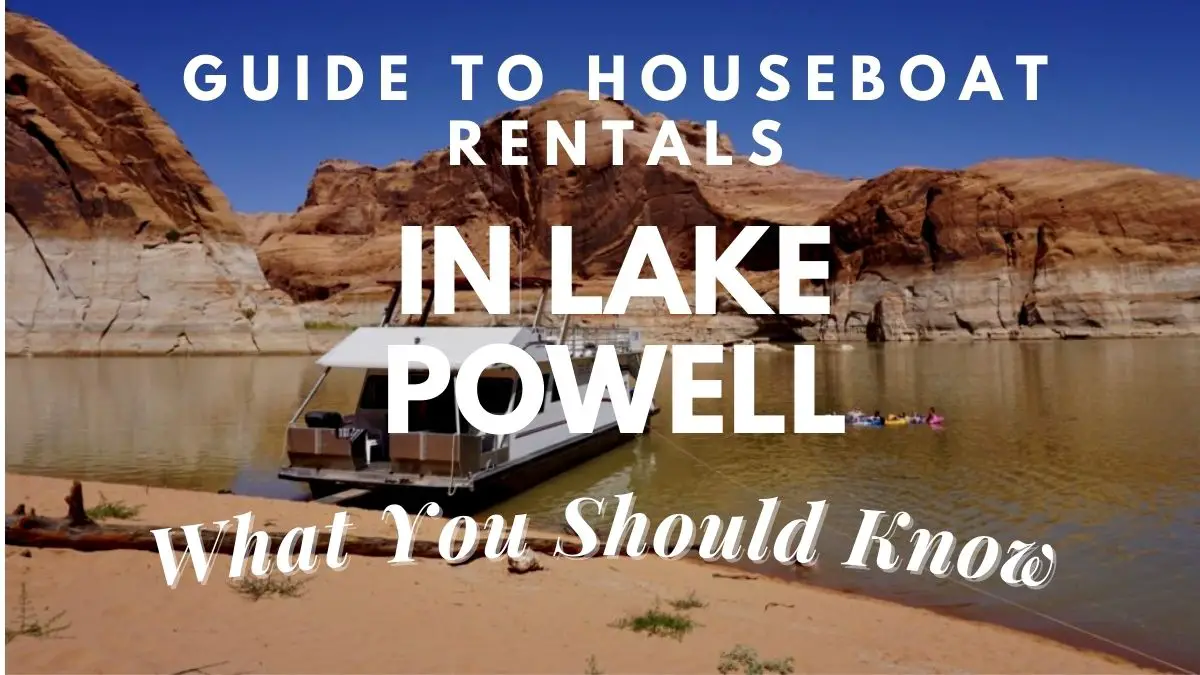 Renting a houseboat in Lake Powell
Renting a houseboat in Lake Powell, a reservoir on the Colorado River that borders the states of Arizona and Utah, is a dream come true. Imagine living in some of the most breathtakingly beautiful sweeping vistas in the United States, sleeping beneath the stars, drifting through stunning canyons, and waking up every morning in total isolation among the wonders of nature.
The US National Park Service oversees the Glen Canyon National Recreation Area, a conservation and recreation unit that includes Lake Powell. You may want to allow additional time while traveling to Lake Powell so that you can take an Antelope Canyon tour, go by boat to Rainbow Bridge National Monument, or take in the breathtaking scenery from Horseshoe Bend in Page, Arizona. These are only a few of the area's most well-known natural treasures; renting a houseboat on Lake Powell is the ideal way to see them all and appreciate the area's natural splendor.
The length of time you should give yourself to plan your Lake Powell houseboat rental, how to shop for your Lake Powell houseboat rental, additional expenses to budget for with your Lake Powell houseboat rental, what to pack for your Lake Powell houseboat rental, and advice for your Lake Powell houseboat rental are all covered in this guide.
Read: Is Traveling A Hobby? The Ultimate Guide To An Exciting Way Of Life Learn about the Downsides Of Traveling As A Hobby

The Basics of Lake Powell Houseboat Rentals
Peak Season is from June 21 to August 19, when costs will be much higher, and booking will be very difficult. If you can, try to go during the shoulder season from January 1 to June 20 and again from August 20 to December 31. During these times, rental prices are cut in half.
Some houseboat rentals on Lake Powell range from 3 to 7 full days. Depending on the boat and the time of year, you may make your choice. Most people reserve their Lake Powell houseboat for at least five days, but we advise giving yourself as much time as you can.
Anyone with a valid driver's license over the age of 18 may operate the boat. You will be taught how to operate the boat by a member of the Lake Powell houseboat rentals crew before you leave the harbor.
When to book houseboat rentals in Lake Powell?
Owning a boat is the most important need for a Lake Powell houseboat rental. If you want to go during the high season, which is roughly from June to August, we advise making reservations at least a year in advance.
You will have greater freedom during the off-season, but you should also check the weather. For instance, the average air temperature in April ranges from a high of 68 degrees to a low of 43 degrees. As a result, you won't be able to participate in many water sports or activities, and you'll need to modify your travel itinerary to account for the cooler weather. Not terrible, however taking advantage of the best time to engage in water sports and activities is one of the things you pay for during peak season.
Where to book?
Online or over the phone, you may reserve a houseboat for Lake Powell.
How much do I have to spend?
The cost of renting a houseboat in Lake Powell. There are many boat types with various passenger capacities, and rates significantly vary during the busiest months. Luxury boats may be purchased for as low as $2k to $15k at the height of the season; our boat, which sleeps up to 12, cost $7500. Prices should be around half that during the off-season.
The houseboat rental is the initial stage, but your expenses will continue after that. The cost of consumables, gasoline for massive boats that hold hundreds of gallons, and insurance must all be considered.
Gas: The size of the boat will determine how much gas costs for your Lake Powell houseboat rental. Our 59-foot boat had two 300-gallon fuel tanks, which cost around $1300 to fill up even though we didn't use all of the gas. A speedboat that was with us throughout the trip used roughly $600 in fuel. If you plan to travel with jet skis, a boat, a large boat, or move about a lot, this will all depend on your travel style, but you should overestimate your petrol expenditures to provide yourself a safety net in your budget.
Groceries: This section is particularly tough since our group brought a ton of food and assumed we'd be in vacation mode and snacking all day. In the end, we purchased too much, and plenty of people took food home. Plan your meals in advance and do your shopping based on the number of people you are feeding. For whatever reason, we ended up eating less on this trip than normal!
You may make use of the fully equipped but small kitchen on your yacht. Though we had no trouble fitting enough cold food for 10 people in our refrigerator, we kept all of our drinks in the additional coolers. Be sure to carry extra coolers for any food that may not fit in the refrigerator.
We advise purchasing items in bulk and readymade meals, such as lasagna, because cooking them requires little work. Sandwiches and other prepared meats are also excellent items to include as eggs may break when being loaded onto and moved about a boat. A barbecue was also provided on our boat.
Try ordering your groceries online and having them delivered to you to make life simpler! In order to avoid making many visits to the market and loading and unloading goods, our food leader Shawnee took this action.
In Page, Arizona, there is also a Walmart. This is quite useful since you can pick up any last-minute necessities here or, if you arrived by plane, you could complete your food shopping here, and Wahweap Marina is nearby.
We advise being really planned with your meals, scheduling them all in advance, and buying all of your food at once using a highly structured shopping list broken down by category.
Water and meals
The yacht provides reverse osmosis-filtered water, so there's no need to go crazy purchasing bottled water. By using a refillable water bottle that you already have, you may save space, money, and plastic by doing so. We advise purchasing a SteriPen since we often travel with one and it utilizes UV light to eliminate germs in your water if you're still hesitant to drink the filtered water.
As the running water is not on while your boat is moving, we advise carrying several jugs of water or at least one large pack of bottled water. If you forget to fill up your bottle before going outside, you will still have access to water this way.
You don't want to prepare or bring your own meals. You can get the impression of being totally on vacation. Don't worry, you may order food online or, if you depart from Wahweap Marina, you can pay an additional price for a chef to be on board another boat nearby who follows your boat and is prepared to cook anytime you need it.
Drinks and alcohol
Make sure you bring enough alcohol to last the whole week; we prepared a list of our favorite mixed cocktails and beers in advance. Though we did have several bottles, one of them shattered the first day, making it difficult to pick up and even causing me to cut my foot. As a result, we strongly advise against bringing glass on the boat.
Pack something to rehydrate with electrolytes as you are in a dry, arid region. To assist us keep hydrated, we had these liquid IV packets that we put once a day in our water bottle.
Jet ski and speed boat rentals
While owning a jet ski or speed boat isn't required, it has a lot of advantages. You should employ a speedboat or jet ski for any water activities; your Lake Powell houseboat rental is more of a base. Additionally, you may want to send someone with a jet ski or boat to investigate potential places for where to dock your Lake Powell houseboat rental. This is because smaller boats are simpler to board for tasks like delivering ice and trash to various marinas and exploring Lake Powell's hidden bays.
However, renting one from the Lake Powell houseboat rental facility is rather pricey if you don't have your own. We laughed at the cost of renting one jet ski, which was going to cost roughly $900 for the week; that amount, which excludes petrol, is nearly as much as the cost of a secondhand jet ski. We were quite fortunate that our brother had a boat that he had brought.
Determine the objectives of your journey. There is no need to incur that additional expenditure if you are quite content to lounge on the large houseboat. However, you should think about include this in your budget and making plans for it if you desire the flexibility, convenience, and enjoyment of other activities, as well as the ability to replenish your ice for the week and dispose of garbage.
Dealing with garbage
This was one of my greatest worries since we packed a lot of food and if there was nowhere to drop off trash over the week, it seemed like we would be living on a waste boat. Fortunately, garbage compactors and collectors are available at the many marinas located around Lake Powell. When you pick up your Lake Powell houseboat rental, they will provide you a map. Make sure to organize your garbage drop-offs with marinas.
There is no internet available aboard boats or at marinas, we apologize. You probably won't have mobile coverage either; some Verizon customers reported sporadic reception in the most unlikely locations. No one using AT&T or T Mobile had the same luck.
Dealing with emergencies
You may use the boat's radio if there is an emergency, your boat requires maintenance, or it is stranded. I was unaware that we had one and afraid that if anything went wrong (we were traveling with kids), we wouldn't be able to seek assistance. However, there is a radio, so no worries.
Fishing is allowed in Lake Powell, but you'll need a fishing license to do it. Since most houseboating at Lake Powell takes place in Utah, we suggest getting this one. A current fishing report for the region may be found at Wayne's World.
The Lake Powell houseboat rentals may be picked up at either Bullfrog Marina in Utah or Arizona's Wahweap Marina. The biggest marina for renting houseboats on Lake Powell is Wahweap, which also has a resort if you arrive early or need a somewhere to stay after getting off the boat because you're fatigued.
Bullfrog Marina, which is a terrific place to start if they have your houseboat and you're already traveling from North Lake Powell, provides less Lake Powell houseboat rentals from this beginning location.
Accessing Lake Powell
Either drive or fly into Lake Powell is what you should do. Unless you have a private aircraft, Page, Arizona is the nearest city if you need to get to Wahweap Marina. Flights on Great Lakes Airlines arrive in Page from Phoenix and Denver.
You must either drive or utilize the private landing strips at Halls Crossing or Bullfrog, Utah, to access Bullfrog Marina. If you're entering Lake Powell by car, it's likely that your trip was lengthy. We advise arriving the day before and spending the night at Lake Powell Resort at Wahweap Marina. This way, you'll enjoy a full night of sleep and be down at the pier bright and early for your 10 am check-in.
Except for us, everyone else in our group did this. It took us two nights to make up on sleep, and our first day was clouded with confusion. Additionally, we advise spending the night on the day that you return your boat. By the time you unpack your belongings and return the boat, it will already be beyond 5 p.m. Most boats are returned about 3:30 p.m. Avoid stressing about travelling home and make the most of your vacation and last day on the boat. We regret not staying the night as we traveled home through the night.
Other things to do around
If you don't have a tight schedule and have some free time on your way home, stop through Page, Arizona to take an Antelope Canyon Tour or go to Horseshoe Bend. Additionally, the Grand Staircase-Escalante National Monument is just a 30-minute drive away!
You must take a trip in order to see Antelope Canyon, the famous picture location. DIY vacations are not feasible. The tour operator will make arrangements for you to join the group if you pre-book a trip to Antelope Canyon here and let them know that you are already in Page.
You won't ultimately go on the water until all the hard work from organizing your vacation has been completed. You will go through a 30-minute instruction on how to operate and drive the boat before you leave the harbor. Any adult above the age of 18 who intends to operate the boat should pay close attention to this.
Make sure you have a map with you before you go. One should be provided by the Lake Powell houseboat rental, but it's best to have more than one in case a gust of wind blows yours away. You may purchase a second map similar to the one we had.
Important things to keep in mind about houseboat rentals in Lake Powell
Depending on what you uncover, you'll want to hunt for a location to camp and store your boat for the next night or nights two through three. Here, owning a jet ski or a speedboat helps you move quickly and locate a position. To locate a sandy beach where you may leave your boat, you will need to navigate the many gorges. You dock your boat on a sandy coast rather than letting it moor in the middle of the ocean.
In high season, it might be difficult to find a nice place. Avoid waiting until it is too late to locate a place. In order to give yourself plenty of time to locate a place if you're running short on time, we advise locating one by 3 or 4 p.m. on your first day. Although there was someone waiting for their Lake Powell houseboat rental to arrive, we discovered a number of beaches that were ideal. Even after sunset, someone came seeking for the location where we were parked! They were under pressure; be ready for your parking space!
You could relocate every day, but it would be a pain, so we remained at each of our sites for a few days. We made care to choose nice beaches with parking that were exclusive, had open space for playing, and had great swimming areas. These kinds of sites are EVERYWHERE; all you have to do is wait till one becomes available that you want.
Keep in mind that you'll need more gasoline as you pass across Lake Powell deeper. In case you need ice, propane, or other emergency supplies, you may also want to make sure you're never too far from one of the numerous marinas dotted across Lake Powell.
Destinations to See While Renting a Houseboat on Lake
Powell Megan and Scott at Rainbow Bridge National Monument
The majority of the locations listed below are really best explored from a separate speedboat or on jet skis rather than from your rented houseboat on Lake Powell.
There are many wonderful places to visit in South Lake Powell, but the Rainbow Bridge National Monument is our favorite. It's simple to get by boat with a map, but if you're coming from inland, it will need a 15 to 17-mile trek. Yikes! The biggest natural rock bridge in the whole globe is this one!
Other attractions include Padre Bay, which you will probably travel by en route to your camping location. In addition to enjoying views of the monuments, including the several Buttes that make up the surrounding environment, this is an excellent place to engage in any water activities.
Another fantastic side excursion that we missed on our vacation was Navajo Canyon. Of all the side canyons that branch off Lake Powell, this one is the longest. You may take a thrilling journey back down the canyon's 15.5 miles of winding roads for a really exceptional experience at Lake Powell. For this one, a speedboat or jet ski are required.
If you don't know where to go, Gunsight Canyon, which is close to Padre Bay, is an excellent place to park your Lake Powell houseboat rental. There are two miles of sandy beaches here, as well as distant landmarks and Gunsight Butte, whose shadow provides just the right amount of shade to shield you from the sweltering summer heat.
The Escalante Arm River is ideal for kayakers, and Forgotten Canyon, where you can trek to 700-year-old ruins with ancient wall paintings, is one of the most unusual places you can explore from your Lake Powell houseboat rental.
Final words
Now you have a better idea about the houseboat rentals in Lake Powell. Make sure that you plan your tour ahead of time and proceed with houseboat rentals. Then you can enjoy a hassle-free stay as per your liking.