For the time being, the Cascade Highway is open for business. Cascade River Road is still blocked, but it is expected to reopen next month. The majority of the snow below 4,000 feet has melted, resulting in clear but muddy trekking. The Ross Dam Trail, a short trek of around 1,900 feet, is beautiful and well-maintained; see images here. Expect a lot of snow above 4,000 feet. North Cascades National Park is looking good for June, as long as you're prepared and check the Current Conditions before you go!

June is one of the most enjoyable months in most areas since it is early summer, not too hot but not too chilly. Many individuals, including me, plan trips to the Pacific Northwest's national parks, including the wild and huge North Cascades National Park. Is June, however, the greatest month to visit?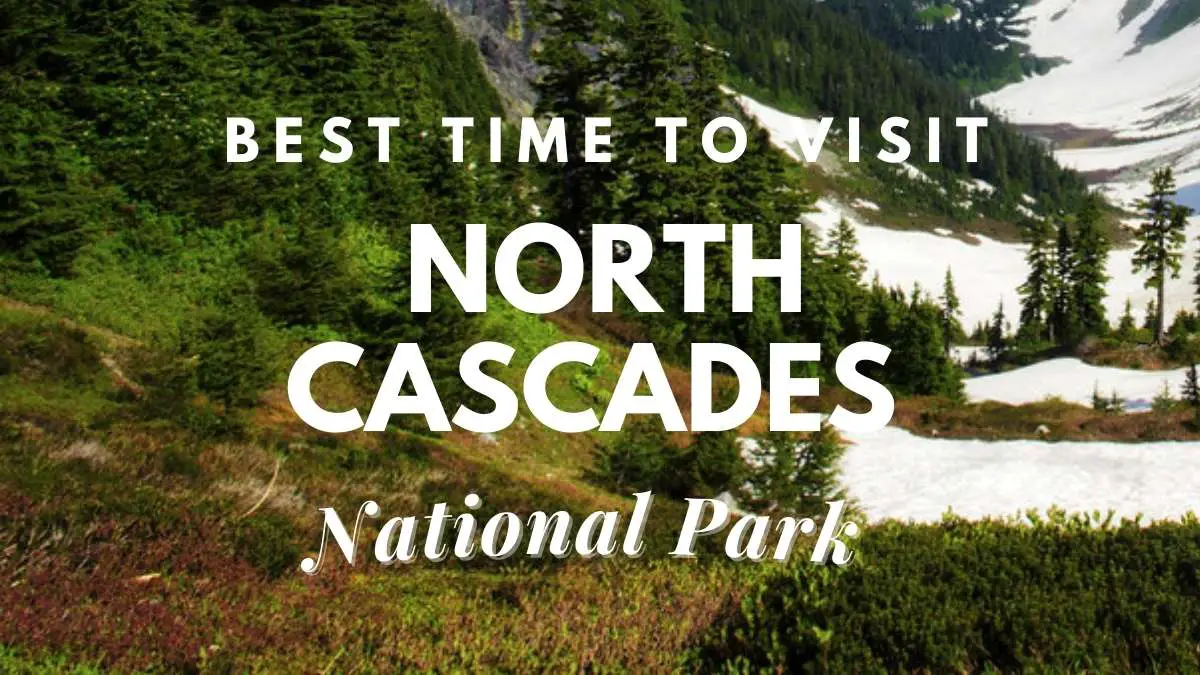 Is It Safe to Visit North Cascades National Park in June?
Even while the Cascade Highway is normally accessible by mid-May, it doesn't guarantee you'll be able to go about freely.
In the Cascade Mountains, snow melts considerably later than most people assume.
This implies that there won't be much to do in June unless you're a big lover of snowshoeing and winter camping.
Many paths over 4,000 feet will be fully buried in snow or blocked.
North Cascades National Park is best visited later in the year since there are almost no roads in the park and most of the trails go to extremely high altitudes.
In June, what to do in the North Cascades National Park Complex
Ross Lake, Diablo Lake, and Lake Chelan will all be accessible in June.
However, if you want to go to higher elevations, you'll need snowshoes and plenty of warm clothes.
The Cascade Highway may take you to Diablo Lake Overlook, where you can enjoy spectacular views without ever leaving a paved area!
Read: Is Traveling A Hobby? The Ultimate Guide To An Exciting Way Of Life Learn about the Downsides Of Traveling As A Hobby

Ross Lake is a great place to go fishing, boating, or just relax.
Although this lake is not formally part of North Cascades National Park, it is one of the region's most popular destinations.
Ross Lake is more accessible than the park proper, and there's enough to do there in June.
Ross Lake Resort should be available by the middle of June, and you'll be able to stay there, fish, kayak, and do anything you want away from the people!
Read: Visiting North Cascades National Park (What You Should Know)Learn about Where to Camp in the North Cascades National Park
Is it Possible to Hike in the North Cascades in June?
It's a toss-up on this one.
You can go to a lot of areas if you have micro spikes, snowshoes, and trekking poles.
However, if you aren't used to winter hiking, it will be difficult for you.
Any path below 7,000 feet in height should be able to be hiked, but it will still be ice and snowy.
In June, you can do a lot of trekking in the North Cascades if you're prepared for wintery weather!
If you're a little tough and have some winter camping experience, you can still travel a lot of locations and have a lot of fun in the North Cascades in June.
Read: North Cascades National Park Itinerary ( Easy to print ) Learn about the Marblemount Diner
What is it like to live in the North Cascades during the winter?
Mountaineering in the North Cascades National Park during the summer Even for specialists, mountaineering like this isn't possible in the winter in North Cascades National Park!
The weather is too harsh, and the park is mostly closed.
The North Cascades have very cold and snowy winters.
It's been so snowy that the Cascade Highway has been closed for the season.
That's true, a whole state route has been closed due to the severe and persistent snowfall!
Snow removal is a lengthy procedure that usually starts in early May.
Cars will be able to freely travel between Newhalem and Winthrop, the two communities on opposite sides of the Cascade Pass, by the middle of the month.
The first guests to Ross Lake, Diablo Lake, and the Famous Ross Lake Resort arrive in May-June.
The winter months are harsh, and North Cascades National Park's "winter season" differs from that of most other national parks in the United States.
Snow begins to fall in the North Cascades in late October, during the first part of November.
It doesn't stop snowing until April, at the earliest.
From November 1 to April 1, temperatures in the North Cascades vary between 8 and 25 degrees with minimal change.
In the North Cascades, when does the snow melt?
Which side of the park we're talking about makes a difference.
Because the eastern side gets 400 less inches of snow each year, the snow will melt a bit quicker.
Yes, 400-fold difference in snow from one side of the park to the other!
The ultra-heavy snow on the Ross Lake side takes a long time to melt.
Most years, there will be paths under the snow level that don't fully melt until July.
As a result, June may not be the greatest month for you to come.
North Cascades National Park in June is ideal for snowshoeing or backcountry skiing in a winter wonderland.
If you want to backpack in the summer, you should visit the park during a more suitable month.
Is it possible to visit North Cascades National Park in June?
The Best Months to Visit the North Cascades are August and September.
The snow has melted by August, and the park has transformed into a huge, lush, green jewel.
The temps seldom reach too chilly or too hot for comfort in the 60s and 70s.
Wildflowers cover the green slopes along the pathways, and all of the park's animals are out and about.
In September, Sahale Arm will be released.
North Cascades National Park is best visited in August and September.
The weather is good, the paths are clean and dry, and there are less clouds than at any other time of year.
The North Cascades have a short summer, which is one of the reasons it's one of the least-visited parks in the nation.
Things to do at North Cascade National Park
North Cascades National Park is notable for its numerous glaciers, which are surrounded by the rocky peaks of the North Cascade Range.
In fact, this park has a third of all glaciers in the lower 48 states.
With glaciers come crystal clear snow melt lakes and streams, alpine forests, wildflower meadows, and more.
Although it is a secluded area, the camping is excellent, and Seattle is just a few hours away.
Do you have to pay to visit the North Cascade National Park?
It is completely free to visit.
The park is accessible by a state road, so you won't have to pay to see the sights.
Except if you want to camp, it will cost you a few bucks.
-If you're coming in the winter, make sure your vehicle is in excellent working order and check the Washington State Department of Transportation for road closures.
Some roads are blocked due to the snow.
The park does not have any grocery stores or ATMs.
Make sure you pack everything you'll need, especially if you're camping, or expect to drive a lot in and out of town.
It's also possible that you won't receive excellent mobile service here.
– Don't forget to bring insect repellent.
Mosquitoes and other pests thrive in the park's beautiful lakes and streams, so dress appropriately.
1. Colonial Creek Campground
Colonial Creek is one of the park's most popular campsites, thanks to its prime position on the lake and stunning vistas.
If you're camping, look for a location along the water's edge and pitch your tent there.
Almost all RVs will fit here, and there are several hiking trails nearby.
2. North Cascades Highway
State Route 20, often known as the North Cascades Highway, is the most expedient and beautiful route to travel across the park.
The trail passes through U-pick farms, small logging communities, thickly wooded state parks, rushing rivers, and beautiful lakes.
It's a fantastic way to see the Pacific Northwest and all it has to offer.
3. Washington Pass Overlook
Visit the Washington Pass Overlook for breathtaking views of Liberty Bell Mountain and the Early Winters Spires.
The walk to the viewpoint is a short quarter-mile circle, and it's immediately off the highway with a lovely parking space.
4. Newhalem Creek Campground
Newhalem Creek Campground is a natural jewel, shrouded by cedar, hemlock, and Douglas fir trees and situated near the Skagit River, which is fed by glacial flow.
Salmon and bald eagles may be seen here, and the popular campsite offers a variety of hiking paths.
It's near to Skagit, and there's a visitor center where you can learn more about this unique portion of the North Cascades.
5. Ross Lake Resort
Imagine waking up on your porch and being welcomed with the greatest vista in North Cascades National Park—what that's you'll receive at Ross Lake Resort.
The lake itself is your backyard in these magnificent floating homes, which are bordered by snow-capped mountain peaks and lush evergreen woods.
Each cabin offers a breathtaking outlook.
Unless you wish to take a mile-long trip with all your bags, the resort is best reached via water taxi or boat.
You'll get an almost uninterrupted view of the lake, mountains, and trees.
It's also a fantastic location to unplug since cell service and internet are patchy up here.
You may spend your days fishing, hiking, boating (bring your own or hire one), or just relaxing on the dock and taking it all in.
6. Diablo Lake
Diablo Lake, a reservoir recognized for its vibrant blue hue, is one of the park's most recognizable features.
Glaciers shred stones into a powder, which is subsequently transported into the lake by glacier melt, giving the lake its vivid blue color.
There are some lovely views from here, but the best way to see the lake is to hire a canoe and go out on the water.
7. Ladder Creek Falls
These grotto-like falls, situated near Newhalem in a slot canyon, are beautiful during the day, but they truly dazzle at night.
Colored lights are projected onto the falls, transforming them into a spectacular light display.
The falls are fed by a glacier and run nicely all year.
The walk is brief but exciting, leading you through a suspension bridge and up a flight of steps.
8. Marblemount Diner
Marblemount Diner, situated just outside the park, is a terrific place to cool down with a creamy, hand-dipped milkshake or warm up with a cup of coffee.
This traditional small restaurant is certainly worth a visit or two on your vacation, with sandwiches, burgers, and delectable baked pie.
9. Slide Lake Trail
Head to the Slide Lake Trail if you're here in early June and there are several frozen lakes and snow-covered pathways.
It thaws out ahead of most other lakes, and the one-mile round trip is a nice walk.
Slide Lake also boasts excellent fishing.
10. Cascadian Farm
Cascadian Farm's roadside kiosk is located just off the North Cascades Highway, where you can get handcrafted ice cream and pints of fresh berries.
Flowers, chips, granola bars, and other delicacies are also available.
Everything cultivated on the farm is organic, and the stand's setting is idyllic.
11. Artist's Point
Some consider Artist Point to be one of the most beautiful sites in the state, offering panoramic views of many peaks.
The Mount Baker Highway comes to an end at Artist Point Road, which leads to several excellent hiking paths.
This is a great area for snowshoeing during certain times of the year.
12. Trail to Desolation Peak
Desolation Mountain is a 6,106-foot peak in the North Cascades Mountains that may be accessed through a popular but difficult walk.
In the 1950s, author Jack Kerouac worked as a fire lookout here, an event he chronicled in his book Desolation Angels.
Conclusion
If you want to visit North Cascades National Park in June, you'll be able to do so, but just. The best way to see Ross Lake, Diablo Lake, and all of the amazing mountains that the park complex has to offer is to wait until additional snow melts, which usually happens in late July or early September. Any hilly terrain in the spring, such as Rocky Mountain in May, is likely to be snowy, muddy, or both. If you can, wait till summer is really underway!